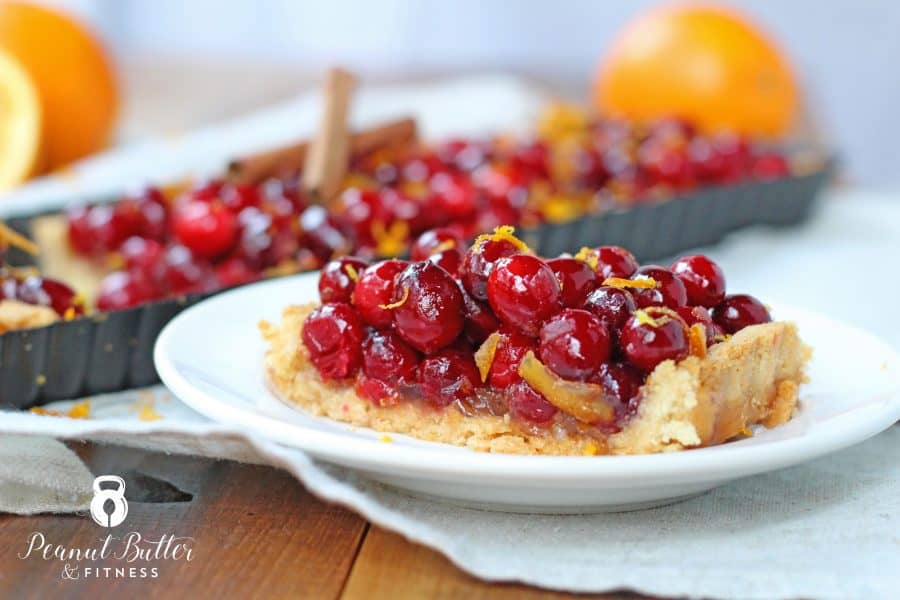 Thanksgiving is right around the corner…do you know what's on your menu yet?  I made this cranberry orange tart last weekend and now I can't decide between making this for dessert or making my Paleo Pumpkin Pie for dessert.  Making both would be a little bit crazy since it will only be two of us – and we already used our crazy card to order a freakin' 15 pound fried turkey (insert eye rolling emoji here).  Good thing I already have recipes ready to go for the leftovers.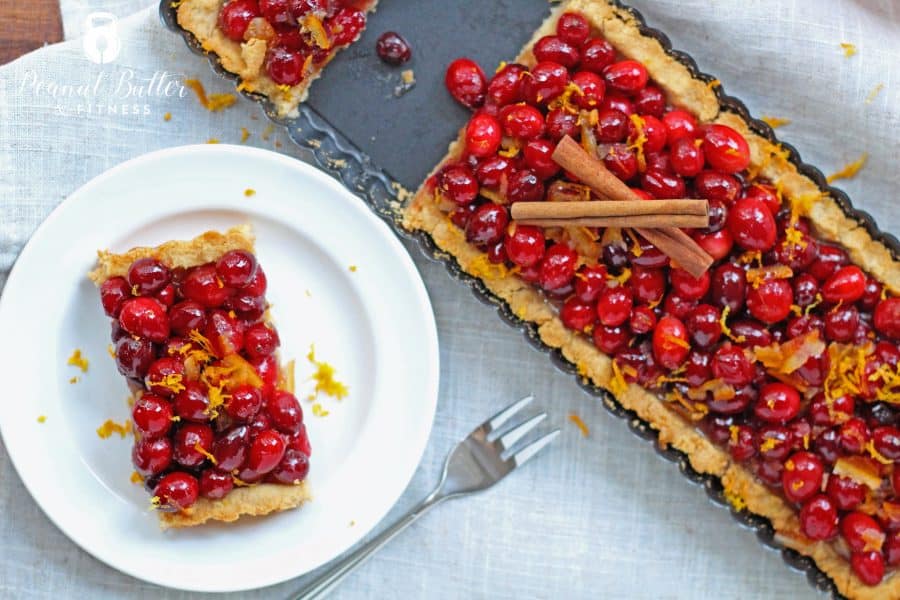 But back to the tart!  The trick to nailing this tart is to cook the cranberries just to the edge of bursting, but not actually have them burst.  That way they get nice and tender but don't turn into a swamp on your tart.  I will say though, that if you accidentally cook them to the point of bursting and have a lot more liquid than you intended and not enough ingredients to start over – just use a second packet of gelatin (no extra water though) and it should thicken up just fine.  Oh, and let me just apologize now for not even thinking about topping this beaut with some piped on protein frosting (whipped cream style) – the creaminess adds this level of luxury to the tart that I promise you is totally worth it.  Plus, um…extra protein?  Chyeah.  Never mind the loads of turkey protein you'll have already consumed at this point…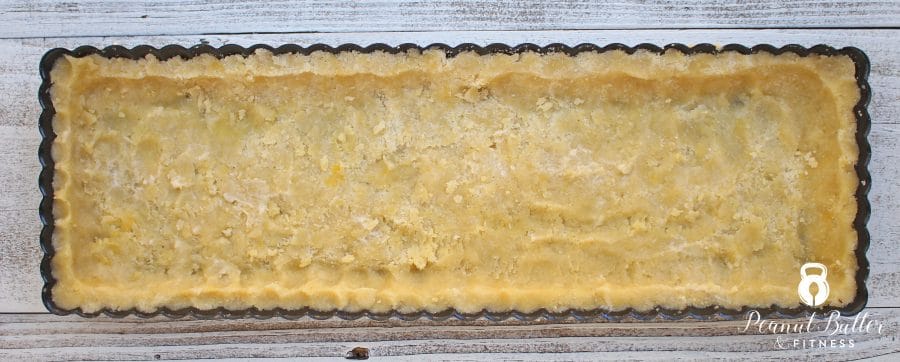 Here's a glamor shot of the raw tart crust.  Notice how I made the edges a full 1/4″ thick all the way to the top?  That will help you avoid a messy looking, crumby edge and will make it easier to dish out.  As you're pressing the dough up against the sides of the tart pan, use your other hand/fingers to push the edges of the crust back down a bit so it gets a flat top like this.  You can see my finger prints in there.  (I really need to up my video game for you guys.  #NewYearsResolution)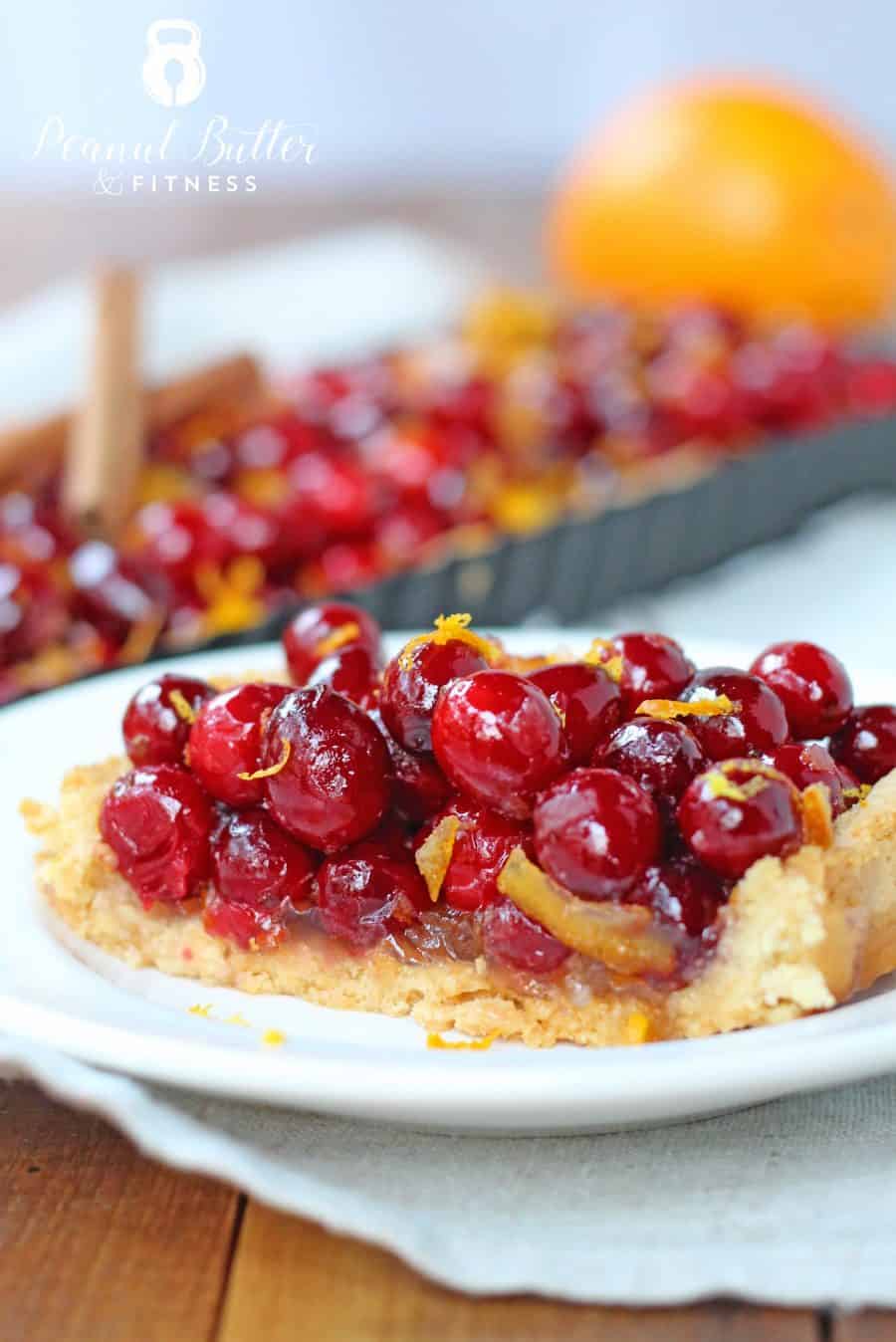 And lastly, don't forget to top it all off with a little bit of fresh orange zest 😉 It complements the orange zest inside the marmalade and adds a nice classy touch to your pretty dessert.  I use this zester – made in the USA and so much better than trying to fake it with a grater.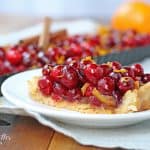 Gluten Free Cranberry Orange Tart
Prep Time 1 hour 40 minutes
Cook Time 20 minutes
Total Time 2 hours
Servings 8
Calories per serving 220 kcal
Ingredients
Crust Ingredients:
1 1/2 cups almond flour
1/2 cup arrowroot flour
1 egg
1 egg white
1 1/2 tbsp Earth Balance Buttery Spread with Olive Oil or regular unsalted butter
1/4 tsp salt
Filling Ingredients:
2 1/2 cup whole cranberries
1/2 cup Smucker's low sugar sweet orange marmalade
Juice from 1/2 an orange
1/4 cup plus 1/2 tbsp granulated monkfruit sweetener
1 packet unflavored gelatin
1/4 cup cold water
1/4 tsp cinnamon or a cinnamon stick for boiling
Optional protein frosting (trust me, you want this):
2/3  cup Dannon Light and Fit Vanilla Greek yogurt
Instructions
Pre-heat oven to 350 degrees.  Grease a long, rectangular tart pan with coconut oil and set aside.

Mix almond flour, arrowroot flour and salt.  Add egg and butter, then mash crust together using a fork until small crumbs form and flour is just combined.

Press crust into prepared tart pan using fingers and pushing crust up the sides of the pan.  Ensure the crust is about 1/4″ thick throughout (including at the top of the pan sides).

Bake crust at 350 degrees for 15-20 minutes or until it begins to turn golden brown (don't over cook or it will crack).

Combine cranberries, monkfruit sweetener, marmalade, orange juice and cinnamon stick in a saucepan over medium-low heat.  Stir frequently until sweetener is dissolved and continue simmering for 12-15 minutes until the cranberries have softened but are not bursting.

Remove cranberry mixture from heat and allow to cool slightly.  While cranberries cool, sprinkle gelatin into cold water and allow to rest for 2-3 minutes.  Stir gelatin into cranberry mixture and allow to cool completely.  Once cranberry mixture has cooled, pour into baked and cooled tart crust (put the tart crust on a pan or sheet of foil in case it leaks).

Refrigerate tart for at least one hour before serving.

If using the protein frosting, mix yogurt and casein protein together until smooth.  Spoon into a piping bag and pipe about 2 tbsp of the mixture on top of each tart slice (whipped cream style!).
Nutrition Facts
Gluten Free Cranberry Orange Tart
Amount Per Serving
Calories 220 Calories from Fat 117
% Daily Value*
Fat 13g20%
Cholesterol 23mg8%
Sodium 40mg2%
Carbohydrates 28g9%
Fiber 4g17%
Sugar 8g9%
Protein 7g14%
* Percent Daily Values are based on a 2000 calorie diet.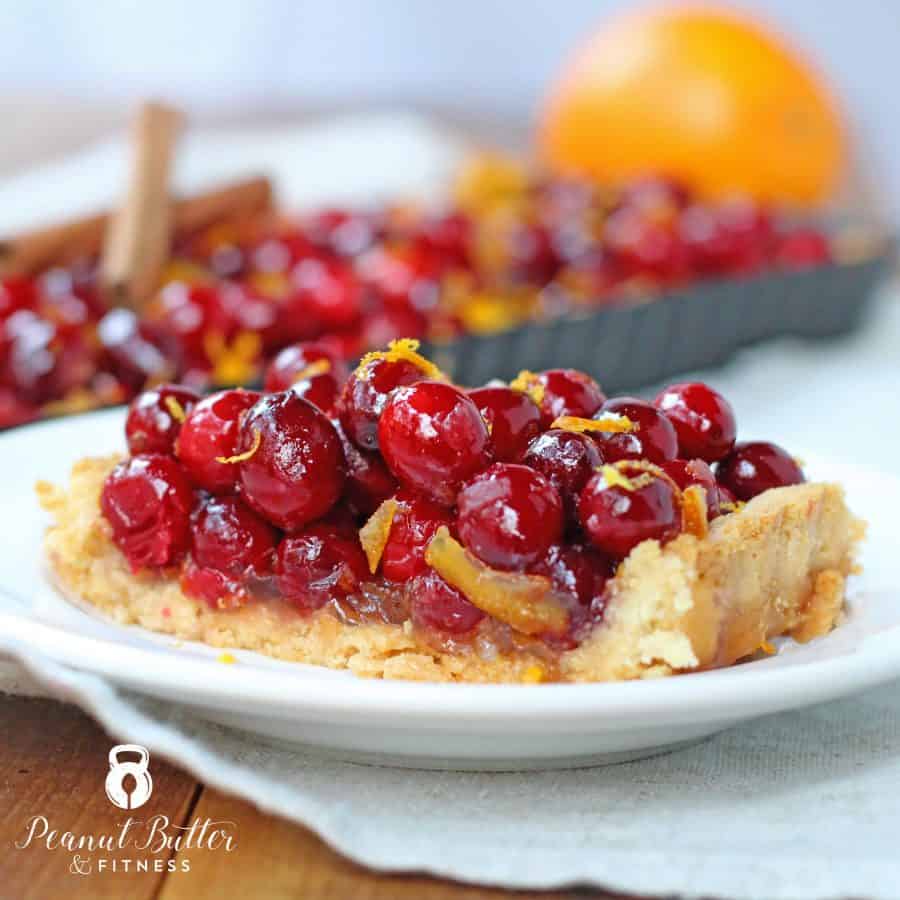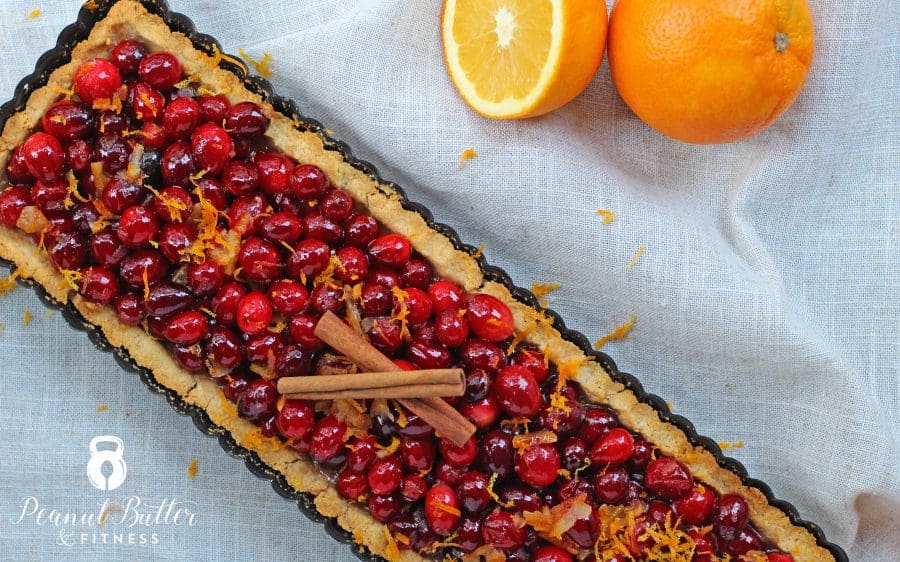 SaveSave