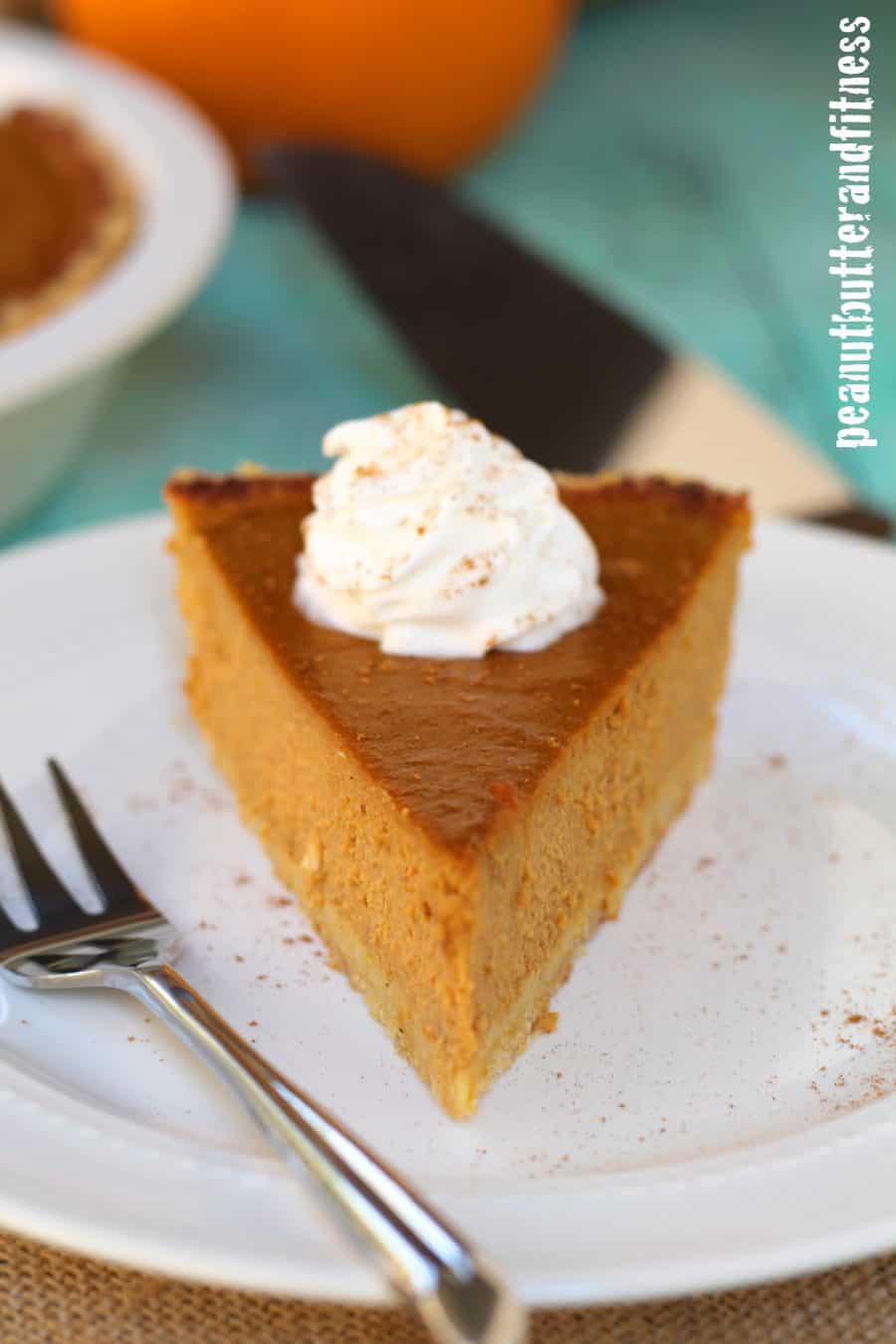 You guys…I made paleo pumpkin pie and it's freakin' amazing!  The taste and texture are spot on!  I even managed to squeeze in some protein powder to help balance the macros just a tiny bit…although the almond flour and coconut milk are packed with healthy fats, so each slice of pie also has a lot of healthy fat.  (If you're one of those people that still thinks eating fats makes you fat, read this or this.)
I'm still really happy with it though, because I'd much rather eat a pumpkin pie that's loaded with healthy fats rather than unhealthy sugars.  Mine has less than half the sugars of a regular slice of pumpkin pie, even when you slice it into the traditional 8 massive slices of pie.  I went with 10 slices because nobody really needs a bigger slice than that after chowing down on Thanksgiving dinner!
I'm loving this new photography background/board I got from Erickson Woodworks 🙂  I couldn't decide which color I liked better, so you get to see both in a single post.  Lucky you!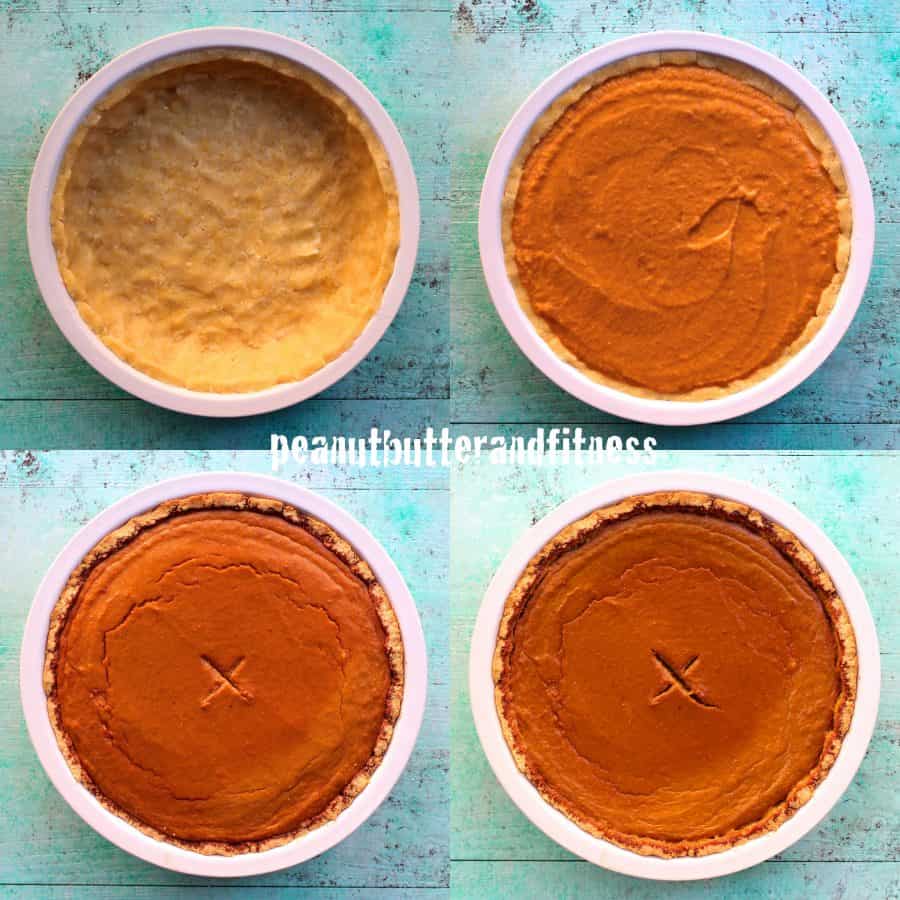 I call this piece "The Progression of Pie." It's kinda fun to see how much it changes from right after it comes out of the oven until after it has cooled completely.  Don't forget to make an X in the middle of the pie about halfway through cooking so it doesn't crack open while cooling!  See how much it settles while it cools?  Yeah, that's what'll make a big ugly crack in the top if you don't do something to prevent it.  My X even turned into a Zorro style cursive X with a bit of cracking and settling.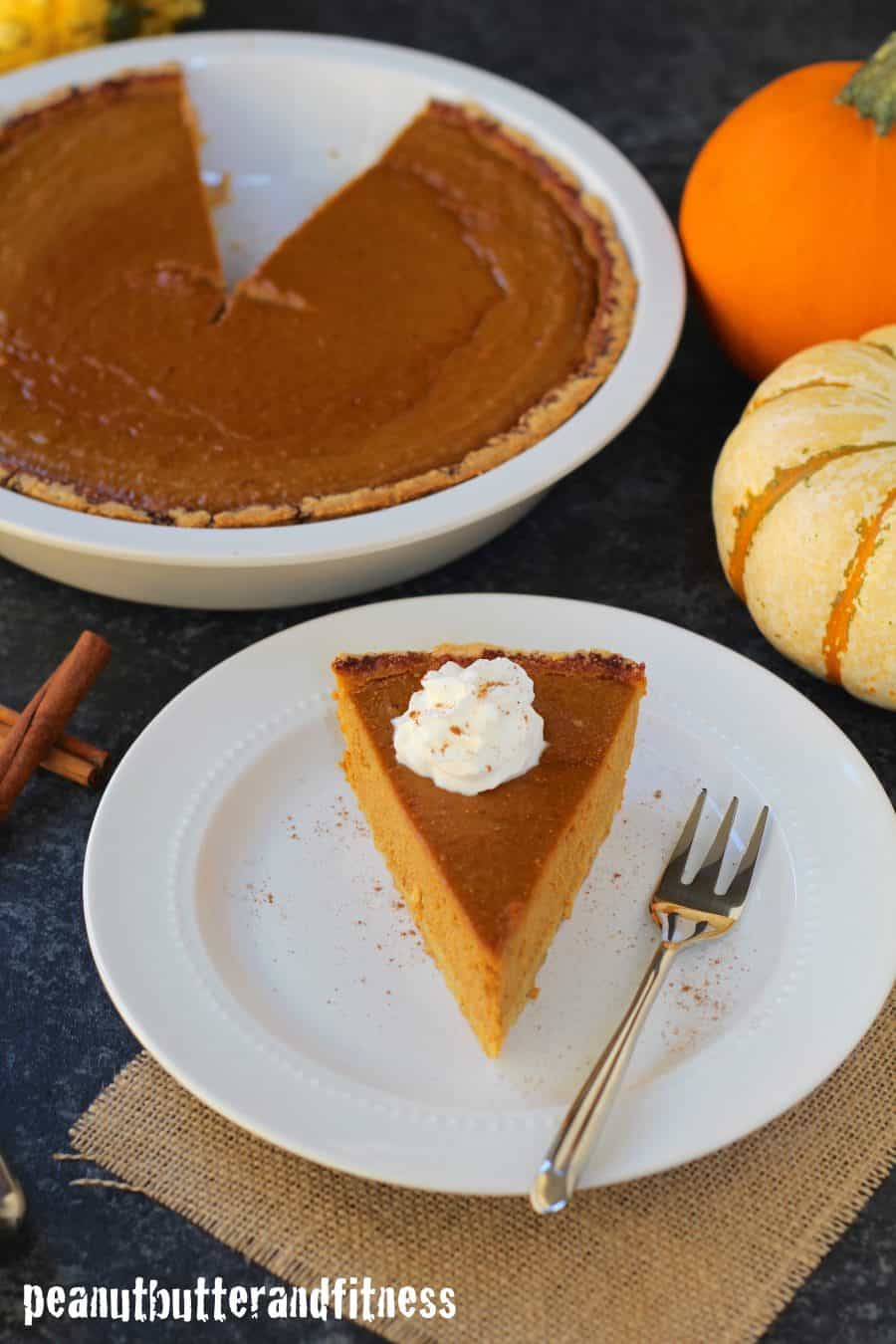 Oh and here comes the black background!  Eek!  I love it as much as I love the teal background.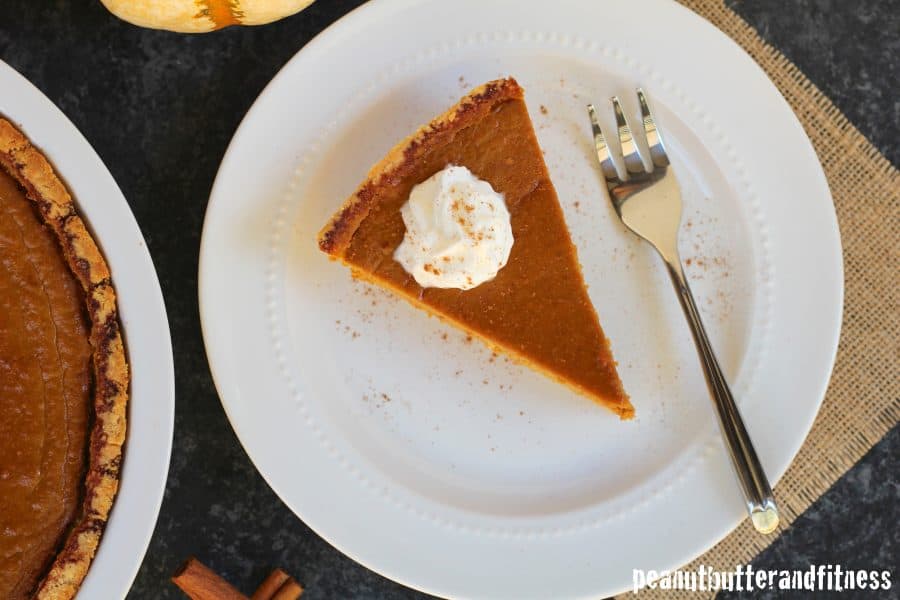 Paleo Pumpkin Pie
Yield: 10 slices • Serving size: 1 slice • Calories per serving: 259 • Fat: 16 g • Protein: 9 g • Carbs: 22 g • Fiber: 3 g • Sugar: 11 g • Sodium: 62 mg • Cholesterol: 77 mg
Filling Ingredients:
Crust Ingredients:
1 1/2 cups almond flour
1/2 cup arrowroot flour
1 egg
2 tbsp cold, unsalted butter
1/4 tsp salt
Directions:
Pre-heat oven to 350 degrees.  Spray a 9″ pie dish with coconut oil and set aside.
Mix almond flour, arrowroot flour and salt.  Add egg and butter, then mash crust together using a fork until small crumbs form and flour is just combined.
Press crust into prepared pie dish using fingers and pushing crust up the sides of the dish.  Ensure the crust is about 1/4″ thick throughout (including at the top of the dish sides).
Mix all filling ingredients until just combined, then pour into crust until the filling reaches the top of the crust, but goes no further (you may not be able to fit all of the filling).
Bake at 350 degrees for 30 minutes, then cut a small "X" into the center of the pie to keep it from cracking.  If needed, loosely tent aluminum foil around the edges of the dish to keep the crust from burning.  Continue to bake for another 30 minutes.
Remove foil and cool the pie on a wire cooling rack covered with a thin tea towel.  Once the pie is mostly cooled, remove tea towel and refrigerate for at least 1 hour before serving.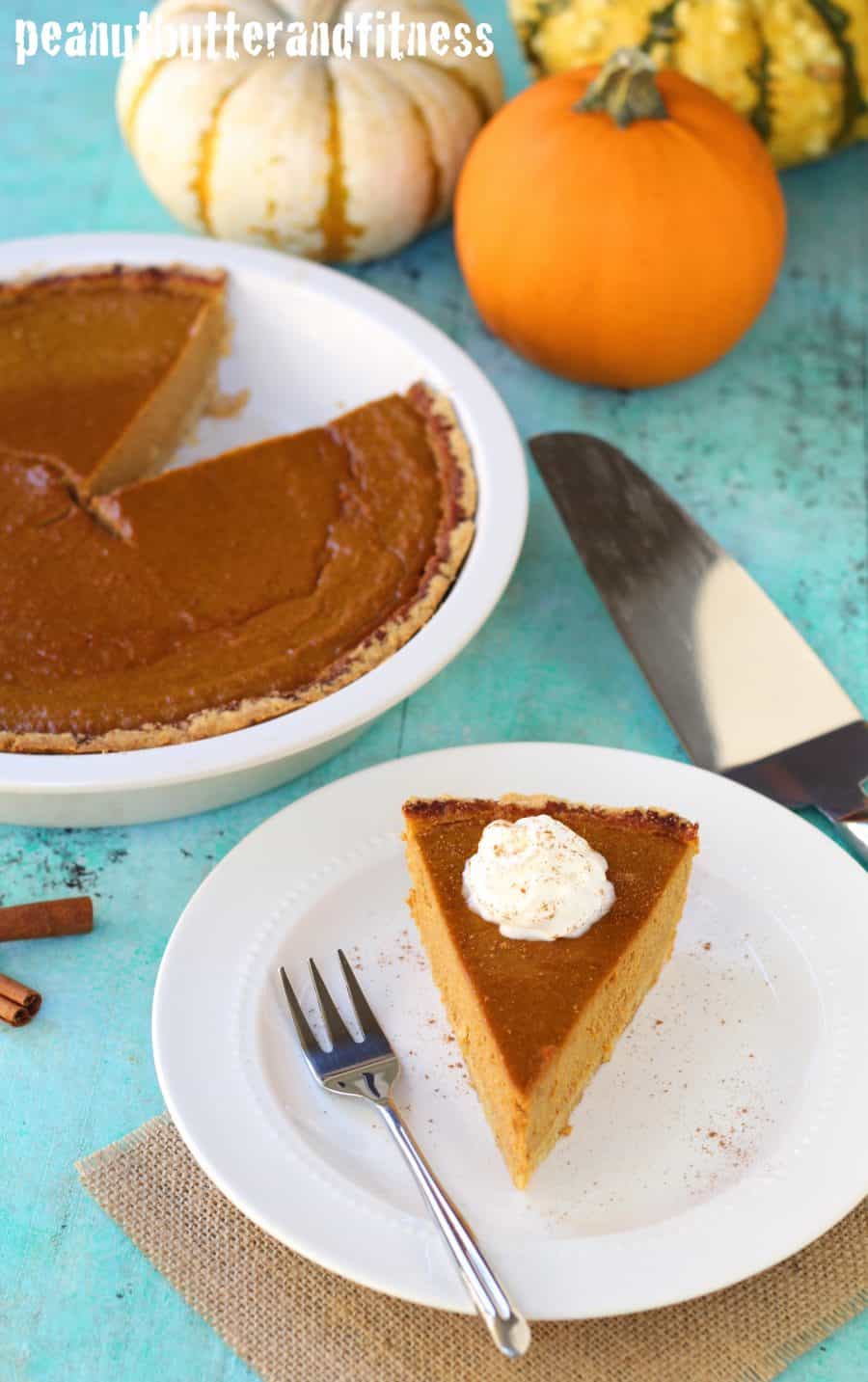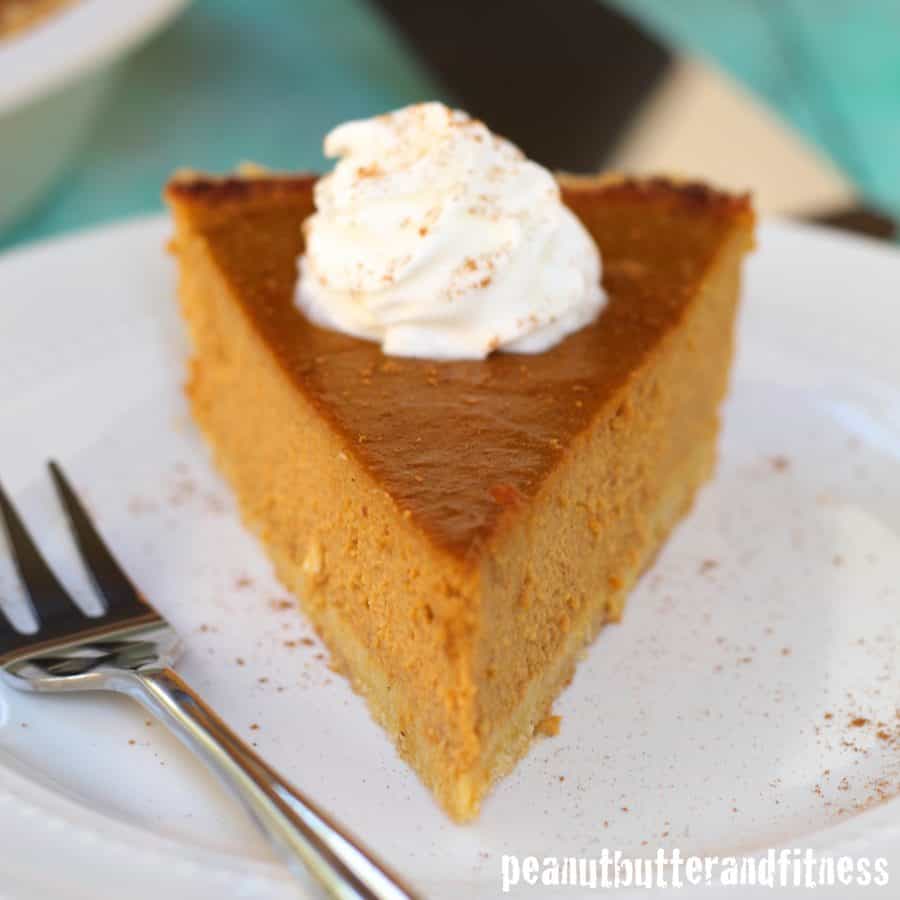 SaveSave