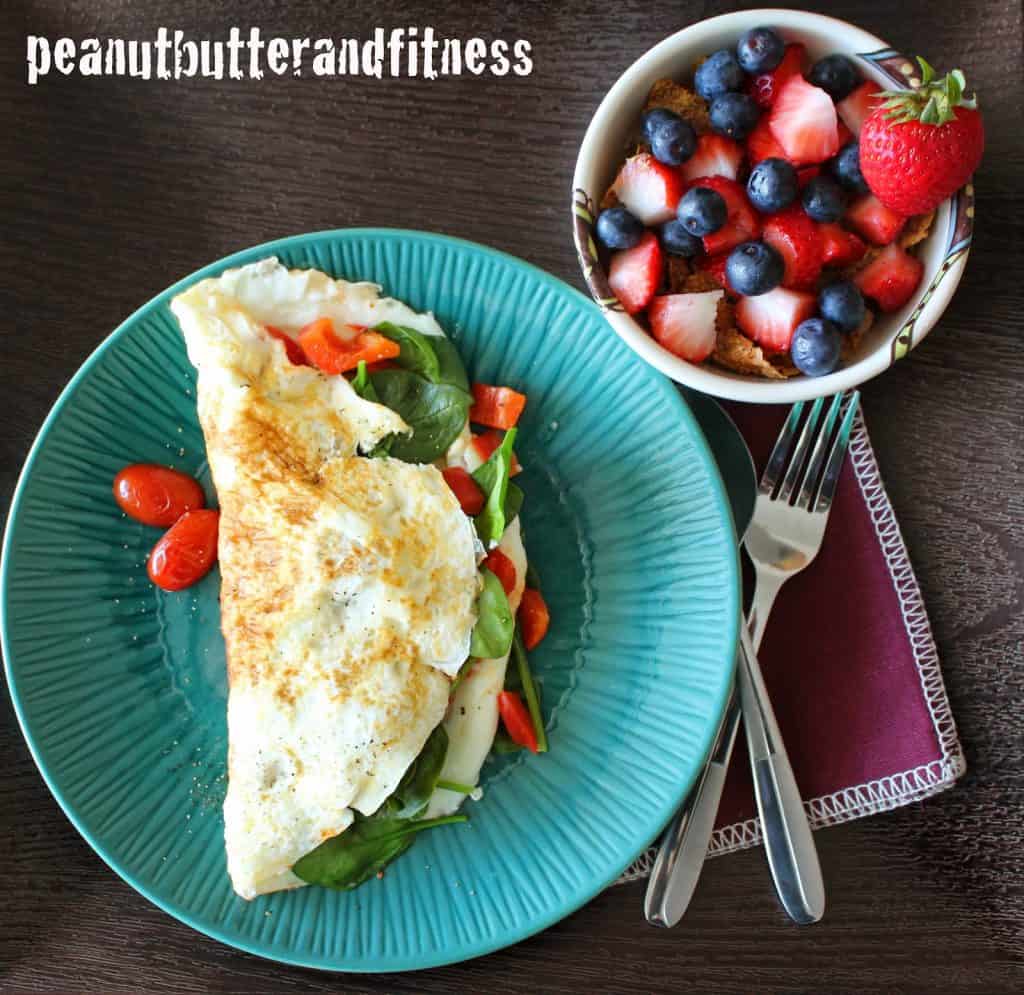 Adventurous breakfast-ing day 2! And yes, that's a side of cereal you see there (buried under berries).  Half a serving actually.  Baby steps, right?  I realize that my omelet is pretty pathetic looking, I'll just use the excuse that I never cook breakfast so I have no practice.  Maybe I should just watch some cooking videos and figure out how to do it right! Anyways…
My blueberry almond overnight oats yesterday were pretty tasty, but my stomach didn't feel awesome for most of the day.  I don't think my body knew what to do with non-cereal for breakfast, hence the half serving of cereal today.
I almost felt like I had to force feed myself all this food…it's pretty crazy how much more food you get for the same amount of calories if it's healthy.  Hopefully this breakfast makes me feel great all day…here's how it stacks up to my usual cereal breakfast:
Cereal – Calories: 452 • Fat: 9 g • Protein: 19 g • Carbs: 81 g • Fiber: 12 g • Sugar: 22 g • Sodium: 378 mg
Today's Breakfast – Calories: 365 • Fat: 10 g • Protein: 26 g • Carbs: 49 g • Fiber: 7 g • Sugar: 16 g • Sodium: 612 mg
Here's what was in the omelet…the sausage added a lot of sodium, but it was pretty delish, so I can live with it.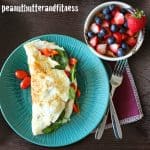 Egg White, Veggie and Turkey Sausage Omelet
Prep Time 5 minutes
Cook Time 5 minutes
Total Time 10 minutes
Servings 1 serving
Calories per serving 139 kcal
Ingredients
6 tbsp Egg Beaters Egg Whites
2 turkey sausage links I used Banquet Brown 'n' Serve
1/2 cup baby spinach
4 cherry tomatoes halved
1/4 cup red bell pepper diced
Black pepper to taste
Instructions
You probably shouldn't listen to me since I'm bad at making omelets.  Do what you think is right.
Nutrition Facts
Egg White, Veggie and Turkey Sausage Omelet
Amount Per Serving
Calories 139 Calories from Fat 45
% Daily Value*
Fat 5g8%
Sodium 438mg19%
Carbohydrates 8g3%
Fiber 7g29%
Sugar 4g4%
Protein 16g32%
* Percent Daily Values are based on a 2000 calorie diet.