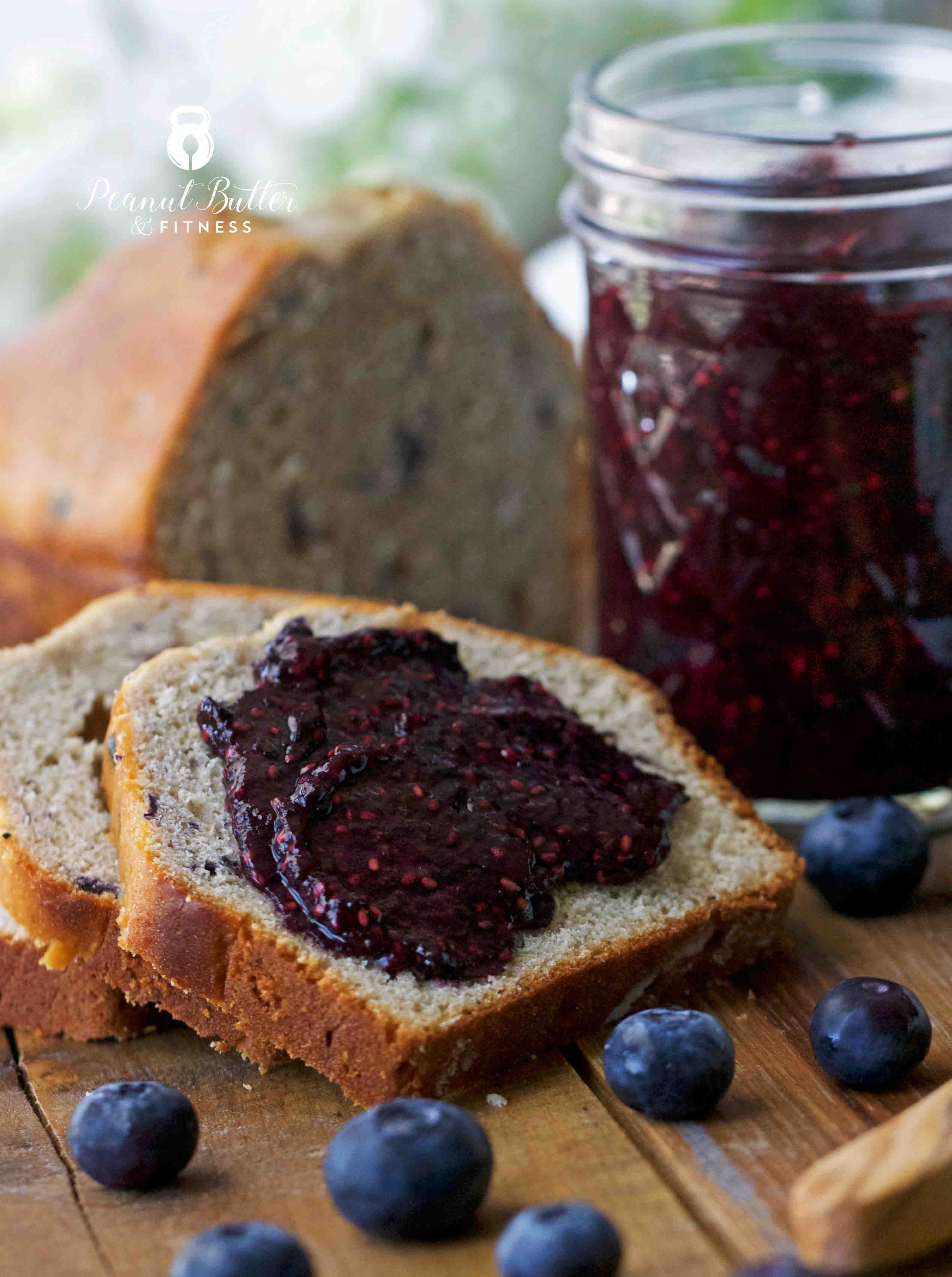 Happy hump day, y'all! Today I'm back with a recipe that's so ridiculously simple that I debated even giving it a post of its own. Buttttt it's really delicious, so allow me to introduce you to this Easy Blueberry Chia Jam! I love making simple chia jams for on top of things like these overnight oats. I actually made this one as a possible filling for a recipe that I was trying out a couple weekends ago…you may have seen the chronicle of recipe failures on my Instagram stories, including the loaf of bread that you see here.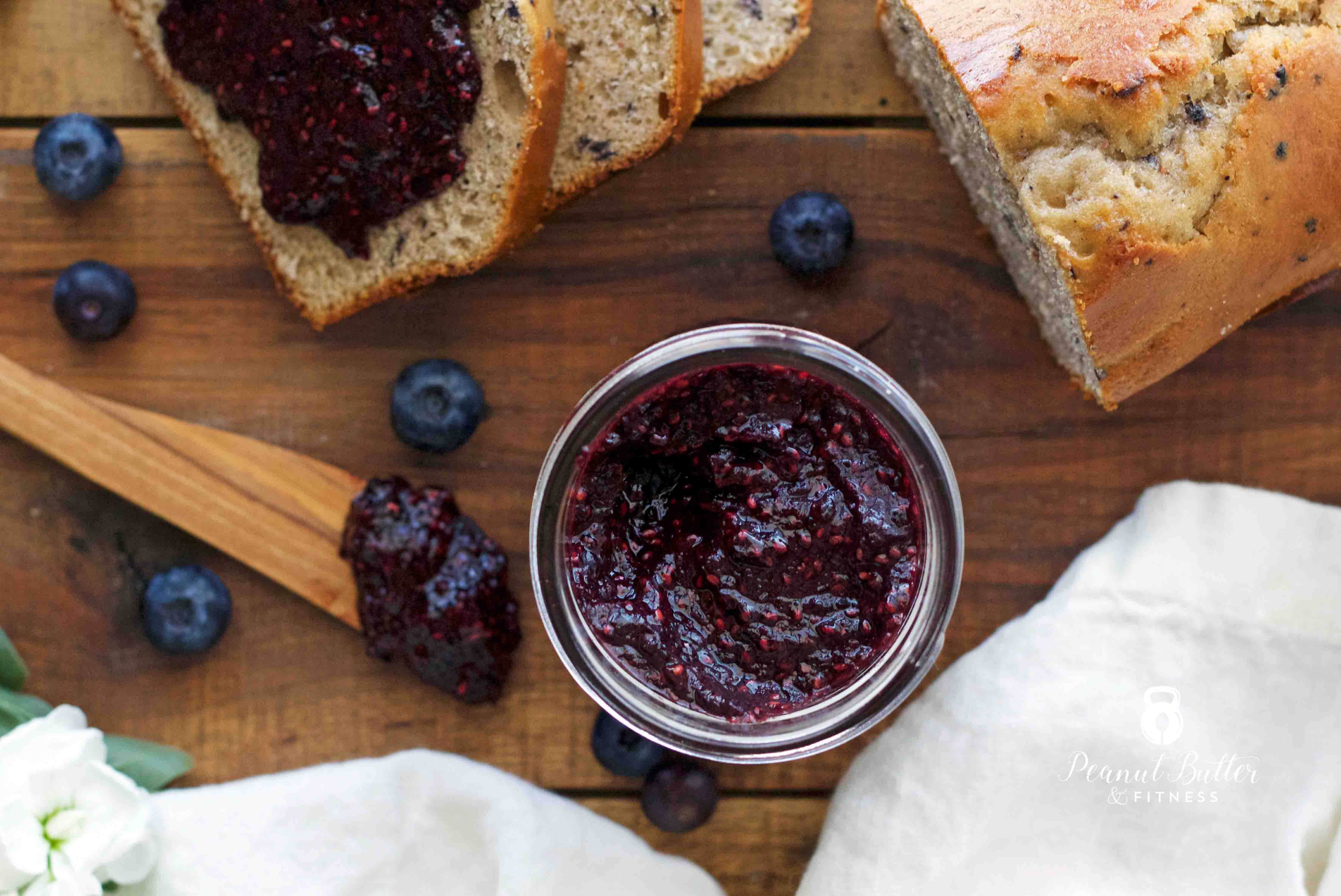 This bread is fine and all, but when you're trying to make something that is most definitely not bread, it still feels like a recipe failure. I did manage to stumble upon some delicious little bread-y biscuits that I baked in the air fryer though. I plan on tweaking that recipe just a bit and sharing on here at some point!
Anyway, back to this jam…the chia seeds play the role of "gelling" up the mashed blueberries and giving it the jam-like texture you're familiar with. I left the chia seeds whole in my jam, but I know that not everyone loves that bite. If that's you, there are two ways to make this jam smooth: 1) mill the chia seeds before adding them to the mashed blueberries (NutriBullet has a milling blade that would work perfectly); or 2) food process/blend the heck out of the jam after it's already set up to get it super smooth.
Enjoy!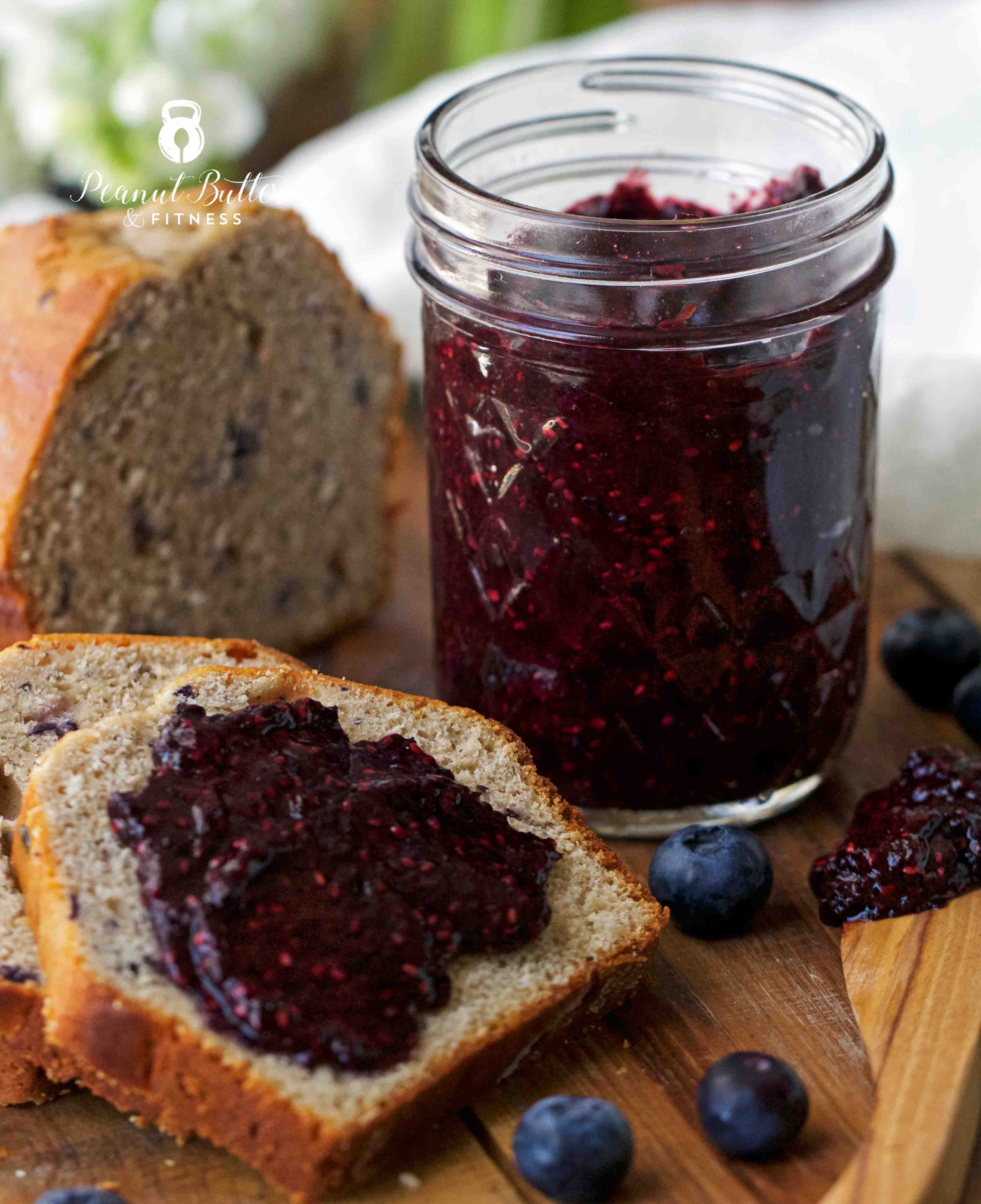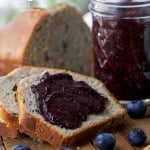 Easy Blueberry Chia Jam
Prep Time 5 minutes
Cook Time 15 minutes
Total Time 20 minutes
Servings 8 servings (~2 tbsp per serving)
Calories per serving 36 kcal
Ingredients
1 1/2 cups frozen blueberries (210 grams)
2 tbsp granulated cane sugar (24 grams)
1 1/2 tbsp chia seeds (18 grams)
Instructions
Add blueberries and sugar to a small covered pot and bring to a boil over medium heat (the liquid in the frozen blueberries will release and boil).

As the blueberries soften, mash with the back of a spoon to release more liquid and continue to boil for about 10 minutes until all blueberries are burst. Remove from heat and mix in chia seeds. Refrigerate overnight to set up.

After setting up overnight, add blueberry jam mixture to a food processor and blend until it reaches desired texture (I like some chunks of blueberries in mine).
Nutrition Facts
Easy Blueberry Chia Jam
Amount Per Serving
Calories 36 Calories from Fat 9
% Daily Value*
Fat 1g2%
Sodium 1mg0%
Potassium 23mg1%
Carbohydrates 7g2%
Fiber 1g4%
Sugar 5g6%
* Percent Daily Values are based on a 2000 calorie diet.