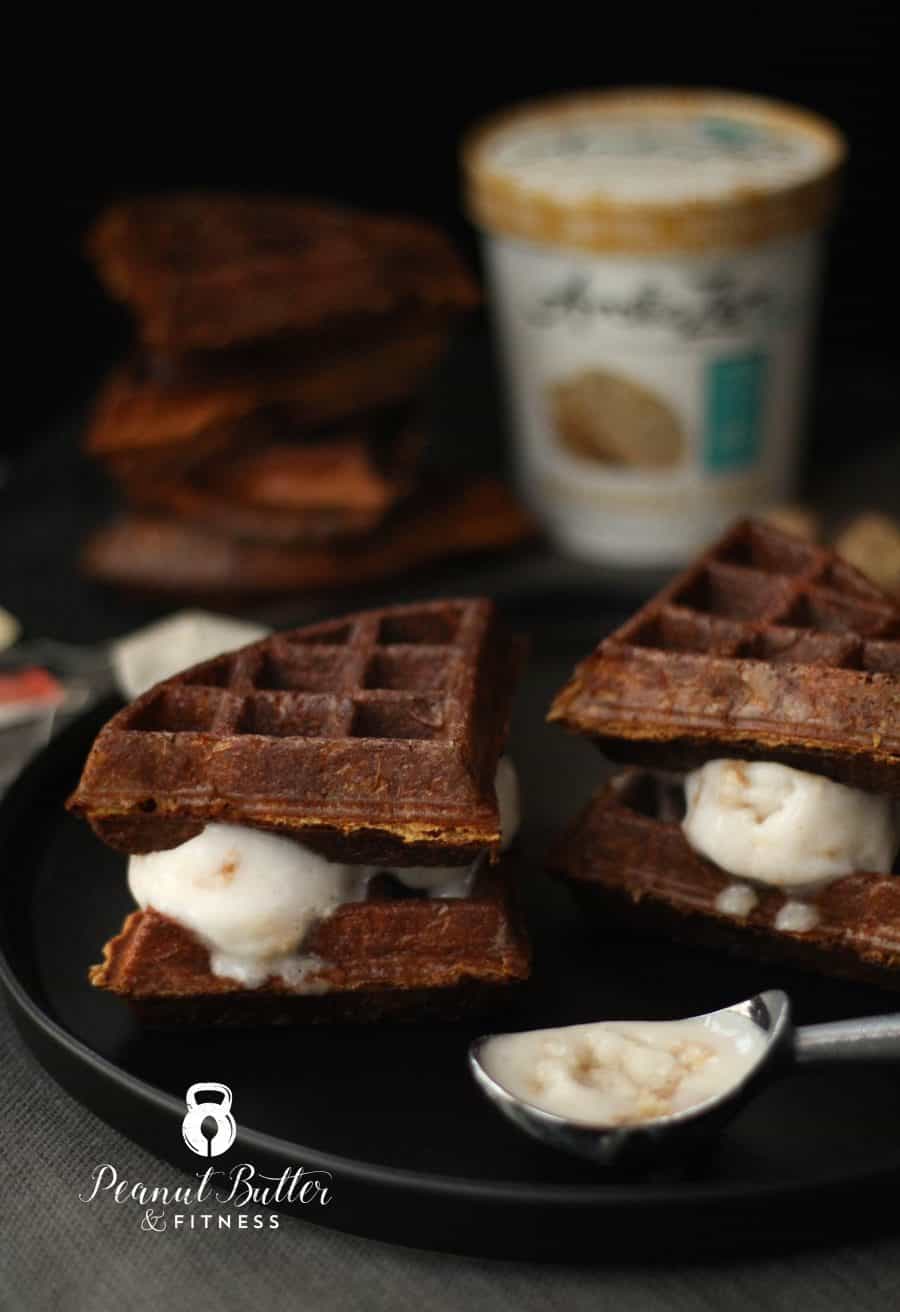 What's up waffle ice cream sandwiches?  Come over here and let me bite you 🙂  These aren't just any waffle ice cream sandwiches though…these are protein packed waffle ice cream sandwiches that you don't have to feel bad about eating.  In fact, I think I'll have one as a pre-workout snack tomorrow!  So a couple things to chat about here…1) I'm digging chai flavored everything (especially dirty chai) right now; 2) it's been raining and cloudy in San Francisco so I tried my hand at some dark and moody photography; and 3) Arctic Zero sent me some protein ice cream to try and I've polished off 2 pints already!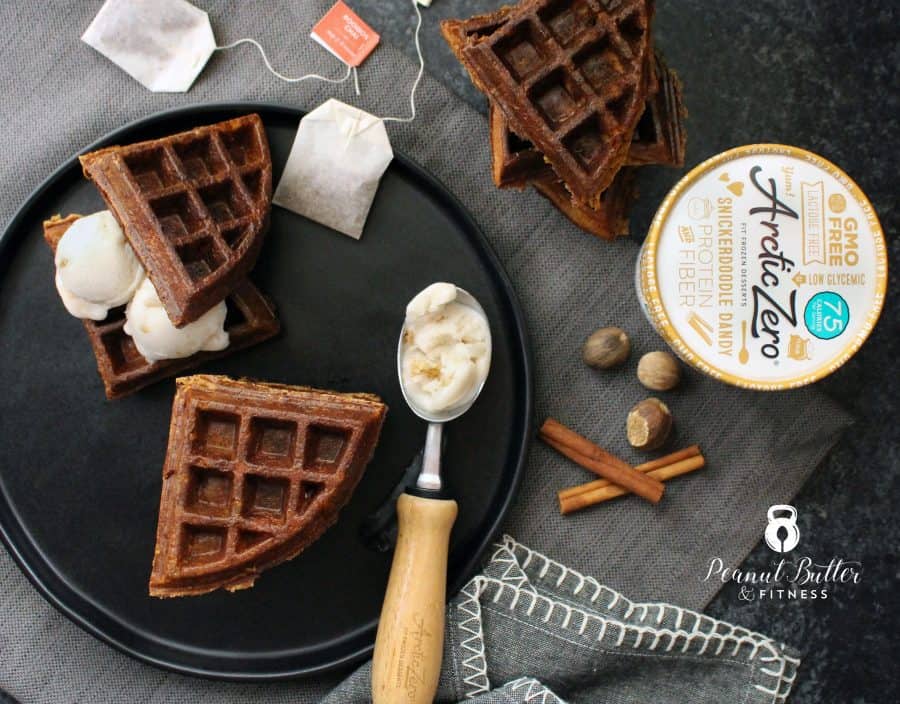 I used the Snickerdoodle Dandy flavor for this little waffle sandwiches but you could use the Cake Batter flavor or whatever else suits your fancy.  I'm not sure what they've done to change their ice cream formula since the last time I tried Arctic Zero, but it's suuuuuuper creamy and dreamy now.  Give it a try and see for yourself!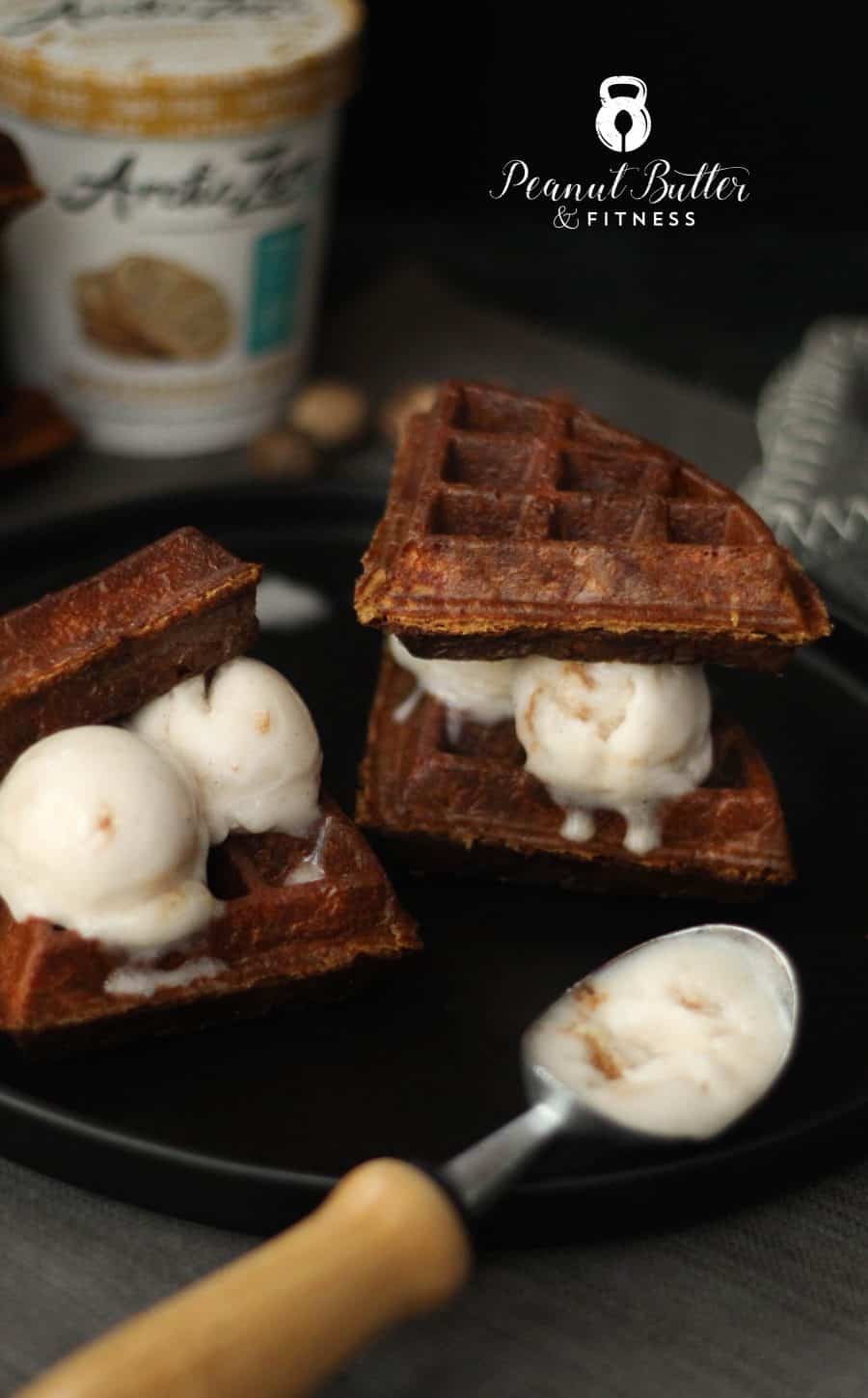 I used a Waring Pro Double Belgian Waffle Maker to make these waffle beauties – it does an awesome job of making crispy waffles on the outside that are nice and airy on the inside.  Totally worth the splurge!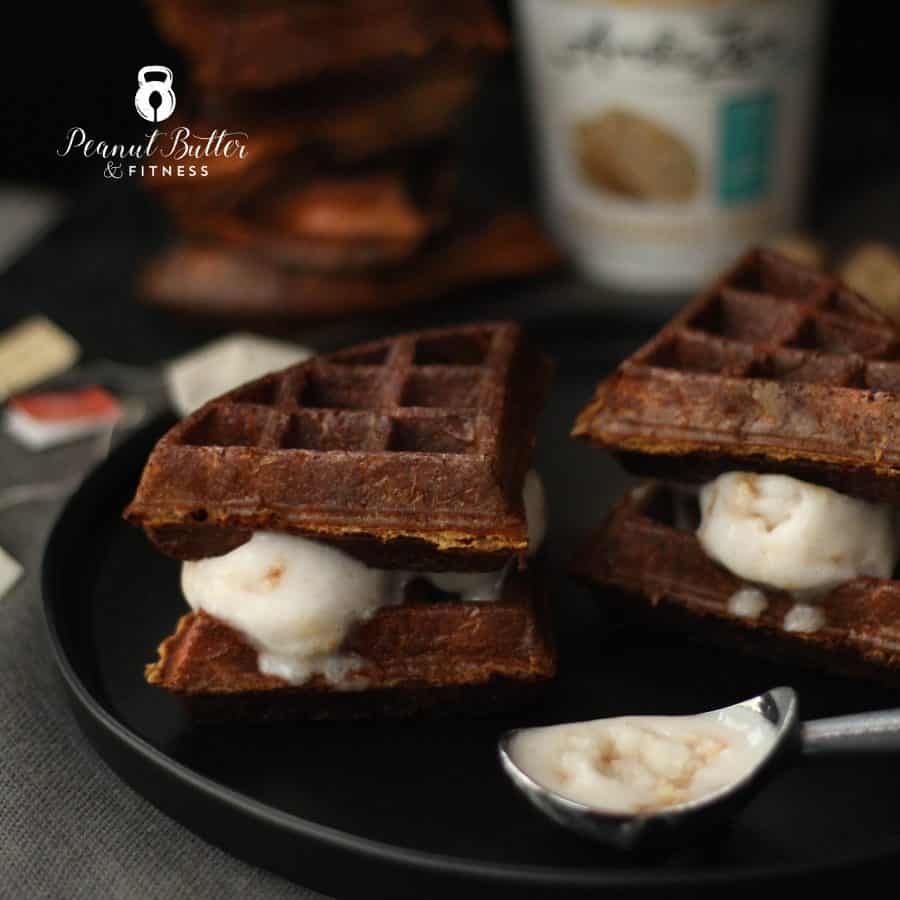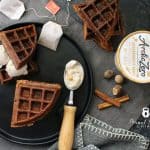 Dirty Chai Ice Cream Waffle Sandwiches
Prep Time 15 minutes
Cook Time 10 minutes
Total Time 25 minutes
Servings 4
Calories per serving 201 kcal
Ingredients
1 cup unsweetened vanilla almond milk
1/2 cup unsweetened apple sauce
1 egg ,room temperature
1/2 tbsp coconut oil ,melted
1 scoop grass fed whey protein
3 tbsp almond flour
3 tbsp tapioca flour
2 1/2 tbsp coconut flour
3 chai tea bags
1 tsp rounded instant espresso
1/2 tsp cinnamon
1/2 tsp ground ginger
1/8 tsp all spice
1/8 tsp ground cloves
1/4 tsp baking soda
1/4 tsp baking powder
Instructions
Add almond milk to a small pot and bring to a simmer over medium heat.  Add tea bags and steep for about 5 minutes (the almond milk should darken and reduce slightly).  Remove and strain tea bags, remove pot from heat, then stir in instant espresso, cinnamon, ginger, all spice, and cloves.  Set aside to cool.

Mix remaining dry ingredients in a bowl, then add wet ingredients and mix until smooth.  Allow to rest about 5 minutes to allow tapioca flour to thicken.

Pre-heat your waffle maker (I set my Waring Pro Double Belgian Waffle Maker to 4.5).

Pour half of your waffle batter into one side of your waffle maker, ensuring it is spread to the edges.  Close that side of the waffle maker, flip and repeat.  Cook waffles for about 5 minutes or until they reach desired done-ness.

Top half of the waffle quarters with 2 scoops of Arctic Zero, then top with the remaining waffle quarters.
Recipe Notes
Each serving size is 1/2 a waffle with 2 scoops ice cream.
Nutrition Facts
Dirty Chai Ice Cream Waffle Sandwiches
Amount Per Serving
Calories 201 Calories from Fat 72
% Daily Value*
Fat 8g12%
Cholesterol 57mg19%
Sodium 233mg10%
Carbohydrates 21g7%
Fiber 4g17%
Sugar 10g11%
Protein 11g22%
* Percent Daily Values are based on a 2000 calorie diet.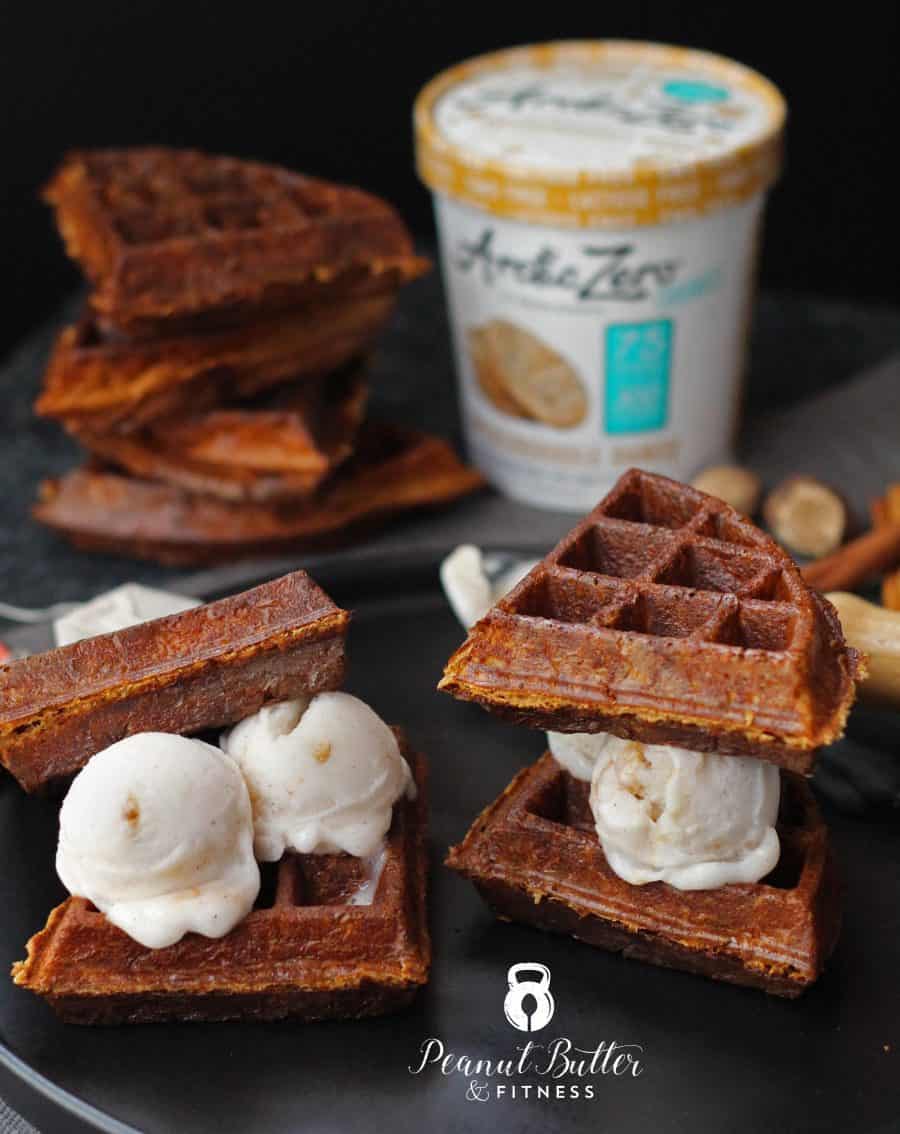 How am I doing on the dark and moody photography?  I felt a little lost when I was editing because I normally try to get a bright and airy feel to my food pictures (and don't always succeed).  So anywho, the shadows and dark colors freaked me out.  But I think the final product is pretty cool looking.  I need to work on it though 😉