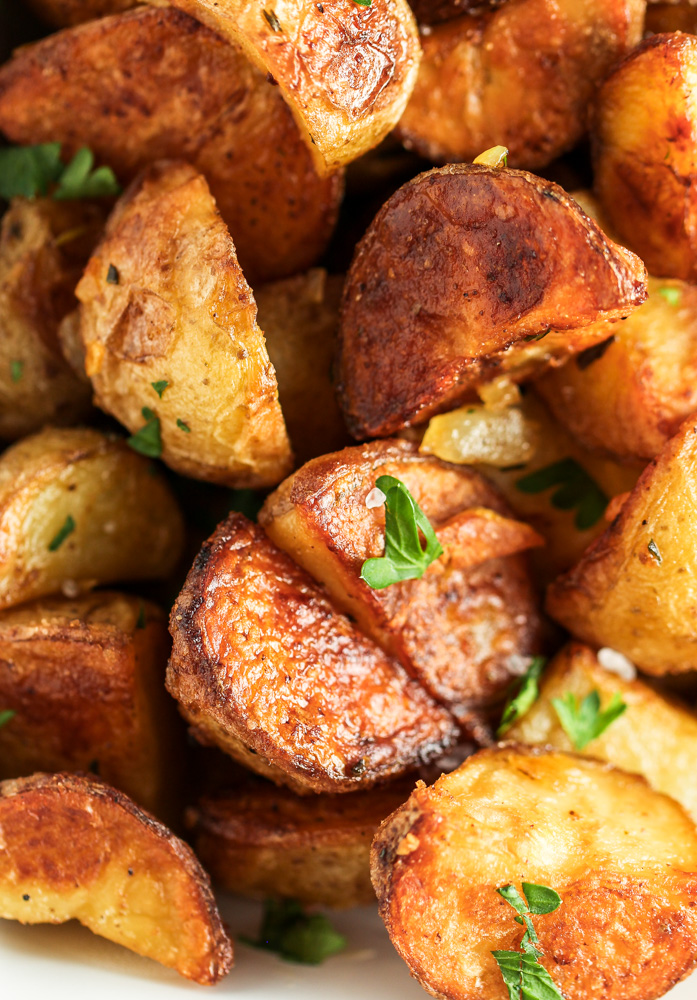 Happy hump day! Bringing you a side of these Crispy Rosemary Potatoes for your dinner tonight 😉 I don't know about you, but my favorite potatoes are crispy. Even better when I can achieve that golden brown deliciousness right at home without too much fuss and zero deep frying.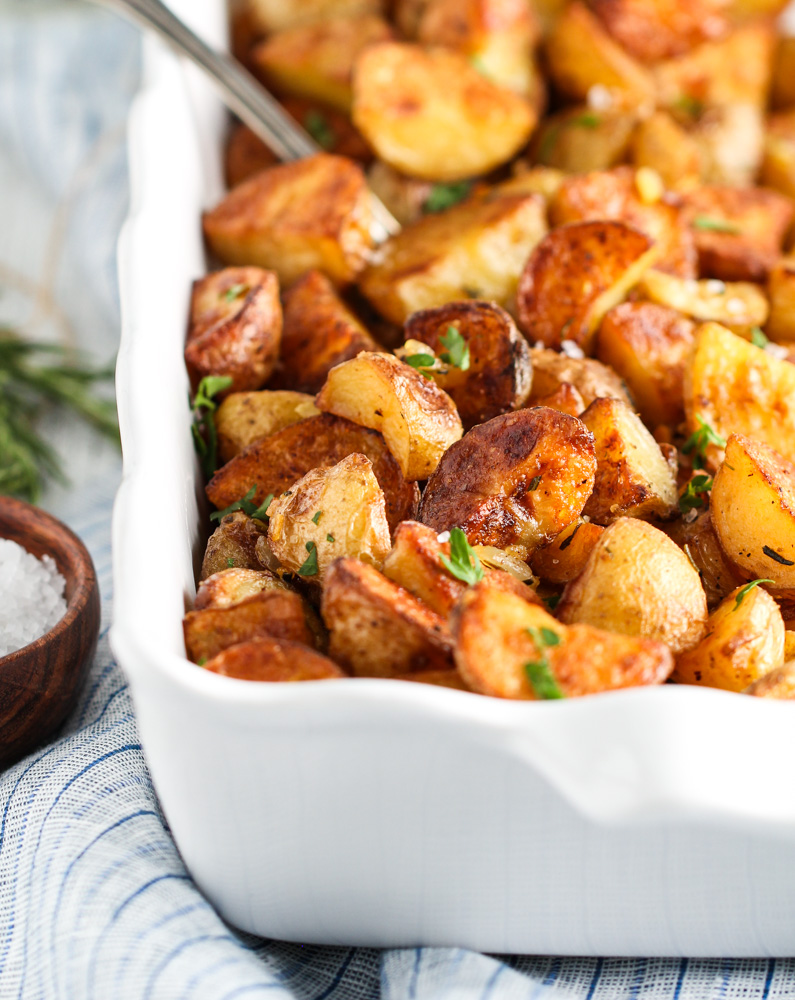 Most crispy roasted potato recipes call for parboiling the potatoes to soften them up and help build that ready-for-crisping starch, but instead, I went for the low fuss microwave method. Once they've been softened up in the microwave, it's time to rough them up a bit with kosher salt (it's important you use kosher salt here, not table salt). This is how you build up starch on the outside of the potatoes, which is key for getting them crispy in the oven.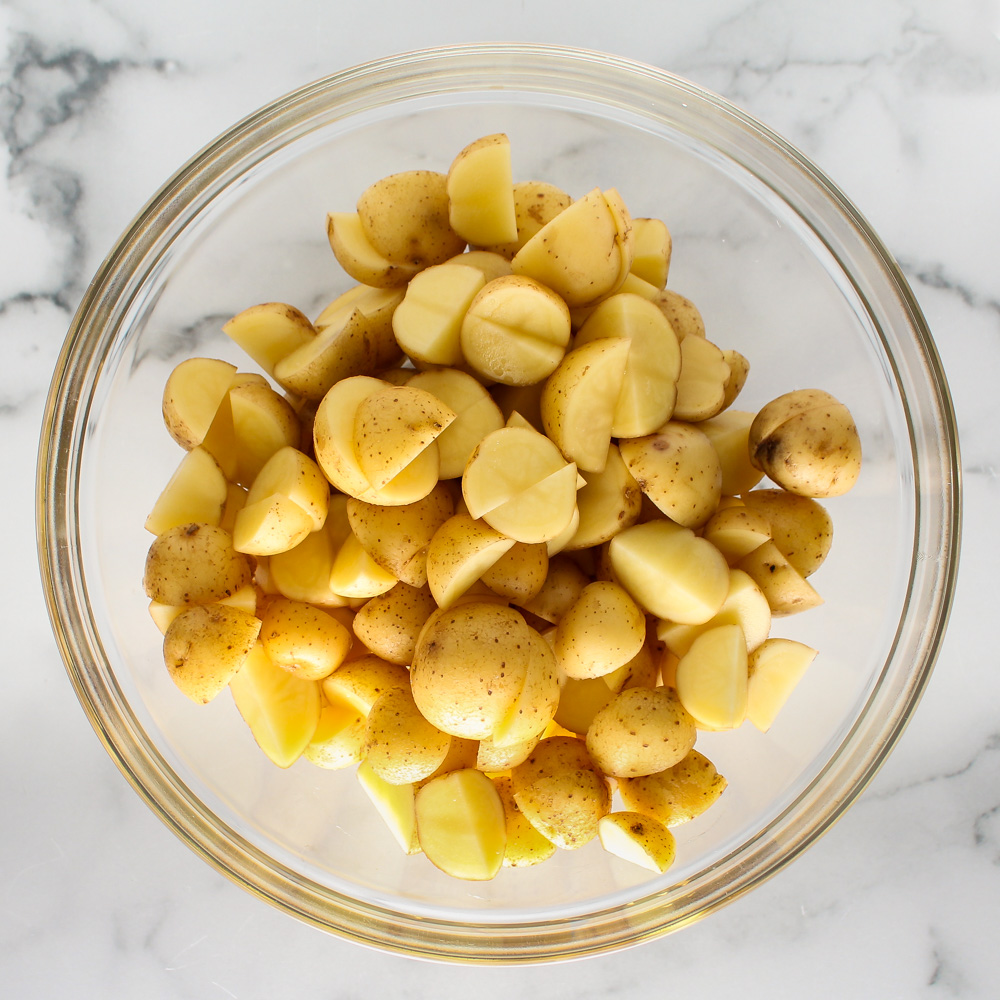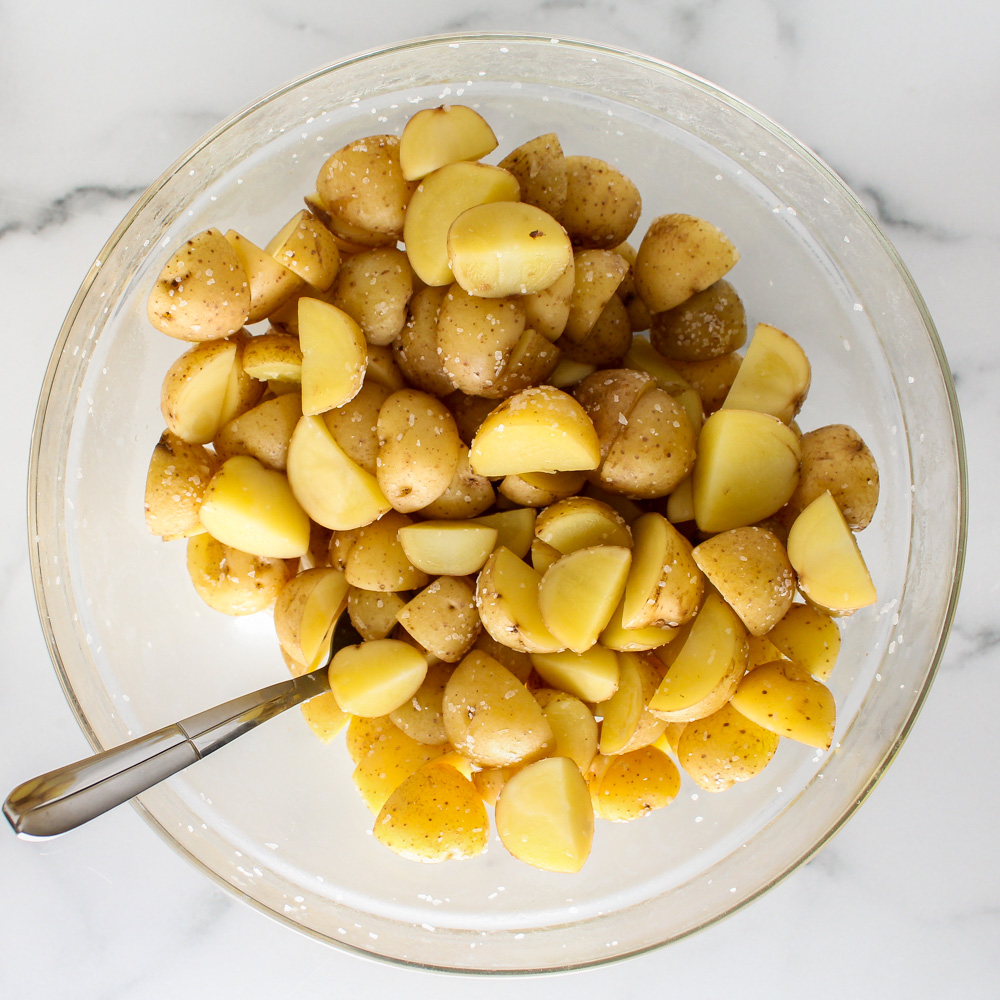 To get the rosemary flavor on these potatoes without burning the rosemary leaves in the oven, I infused an oil and butter mixture with rosemary and garlic, then strained out the rosemary and garlic before tossing the potatoes in the oil/butter. Add the garlic and rosemary back to the potatoes for the last 20 minutes of roasting to really bring home those flavors.
Enjoy!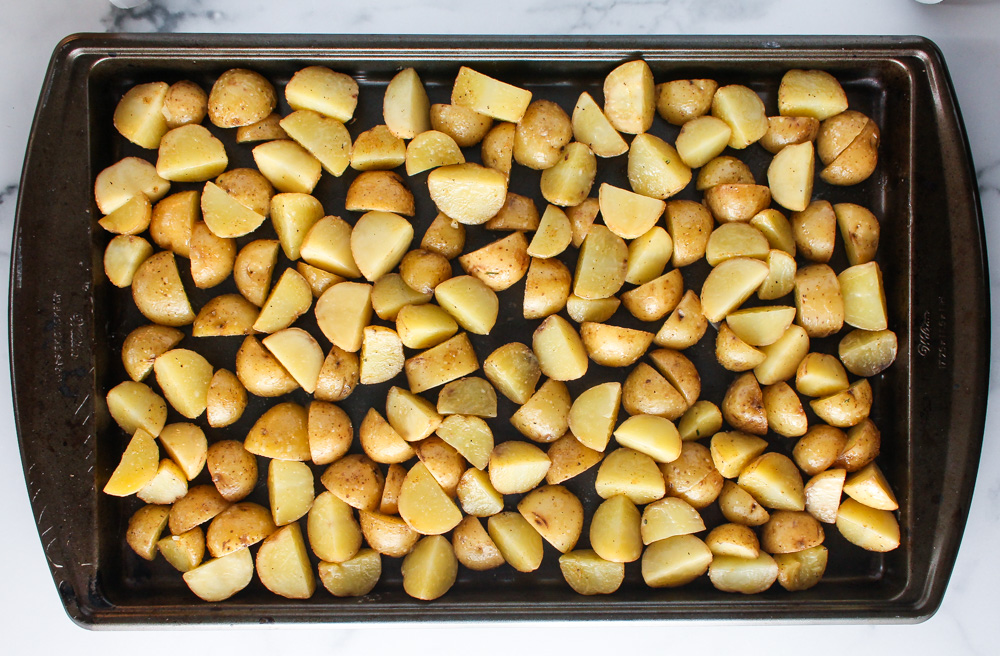 Recipe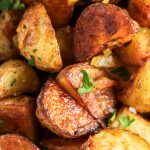 Crispy Rosemary Potatoes
Prep Time 25 minutes
Cook Time 1 hour
Total Time 1 hour 25 minutes
Servings 6 servings (1 cup per serving)
Calories per serving 245 kcal
Ingredients
3 lb baby Yukon Gold potatoes, quartered
6 cloves garlic, minced (24 grams)
2 tbsp unsalted butter
1 1/2 tbsp olive oil (1 fl oz)
1 tbsp kosher salt
1/2 tbsp fresh rosemary, chopped
Instructions
Add potatoes to a large, microwave safe bowl. Cover with a plate or hard (microwave-safe) plastic cover to trap the steam in the bowl. Microwave for 10 minutes, stirring about halfway through.

Pat the potatoes as dry as possible, then add kosher salt to bowl. Vigorously stir the potatoes and kosher salt to rough up the edges and help develop the starch on the outside of the potatoes. This should take 2-4 minutes of stirring.

Pre-heat oven to 425° (or 400° if you have a convection oven).

Add olive oil to a small sauce pan and heat over medium-high heat until shimmery. Add garlic and chopped rosemary. Saute for 2-3 minutes until softed and garlic is golden brown. Add butter to melt, then remove from heat and strain the garlic and rosemary from the liquid, reserving it for later.

Toss potatoes with the infused olive oil mixture until coated evenly. Season with Flavor God Garlic Lover's seasoning, then spread into an even layer on a large baking sheet.

Roast the potatoes for 20 minutes, then toss them with a spatula and roast for another 20 minutes. Add reserved garlic and rosemary mixture, tossing the potatoes to coat evenly. Roast for a final 20 minutes.

Top with fresh chopped parsley and flakey sea salt before serving, if desired.
Recipe Notes
Reheating: For best texture, reheat the potatoes in an air fryer, toaster oven, or skillet.
Click here or scan the barcode below to log this food in My Fitness Pal.
Nutrition Facts
Crispy Rosemary Potatoes
Amount Per Serving (1 cup)
Calories 245 Calories from Fat 63
% Daily Value*
Fat 7g11%
Cholesterol 10mg3%
Sodium 575mg25%
Potassium 13mg0%
Carbohydrates 35g12%
Fiber 5g21%
Sugar 2g2%
Protein 5g10%
* Percent Daily Values are based on a 2000 calorie diet.