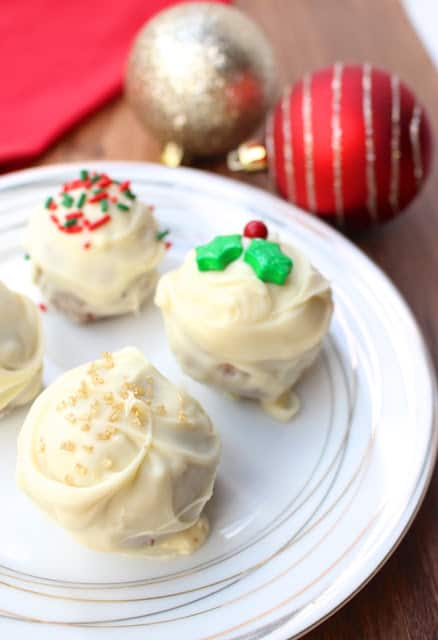 Merry Christmas Eve!
How about this for a failed recipe turned success??  So the other day I was making what I thought would be some really awesome red velvet white chocolate chip protein cookies…but then they went into the oven and turned into blobs.  Tasty, cake-y blobs, but really ugly, non-cookie blobs.  But I couldn't let them go to waste!  Instead, I present to you…cookie crumble protein truffles!
The inside of these guys are like chocolate cake that's been crumbled up and mixed with it's icing 🙂  Yum.  If you want to cut down on some of the fat and sugar, sub out the white chocolate chips with dark chocolate chips.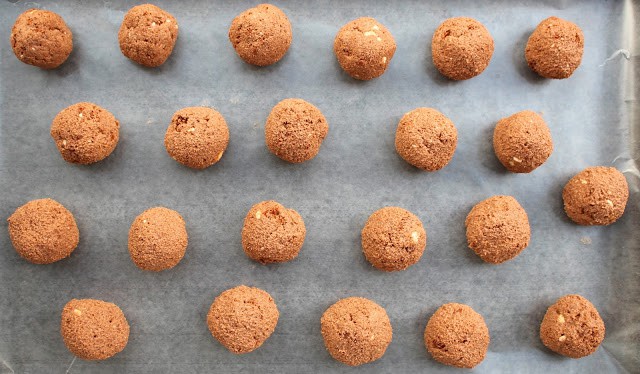 I like the taste of the red velvet whey protein in this recipe, but you could definitely sub it out with some regular chocolate protein.  I don't use red velvet often for baking (and I don't like to drink it after my workouts because it's too sweet), so I just bought a Cellucor sampler pack on Amazon.  You get 4 scoops per little sampler bag for $4.99 (and free Prime shipping!), so it's perfect if you don't want to commit to an entire 2lb tub.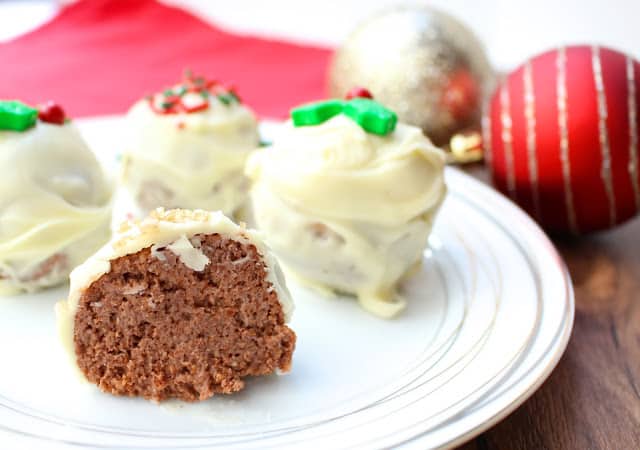 Cookie Crumble Protein Truffles
Yield: 32 truffles • Serving size: 1 truffle • Calories per serving: 81 • Fat: 3 g • Protein: 5 g • Carbs: 8 g • Fiber: 1 g • Sugar: 6 g • Sodium: 83 mg • Cholesterol: 15 mg
Cookie Ingredients:
3/4 cup oat flour
3 tbsp Splenda brown sugar blend
2 tbsp unsweetened cocoa powder
1/2 tsp baking soda
1/2 cup unsweetened applesauce
1 large egg (room temperature)
1 tbsp melted coconut oil
1 tsp vanilla extract
Filling Ingredients:
1 1/2 cups Ghirardelli white chocolate chips
Add all wet cookie ingredients to a bowl and whisk until smooth.  In a separate bowl, mix all dry ingredients and slowly fold in wet ingredients.
Refrigerate batter for 30 minutes.
Pre-heat oven to 350 degrees.
Roll batter into approx. 1 inch balls and arrange on a wax paper or cooking mat lined baking sheet.
Bake at 350 degrees for 10-11 minutes.
Once cookies have cooled, place in food processor and pulse until crumbled.  Set aside.
Whisk Greek yogurt and vanilla protein until smooth, then add cream cheese and whisk until smooth.  Add cookie crumbles and mix.  Set aside in refrigerator for at least 30 minutes, then roll into one inch balls arranged on a wax paper lined baking sheet.
Melt white chocolate chips over medium heat and pour into a glass.  Dip cookie crumble balls in white chocolate and place on lined baking sheet, topping with sprinkles.