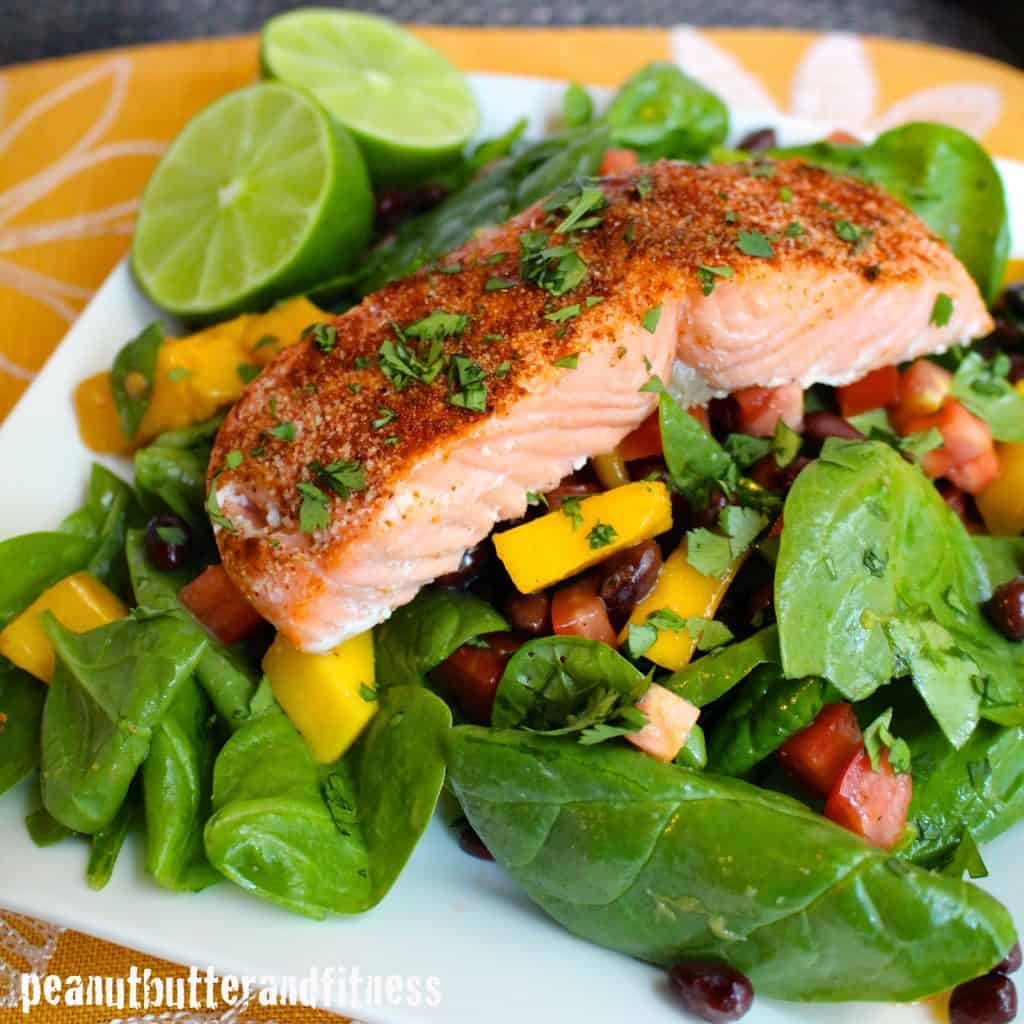 Yum, yum, yum! This salad is full of deliciously fresh flavors and I have to say, I think I cooked the salmon perfectly 🙂 I seasoned it with chili powder and some Flavor God Spicy Everything seasoning (check it out in the meal prep section below) – it's not too spicy but I think it's just enough.  Plus the chunks of mango and the light dressing give a nice amount of sweetness.   I added a touch of honey to the dressing and I'm digging it on the salad.  This is a quick and easy salad to whip up!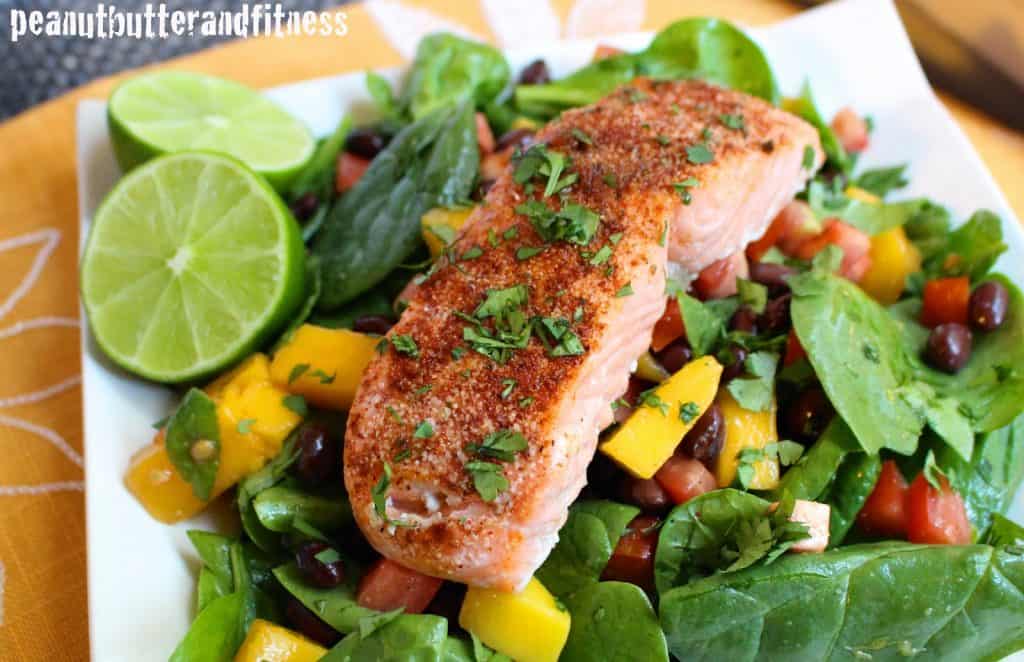 I decided to toss this salad in the dressing before plating it rather than trying to drizzle it evenly over the spinach and other goodies.  I highly recommend doing it that way! You can use less dressing that way because you don't end up with big globs of dressing in one little corner of your plate, the wealth has already been spread among the leaves 🙂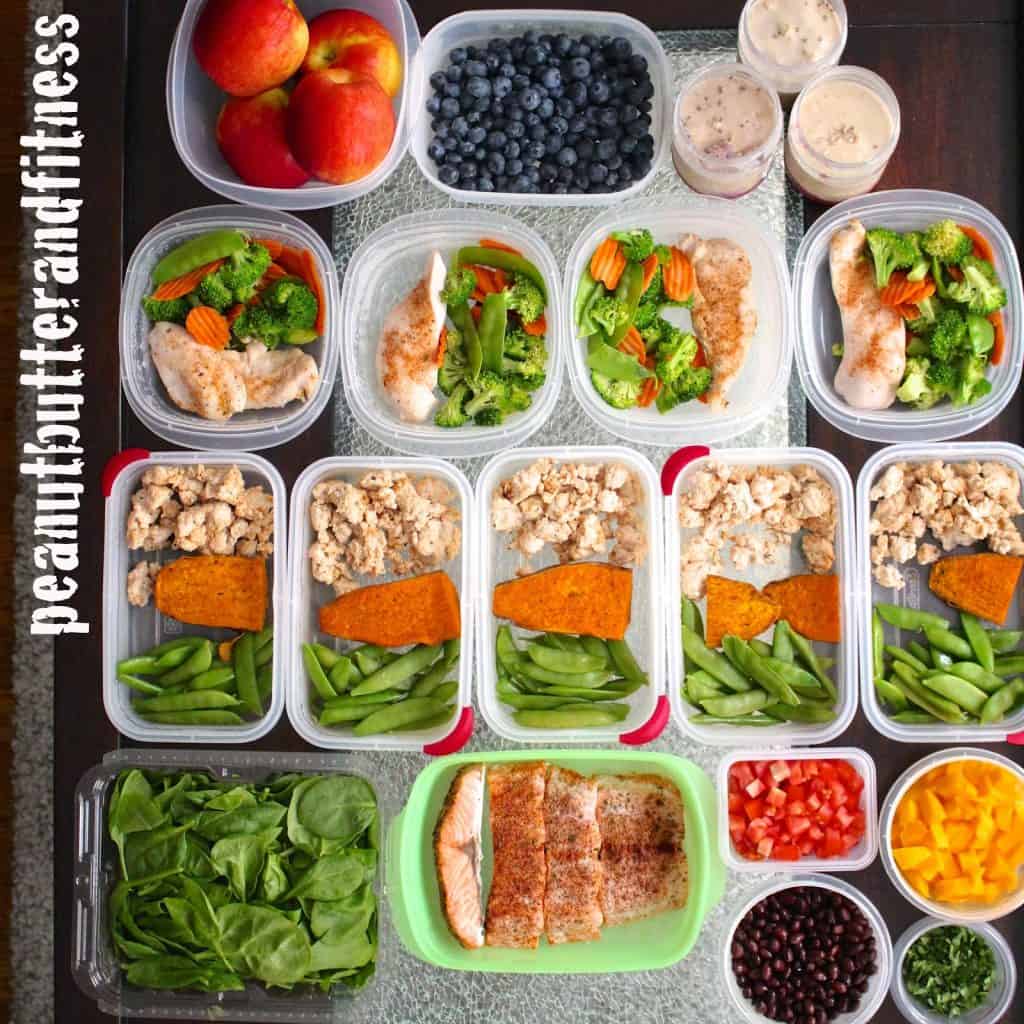 Keep reading below for meal prep recipes and nutrition info!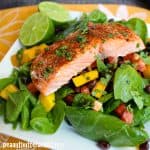 Chili Lime Salmon Salad
Prep Time 20 minutes
Cook Time 12 minutes
Total Time 32 minutes
Servings 4
Calories per serving 268 kcal
Ingredients
16 oz salmon
6 cups baby spinach
1 medium mango diced
1/2 cup tomatoes
1/2 cup canned black beans drained and rinsed
2 tbsp chopped cilantro
1 tsp chili powder
1 tsp Flavor God Everything Seasoning
Dressing Ingredients:
1 1/2 tbsp olive oil
Juice of 3 limes
1/2 tbsp honey
1/4 tsp chili powder
Instructions
Pre-heat oven to 400 degrees. Cut salmon into four 4 oz servings and pat with chili powder and Flavor God Seasoning. Bake for 12-14 minutes or until salmon flakes easily (mine took 14 minutes).

Whisk together dressing ingredients and set aside.

Toss salad ingredients with dressing and top with salmon and chopped cilantro.
Nutrition Facts
Chili Lime Salmon Salad
Amount Per Serving
Calories 268 Calories from Fat 81
% Daily Value*
Fat 9g14%
Cholesterol 59mg20%
Sodium 250mg11%
Carbohydrates 20g7%
Fiber 4g17%
Sugar 11g12%
Protein 26g52%
* Percent Daily Values are based on a 2000 calorie diet.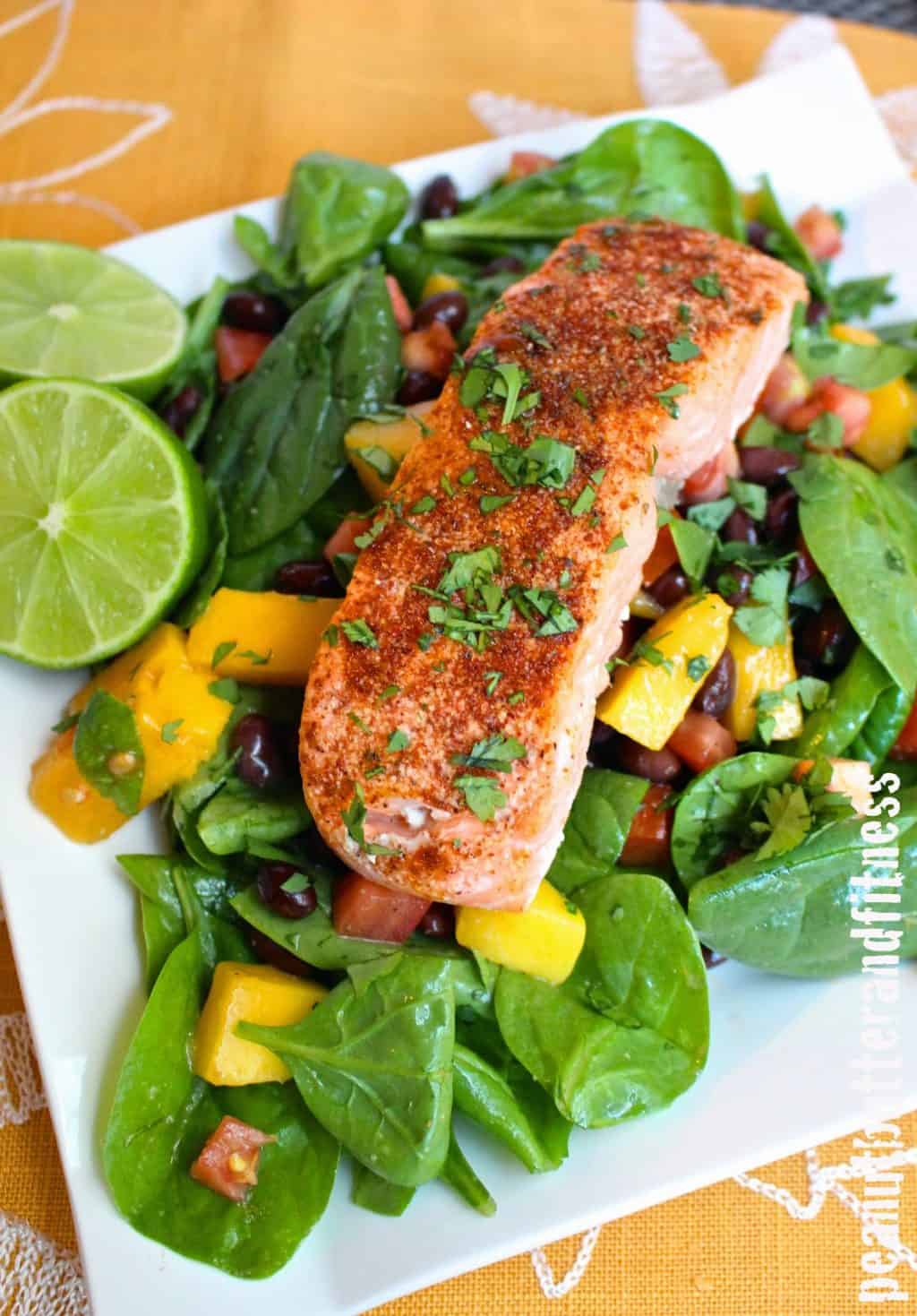 I wish that I could tell you what kind of salmon I used here…honestly, I just grabbed a fillet that was already packaged in the fresh seafood area.  I bought the kind with the skin and I want to say it said pink Atlantic salmon on the sticker.  I probably should have paid more attention.  Ooops.  Anyway – I baked it with the skin on which I personally think gives it a better flavor than skinless salmon.  And since I meal prepped it, I just cut off the skin when it's cold before microwaving and serving it.  Much easier that way than doing it when it's hot!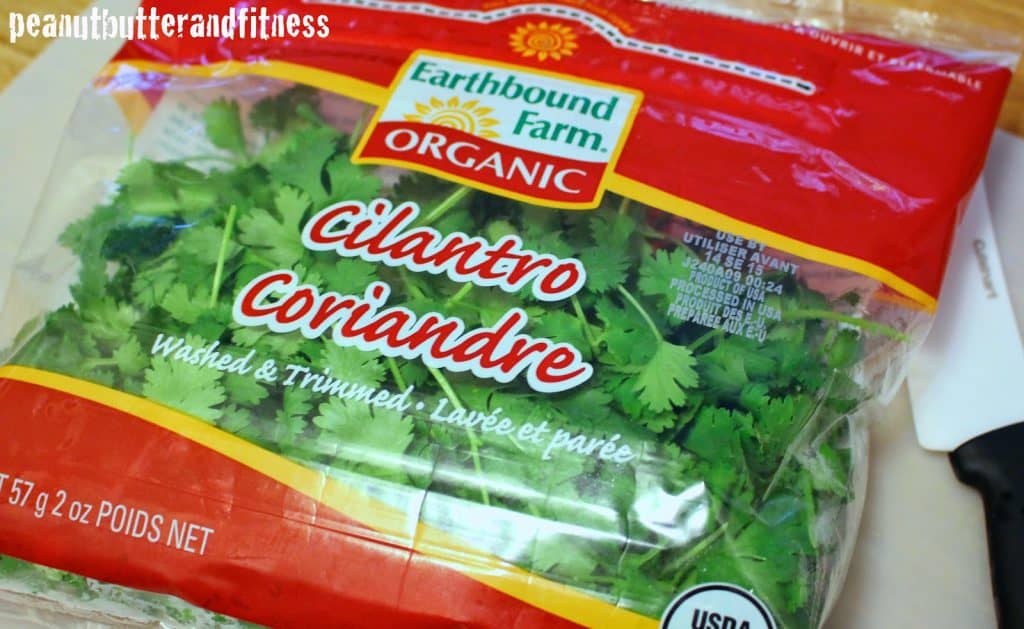 How have I not seen cilantro packaged like this before?!? I love, love, love fresh cilantro but I hate washing/trimming/chopping it.  This takes care of 2 of those problems for the most part…I still had to do a little bit of trimming but the cilantro wasn't wet from washing it so it was way easier.  Score!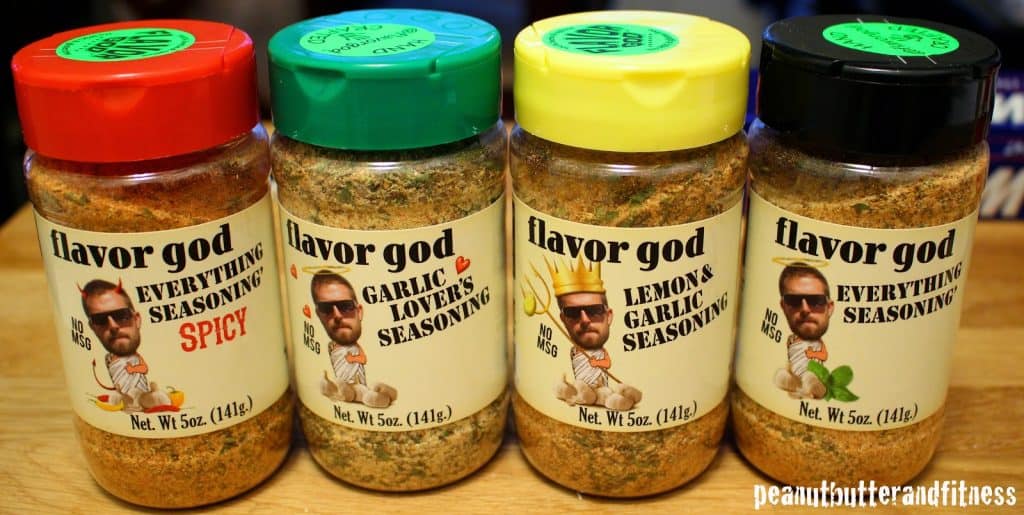 These seasonings are awesome! Is it weird having the dude's face looking at you while you're seasoning your food? Only if you think about it 🙂 They're all super low in sodium but have amazing flavor! Perfect for meal prep.  Plus, there are no added chemicals/preservatives and it's an easy way to support a small business…this guy hand grinds and packs all of them. I got all four of these for $28.  Check it out here.
Baked Chicken with Steamed Vegetables
Servings: 5 • Calories: 160 • Fat: 2 g • Protein: 25 g • Carbs: 9 g • Fiber: 2 g • Sugar: 3 g • Sodium: 408 mg • Cholesterol: 65 mg
1 1/4 lbs chicken breast
5 cups broccoli stir fry vegetables
5 packets Little Soya low sodium soy sauce
Flavor God Spicy Everything seasoning
Directions: Bake chicken at 400 degrees for 18-20 minutes or until cooked through.  Place vegetables in a large microwavable bowl.  Dampen a paper towel and cover vegetables.  Microwave for 2-3 minutes or until vegetables are tender crisp.  Serve chicken and vegetables topped with soy sauce.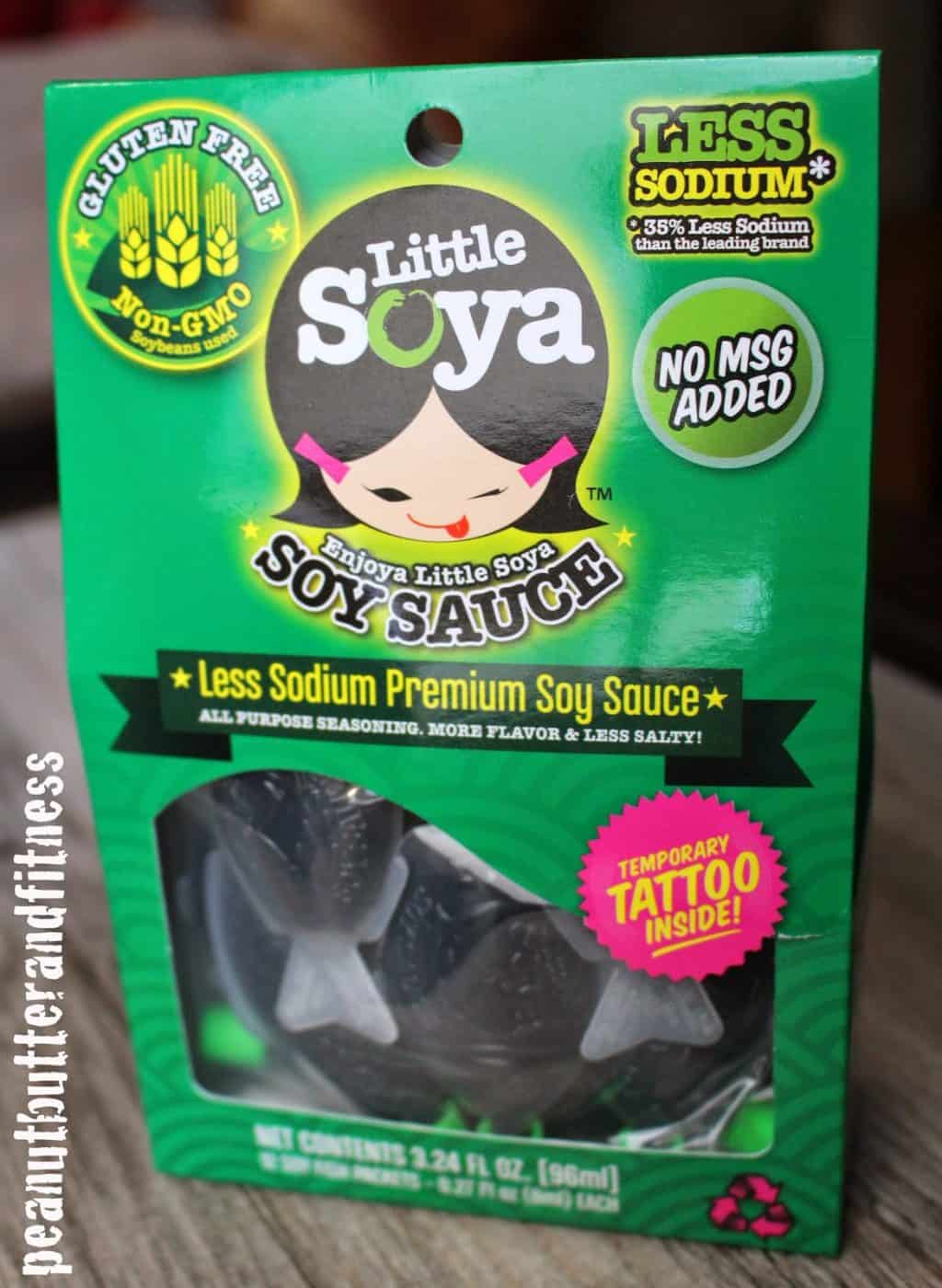 I found these little soy packets in the Asian section of Safeway but you can find it on Amazon too.  They are way lower in sodium than the "low sodium" version of soy sauce that you find in bottles.  270 mg per tbsp of Little Soya vs 575 mg per tbsp of Low Sodium Kikkoman soy sauce.  And these are in perfect little "to go" fishies! Perfect.
Ground turkey with Baked Sweet Potato and Steamed Sugar Snap Peas
Servings: 4 • Calories: 242 • Fat: 1 g • Protein: 32 g • Carbs: 28 g • Fiber: 6 g • Sugar: 9 g • Sodium: 44 mg • Cholesterol: 0 mg
16 oz 99% lean ground turkey
2 2/3 cup sugar snap peas
Large sweet potato (~350 grams)
Flavor God Spicy Everything seasoning
Optional: olive oil
Directions: Cook turkey in large skillet, add in Flavor God seasoning if desired.  Steam sugar snap peas in microwave: Place sugar snap peas in a microwave safe bowl.  Cover bowl with damp paper towel, microwave for 3 minutes.  Cut sweet potato in half lengthwise and brush with olive oil.  Sprinkle with Flavor God seasoning.  Bake at 400 for 45 minutes or until tender.
Peanut Butter and Jelly Overnight Oats
Calories: 336 • Fat: 12 g • Protein: 24 g • Carbs: 40 g • Fiber: 10 g • Sugar: 8 g • Sodium: 258 mg • Cholesterol: 0 mg
Containers that you see here: