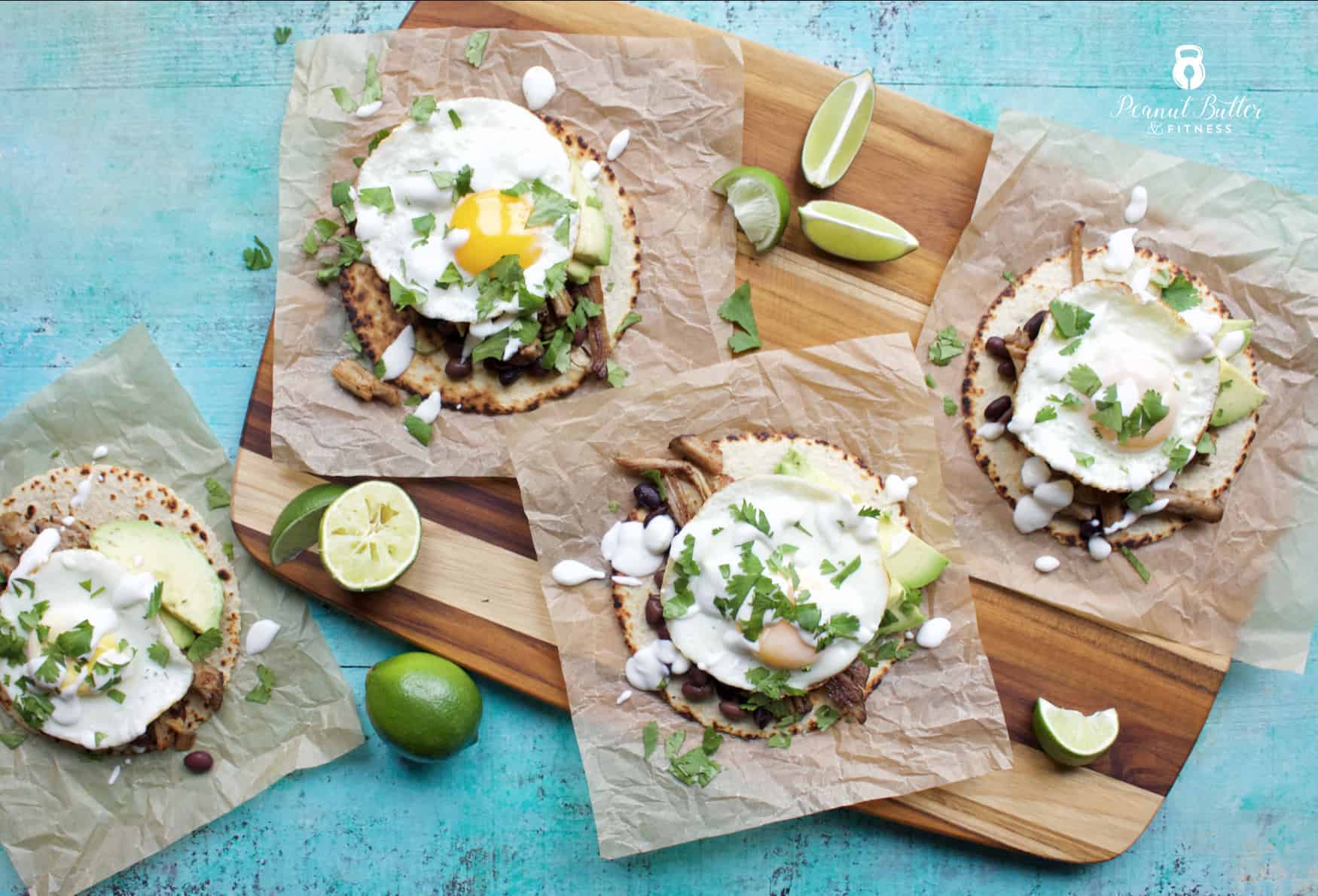 What's up Sunday brunchers? I'm comin' at ya this week with some repurposed/glorified leftover carnitas from my meal prep this week (which I'll share with you later – I couldn't help but share this recipe first!). These are actually slow cooker carnitas that are then crisped up under a broiler…super easy to do at home!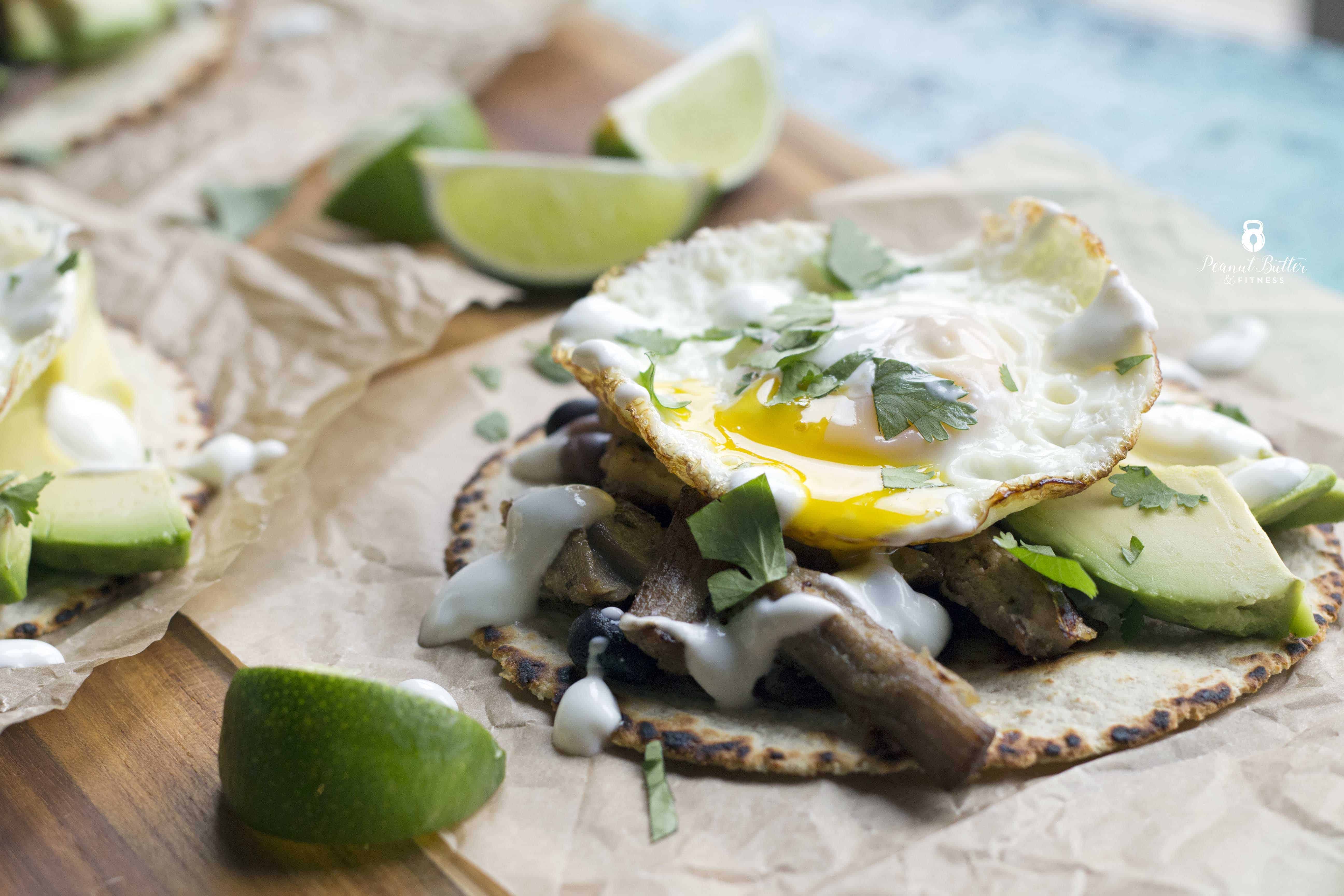 I fried up individual eggs using this cute little single egg frying pan. It makes a perfect fried egg that's nice and round without worrying about those stupid egg rings that only work half the time.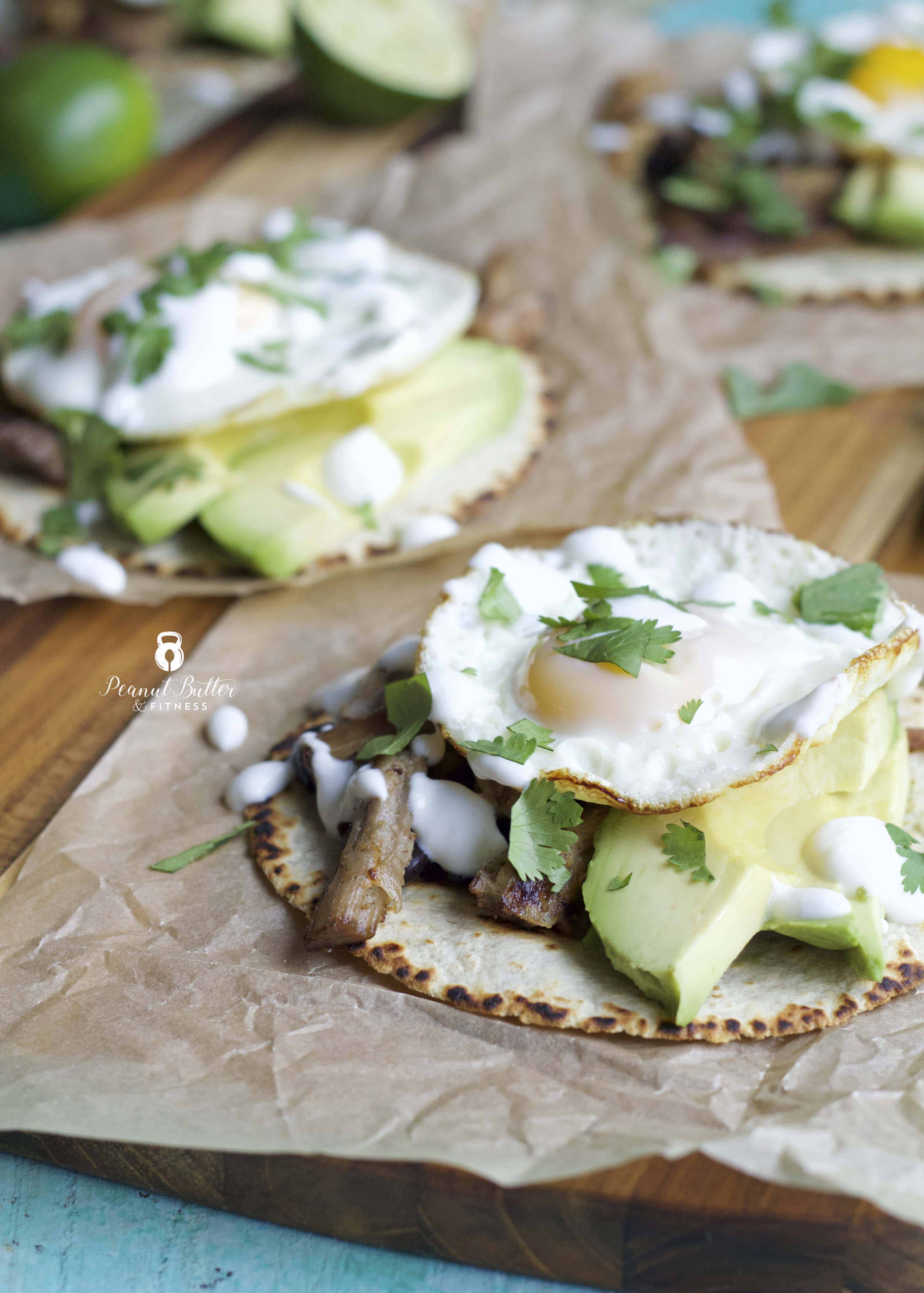 Oh yeah, btw, expect to see a lot more Mexican influenced foods on here. Now that I live in Texas (feels weird to say still), it's only natural! Doesn't hurt that I love Mexican food.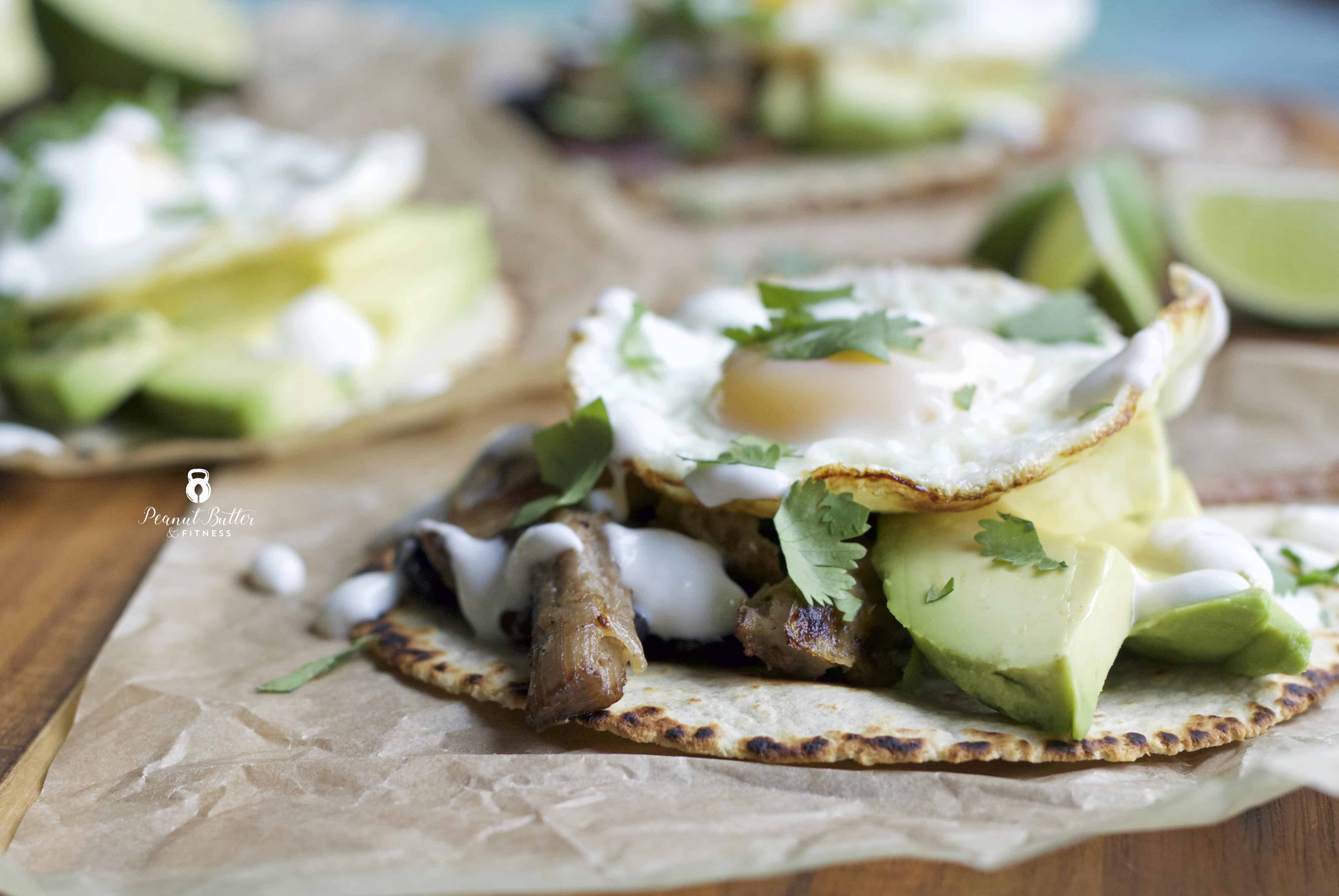 These would be great to feed a crowd, just assemble a little taco bar. You could even wilt some kale or spinach for your veggie-loving friends (or yourself). Definitely don't skip the crema! It adds a nice little fresh kick on top of these breakfast tacos.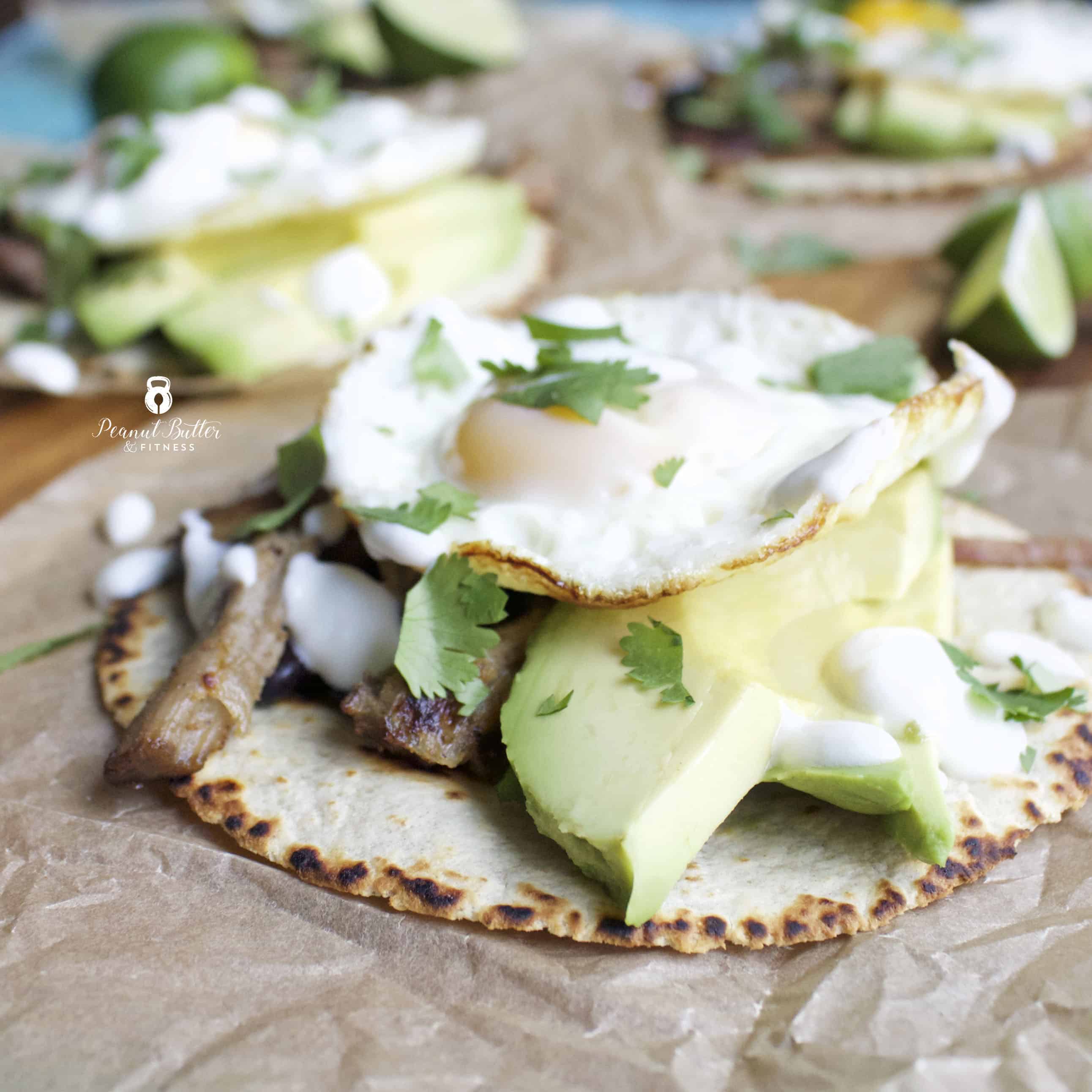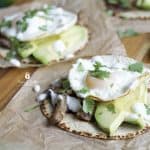 Carnitas Breakfast Tacos with Lime Crema
Prep Time 20 minutes
Cook Time 10 minutes
Total Time 30 minutes
Servings 8 tacos
Calories per serving 317 kcal
Ingredients
8 La Tortilla Factory White Corn and Wheat tortillas toasted
1/2 leftover carnitas recipe (see recipe card below - approx. 10 oz cooked carnitas)
8 fried eggs
1 cup low sodium black beans rinsed and drained
1/2 cup cilantro chopped
Optional: 1 avocado, sliced
Lime Crema
5.3 oz plain, fat free Greek yogurt
3 tbsp lime juice
Salt and pepper to taste
Instructions
Whisk together Lime Crema ingredients until smooth. Set aside.

Heat leftover carnitas in a skillet until heated through.

Assemble breakfast tacos by layering black beans, carnitas, avocado slices and fried eggs on top of toasted tortillas. Top with cilantro and lime crema.
Nutrition Facts
Carnitas Breakfast Tacos with Lime Crema
Amount Per Serving
Calories 317 Calories from Fat 108
% Daily Value*
Fat 12g18%
Cholesterol 234mg78%
Sodium 332mg14%
Potassium 393mg11%
Carbohydrates 22g7%
Fiber 4g17%
Sugar 1g1%
Protein 28g56%
* Percent Daily Values are based on a 2000 calorie diet.
Here's the carnitas recipe, which I'll share again when I post my meal prep for the week!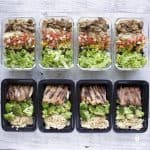 Slow Cooker Carnitas
Prep Time 15 minutes
Cook Time 5 hours
Total Time 5 hours 15 minutes
Servings 8 servings
Calories per serving 230 kcal
Ingredients
3 1/2 lb boneless pork shoulder
1 white onion chopped
4 cloves garlic minced
1 orange juiced
1 lime juiced
1/2 cup no salt added chicken broth
1 tsp salt
1 tsp pepper
1 tsp chili powder
1 tsp Mexican oregano
1/2 tsp cumin
Instructions
Add onion, garlic and chicken broth to the bottom of a slow cooker.

Rinse the pork shoulder and pat dry. Rub with seasonings on all sides and place in slow cooker, fat side up.

Squeeze orange and lime over top of pork shoulder.

Slow cook on low for 5-6 hours or until the internal temperature reaches about 180-190 degrees (higher temp allows for collagen breakdown and makes it easy to pull apart). Remove pork from slow cooker and allow to rest for 5-10 minutes on a cutting board.

Pull the pork shoulder, removing any fat and remaining connective tissue. Arrange on a foil lined baking sheet and broil for 5 minutes, then remove and turn the pulled pork. Broil for another 5 minutes. Repeat the process additional times for extra crispy carnitas.
Recipe Notes
I used a 3.78 lb boneless pork shoulder and weighed it out to be 745 grams (~1 lb 10 oz) after cooking and removing any remaining fat.  Each cut of pork shoulder will be slightly different and will impact the nutrition per serving.
Nutrition Facts
Slow Cooker Carnitas
Amount Per Serving
Calories 230 Calories from Fat 108
% Daily Value*
Fat 12g18%
Cholesterol 93mg31%
Sodium 66mg3%
Potassium 355mg10%
Carbohydrates 3g1%
Sugar 1g1%
Protein 25g50%
* Percent Daily Values are based on a 2000 calorie diet.