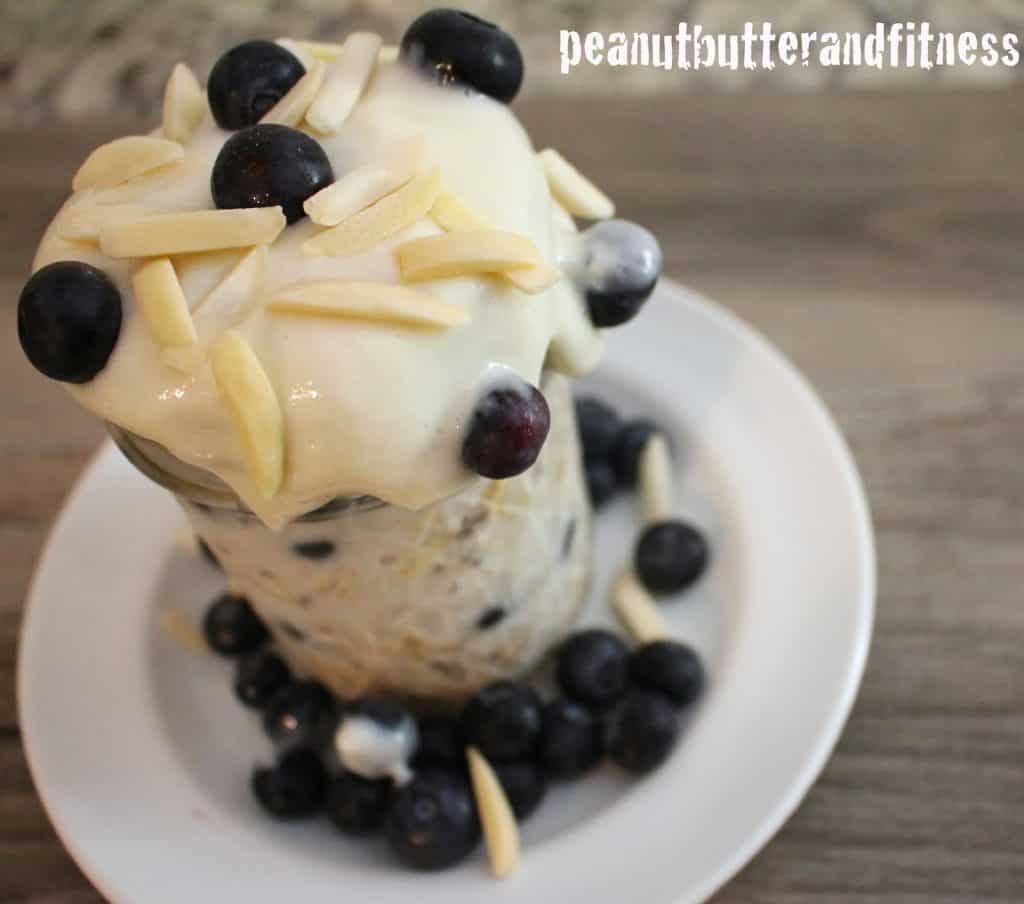 Alright everyone, here goes…I am trying to venture into the world of big kid breakfasts.  I have been strictly a cereal-for-breakfast person for as long as I can remember and I'm hoping that my body will allow me to make the switch! I normally stick to cereal because any other breakfasts I've had make me feel sick and bloated all morning.  I think (and hope) that may have been a result of exactly what I ate rather than the fact that it wasn't cereal.
Overnight oats, if you haven't heard of them, are pretty much oats that require no cooking.  Just mix up some ingredients and stick the jar in the refrigerator overnight.  Breakfast is ready for you when you wake up!  Sounds like a good place to start…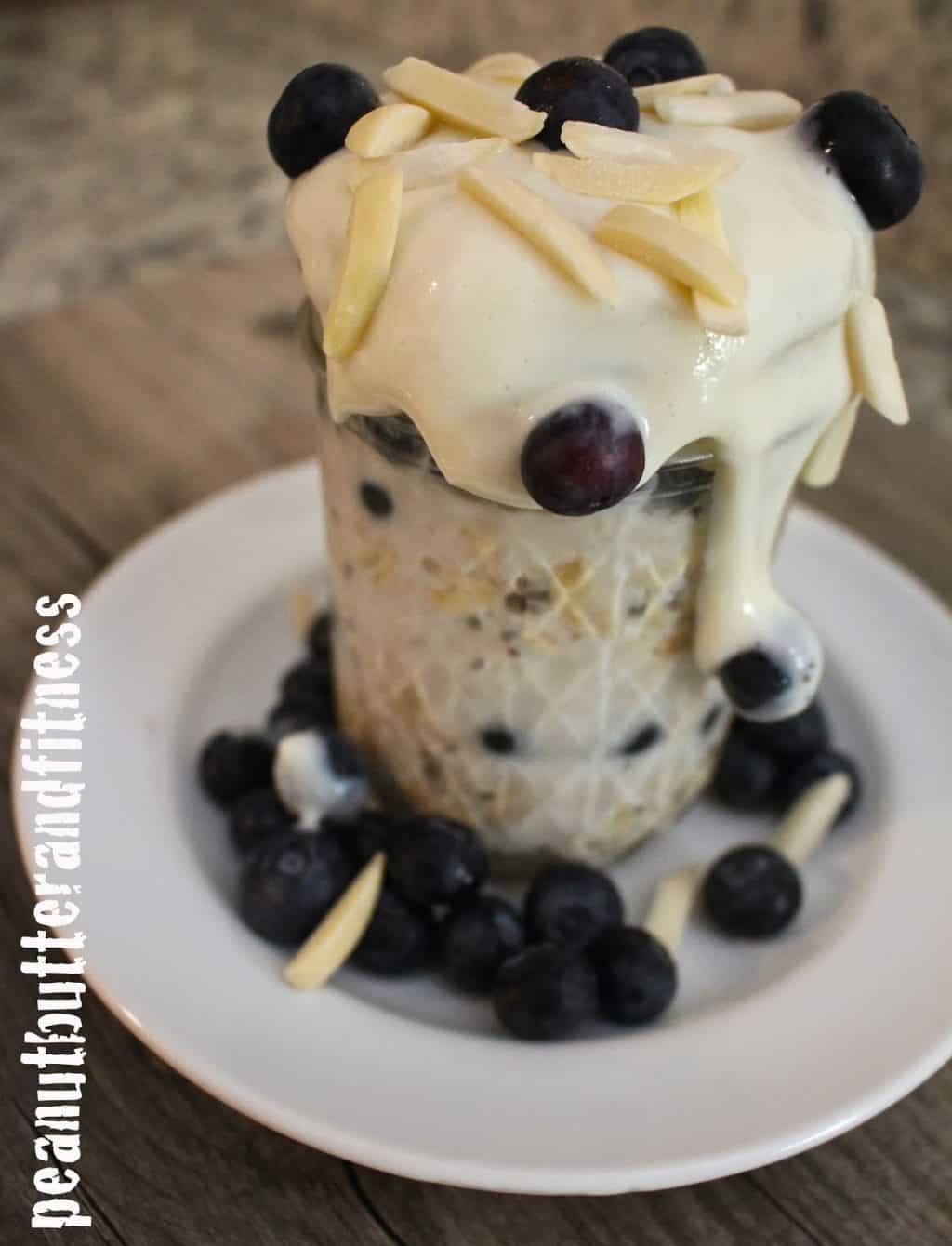 The main reason I want to quit cereal is because it seems like a carbohydrate and sugar loaded meal every morning.  If you're into counting macros, this means that I'm trying to make up for my massive intake of carbs for the rest of the day, ie. catching up on protein and fat to balance it all out.  If you want to read more about macros (macronutrients, ie. carbs/fat/protein), check out this
website
.  And if you want to figure out what kind of macro balance is right for you, check out this
one
.
And yes, this carb and sugar overload is even with eating a "healthy" cereal.  Here are the nutrition facts for what I usually stick to, Great Grains Cinnamon Hazelnut Protein Blend:
Nutrition Facts
Serving Size 1 cup (57 g)
Per Serving% Daily Value*
Calories 230
Calories from Fat 45
Total Fat 5.0g8%
Saturated Fat 0.5g2%
Polyunsaturated Fat 1.5g
Monounsaturated Fat 2.5g
Cholesterol 0mg0%
Sodium 200mg8%
Carbohydrates 39.0g13%
Dietary Fiber 7.0g28%
Sugars 9.0g
Protein 8.0g
Vitamin A 15% · Vitamin C 0%
Calcium 4% · Iron 90%
Doesn't sound too bad on it's own right? Whenever I add in a cup of non-fat milk, some ground flax, strawberries and blueberries, the calorie count goes up to around 480, carbs go up to 80 grams and sugar is up to 22 grams, compared to only 19 grams of protein.
So enough soap-boxing for now, here's my first attempt at non-cereal breakfast.  I'm pretty excited to try out some eggs tomorrow.  Fingers crossed that I can handle real adult breakfasts!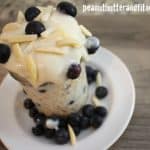 Blueberry Almond Overnight Oats
Prep Time 10 minutes
Total Time 10 minutes
Servings 1 serving
Calories per serving 367 kcal
Ingredients
1/2 cup rolled oats
1/2 cup unsweetened vanilla almond milk
1/2 cup blueberries
1 tsp chia seeds
1/2 tsp almond extract
2 tbsp non-fat Greek yogurt (I used Stonyfield Organic Vanilla)
1 tbsp almond slivers
Instructions
In a small bowl, combine rolled oats, almond milk, chia seeds and almond extract.

Layer oat mixture and blueberries in a mason jar (I used 8 oor other lidded container.

Refrigerate overnight.

In a small bowl, mix protein powder and Greek yogurt until smooth.

Remove overnight oats from refrigerator and top with yogurt mixture, almond slivers and blueberries.
Nutrition Facts
Blueberry Almond Overnight Oats
Amount Per Serving
Calories 367 Calories from Fat 54
% Daily Value*
Fat 6g9%
Cholesterol 3mg1%
Sodium 175mg8%
Carbohydrates 47g16%
Fiber 6g25%
Sugar 20g22%
Protein 29g58%
* Percent Daily Values are based on a 2000 calorie diet.