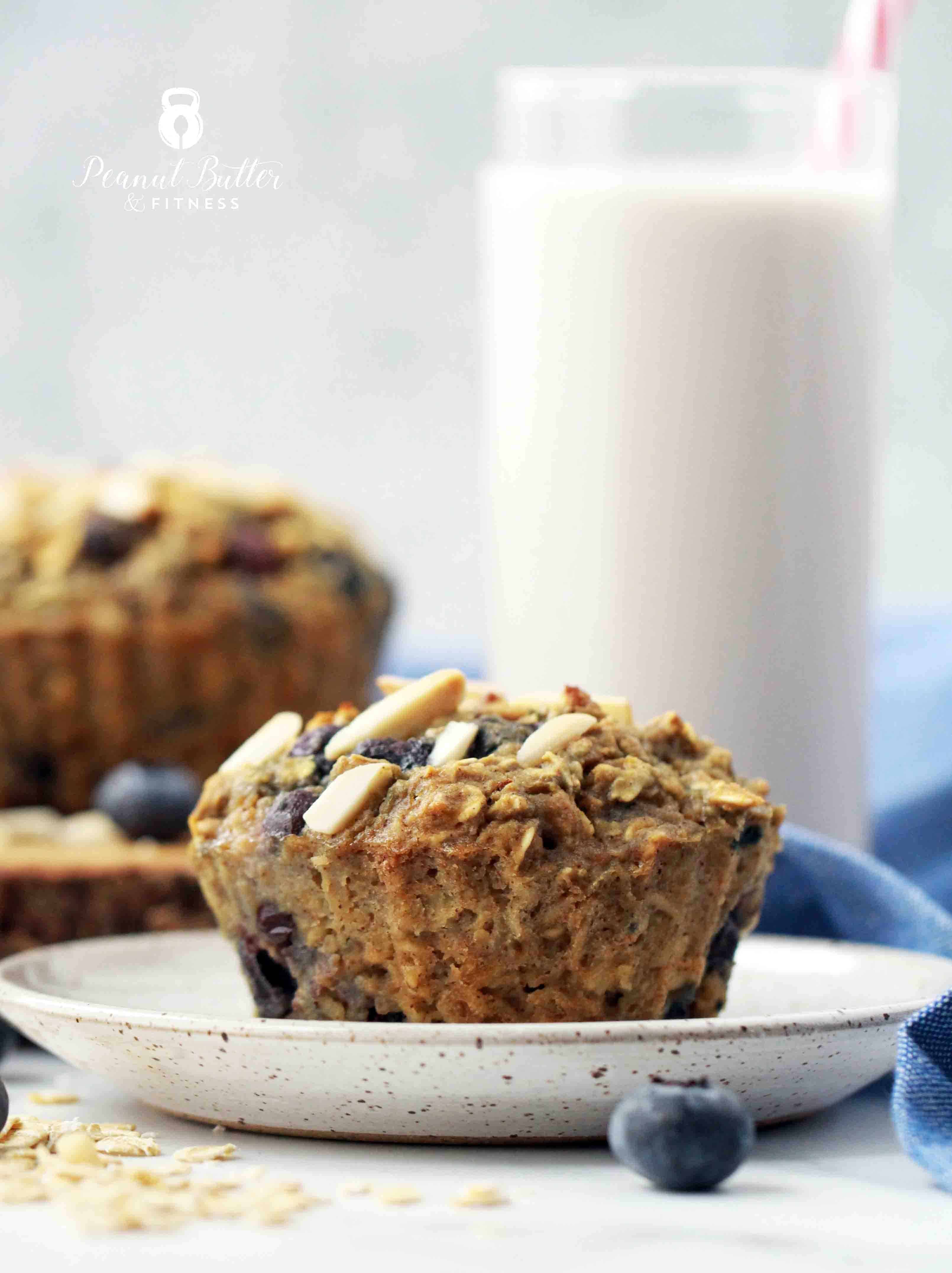 Welp, I just found a new breakfast idea that I can cling to for months! These baked oatmeal cups are freakin' awesome. I made them in jumbo sized silicone baking cups so they are nice and big to fill you up in the morning. They're almost like a jumbo muffin with a nice golden brown, crusty top and moist, airy interior. So good!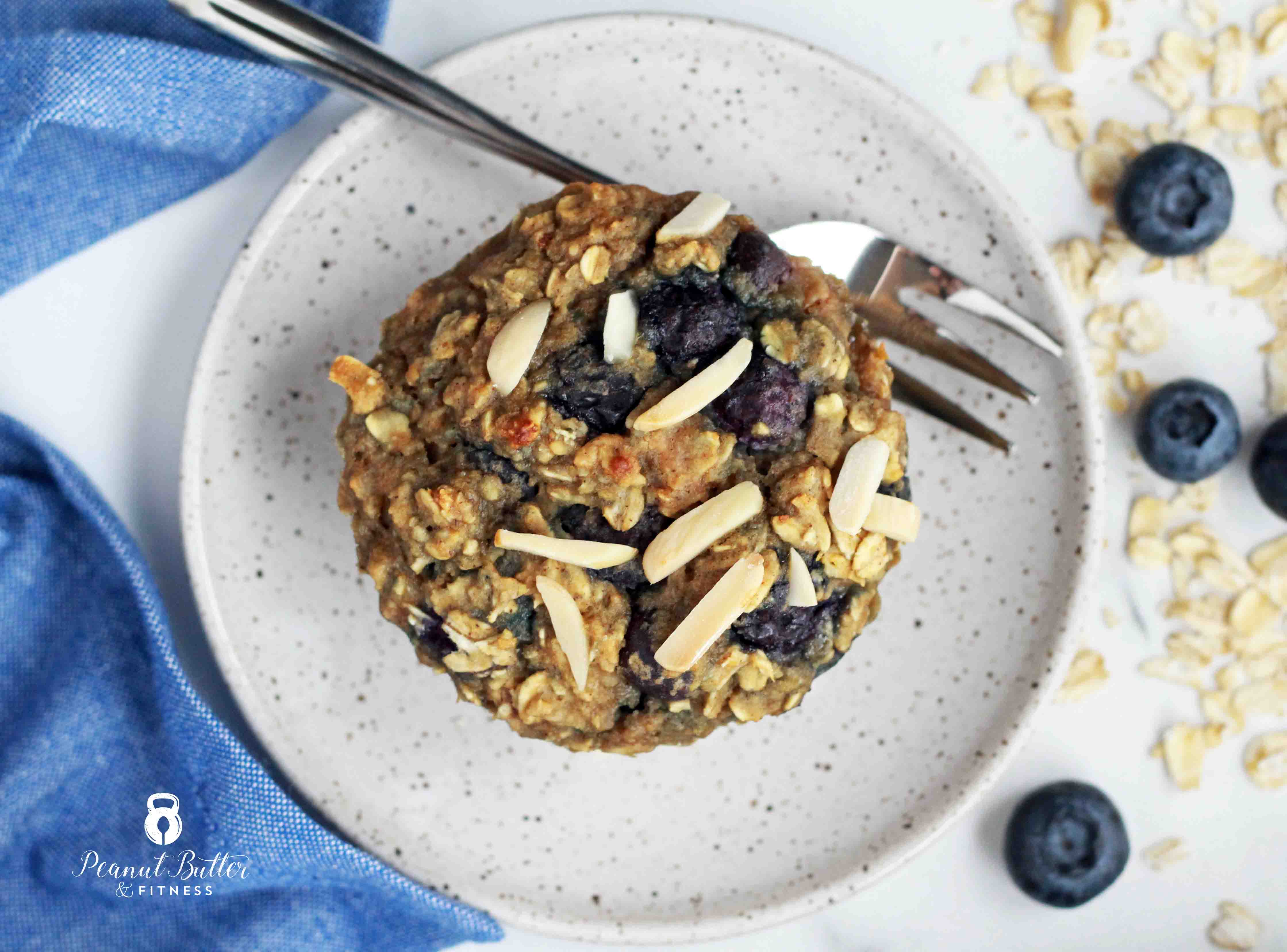 These are yummy enough to make it on a dessert plate too. Just throw down some coconut ice cream and chow down. BTW, does anyone else love the way that blueberries look when they're baked in a batter of some kind? Purpley blue-ish ribbons of yumminess.
I bought these jumbo silicone baking cups on Amazon and they are PERFECT for these oatmeal cups! And yeah, I wrote on the container already. Because even though I measured how much liquid fits in them, I will inevitably forget. Anyways…I lined them all up on a half sheet baking sheet and scooped them in using a 4 oz ice cream scoop. And again, it was PERFECT 😉
If you're really into almonds, toss some extras in the batter before you bake. I personally don't like nuts baked into my baked goods, so I was really happy with some nice golden slivered almonds on top of the oatmeal cups with the subtle taste of almond extract inside the cups.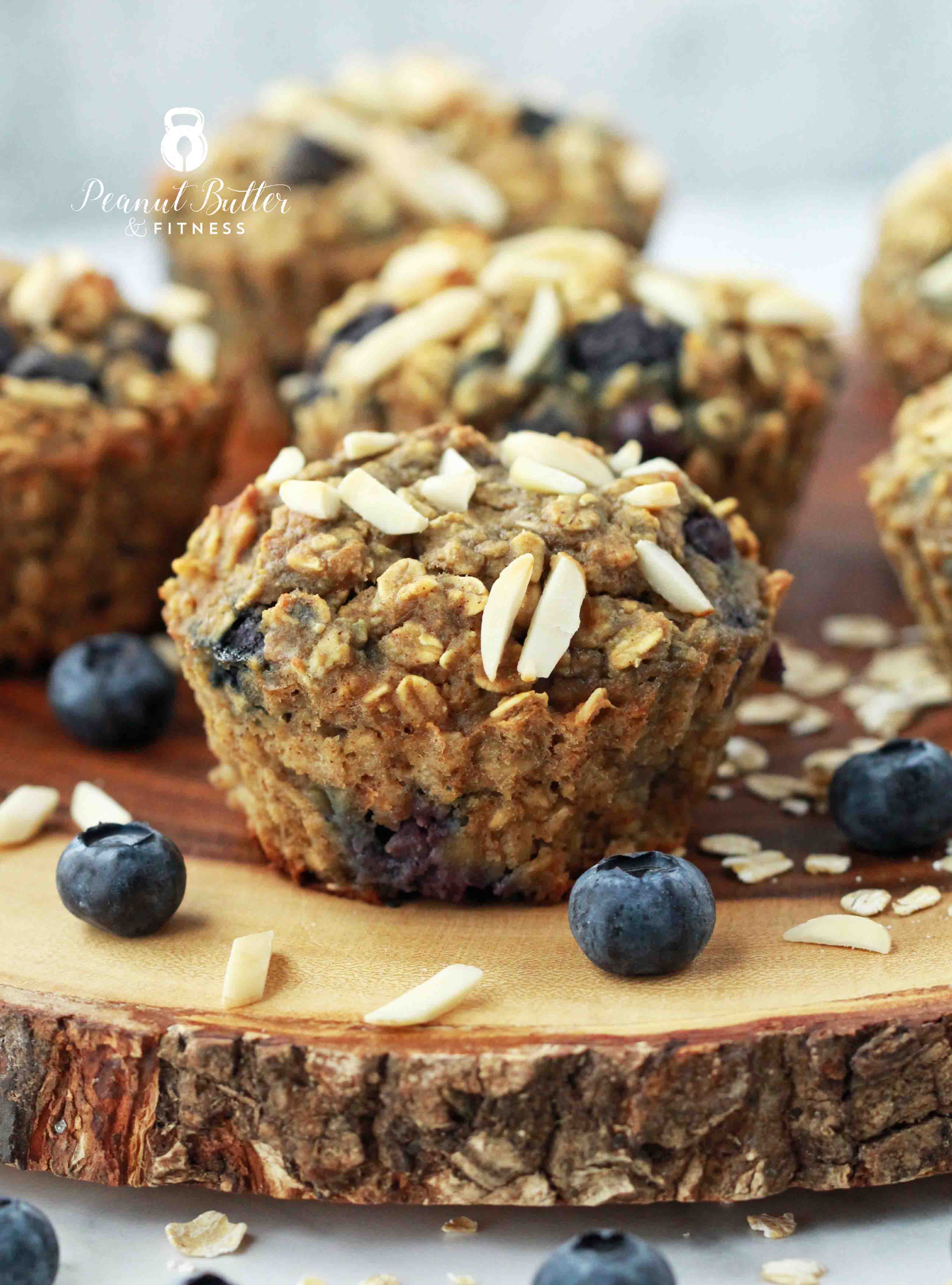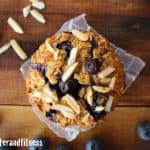 Blueberry Almond Baked Protein Oatmeal Muffins
Prep Time 10 minutes
Cook Time 25 minutes
Total Time 35 minutes
Servings 7 jumbo muffins
Calories per serving 237 kcal
Ingredients
2 cups rolled oats
1 cup applesauce
1/4 cup maple syrup
2 egg whites
1 tsp almond extract
1/2 tsp baking powder
1/2 tsp baking soda
1/2 tsp cinnamon
1/2 cup unsweetened vanilla almond milk
1 1/2 tbsp almond butter
3 tbsp almond slivers
1 cup blueberries
Instructions
Pre-heat oven to 350 degrees.

Add rolled oats, protein powder, baking soda, baking powder and cinnamon to a large bowl and mix until combined.

Add applesauce and melted almond butter. Mix the almond butter into the applesauce to ensure it doesn't harden and clump.

Add remaining wet ingredients and stir until just combined, then fold in blueberries.

Scoop oatmeal mixture into jumbo muffin molds on top of baking sheet.  Top with almond slivers.

Bake at 350 degrees for 35 minutes or until the tops begin to get golden brown and do not collapse when touched (they will get firmer as they cool).
Nutrition Facts
Blueberry Almond Baked Protein Oatmeal Muffins
Amount Per Serving
Calories 237 Calories from Fat 45
% Daily Value*
Fat 5g8%
Cholesterol 10mg3%
Sodium 84mg4%
Carbohydrates 35g12%
Fiber 5g21%
Sugar 13g14%
Protein 13g26%
* Percent Daily Values are based on a 2000 calorie diet.