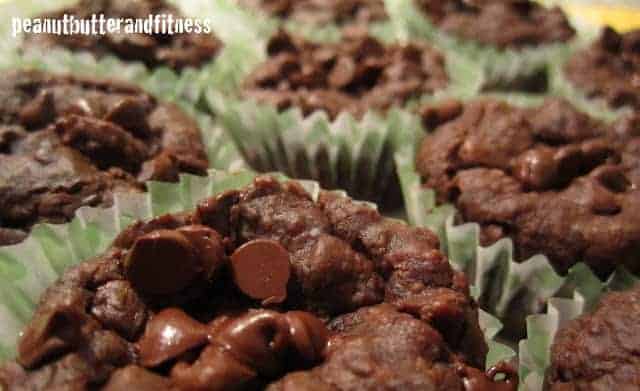 OMG OMG OMG. These are freakin' amazing!!! I've been seeing black bean brownies all over the inter-webs and food blogs lately, so I had to give them a try.  The other night I came home from work and was really not feeling like hitting the gym and I figured, hey, why not make some treats that I can take to work and test on lots of people? Bad excuse, I know.  But these are soooooooooooo good. And I really didn't feel bad eating them 🙂


I used a recipe from Chocolate Covered Katie – if you haven't seen her blog yet, it's a must.  Now that I know they are delish, I want to experiment with the recipe.  More to follow.  Oh, and I don't know all the rules of gluten free, but she says these fit the bill..there's no flour of any type involved, which I like. I usually just skip any of the ones that sub regular flour with almond/coconut/whatever other flour you can put in.  Out of principal more than anything I guess.

I had some issues getting the mixture to be completely smooth as you can see…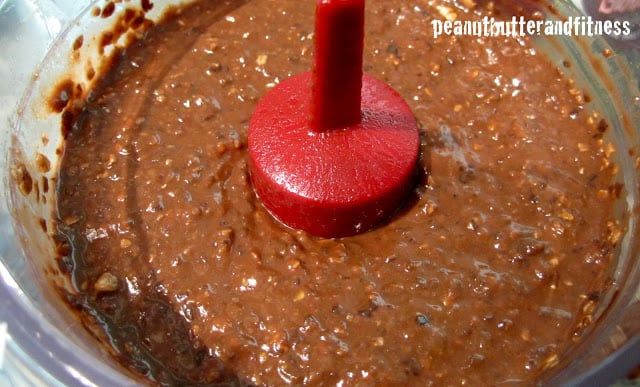 And that's even in a food processor.  Then I tried to stick it in a NutriBullet.  Mostly I just made a mess and didn't get anywhere.  I went with it, and they still turned out great.  I can imagine they would have been slightly more great if I had gotten the mixture totally smooth.  For the chocolate chips, I used semi-sweet mini's.  I think milk chocolate ones may have been a little too sweet? Not sure, maybe I'll try it out sometime.
I made a bread loaf sized tray of these and put the rest in mini-cups.  Mini-cups win for presentation and ease of eating since they turn out a little soft, not crazy dense like a normal brownie, but I didn't miss it.  They're still really moist and I'd say the density was just right so that it wasn't like a dog eating peanut butter.  Not that that's a bad thing 🙂
Black Bean Brownies
1 1/2 cups black beans (1 15-oz can, drained and rinsed very well)

2 tbsp cocoa powder- dutch or regular (add a little extra if desired)

1/2 cup quick oats (See nutrition facts link below for all substitution notes.)

1/4 tsp salt

1/3 cup pure maple syrup or agave (Honey will work, but not for strict vegans.) – I used honey

2 nunaturals stevia packs or 2 tbsp sugar – I used the Splenda sugar blend

1/4 cup coconut or vegetable oil (See "nutrition facts" link for all substitution notes.)

2 tsp pure vanilla extract

1/2 tsp baking powder

1/2 cup to 2/3 cup chocolate chips (Not optional. Omit at your own risk.)

optional: more chips, for presentation
Preheat oven to 350 F. Combine all ingredients except chips in a good food processor, and blend until completely smooth. Really blend well. (A blender can work if you absolutely must, but the texture—and even the taste—will be much better in a food processor.) Stir in the chips, then pour into a greased 8×8 pan. Optional: sprinkle extra chocolate chips over the top. Cook the black bean brownies 15-18 minutes, then let cool at least 10 minutes before trying to cut. Makes 9-12 brownies.
View Nutrition Facts