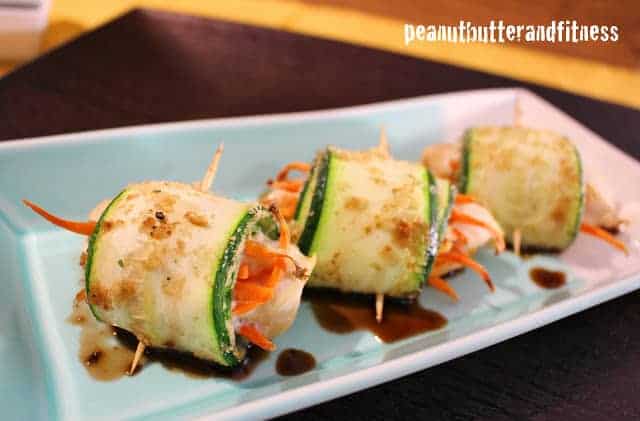 Long name, I know.  I feel like I need lots of adjectives to try and express just how awesome-ly flavorful these little roll ups are.  I had some stuff in my refrigerator left over from other recipes that I needed to use up, and I am digging the combo of stuff I threw into these.  They're like pieces of Italian sushi! Yum.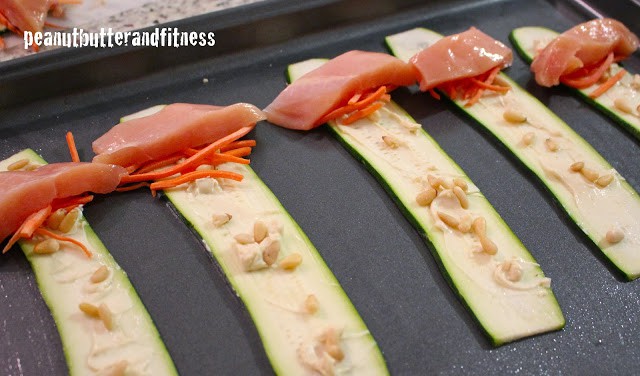 I went for a pretty long run tonight right around sunset so I had a great view 🙂  Then when I got back up to my apartment I discovered that I had the most impeccable timing since it started pouring during the time it took me to get up the elevator and into my place.  I just wish my good timing for running would translate into good timing for eating…dinner at 9 PM is not my fave, but this is my month of working night shift, so I guess it's to be expected.  Oh well, these were perfect for post-run.  Not too big and lots of protein.


Zucchini Chicken Roll-Ups with Honey Balsamic Drizzle
Makes 10 roll-ups


Ingredients:
1 medium zucchini
2 chicken breasts
2 wedges Laughing Cow Light Garlic and Herb Cheese
2 tbsp pine nuts
1/4 cup whole wheat Italian breadcrumbs
Handful of matchstick carrots
1/2 tbsp olive oil
1/4 tsp garlic powder
1 tbsp balsamic vinegar
2 tsp honey
1/4 tsp corn starch
Black pepper to taste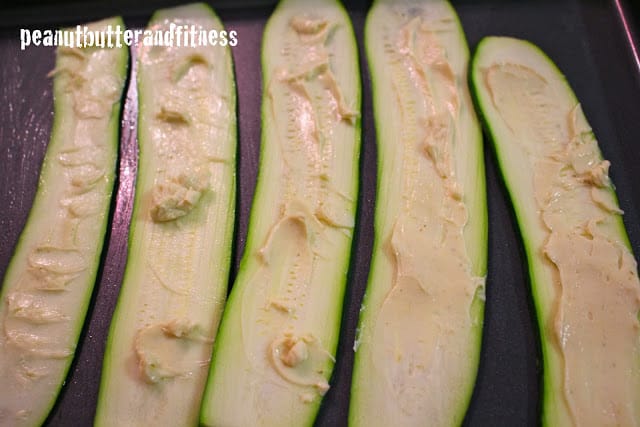 Directions:
Cut off ends of zucchini and slice thinly using mandolin cutter (I set mine at 2).  Brush both sides of zucchini slices with olive oil.
Coat one side of the zucchini slices with bread crumbs.
Preheat oven to 375 degrees.  Spray a cookie sheet with non-stick cooking spray.  Lay the zucchini slices onto the cookie sheet, breadcrumb side down.  (Or you could just do this on your cutting board.)
In a small bowl, stir the 2 wedges of Laughing Cow cheese until smooth.  Spread the cheese onto the zucchini slices.  It probably won't be even.
Sprinkle pine nuts onto zucchini slices.  On one end of the zucchini slices, add several pieces of carrot.
Slice the chicken breasts into 1/2 inch pieces.  Lay chicken slices on top of the carrot pieces.
Roll the zucchini up, continually pushing the cheese and pine nuts back into the roll-up.  Place the roll-ups seam down onto the cookie sheet and use a toothpick to hold them together.
Bake at 375 degrees for 15 minutes.
In a small bowl, whisk the balsamic vinegar, honey, corn starch and black pepper together.  Drizzle over and serve with the zucchini roll-ups when cooked.
I ate these with my hands, kind of like sushi.  Although I guess that would imply using chop sticks, but I didn't do that.  I served most of the balsamic drizzle in a little sushi soy sauce dish with the roll-ups and dipped them in there.  Also like sushi. It's a little messy but it is sooo worth it.  You could use these as appetizers too.  Enjoy!