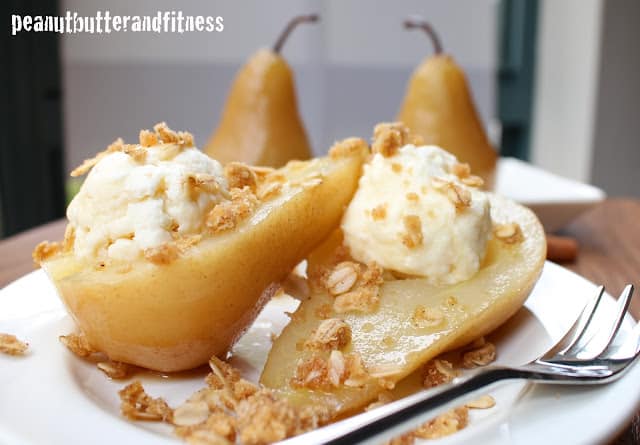 OMG you guys. I just made a fancy dessert.  It's so pretty and delicious and I can't believe how easy it was!  I'm on a pear kick lately (no idea why) and I was thinking about incorporating them into some protein pancakes but as I was trying to figure out how to cook them, I happened upon the idea of poached pears.  If you ever look them up on Pinterest, you'll find hundreds of pretty poached pears including poached pears on top of cakes, poached pears on top of tarts, poached pears sitting on clouds of mascarpone whipped cream, and everything in between.  So here I am, sticky with maple syrup and joining the club.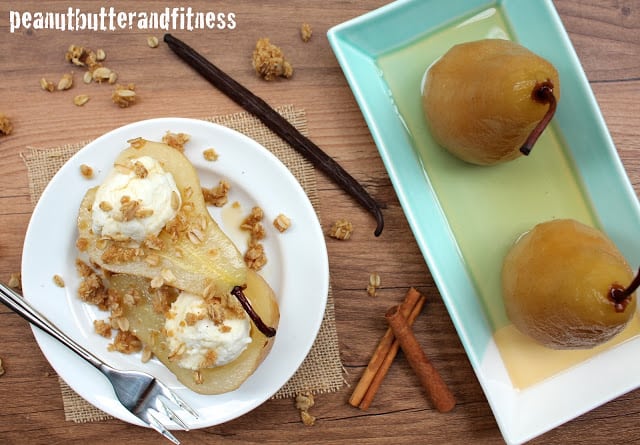 If you want a richer flavor (or it's close to fall time!), swap out the water for apple cider.  You'll add more sugar to the mix that way but you'll get a delicious, complex flavor that way and it'll remind you of hay rides and pumpkin patches.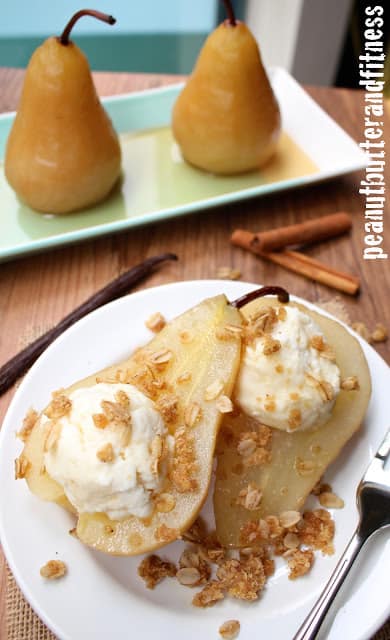 Let's talk about quick granola.  I made it in the microwave and it took about 2 minutes from start to finish.  And it tastes amaze-balls.  Of course, you could always use some pre-packaged granola but that's not as fresh, fun, or tasty.  You could also make the granola in the oven but that would require a lot more time and effort.  So just see what happens when you make it in the microwave, I promise you'll love it.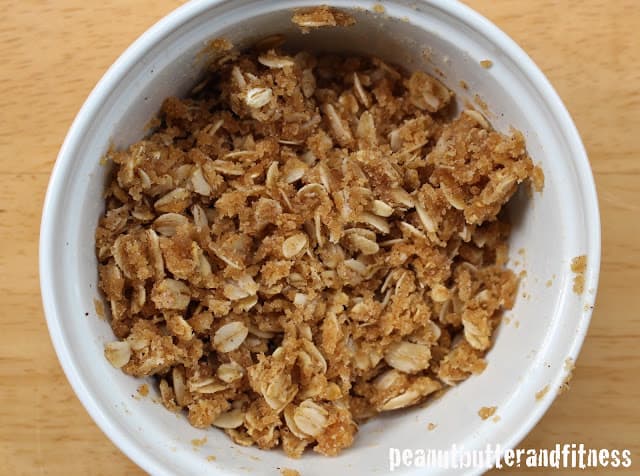 Now, as for the protein FroYo…I don't feel like I've described it sufficiently.  The texture and taste of it is more like cheesecake (as my restaurant owner friend described it as he devoured it).  But it's nothing more than Greek yogurt and
casein protein powder
.  Stick it in the freezer for a while so it's nice and cold when the pears are hot, or stick it in the refrigerator and throw it on top of the pears when they're cold.  Whatever.  Do what you feel.  Just know that it's delicious!
Maple Poached Pears with Granola and Protein FroYo
Yield: 6 servings • Serving size: 1/2 pear • Calories: 133 • Fat: 2 g • Protein: 9 g • Carbs: 21 g • Fiber: 3 g • Sugar: 17 g • Sodium: 55 mg • Cholesterol: 13 mg
Ingredients:
3 medium Bosc pears
4 cups water
1 cup + 2 tbsp pure maple syrup, divided
2 cinnamon sticks
1 vanilla bean, split
Granola Ingredients:
2 tbsp rolled oats
1 tbsp coconut flour
1 tbsp pure maple syrup
1/2 tbsp coconut oil
1/2 tbsp Splenda Brown Sugar Blend
1/4 tsp cinnamon
Pinch of nutmeg
Protein FroYo Ingredients:
Bring water, 1 cup maple syrup, cinnamon sticks and vanilla bean to a boil over medium high heat in a deep sauce pan.  After liquid has begun boiling, lower heat and continue to simmer for 5 minutes before adding the pears.
While the liquid is heating, carefully peel the pears, leaving the stem intact.  Cut a small amount off the bottom of the pears to create a flat surface for them to rest upright in the sauce pan.
Gently place the pears into the poaching liquid and continue to simmer for 20-30 minutes, or until the pears can easily be pierced with a fork but are still firm.  Rotate the pears during poaching every 5 minutes or so to ensure even coloring.
Cool pears in poaching liquid at room temperature, continuing to turn occasionally.  Once cooled, place entire sauce pan in refrigerator and continue to cool at least 4 hours in the poaching liquid.
In a small freezer safe bowl, mix yogurt and protein powder until smooth and place in freezer for at least 1 hour before serving.
In a ramekin or microwave safe bowl, mix all granola ingredients except maple syrup until texture is crumbly.  Microwave for 30 seconds, stir, then add maple syrup, stir again and microwave another 30 seconds.  Stir one final time and set aside.
To serve, cut pears in half, remove the core and scoop FroYo onto each pear half and top with 1 tsp maple syrup each and granola.
Store any leftovers in an airtight container completely covered by poaching liquid.  Re-heat leftovers by warming the pears in the poaching liquid.  Store the protein fro-yo in the refrigerator and freeze for 30 minutes before serving if desired.
So I originally intended for the pears to stand upright when they were poaching, but they had other plans.  My pot ended up being a little bigger than it needed to be (with maybe a little too much liquid), but the pears came out awesome and delicious so I'm not changing a thing!  I actually made these last week…and again this week.  For Easter dessert, of course.
It's kind of hard to see here, but this is how I split the vanilla bean before tossing it in the poaching liquid.  I didn't scrape any of the seeds out, just left them all in there to do their thing in the boiling liquid.
Aaaaaaand this is how my pears flopped whenever they went in the liquid.  I just tried to turn them over every 5 or 10 minutes when they were poaching.