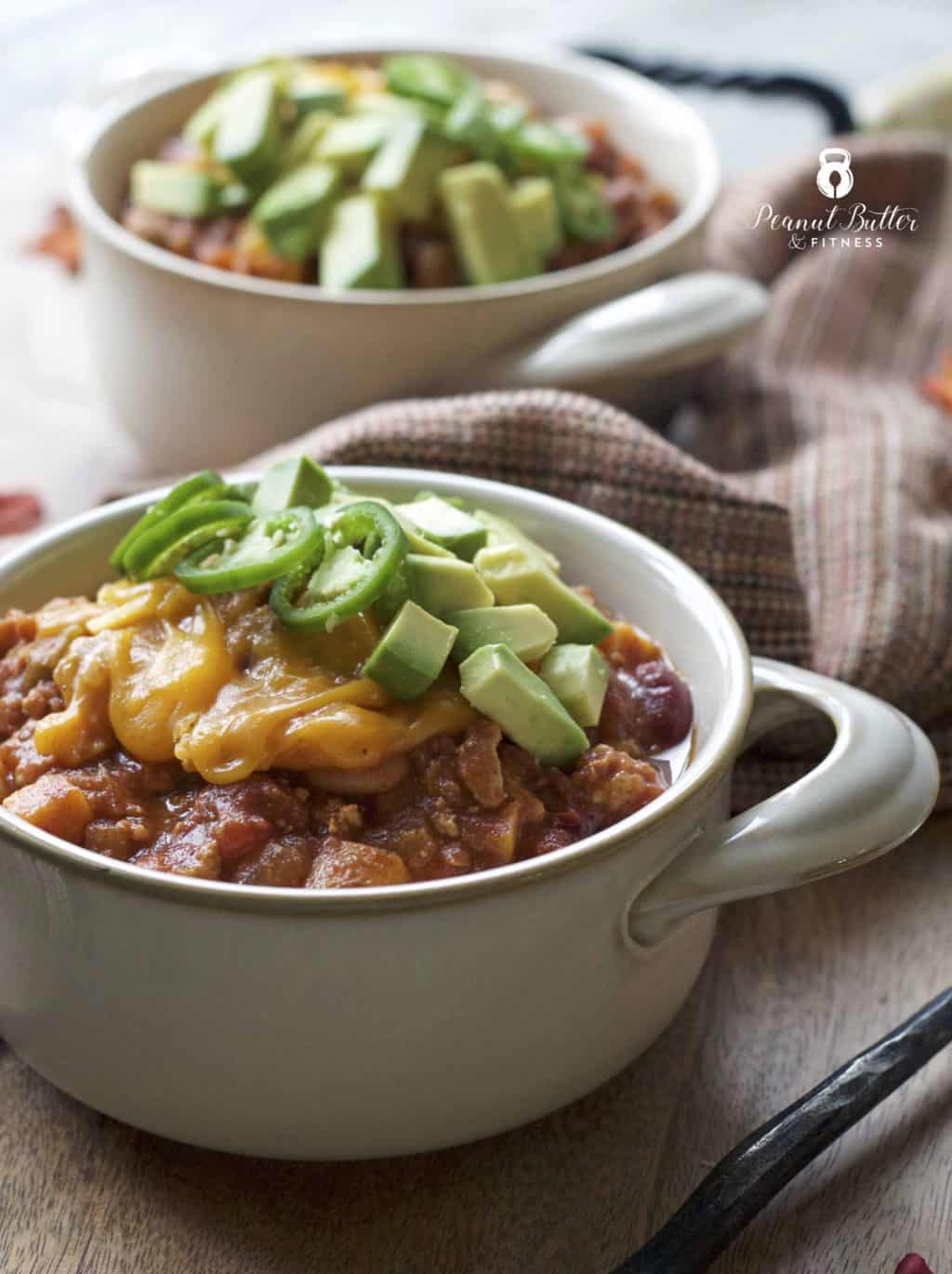 Fall calls for boots, sweaters, football, PSLs, and….CHILI! So I whipped up this Turkey & Sausage Sweet Potato Chili. I love a good chili and I love that most people have their own twist on a chili recipe. Some people looooove beans in it and others are all meat, all day. I generally fall somewhere in between, but I decided to pump up the volume on this chili with sweet potatoes rather than more beans. Because we all know what too many beans can do. And if you're hosting a game day party, that's probably not the kind of situation you want going on in a crowded living room!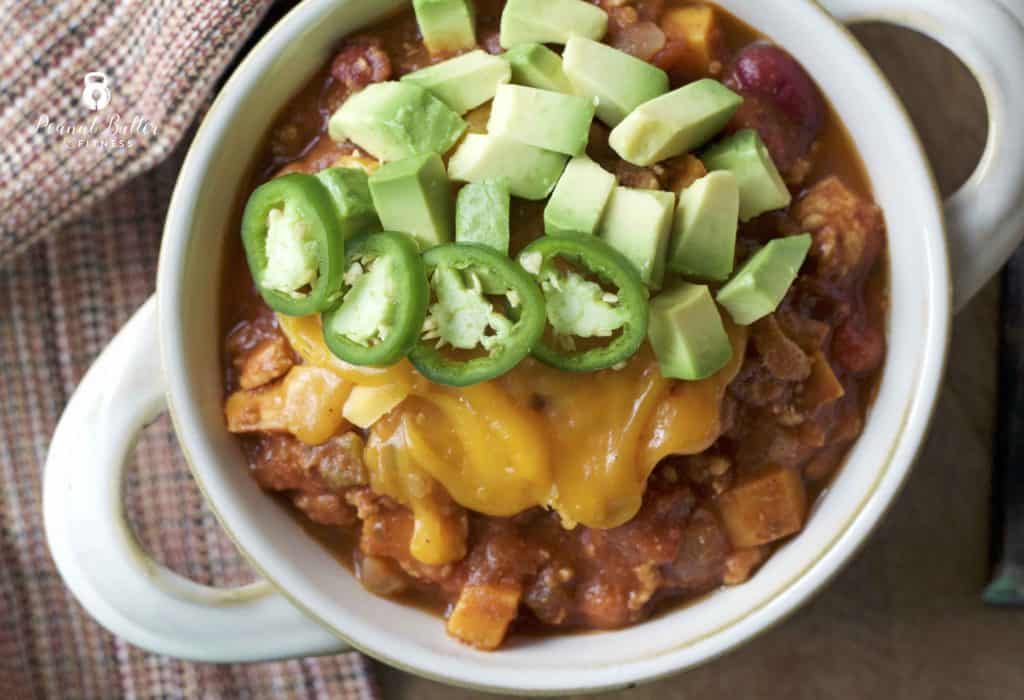 As far as the spice level goes, this one has a bit of spice – maybe enough to make you sniffle a bit – but it's got plenty of room to go spicier if you're into that. Just add another jalapeño or even a serano (or something worse!). The spiciness of the sausage you use will also play a part in how hot your bowl will be.
Oh, and don't mind the fact that I went way overboard with the cheese on top of mine 😉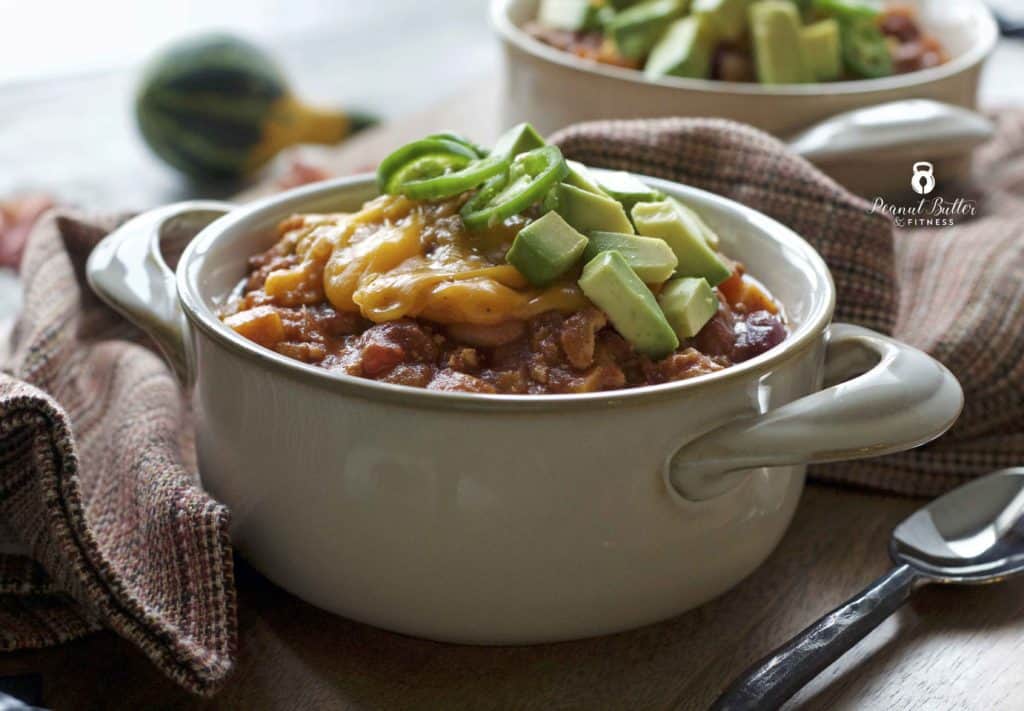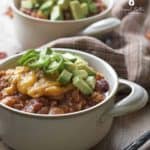 Turkey & Sausage Sweet Potato Chili
Prep Time 30 minutes
Cook Time 1 hour 30 minutes
Total Time 2 hours
Servings 10 14 oz servings
Calories per serving 328 kcal
Ingredients
1 1/2 lb 99% extra lean ground turkey
1/2 lb Johnsonville Hot Italian ground sausage
1 large sweet potato, chopped (450 grams)
2 15 oz can no salt added diced tomatoes
2 15 oz can no salt added tomato sauce
1 15 oz can low sodium pinto beans, drained
1 15 oz can low sodium kidney beans, drained
1 10 oz can Rotel No Salt Added Diced Tomatoes & Green Chilies
3 bell peppers, chopped (450 grams)
1 medium onion, chopped (280 grams)
1 jalapeno, diced (25 grams)
6 cloves garlic, minced (30 grams)
1 1 oz packet Simply Organic Spicy Chili Seasoning
1/2 tbsp olive oil
Optional additional spices to taste: cumin, smoked paprika, red pepper flakes, Mexican oregano, salt, and pepper
Instructions
Heat olive oil over medium high heat in a large stock pan (you could do this step separately in a skillet if you'd prefer to get more browning action on your meat - I like doing less dishes). Add garlic, onion, and peppers and sauté until onions are translucent.

Add ground turkey and ground sausage to onion mixture. Season with Flavor God seasoning, and continue to break meat apart with a wooden spoon as it cooks.

When meat is mostly cooked through, add tomato sauce, diced tomatoes, Rotel tomatoes, and sweet potato. Add chili seasoning packet and mix well.

Add kidney beans and pinto beans and fold them into the chili so they don't get squished.

Cover and lower heat to a simmer for 1 1/2 hours, stirring occasionally. Taste the chili about 30 minutes in and adjust the spices to your taste, especially if you've used slightly different ingredients (like the sausage and chili seasoning packet) than listed here.

Remove pot from heat and keep covered for another 30 minutes before serving - this will allow the sweet potato to finish cooking while bringing the chili down to a safe eating temperature!

Serve chili topped with cheddar cheese, avocados, sour cream, or tortilla chips, if desired.
Nutrition Facts
Turkey & Sausage Sweet Potato Chili
Amount Per Serving
Calories 328 Calories from Fat 54
% Daily Value*
Fat 6g9%
Cholesterol 45mg15%
Sodium 447mg19%
Potassium 932mg27%
Carbohydrates 41g14%
Fiber 11g46%
Sugar 13g14%
Protein 28g56%
* Percent Daily Values are based on a 2000 calorie diet.