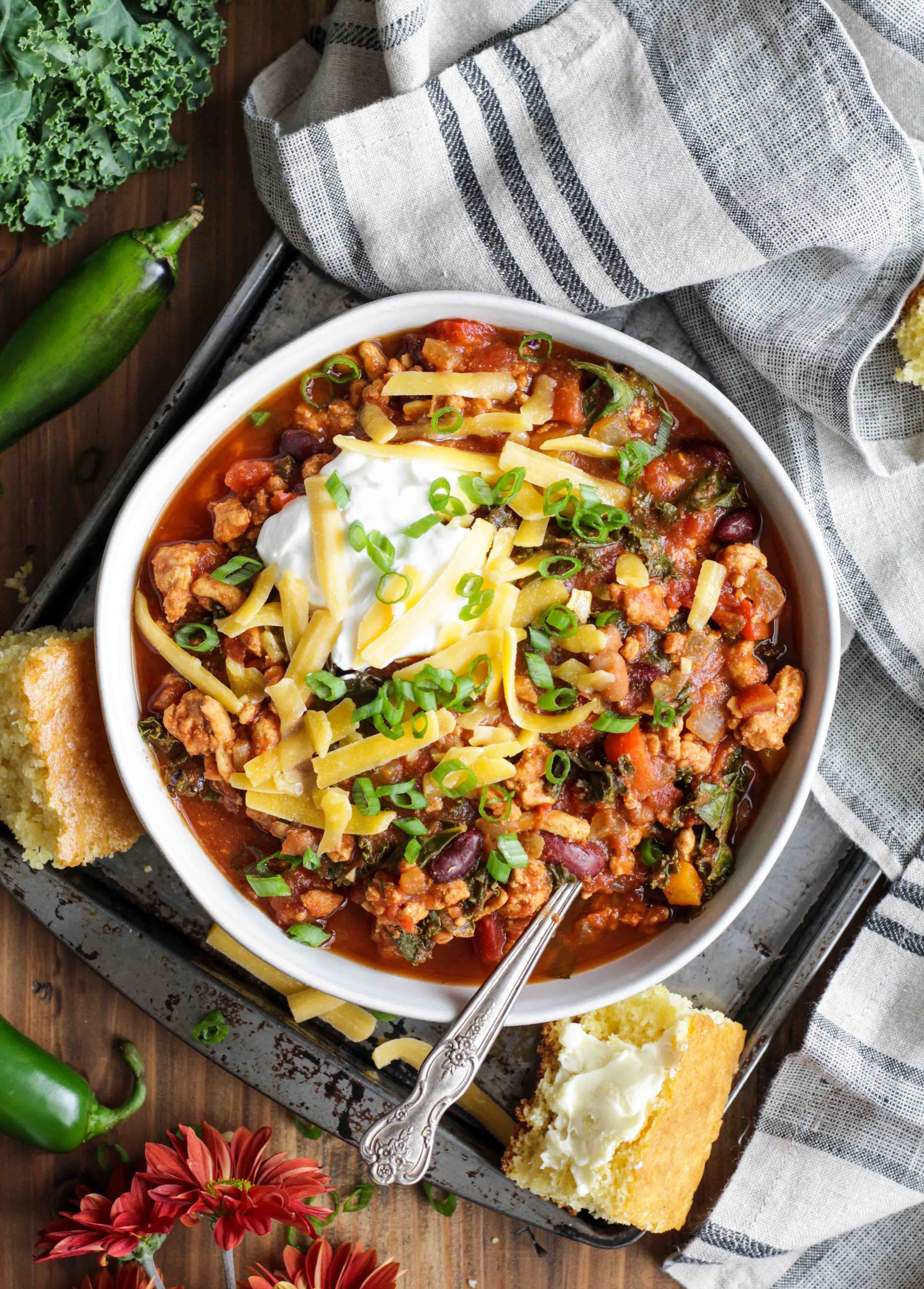 ***Updated December 6th, 2020***
Yep, I put kale in my chili. Before you turn your nose up, let me tell you that it's actually awesome. I was trying to figure out a way to add more veggies to my chili without involving more peppers or something lame like zucchini. So I went for it. If you've never had kale before, it has a very tough leaf that holds up well to cooking and tastes kind of bitter, even if you get the baby greens. So naturally I was a little nervous that it would make my chili taste funky. But it didn't! We'll call it a pleasant surprise because I would have been very upset if I had ruined my batch of chili. I've been wanting to make a batch for a while now to make sure I have some in the freezer for when it actually cools down outside.
Plus, kale is packed with vitamin K and A, iron, antioxidants, it's considered an anti-inflammatory and is a good detox food (helloooo post weekend!). So why not? I think it actually added a little more complex flavor to the chili, so it's a win win.
Since there are so many canned goods involved in chili – I'm not going to cook the beans myself, that's just taking it too far – I went with all low sodium or salt free stuff to keep the sodium down to a reasonable level and allow me to salt it to my own taste. That said – be sure to taste and add salt as you go! Don't wait until the very end or you will end up with an excessively salty chili instead of a chili with well developed flavors and the right level of salt.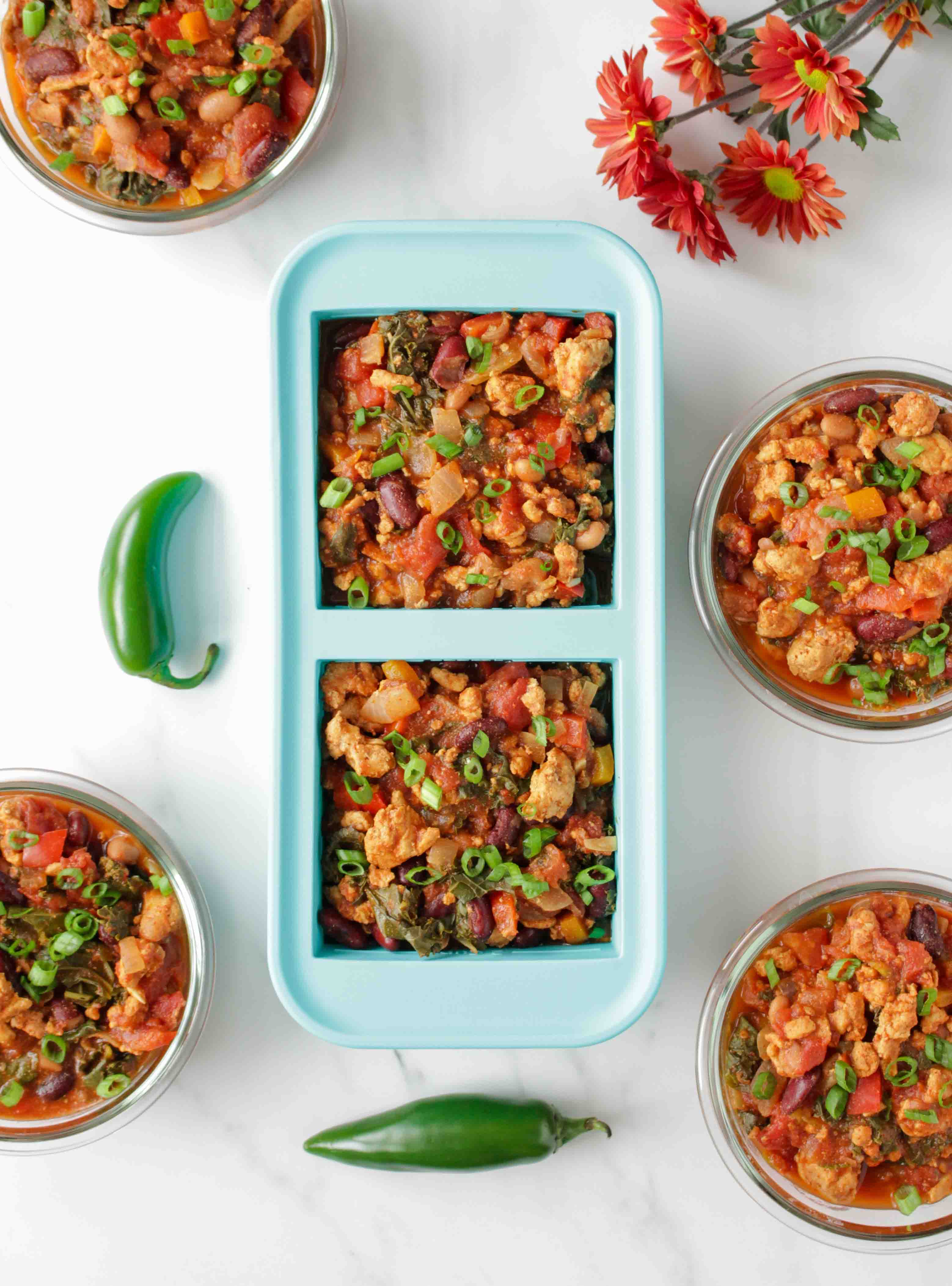 Chili is perfect for meal prep! If you're storing it in the refrigerator, any container will do, but I really like the glass ones linked below (Amazon affiliate link). And if you're planning to freeze some, Souper Cubes are awesome! Once they're frozen into portioned out cubes, you can easily put them in Food Saver bags for longer storage in the freezer. That makes it so easy to grab one whenever you need a quick meal!
Reheating from frozen:
Microwave: If you want to take one of these cubes to work for lunch the next day, it's best to pull it out of the freezer the night before, take it out of the Food Saver bag, and put it in a container (like this one). Then you can reheat it like normal.

If you don't take it out of the fridge the night before, when you're ready to eat you'll want to take it out of the food saver bag, stick it into a bowl or container, then cover it with plastic, silicone, or even a plate (this helps steam build up in the bowl). Set your microwave to defrost – this usually takes 4-5 minutes. If it's still frozen in the middle at that point, you can do another half cycle of defrost (about 2 minutes). Then turn it up to regular high heat and go for about a minute and a half until heated through!

Stovetop: Add the frozen cube to a small pot over medium heat. You can add a couple tablespoons of water or broth to help things along. Continue to monitor, break apart with a spoon, and stir until heated to desired temperature.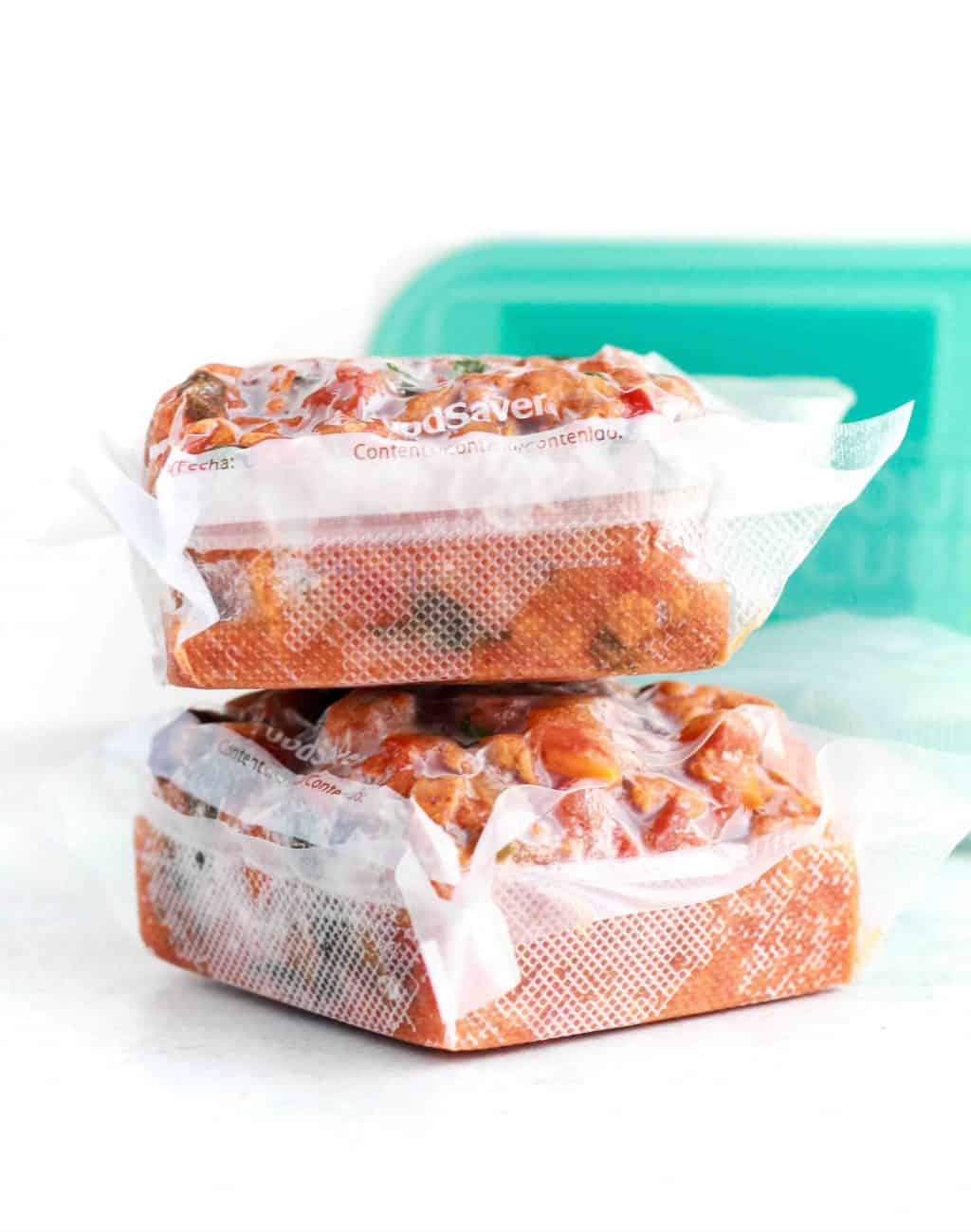 Turkey Chili with Kale Recipe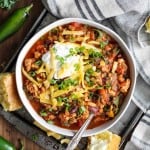 Turkey Chili with Kale
Prep Time 25 minutes
Cook Time 45 minutes
Total Time 1 hour 10 minutes
Servings 8 servings (1.75 cups per serving)
Calories per serving 274 kcal
Ingredients
2 lbs extra lean ground turkey (99%)
2 15 oz cans diced tomatoes, no salt added
1 15 oz can low sodium kidney beans, drained
1 15 oz can pinto beans, drained
2 8 oz cans tomato sauce, no salt added
1 10 oz can Rotel diced tomatoes and green chiles, no salt added
3 cups kale, chopped (200 grams)
1 medium yellow onion, chopped (110 grams)
2 medium orange bell peppers, chopped (260 grams)
1 large jalapeño, diced (15 grams)
4 cloves garlic (16 grams)
1 packet Mrs Dash Chili Seasoning (35 grams)
1 tbsp olive oil (0.5 fl oz)
Salt and pepper to taste
Instructions
Heat olive oil in a large pot over medium high heat. Add garlic and onion, then sauté for 2-3 minutes until fragrant and softened.

Add ground turkey, 1/2 the seasoning packet, and some salt to the pot. Cook the turkey, breaking apart into chunks with a wooden spoon until cooked through.

Add all remaining ingredients except kale and stir. Bring to a boil, then lower heat to a simmer and cover for 30 minutes. Occasionally stir, taste test, and add salt as needed.

Add the kale to the pot and stir into the chili. Cover and simmer for another 15 minutes before removing the chili from heat.

Optional: top with sour cream, cheese, green onion, and/or avocado before serving.
Recipe Notes
Click here to log this food in My Fitness Pal or scan the barcode below!
Nutrition Facts
Turkey Chili with Kale
Amount Per Serving (442 g)
Calories 274 Calories from Fat 36
% Daily Value*
Fat 4g6%
Cholesterol 55mg18%
Sodium 192mg8%
Potassium 521mg15%
Carbohydrates 27g9%
Fiber 8g33%
Sugar 7g8%
Protein 32g64%
* Percent Daily Values are based on a 2000 calorie diet.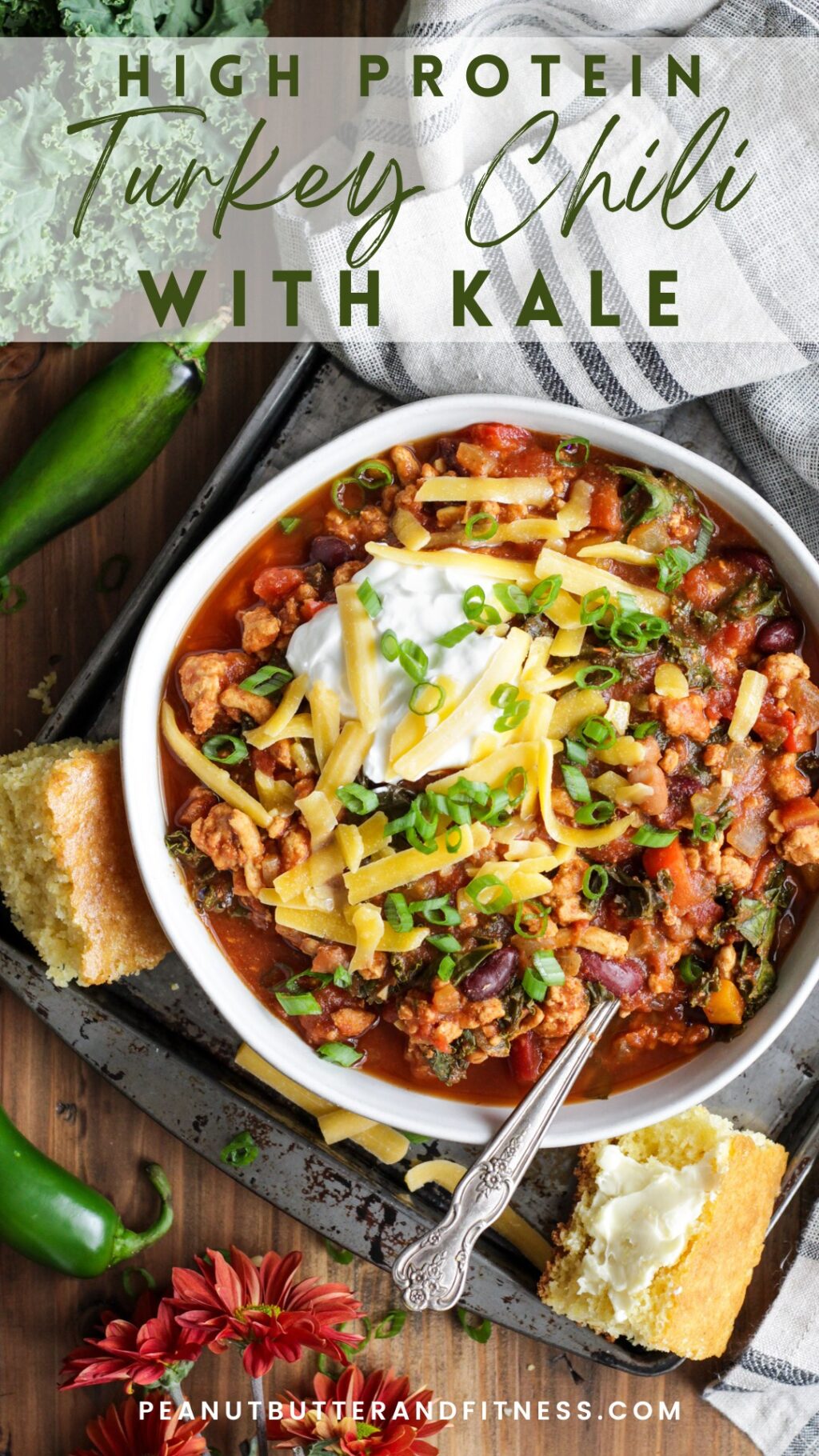 Anyone remember the old photos I had up for this recipe?? Had to keep one here just to remember how far this blog (and my photography) has come 🙂