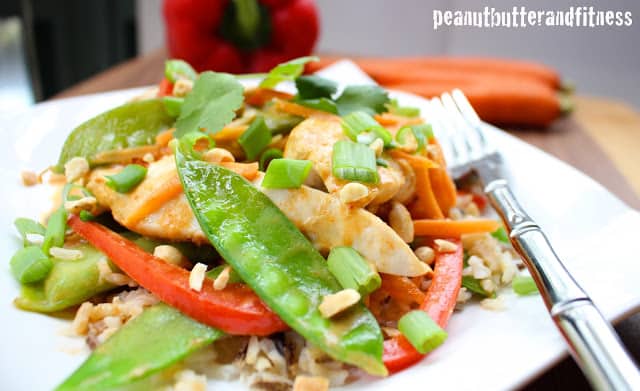 Happy Easter! Here's a recipe from my meal prep last week. It's super easy and really tasty so don't forget your meal prep just because it's a holiday! This is the first "Thai" recipe that I've made since I went there last November. I can't say that it truly tastes Thai – probably due to lack of lemongrass and massive amounts of sauce – but it is really delicious and the coconut milk/peanut sauce keeps the chicken moist all week long! Truly a meal prep champ.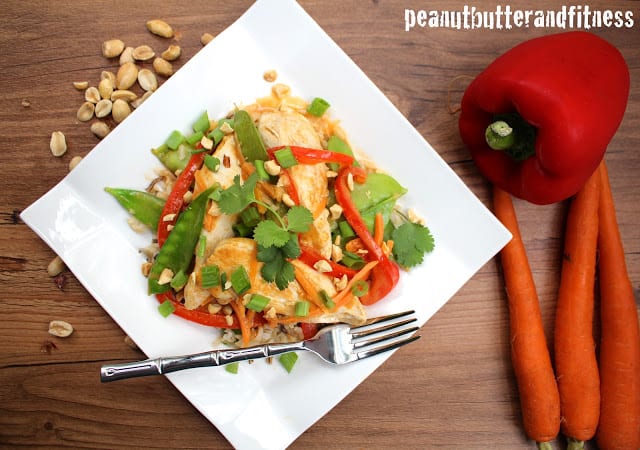 I used regular chicken breasts that I cut into strips rather than using actual chicken tenderloins for this recipe. You can use either one, I just have a hard time finding more than 0.97lbs worth of tenders in one package. But I can certainly find 1 1/4 lbs worth of chicken boobs, so I went for it.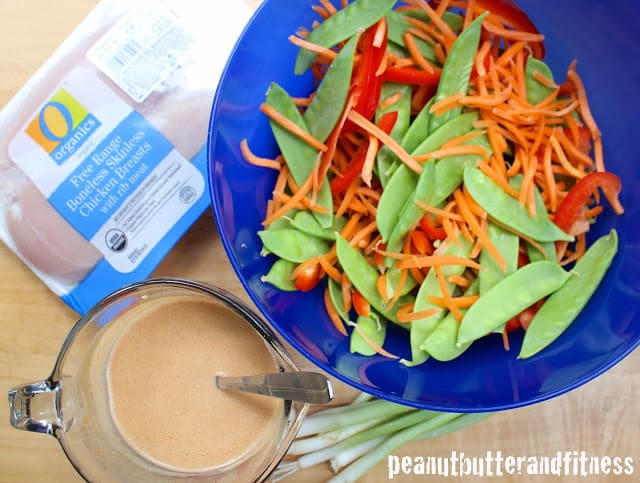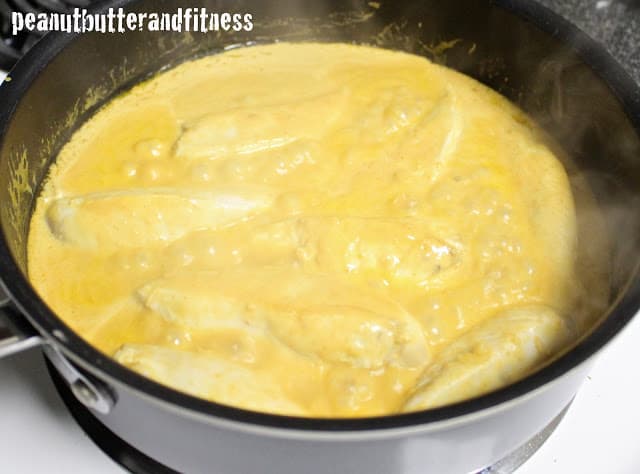 While the sauce is boiling down a bit, be sure to stir occasionally so the sides don't burn and stick. The peanut butter (or in this case,
PB2
) will tend to do that.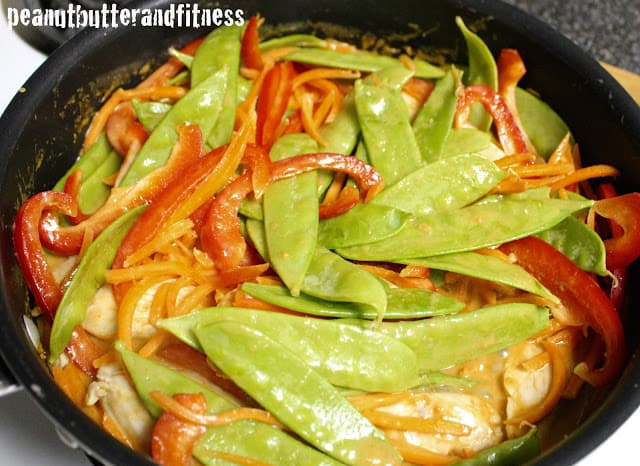 Be sure to top it off with green onions and peanuts! Throw on some cilantro if you've got that too.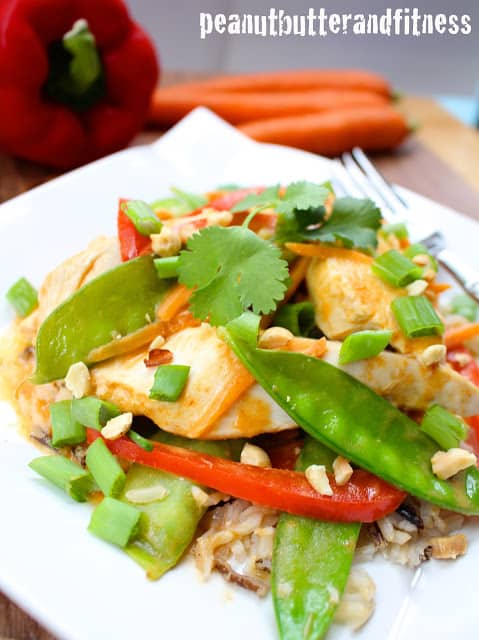 Thai Peanut Chicken
Yield: 5 servings • Calories per serving: 314 • Fat: 8 g • Protein: 31 g • Carbs: 29 g • Fiber: 6 g • Sugar: 6 g • Sodium: 239 mg • Cholesterol: 65 mg
Ingredients:
1 1/4 lb chicken tenders
1 1/2 cup snow peas
1 cup red bell pepper, sliced
1 cup grated carrots
2 cloves garlic, minced
1/4 cup peanuts, chopped
1/2 cup O Organics Wild Rice Mix, cooked according to package directions
1/3 cup green onions, chopped
Sauce Ingredients:
1 cup light coconut milk
1/2 cup PB2 powdered peanut butter
2 tsp Thai red curry paste
1/2 tbsp honey
1 tsp fresh grated ginger
Juice of 1 lime
Directions:
Mix sauce ingredients until smooth and set aside.
In a deep sauté pan, heat 1 tsp olive oil over medium-high heat and sauté minced garlic until fragrant. Add chicken tenders and lightly brown on each side, about 2 minutes total.
Add sauce over the chicken and lightly stir to coat chicken. Allow the sauce to boil down for 3-5 minutes, then add snow peas, bell pepper and grated carrots, tossing lightly with chicken and sauce.
Lower heat to medium and continue cooking until vegetables are tender-crisp and chicken is cooked through, about 3-5 more minutes.
Serve chicken and vegetables over rice and top with green onions and peanuts.