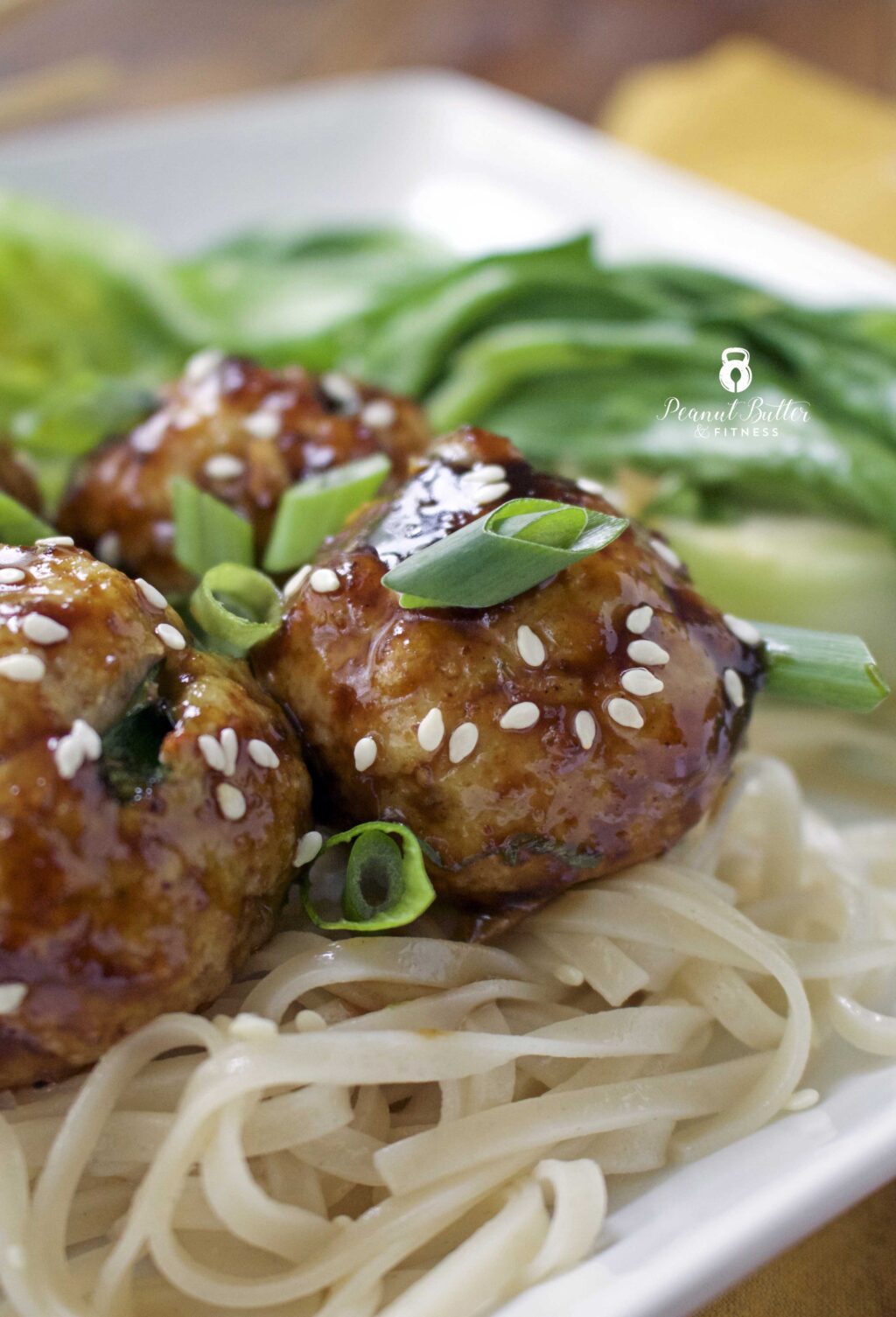 Homemade teriyaki sauce on turkey meatballs, eh?  Sounds slightly strange but I promise it's delicious, easy to make and healthier than a lot of teriyaki slathered options out there.  The sauce only takes about 5 minutes to make (as you'll see in the video demo below) and the meatballs are meatballs…nothing complicated about them.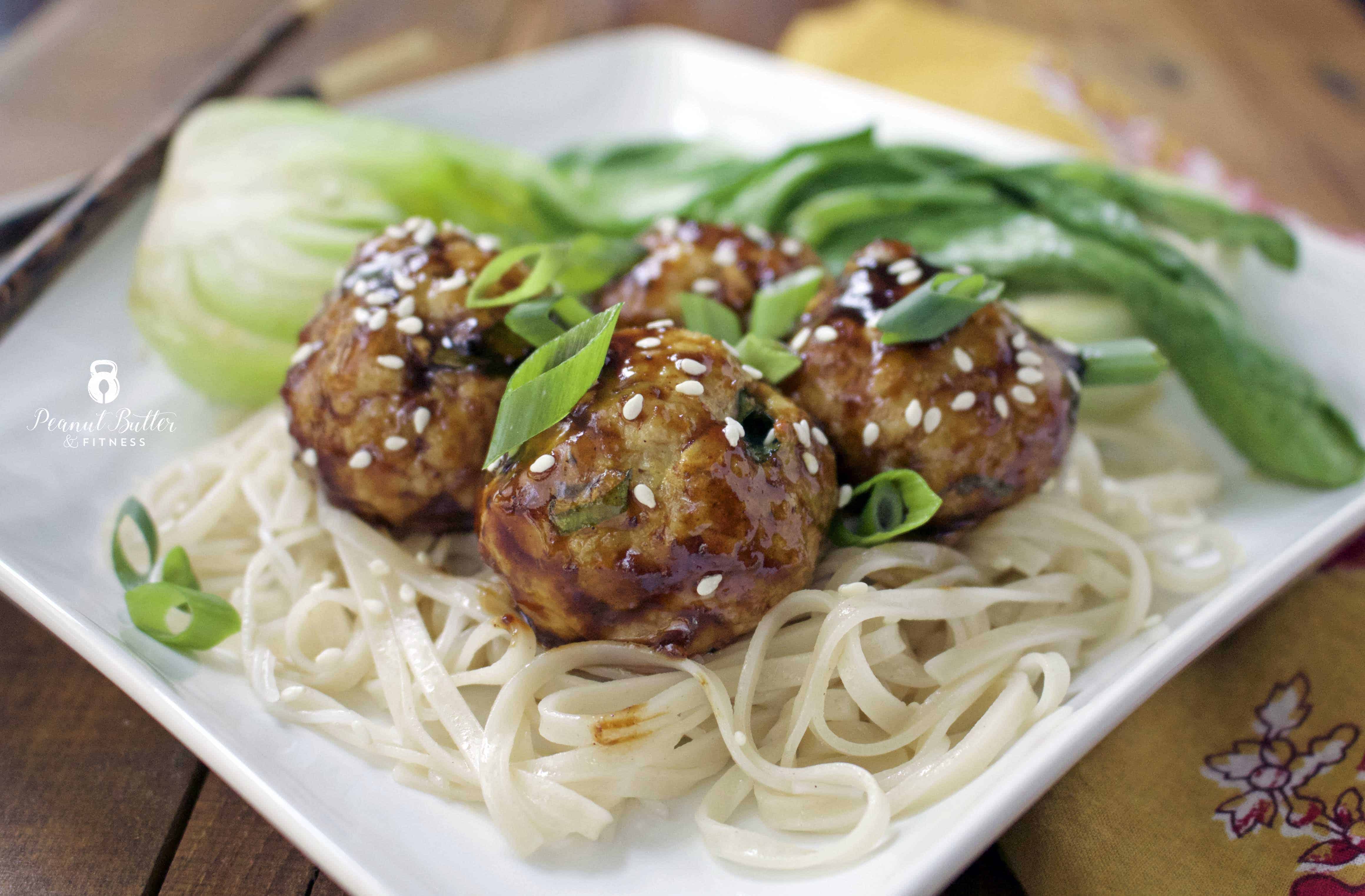 I used 99% lean ground turkey, but you can certainly use something with a little higher fat content if you prefer a juicier meatball and can spare the macros on the extra fat.  I served up my meatballs over top of sweet potato noodles and braised baby bok choy, but you could definitely use rice instead if you can't find the sweet potato noodles in the Asian section of your store.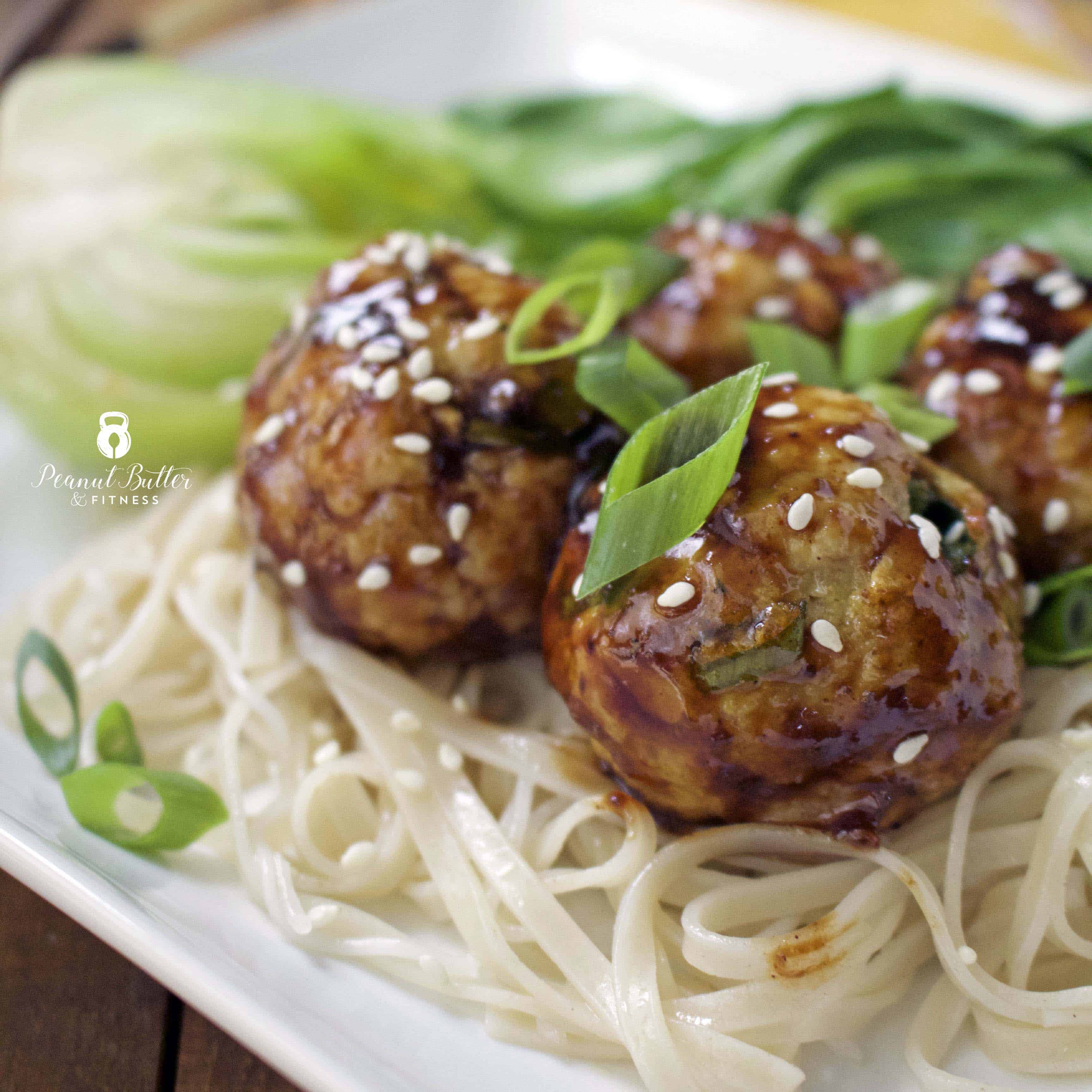 Don't forget to check out the recipe demo!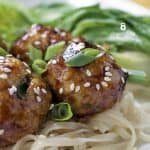 Teriyaki Turkey Meatballs with Bok Choy and Sweet Potato Noodles
Prep Time 20 minutes
Cook Time 20 minutes
Total Time 40 minutes
Servings 4 servings
Calories per serving 374 kcal
Ingredients
Meatballs
1 lb 99% extra lean ground turkey
1/3 cup panko breadcrumbs
1/4 cup green onion diced
1 egg
2 cloves garlic minced
1 tsp fresh ginger grated
Teriyaki Sauce
2 tbsp light brown sugar lightly packed
2 tbsp hoisin sauce
1 tbsp low sodium soy sauce
1 tsp sesame oil
1 clove garlic minced
1/2 tsp fresh ginger grated
Other
1 lb baby bok choy halved
6 oz sweet potato noodles
2 tbsp shallot diced
1 1/2 tbsp sesame oil divided
2 tsp low sodium soy sauce
Optional: green onion and sesame seeds for garnish
Instructions
Pre-heat oven to 400 degrees. Line a baking sheet with SILPAT or foil.

Mix all meatball ingredients until just combined. Roll into 1" to 1 1/2" meatballs and place on lined baking sheet. Spray with coconut oil before baking for 12-15 minutes or until cooked through.

While meatballs are baking, combine all sauce ingredients in a small pot. Bring to a boil, then lower to a simmer for 3-5 minutes or until slightly thickened.

Once meatballs are cooked, add to a large bowl and toss with sauce.

Heat 1/2 tbsp sesame oil over medium-high heat. Add shallots and sauté until fragrant. Add bok choy and soy sauce and cover immediately. Cook 1 minute. Uncover and toss bok choy, then cover again and cook until bok choy is tender crisp, about 2-3 minutes.

Bring water to a boil in a small pot, then add sweet potato vermicelli and cook until tender and translucent, about 5 minutes. Drain noodles and immediately toss with remaining 1 tbsp of sesame oil.

Serve meatballs over noodles with bok choy. Garnish with green onions and sesame seeds if desired.
Recipe Notes
Check out the recipe demo video here!
Nutrition Facts
Teriyaki Turkey Meatballs with Bok Choy and Sweet Potato Noodles
Amount Per Serving
Calories 374 Calories from Fat 81
% Daily Value*
Fat 9g14%
Cholesterol 102mg34%
Sodium 483mg21%
Potassium 286mg8%
Carbohydrates 43g14%
Fiber 1g4%
Sugar 9g10%
Protein 30g60%
* Percent Daily Values are based on a 2000 calorie diet.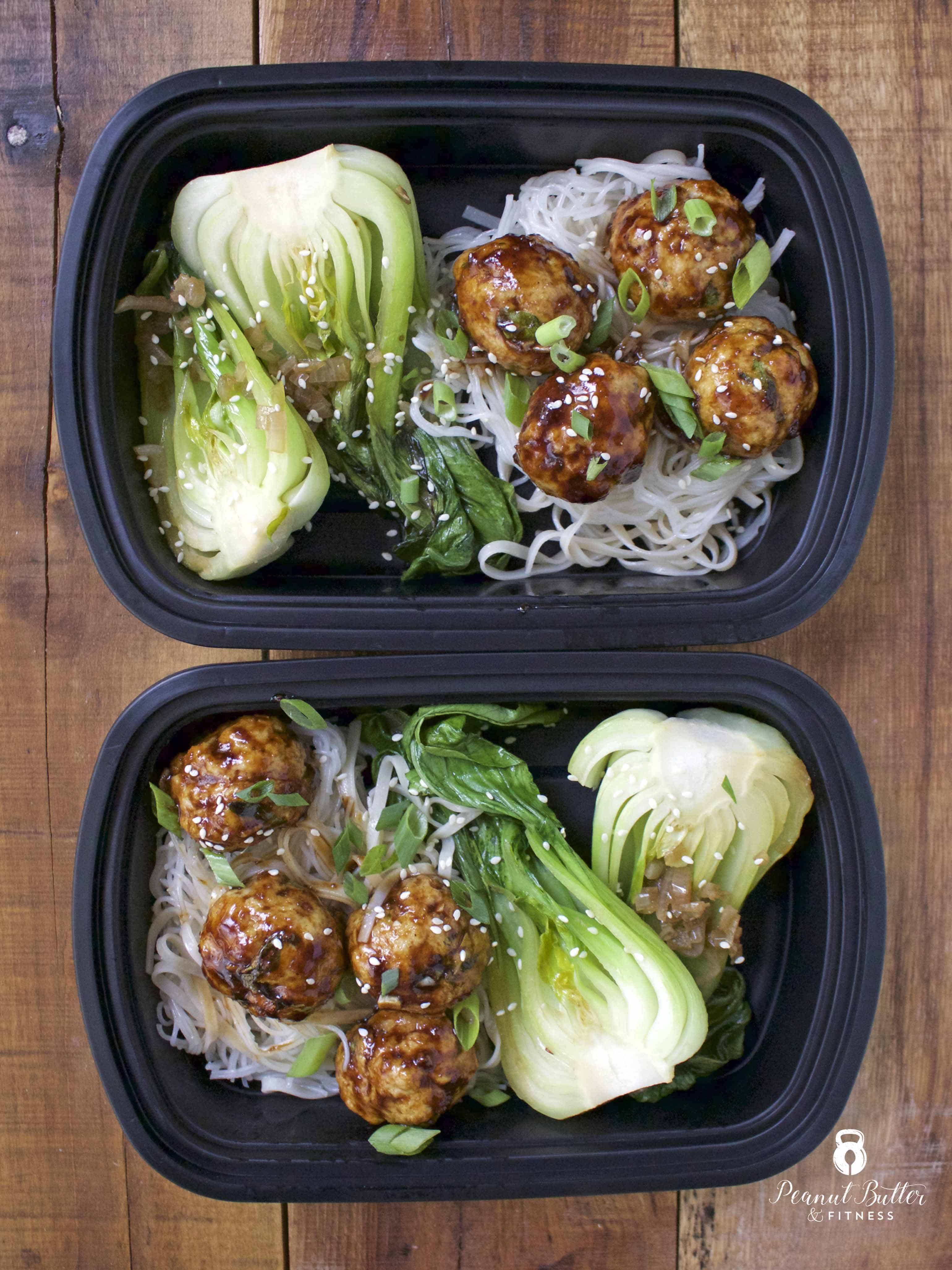 This recipe was part of my weekly meal prep last week – I'll be posting the full meal plan tomorrow so stay tuned!