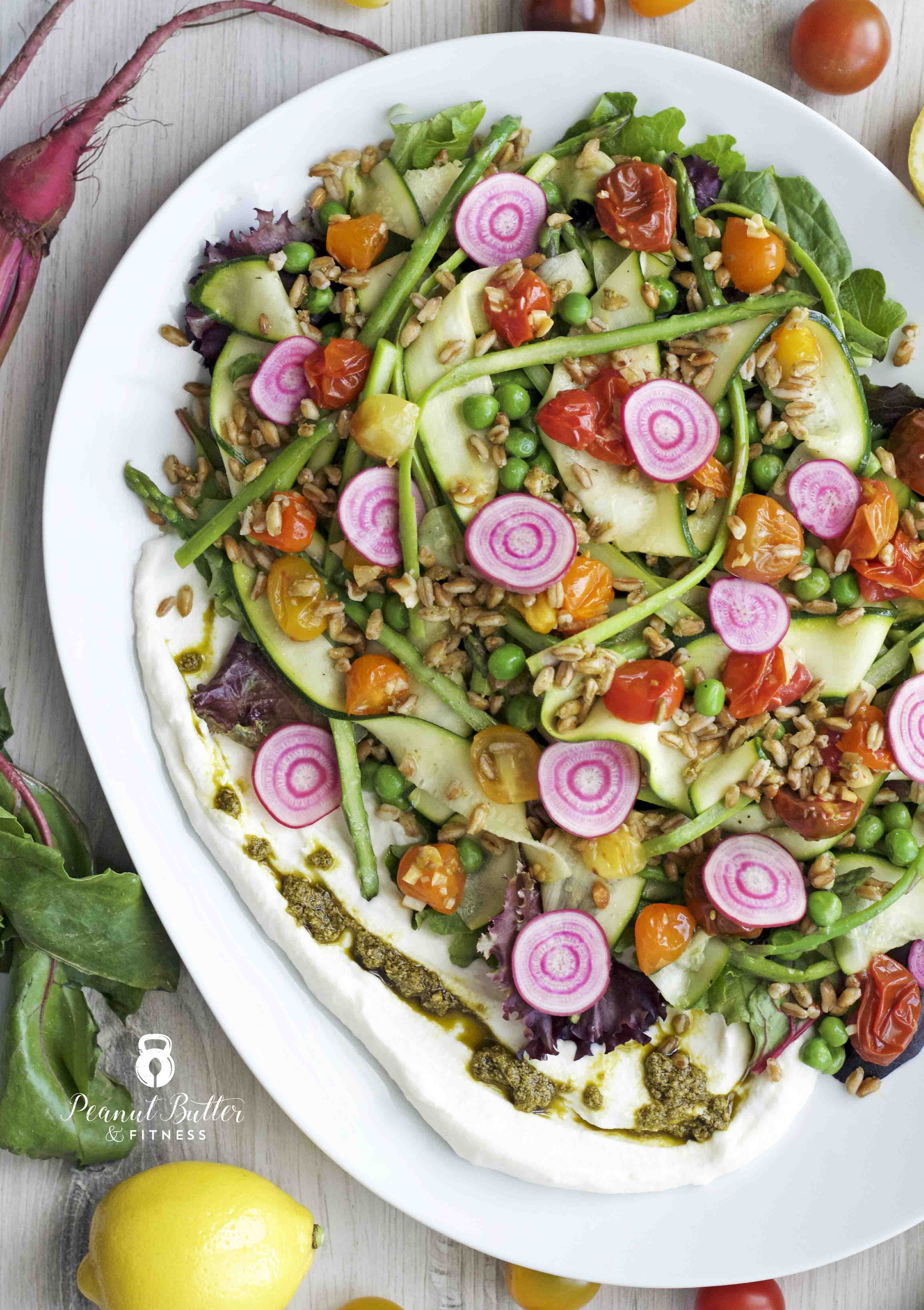 Things I love about this Spring Green Salad with Whipped Honey Ricotta: 1) it's pretty and what they say about eating with your eyes first is totally true; 2) it's light and fresh, just like spring should be; and 3) whipped. honey. ricotta. Need I say more?
But you guys, I think San Antonio decided to skip right over spring and go straight to summer. Yesterday it was 92 degrees. Today it's supposed to be 96. I was hoping we could at least stay in that 80s sweet spot for a little while longer. Hey, at least I still get to enjoy spring veggies, even if spring weather is but a fleeting thought in Texas.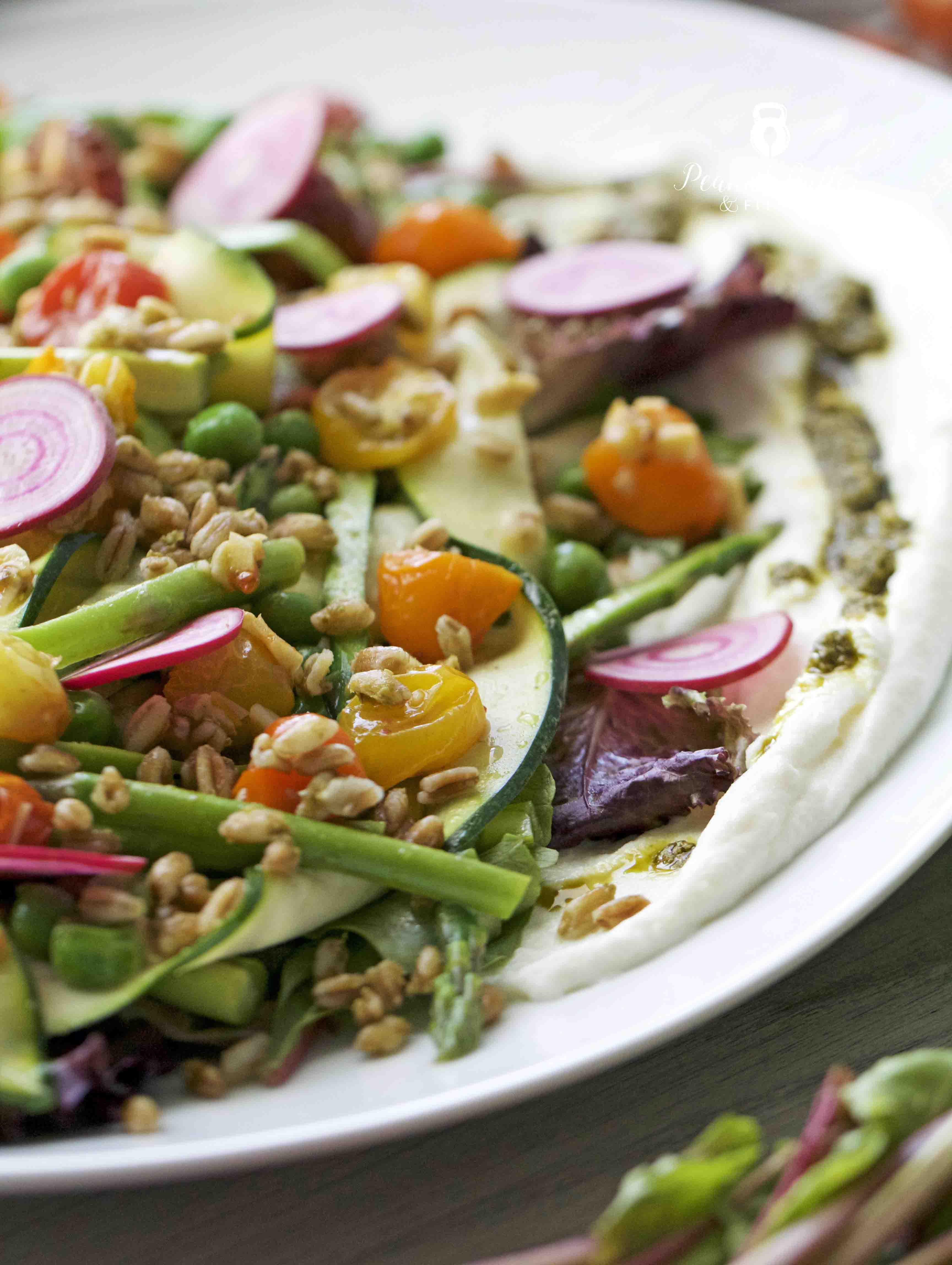 When I was in Chicago for a conference recently, I ate at this hip little spot near the bean where I had a dish that had toasted farro sprinkled on top. I loved it! Not only does farro have more of a bite to it when it's toasted, but it also has this amazing nutty flavor. I'll definitely be toasting mine from now on, just like I did for this salad. You could skip it of course, just like you could skip out on roasting the tomatoes if you were pressed for time, but that extra little bit of effort packs in a lot of extra flavor.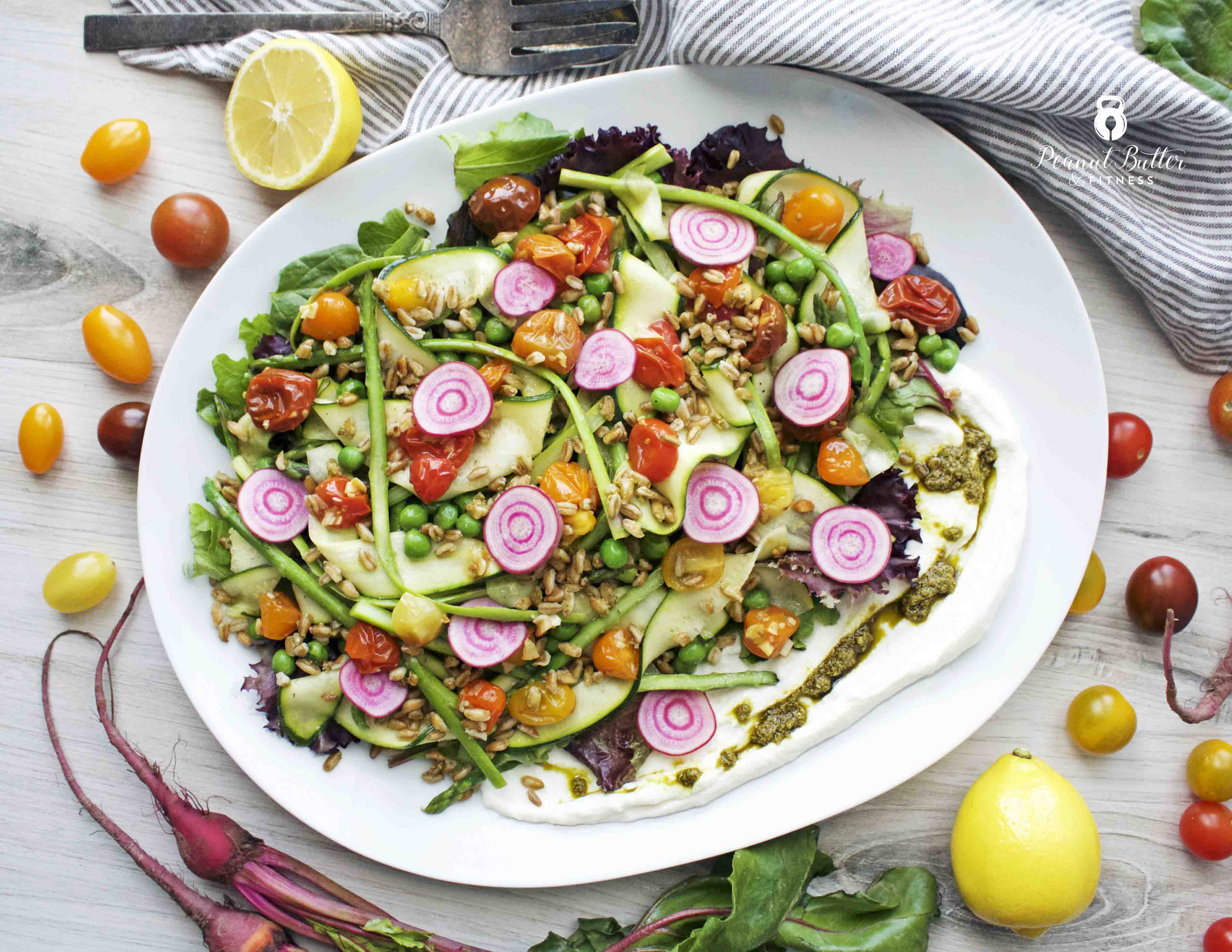 How gorgeous are these veggies?!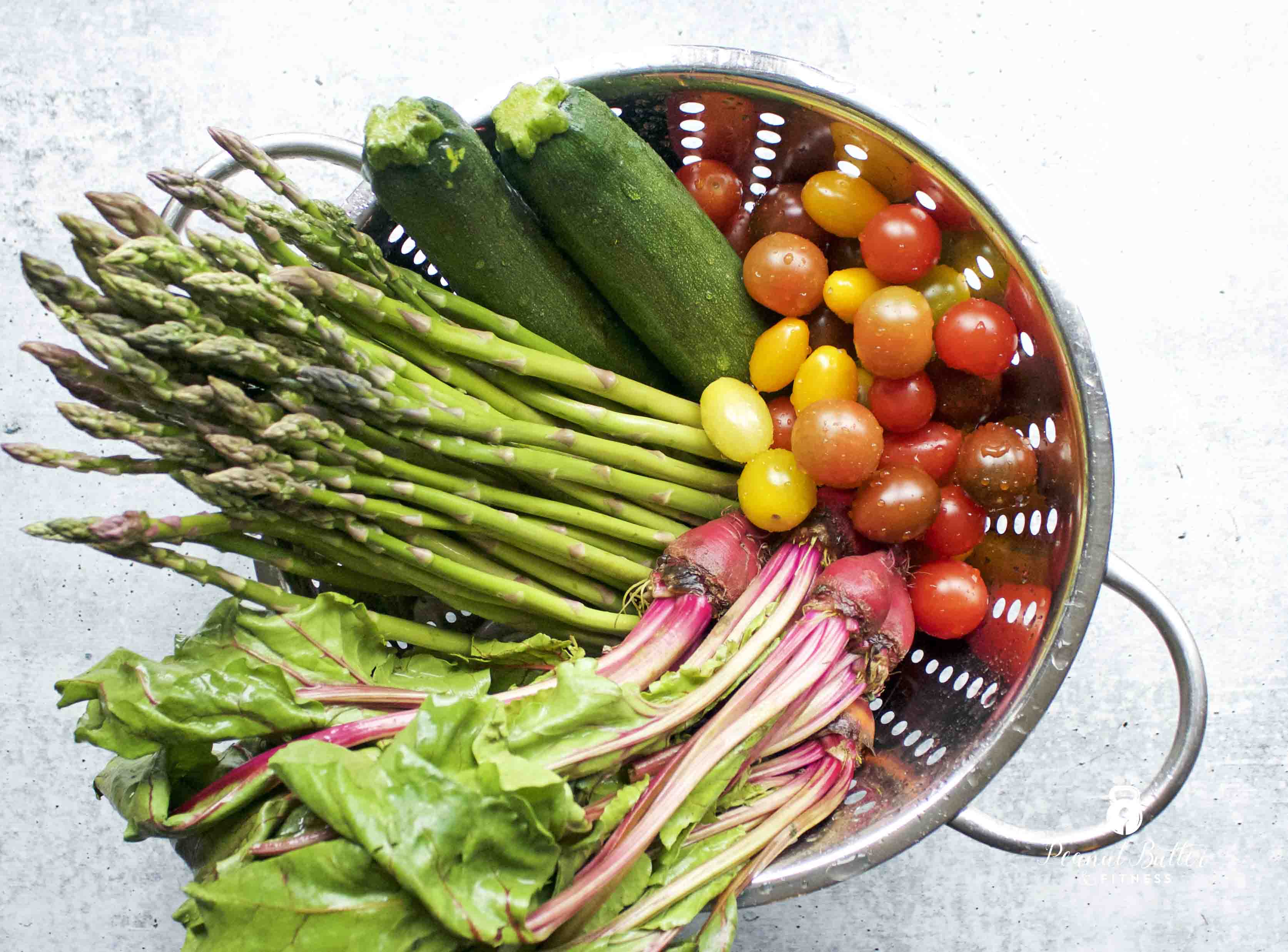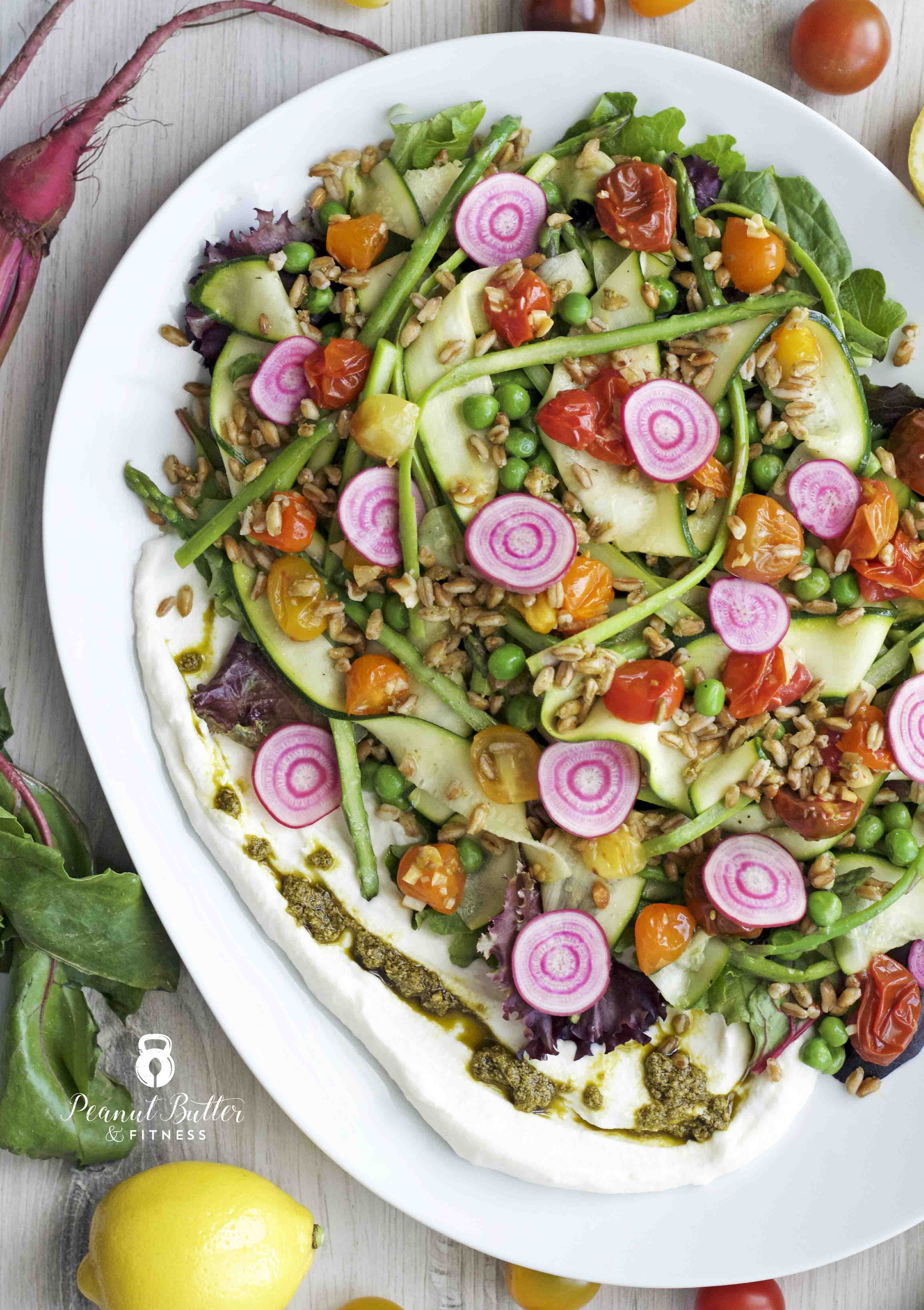 Spring Green Salad with Whipped Honey Ricotta
Ingredients
5

cups

baby spring mix

,

(85 grams)

10-12

stalks

asparagus, trimmed and sliced thinly or chopped into 2″ pieces

,

(130 grams)

2

small baby zucchini, sliced into ribbons

,

(200 grams)

1

cup

baby heirloom tomatoes, halved

,

(175 grams)

2/3

cup

peas

,

(100 grams)

1/4

cup

farro

,

(50 grams)

1/4

cup

radish, sliced thinly

,

(30 grams)

1

tbsp

HEB basil pesto, plus more for topping, if desired,

(12.5 grams)

2

cloves

garlic

,

(8 grams)

1/2

tsp

olive oil
Whipped Honey Lemon Ricotta
1/2

cup

part skim ricotta

,

(124 grams)

1/2

tbsp

lemon zest

1/2

tbsp

honey

,

(0.25 oz)
Honey Lemon Dressing
2

tbsp

lemon juice

,

(1 oz)

1 1/2

tbsp

olive oil

,

(0.75 oz)

1

tbsp

honey

,

(0.5 oz)
Instructions
Pre-heat oven to 400 degrees. Line a small baking sheet with foil. Toss halved tomatoes with garlic and 1/2 tsp olive oil. Arrange in single layer on lined baking sheet and roast for 15-20 minutes. Set aside to cool.

Whisk together dressing ingredients. Set aside.

Add whipped ricotta ingredients to a bowl. Using a hand mixer, whisk until smooth and some air has been incorporated into the ricotta. Set aside in refrigerator.

Heat a small skillet over medium high heat. Add dry farro and toast for 3-4 minutes until slightly browned and nutty smelling (alternatively, you could do this on a baking sheet at 350 degrees for 5-7 minutes). Transfer to a small pot of boiling water for 15 minutes. After 15 minutes, drain farro and toss with basil pesto. Set aside.

Add asparagus and zucchini ribbons to a microwave safe dish. Cover with a very damp paper towel and microwave for 2 minutes or until asparagus is bright green and tender. Immediately transfer asparagus to an ice bath to stop the cooking. After cooled, remove from ice bath and dry on a paper towel.

When ready to serve, smear whipped ricotta on the serving dish. Add a layer of greens to the non-smeared area of the dish.

Toss asparagus, zucchini, peas, and cherry tomatoes with dressing, then layer on top of the bed of greens. Top with farro and radishes before serving. Add additional basil pesto, if desired.
Nutrition Information
Calories:
213
kcal
(11%)
,
Carbohydrates:
26
g
(9%)
,
Protein:
10
g
(20%)
,
Fat:
9
g
(14%)
,
Cholesterol:
10
mg
(3%)
,
Sodium:
132
mg
(6%)
,
Potassium:
565
mg
(16%)
,
Fiber:
4
g
(17%)
,
Sugar:
9
g
(10%)