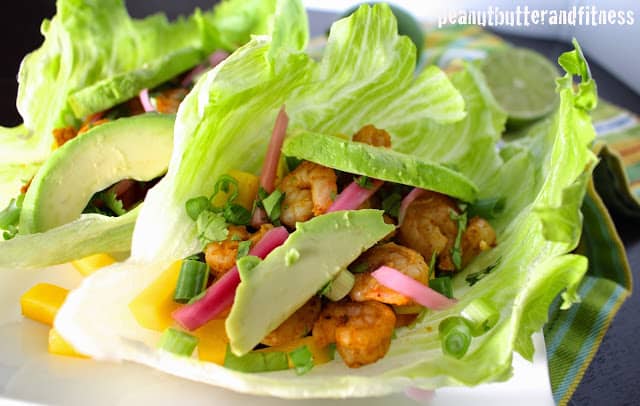 I know it's only mid-November, but pumpkin spice season has been going strong for months now…and it had me feeling in the mood for something fresh and spicy.  These yummy shrimp lettuce wraps fit the bill! Plus they're really quick and easy to make.  Mine only took me about 30 minutes to prep the veggies/fruit/beans plus marinate and cook the shrimp.  So, yeah, I was in a rush and only had time to take finished product pictures…sorry 🙁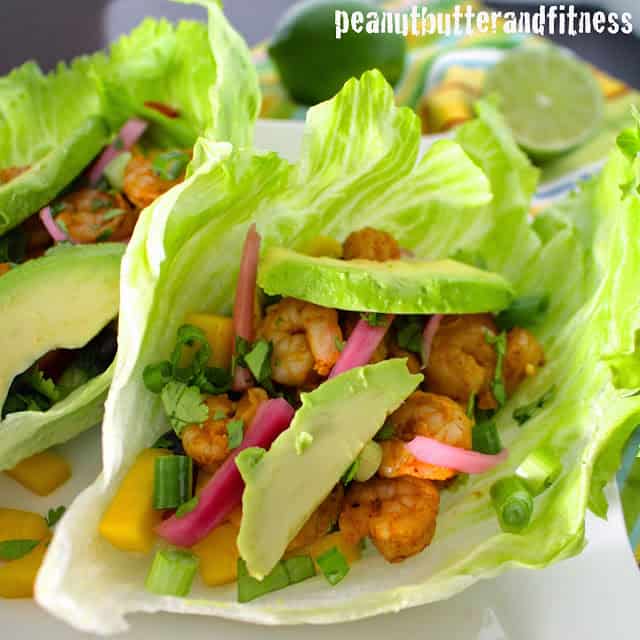 And you know what the secret star ingredient of these wraps is?  Pickled red onions.  Everything else is delicious too, but I can't get over how much flavor and awesomeness they add.  The first time I used them was in my Miami Chicken Burrito Bowl with Cilantro Lime Quinoa – I've been itching to add them to a recipe ever since!  Bonus: they are really incredibly simple to make.  The toughest part is cutting the red onion…honestly it's like a freakin' battle every time I cut a red onion.  I cry. A lot.  But once you get past that part, it takes about a minute to make them.  Check out the recipe for them down below.  Warning: you need to let them pickle for about 24 hours before serving!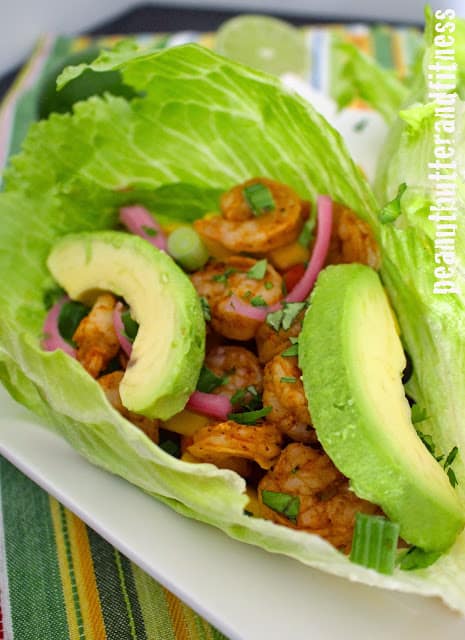 This is not recipe related, but I'm usually a firm believer in waiting until after Thanksgiving to put up Christmas decorations, but yesterday I caved – I put up Christmas lights.  And a stocking.  And honestly, I just want to leave those pretty little lights up all year long.  They're such good mood lighting! And they fill me with glee. Anybody else feel the same?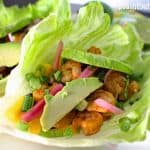 Spicy Shrimp Lettuce Wraps
Prep Time 30 minutes
Cook Time 10 minutes
Total Time 40 minutes
Servings 4 servings
Calories per serving 287 kcal
Ingredients
1 lb small raw shrimp peeled and deveined
1 medium head romaine lettuce
1 cup low sodium black beans rinsed and drained
1 cup chopped mango
2 small avocados
1/2 cup diced tomatoes
1/4 cup pickled red onions
1/4 cup chopped green onions
1/4 cup chopped cilantro
Marinade:
1 tbsp chili powder
1 lime juiced
1/2 tbsp olive oil
4 cloves garlic minced
1 tsp red pepper flakes
Instructions
In a small bowl, whisk together marinade ingredients.  Pour over shrimp in a resealable plastic bag and set aside in refrigerator while preparing vegetables.  Allow to marinate for 20-30 minutes.

Heat a large pan over high heat and add shrimp, leaving behind as much liquid as possible in the resealable bag.  Cook shrimp for about 4-5 minutes or until the shrimp are pink and opaque.  Remove from heat.

Arrange two lettuce leaves per serving and top with black beans, mango, tomatoes, shrimp, red onions, green onions, cilantro and avocado.
Nutrition Facts
Spicy Shrimp Lettuce Wraps
Amount Per Serving
Calories 287 Calories from Fat 72
% Daily Value*
Fat 8g12%
Cholesterol 172mg57%
Sodium 211mg9%
Carbohydrates 23g8%
Fiber 7g29%
Sugar 8g9%
Protein 29g58%
* Percent Daily Values are based on a 2000 calorie diet.
1/2 of a medium red onion, cut from stem to stem, then sliced
1/2 cup water
1/4 cup apple cider vinegar
1 tbsp Truvia baking blend
1 tsp sea salt
Directions: Bring water almost to a boil, then mix in sugar and salt.  Add apple cider vinegar and pour over sliced onions in a resealable jar.  Refrigerate for at least 24 hours before serving.