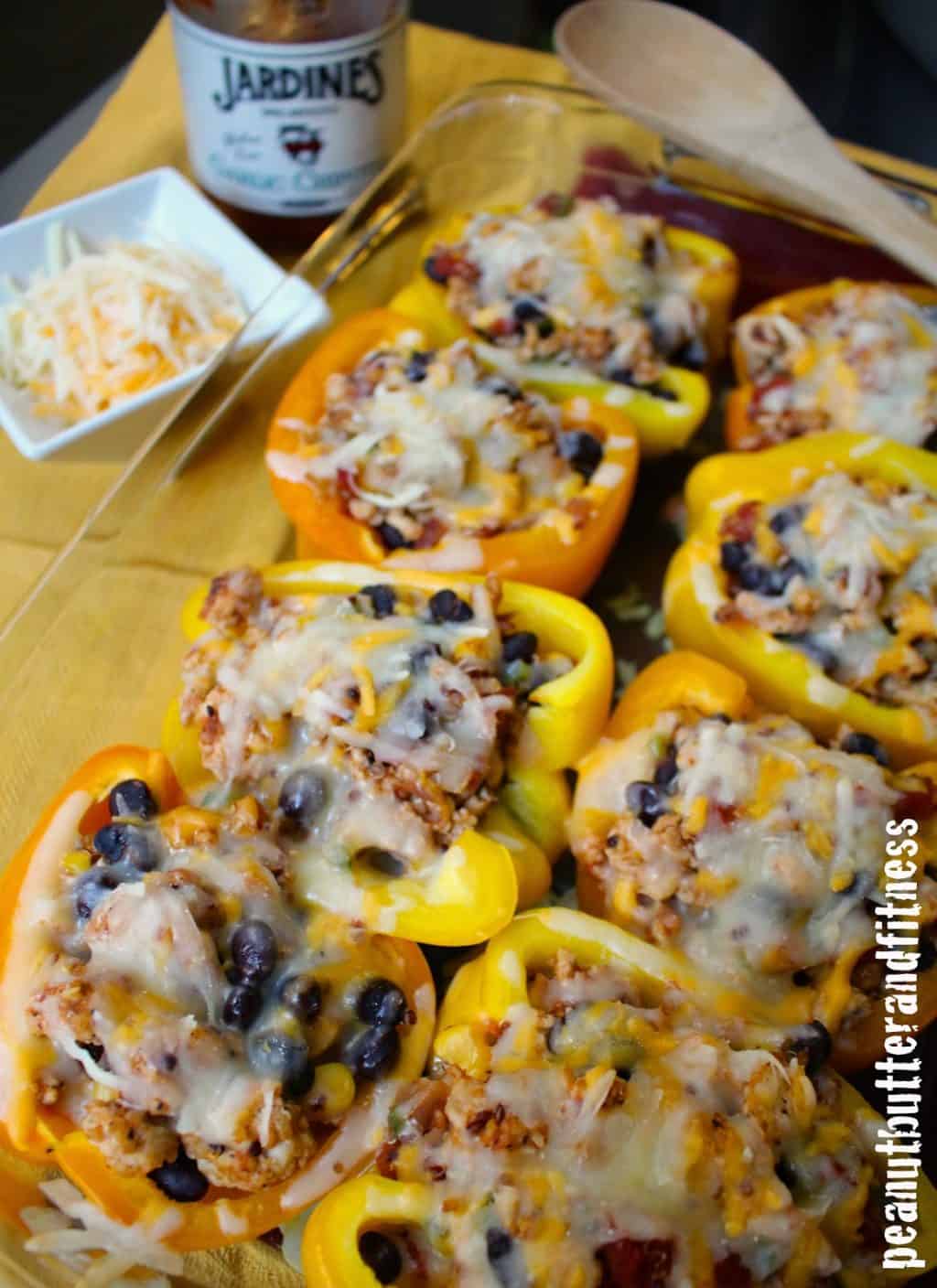 When I was planning my meals this week, I totally meant to eat really squeaky clean (ie. chicken/fish and veggies) all week.  But then I decided that my weekly ground turkey purchase needed to be something new and exciting…so here we are! I love stuffed peppers but I've only ever had the Italian kind with marinara sauce and lots of mozzarella.  Of course I went the southwest way and got a little spicy and Mexican on it for my own version!
(Check out the end of the post for meal prep info!)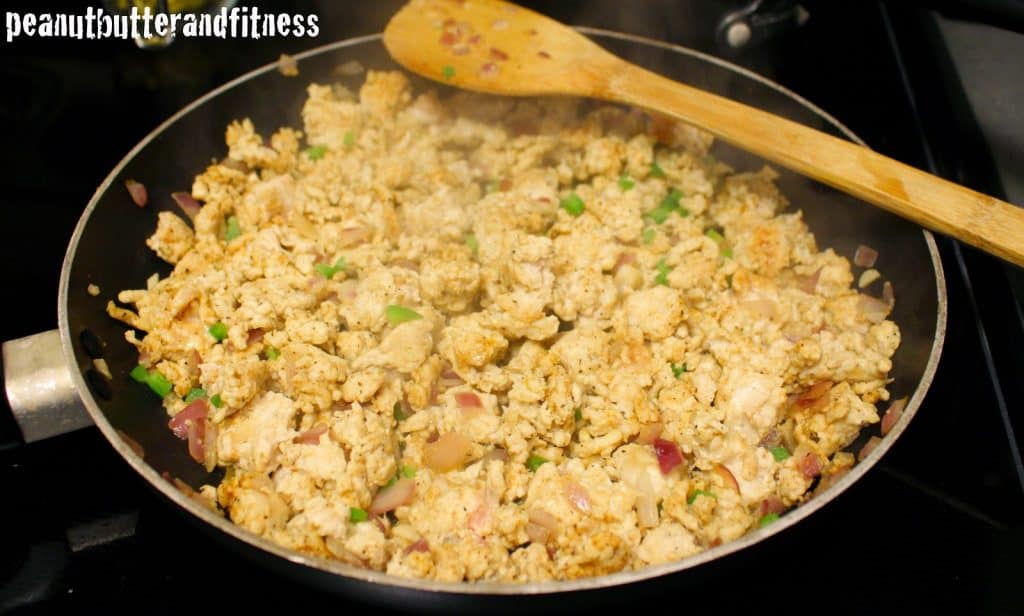 I added the diced jalapeño in the middle of cooking the turkey. Nice and spicy!  Just leave it out if you don't like spicy or you're feeding this to kiddos.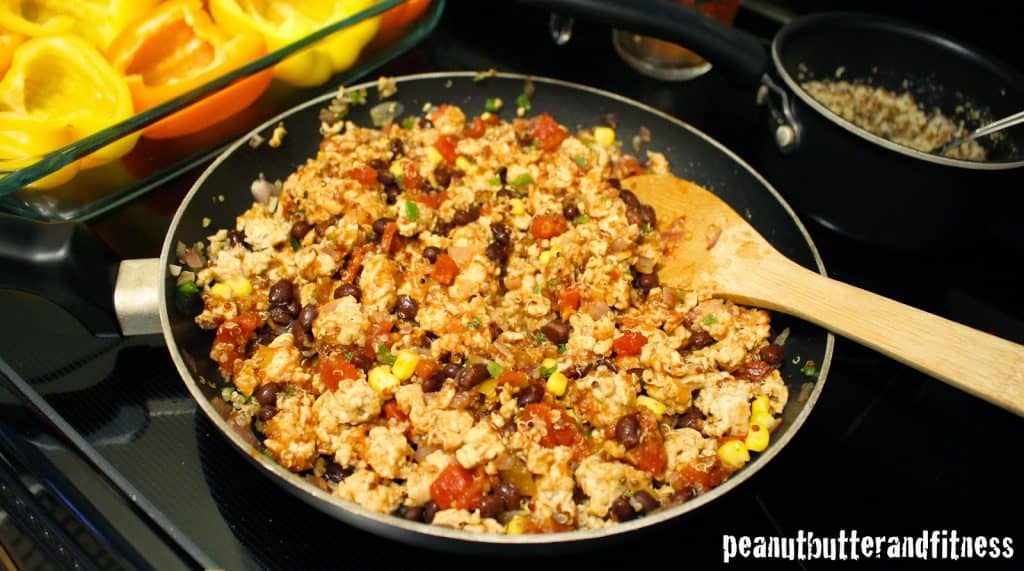 All mixed up.  Add some more salsa if you think it looks too dry.  One cup was plenty for mine. I used some random salsa that I found at Safeway – it was Jardine's Garlic Chipotle. I kind of forgot to check the label to see how much sodium was in there :/  Oh well, it tasted delicious at least.  If you want to cut the sodium content in these though, cut out the cajun seasoning and replace it with a mix of 1 tsp chili powder, 1/2 tsp garlic powder, 1/2 tsp onion powder and 1/4 tsp Lawry's seasoning salt (and look at the label on the salsa you buy!).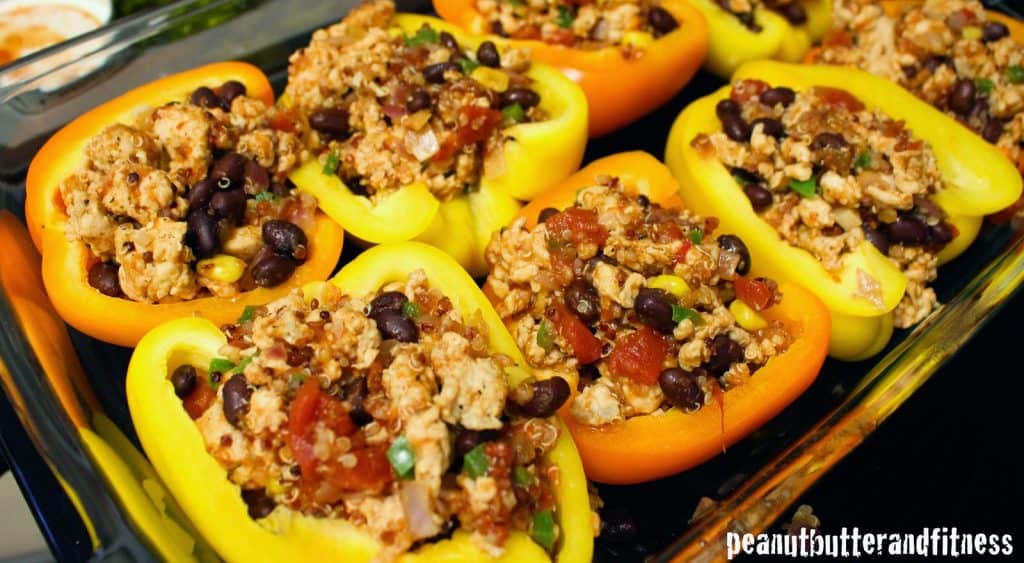 At first I thought I was going to have way too much stuffing for these peppers, but you just gotta pack it in there! It ended up being just the right amount.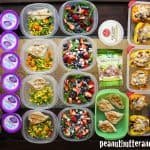 Southwest Turkey Stuffed Peppers
Prep Time 20 minutes
Cook Time 30 minutes
Total Time 50 minutes
Servings 4
Calories per serving 296 kcal
Ingredients
1 lb 99% lean ground turkey
4 medium red bell peppers
1/2 cup low sodium canned black beans drained and rinsed
1/2 cup frozen corn kernels
1  jalapeño diced
1 cup salsa
1/4 cup chopped red onion
2 cloves garlic minced
1/2 cup cooked rainbow quinoa
1/2 cup Sargento Four Cheese Mexican Reduced Fat shredded cheese
1 tsp olive oil
1/2 cup low sodium chicken or vegetable broth
Optional toppings: Plain greek yogurt diced green onions, chopped cilantro
Instructions
Preheat oven to 350 degrees.  Cut peppers in half length-wise and remove seeds and stems.  Arrange peppers in oven safe dish, cut side up.

In a large pan, heat olive oil over medium-high heat.  Add onions and garlic and sauté until fragrant and slightly tender.

Add ground turkey and season with Emeril's Cajun Seasoning.  Cook turkey while continuing to break apart with a spatula until cooked through.  Mix in black beans, corn, jalapeño, salsa and quinoa.

Stuff peppers with turkey mixture.  Pour broth into bottom of baking dish.  Cover dish with foil and bake at 350 degrees for 25-30 minutes or until peppers are tender.

Uncover dish and top stuffed pepper halves with 1 tbsp cheese each.  Continue cooking uncovered for 5 minutes or until cheese is melted.
Nutrition Facts
Southwest Turkey Stuffed Peppers
Amount Per Serving
Calories 296 Calories from Fat 54
% Daily Value*
Fat 6g9%
Cholesterol 77mg26%
Sodium 555mg24%
Carbohydrates 22g7%
Fiber 7g29%
Sugar 9g10%
Protein 36g72%
* Percent Daily Values are based on a 2000 calorie diet.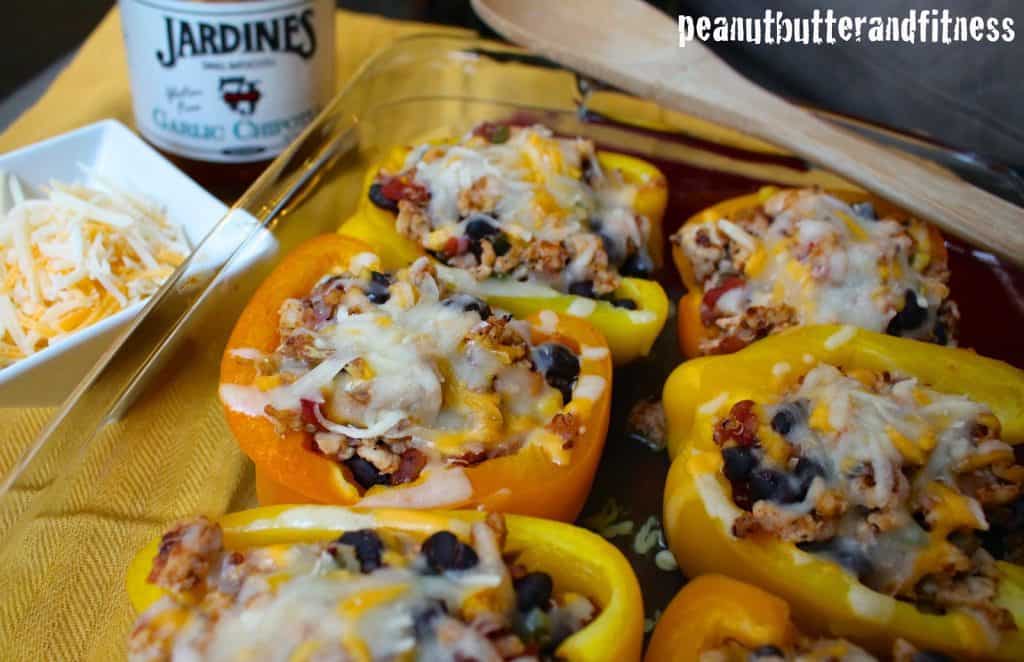 Okay so – meal prep for the week, here we go: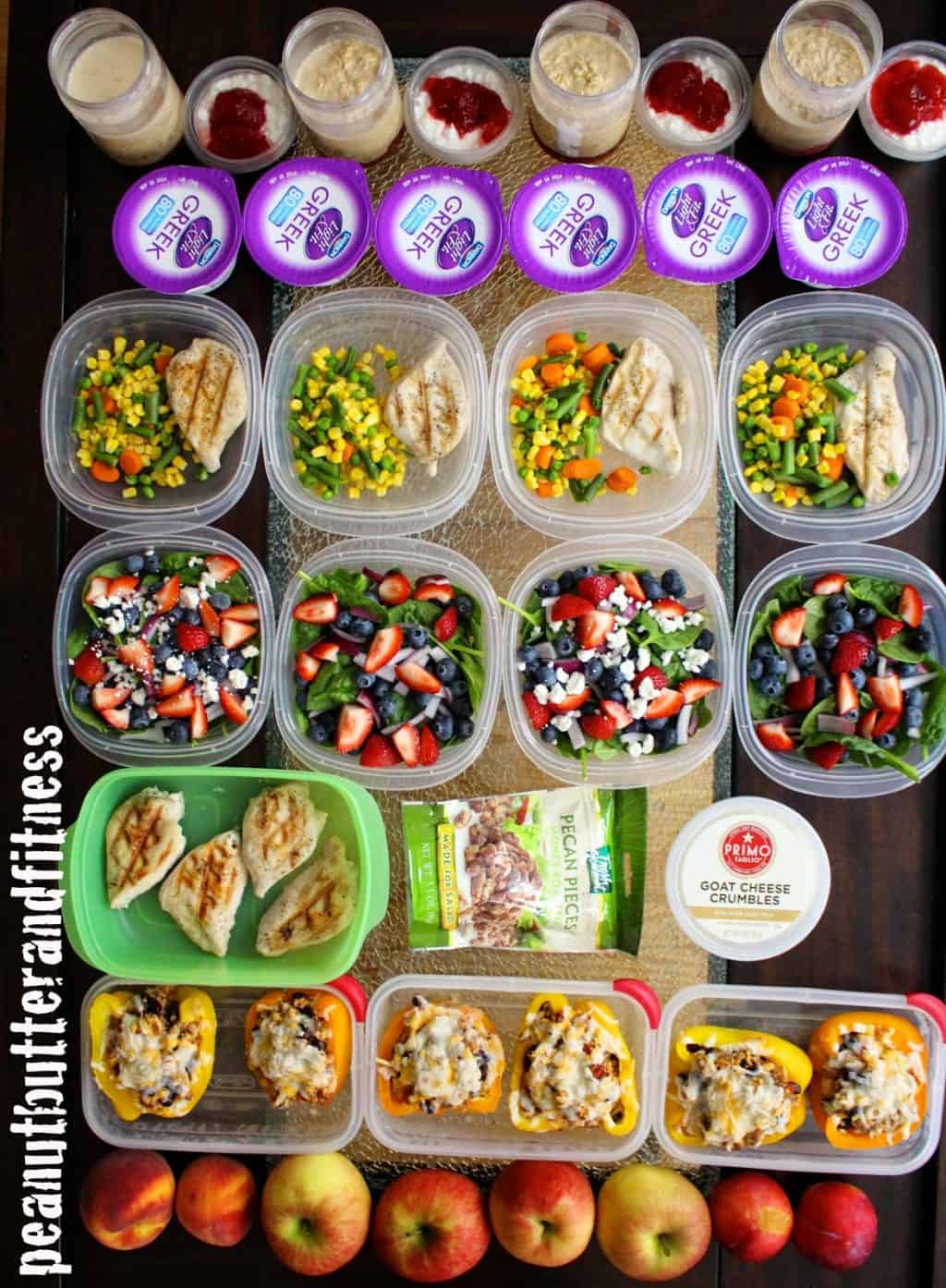 Southwest Turkey Stuffed Peppers – obvi.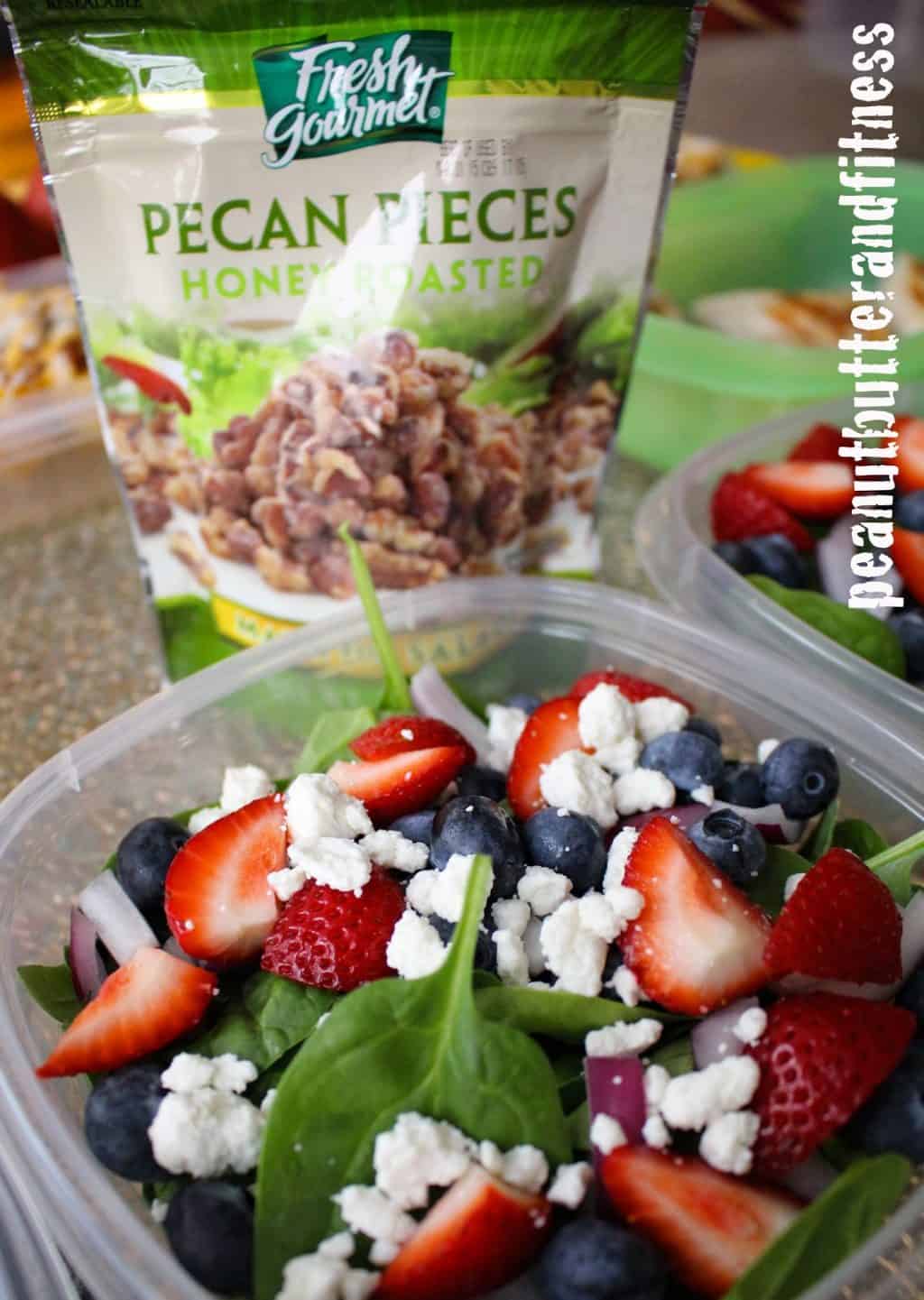 Summer Berry Chicken Salad
Servings: 4 • Calories per serving: 266 • Fat: 10 g • Protein: 30 g • Carbs: 17 g • Fiber: 3 g • Sugar: 11 g • Sodium: 356 mg • Cholesterol: 75 mg
1 lb chicken breast, grilled
6 cups baby spinach
1 cup blueberries
2/3 cup strawberries, quartered
1/2 cup goat cheese crumbles
1/4 cup red onions
4 tbsp honey roasted pecan pieces
6 tbsp Kraft Lite Balsamic Vinaigrette
Chicken breast with steamed mixed veggies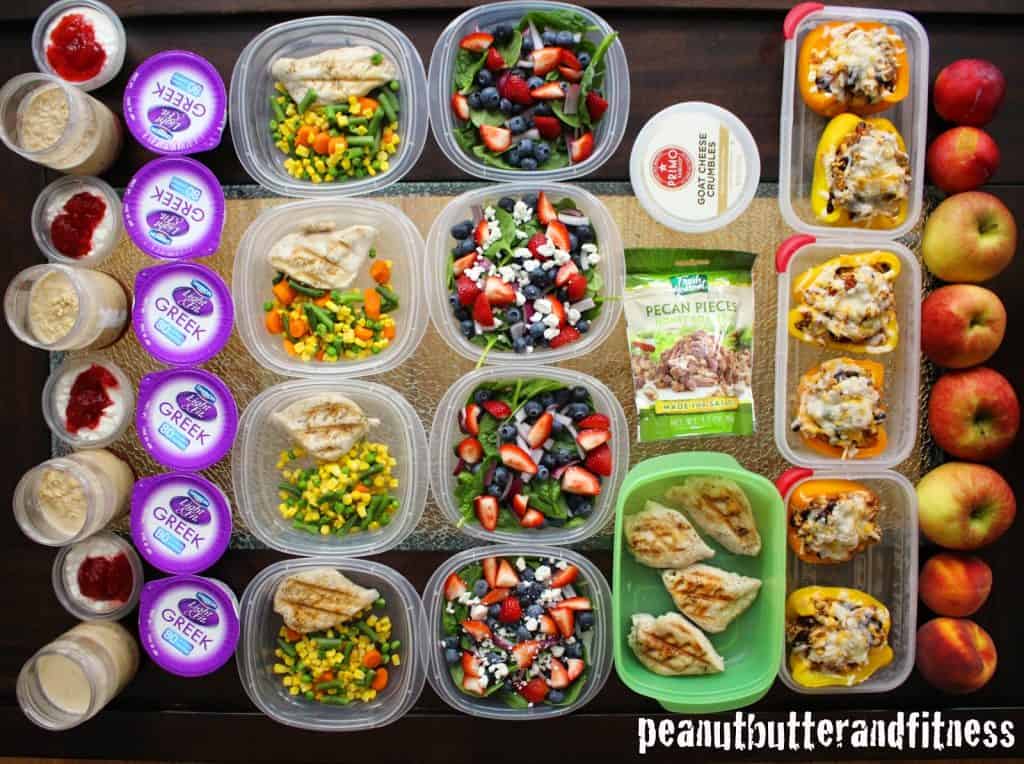 Containers that you see here: