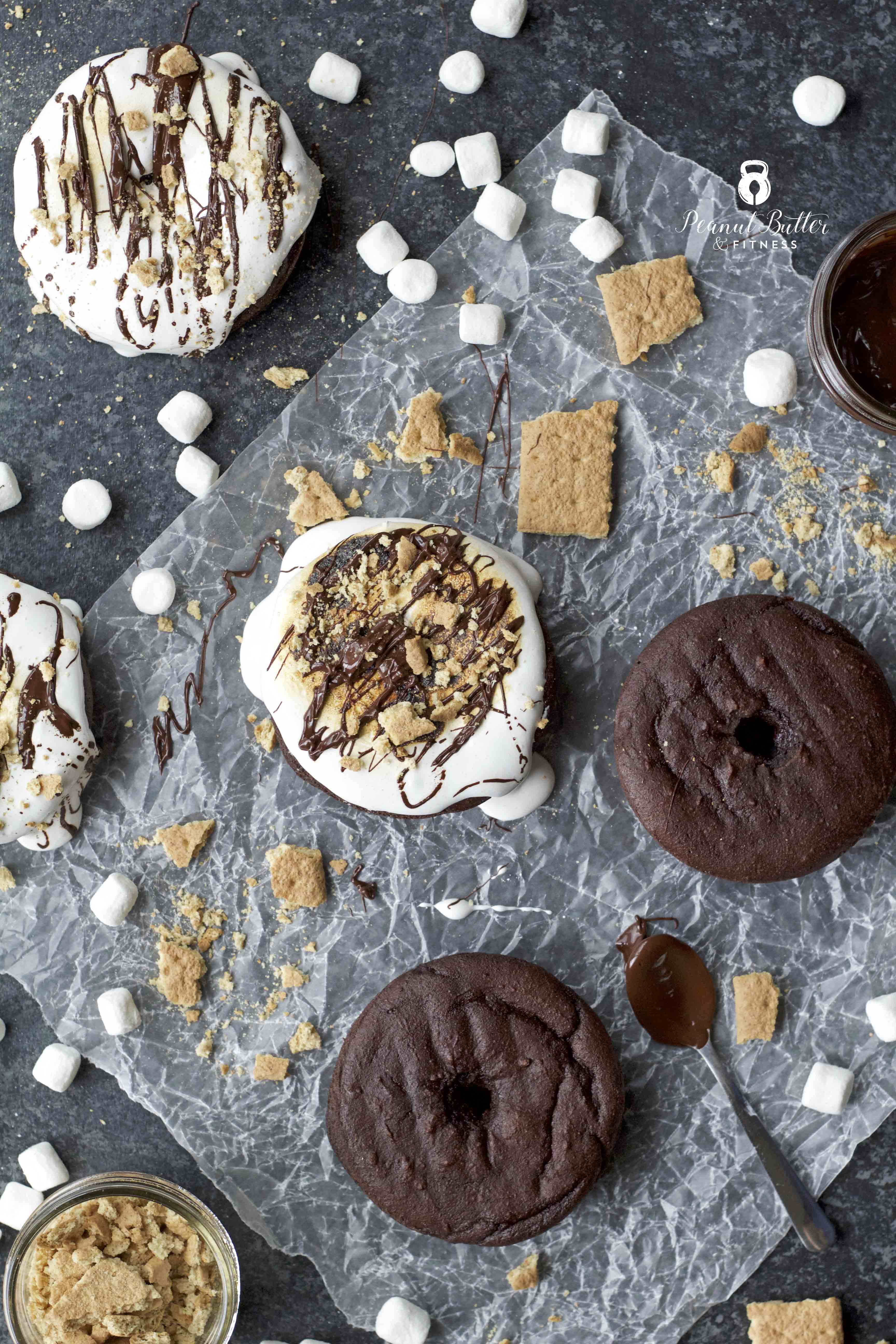 Happy National Donut (Doughnut?) Day!  Yes, seriously…it's a real holiday with real history.  Sure, you could go get a free one at Krispy Kreme or Dunkin' Donuts but where's the fun – and protein – in that?  You get to play with fire if you make these S'mores Protein Donuts 😉  Plus they've got 7 grams of protein per donut.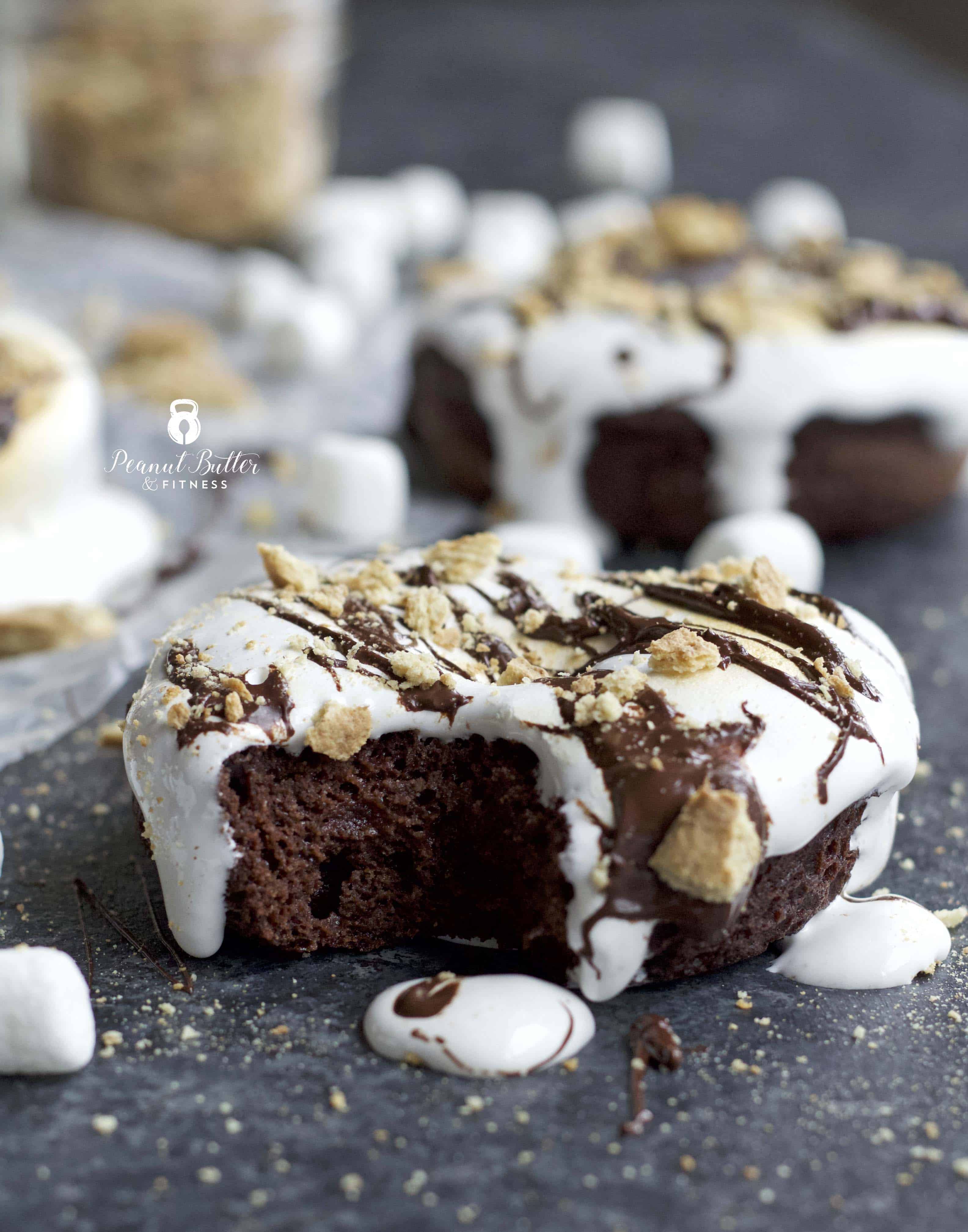 Summertime always makes me think about s'mores and bonfires.  After making mountain pies for dinner (any Pennsylvanians know what I'm talking about??) we would toast up some marshmallows.  I take a lot of pride in my marshmallow toasting abilities and am quite good at getting the perfect melty marshmallow with a golden brown outside.  Slap that thing on top of some chocolate and graham and you've got the perfect summertime dessert!  Except the part where there's almost no protein in it…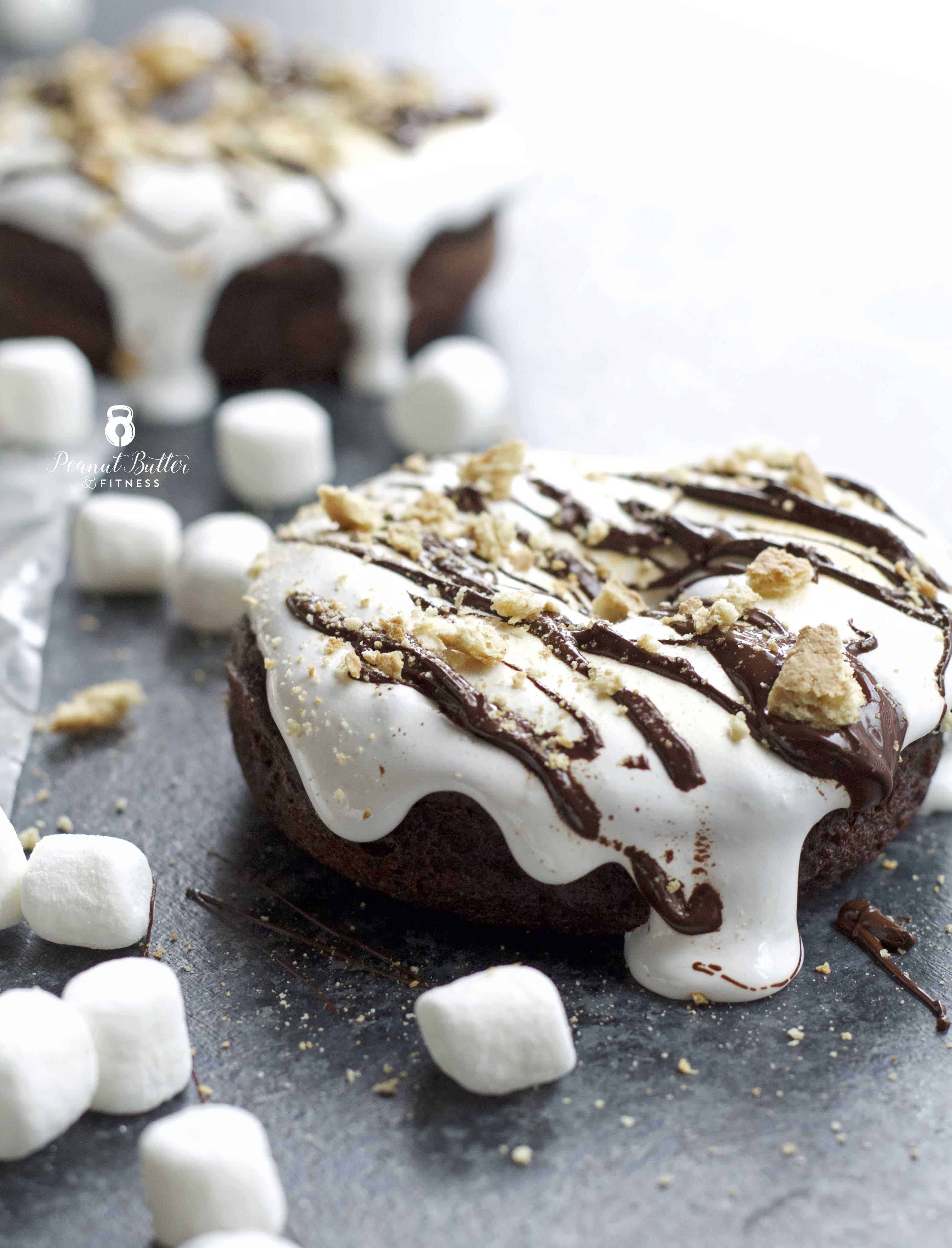 So I decided these donuts were in order to celebrate this holiday of champions.
A couple of tips for these donuts:
Marshmallow fluff will ooze everywhere unless you toast it all the way around.  I think it's fun and messy, but if you want to take them somewhere the next day, arrange some mini-marshmallows (not the itty bitty hot cocoa ones) on top of your donuts and toast them until they melt together a bit.
Once you pull them out of the oven, don't drop them immediately onto their heads on a cooling rack.  You'll get lines in your donuts (see the top of my naked donuts).  Pull them out or just give them a couple minutes to cool slightly before flipping them onto a rack.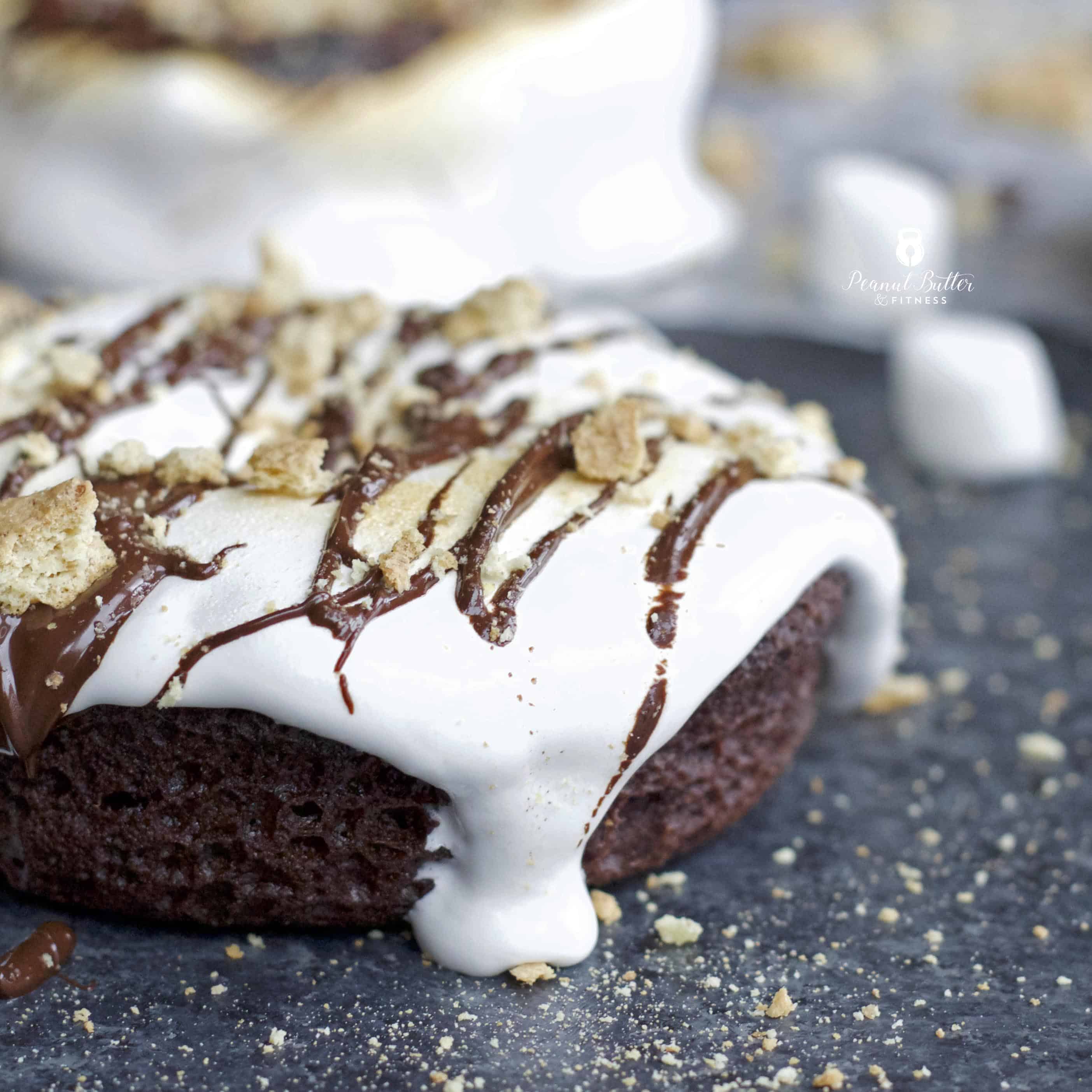 Disclaimer (as if I really need to proclaim this): Marshmallow Fluff is not healthy and it doesn't contribute any protein to this recipe.  If you really don't want to use it or are hard up for macros, try whipping up this protein frosting instead: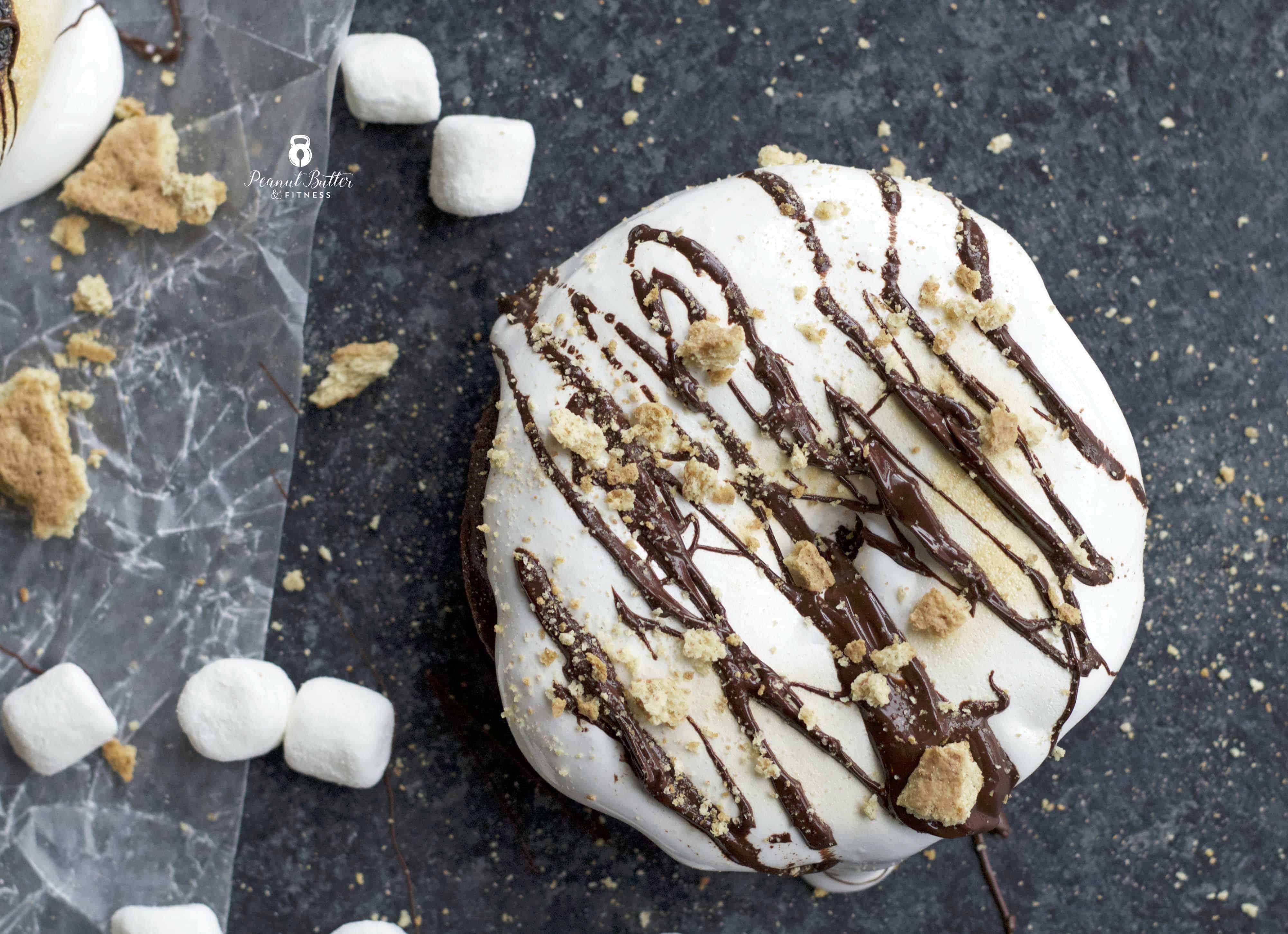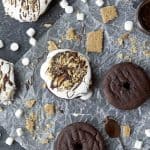 S'mores Protein Donuts
Prep Time 10 minutes
Cook Time 18 minutes
Total Time 28 minutes
Servings 6 donuts
Calories per serving 145 kcal
Ingredients
Toppings
2/3 cup Marshmallow Fluff (or melted/toasted marshmallows)
3 tbsp crushed fat free graham cracker
3 tbsp dark chocolate chips melted
Instructions
Pre-heat oven to 350 degrees and spray a donut pan with coconut oil.

Mix all dry donut ingredients, then add wet donut ingredients and mix until well combined. Pour evenly into 6 donut cavities.


Bake at 350 degrees for 18-20 minutes or until a toothpick inserted into donuts comes out clean. Remove from donut pan to cool on a rack.


Once donuts have cooled, spread Marshmallow Fluff on top of donuts. Toast marshmallow with a kitchen torch if desired.

Drizzle melted chocolate on top of donuts and sprinkle with crushed graham crackers.

Recipe Notes
I recommend this silicone donut baking pan (makes bigger donuts and doesn't stick at all) or this Wilton donut baking pan.
You can use your favorite chocolate protein powder, but be careful when adding the coconut milk!  Start with 3 tbsp of coconut milk and add more (or add a splash of almond milk) to get the donut batter to be "oozy" (not runny, not thick - somewhere between brownie batter and pancake batter) - you should be able to pour it, but it should take some effort to get it moving.
Nutrition Facts
S'mores Protein Donuts
Amount Per Serving
Calories 145 Calories from Fat 54
% Daily Value*
Fat 6g9%
Cholesterol 38mg13%
Sodium 145mg6%
Potassium 59mg2%
Carbohydrates 21g7%
Fiber 3g13%
Sugar 10g11%
Protein 7g14%
* Percent Daily Values are based on a 2000 calorie diet.