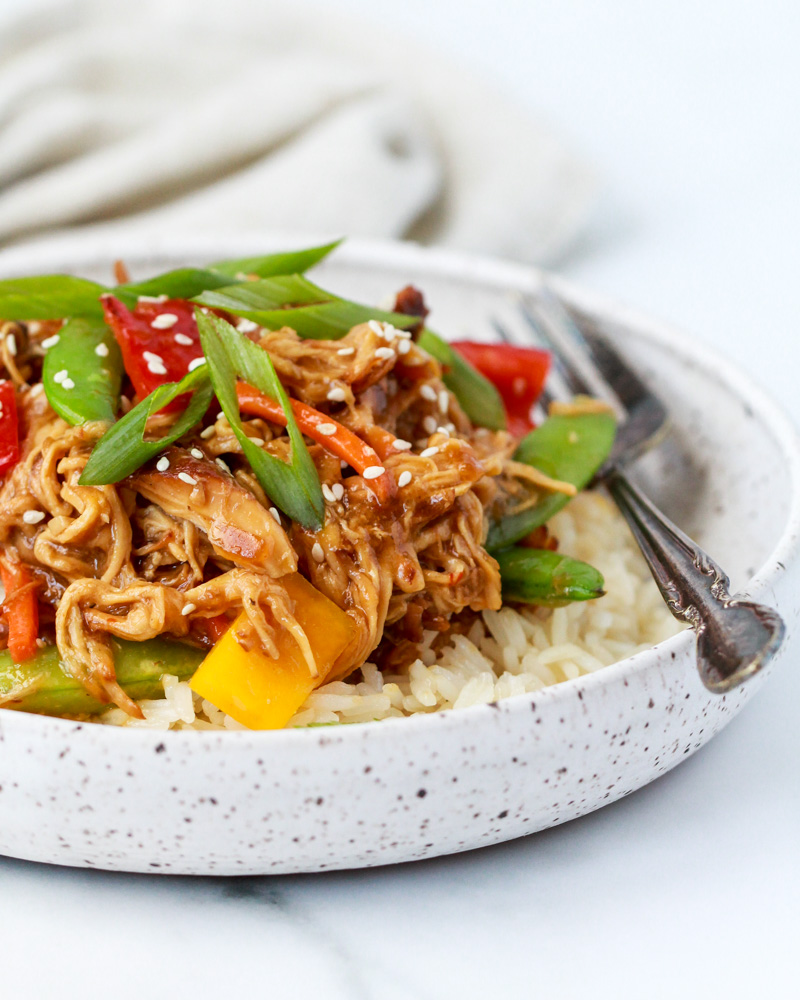 Who else loves slow cooker recipes?! This Slow Cooker Teriyaki Chicken is a winner – it's so easy to throw together, let the slow cooker do it's thing, and then out comes saucy, tender chicken at the end! I also love how well it holds up in meal prep, either in the refrigerator or freezer. There are a few tricks to making sure the texture of the rice comes out of the freezer right, so be sure to check out my freezer tips below!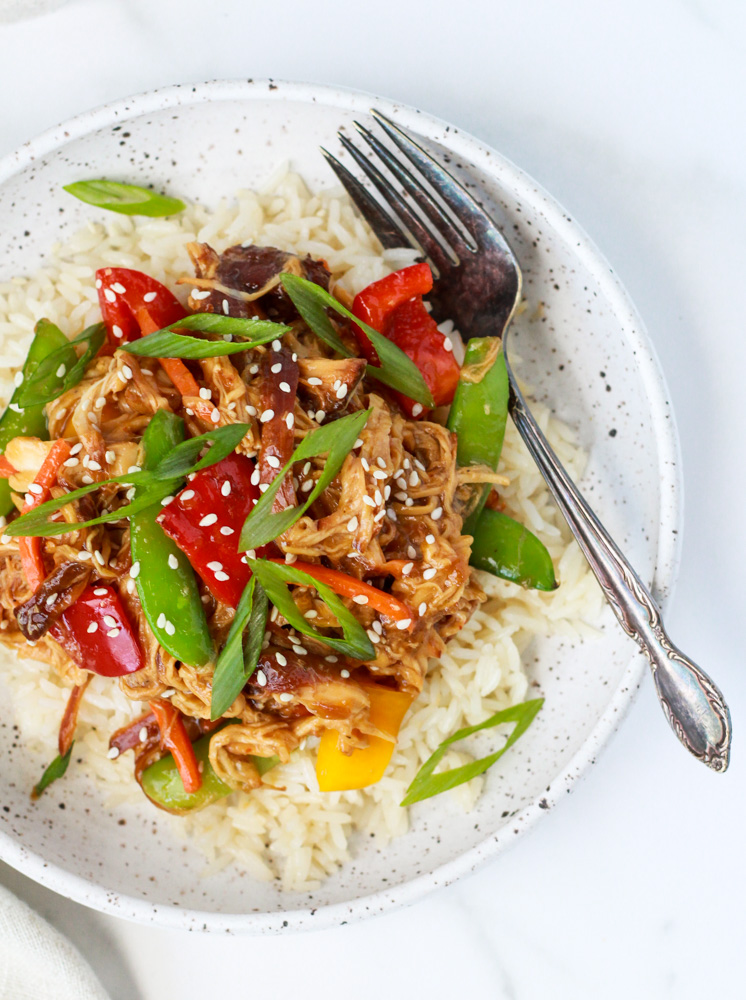 Can I make this in my Instant Pot instead?
Absolutely! I tested this recipe out several times in both the slow cooker and Instant Pot. I personally prefer the slow cooker method because I think the chicken shreds more easily that way. BUT! The Instant Pot version tastes just as good as the slow cooker method and is a great option for making a quick weeknight meal.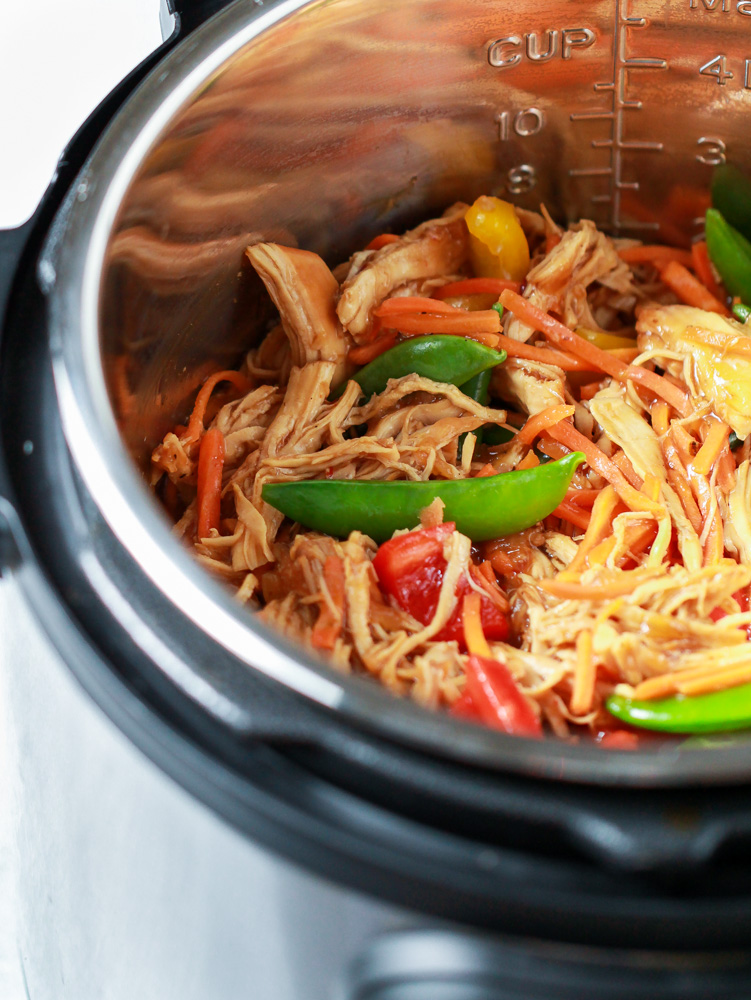 Here's how to do it:
Whisk up the teriyaki sauce just like the slow cooker method. Add a thin layer of sauce to the bottom of your Instant Pot, then add the chicken breast, then top with the remaining sauce.
Seal the Instant Pot and set to high pressure for 12-14 minutes. Thicker chicken breasts (about 1″ thick or more) will need the full 14 minutes. Quick release the pressure once done.
Remove the chicken to a cutting board and shred with two forks. Set aside for now.
Set Instant Pot to the soup setting. In a small bowl, whisk 3 tbsp cornstarch with 1/4 cup water to create a slurry. Whisk into the sauce in the pot and bring to a boil.f Boil or 30 seconds to 1 minute, then turn off the Instant Pot and return the shredded chicken to the sauce. Mix until combined, then remove to a bowl, using a spatula to clean the sauce from the pot.
Set the Instant Pot to sauté mode. Add the veggies to the pot and sauté for 4-5 minutes or until tender crisp. Mix the veggies into the chicken and serve on top of rice as you would with the slow cooker method.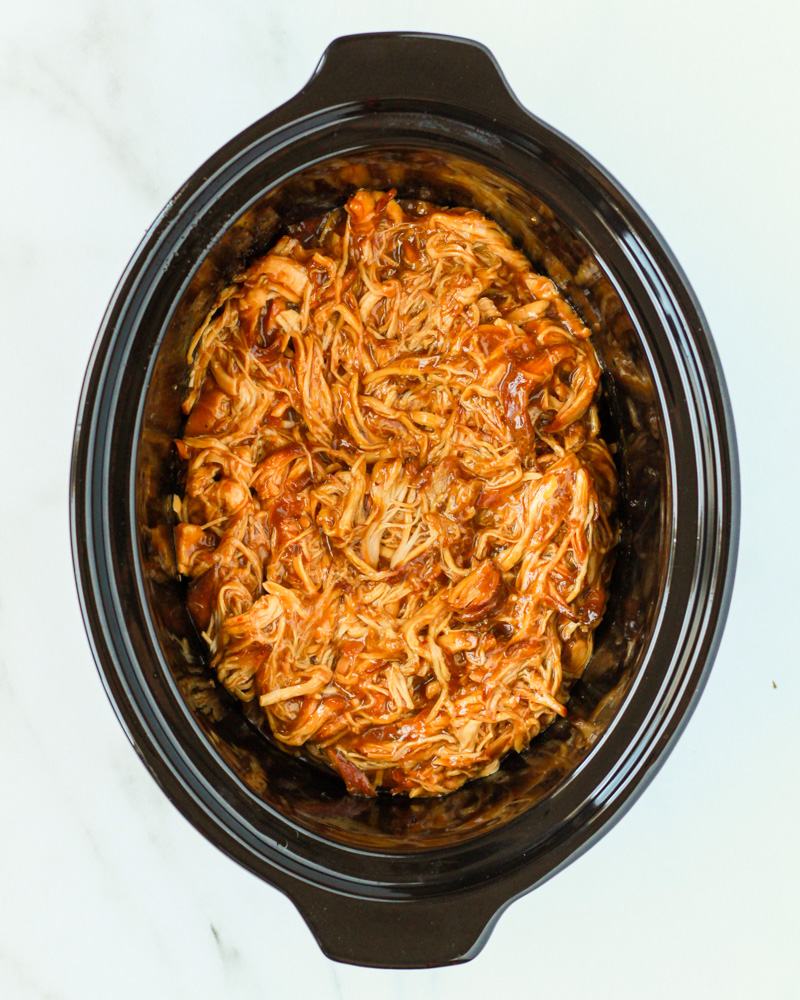 Freezer Tips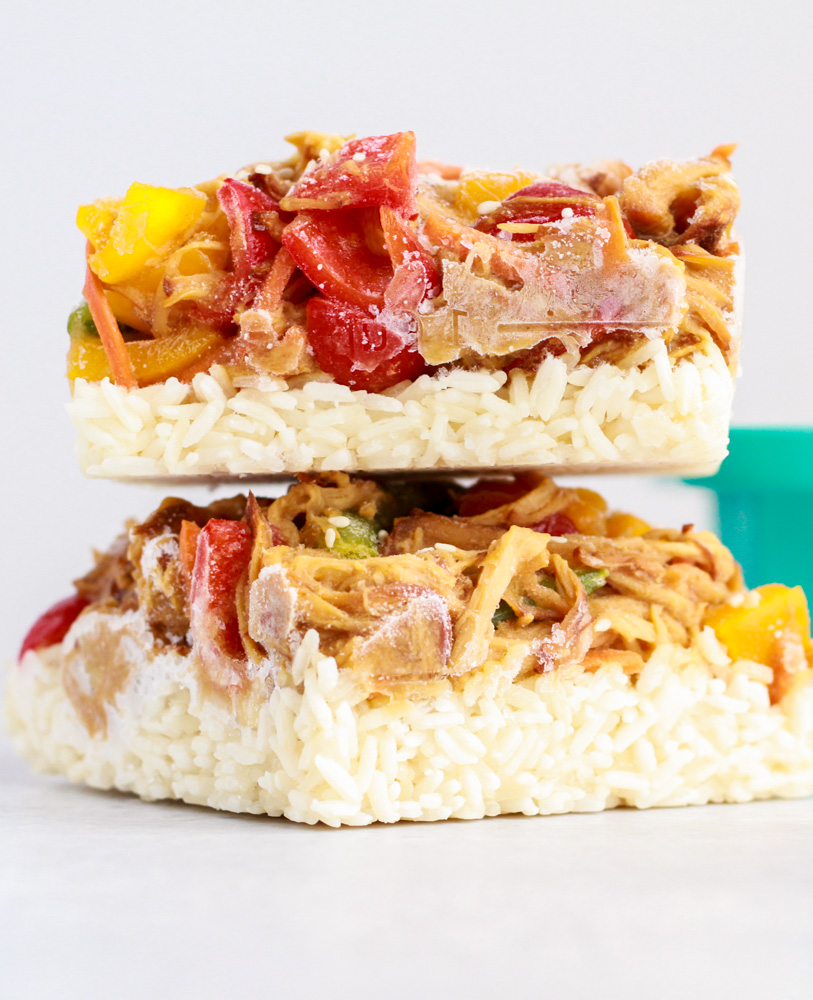 Veggies
If you're going to make this for freezer meal prep, I HIGHLY recommend using green beans in place of the snow peas. Snow peas are the pea pods you'll typically find in Asian cuisine, but I found that after being frozen, they get very fibrous and aren't very fun to eat.
Rice
If reheating this meal in the microwave after thawing it from frozen, you could be in for a mess of mushy rice if you're not careful! I tried a few ways to avoid it, and the best method I found was to use rice that you get in a microwaveable pouch…just don't microwave it before freezing!
When you're ready to pull one of these meals out of the freezer to eat, I recommend going straight from freezer to microwave to avoid gummy rice. Stick the frozen block into a meal prep container like this, add about a tablespoon of water or chicken broth to the bottom of the dish, cover with a plate or silicone cover like this, and run it for two 2-minute defrost cycles in the microwave. Break everything apart with a fork in between and after the defrost cycles, then microwave on high for another 2 minutes to heat it through.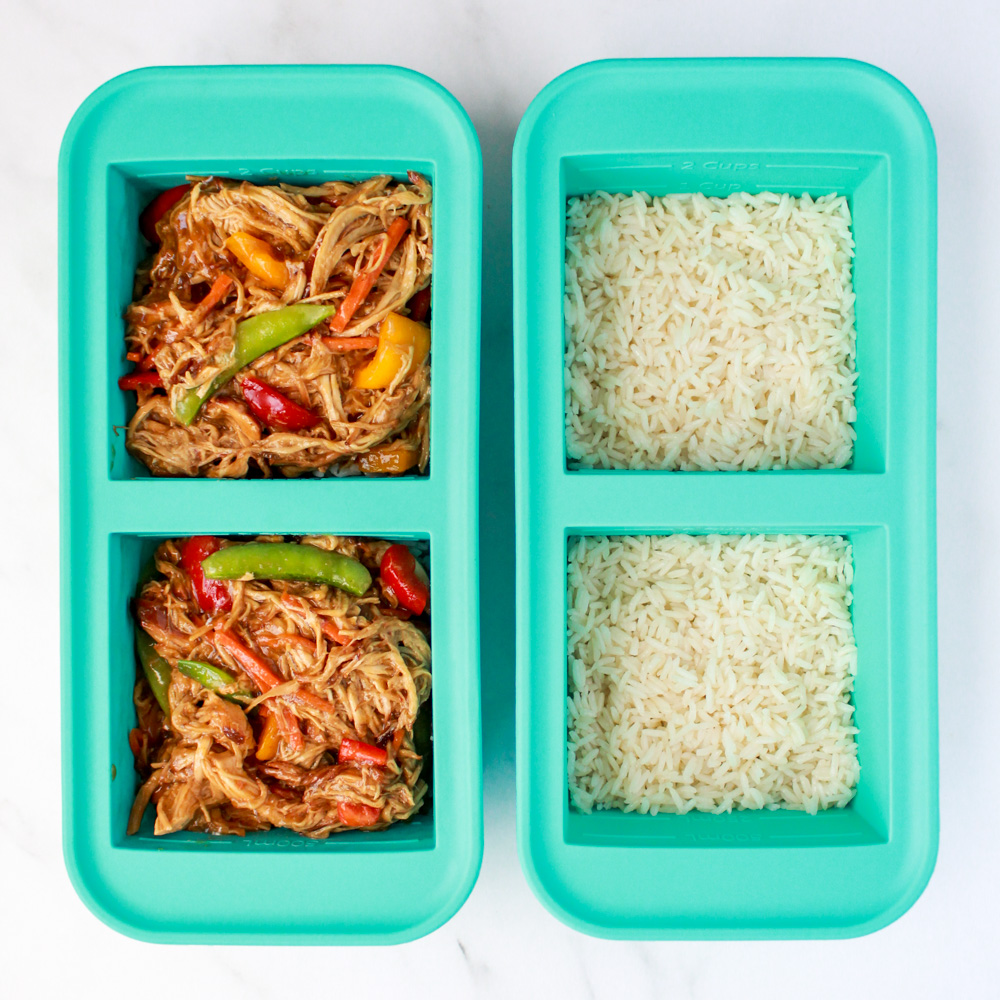 Product Recommendations
Note: These are affiliate links, which means that I may earn a small commission if you click on the link or make a purchase using the link. When you make a purchase, the price you pay will be the same whether you use the affiliate link or go directly to the vendor's website using a non-affiliate link. By using the affiliate links, you are helping me to continue bringing delicious recipes to Peanut Butter and Fitness.
Recipe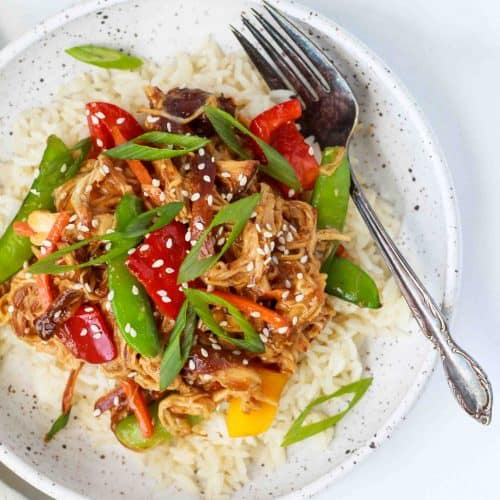 Slow Cooker Teriyaki Chicken
Ingredients
Slow Cooker Ingredients
2

lbs

chicken breast, raw

1/2

medium onion, chopped

,

(55 grams)

4

cloves

garlic, minced

,

(16 grams)

1/2

cup

low sodium soy sauce

,

(4 fl oz)

1/4

cup

light brown sugar

,

(48 grams)

1/4

cup

rice wine vinegar

,

(2 fl oz)

2

tbsp

honey

,

(43 grams)

1

tbsp

fresh grated ginger or ginger paste

,

(14 grams)

1/2

tsp

ground black pepper
Other
3/4

cup

water, divided

,

(6 fl oz)

3

tbsp

cornstarch

,

(24 grams)

2

bell peppers, chopped

,

(318 grams)

6

oz

sugar snap peas or green beans*

,

(170 grams)

2

cups

matchstick carrots

,

(159 grams)

2

8.5 oz bags

Uncle Ben's Jasmine Ready Rice

,

(480 grams)

1/2

cup

green onions, sliced on a bias

1

tbsp

white sesame seeds
Instructions
MAKE THE CHICKEN AND SAUCE.
Add chicken, onion, and garlic to the base of the slow cooker.

Whisk 1/2 cup of water, soy sauce, honey, brown sugar, rice vinegar, black pepper, and ginger. Pour over top of chicken, ensuring the sauce gets under and all around the chicken. Slow cook on low for 5-6 hours or until chicken is easily shreddable with a fork.

Remove chicken from the slow cooker and shred with 2 forks. Set aside and turn off the slow cooker.

Pour the sauce into a medium sauce pan over medium high heat. In a small bowl, whisk together the remaining 1/4 cup of water and cornstarch. Slowly whisk the cornstarch slurry into the sauce. Continue to whisk and let it boil until the teriyaki sauce begins to thicken, about 2 minutes.

Return the shredded chicken to the slow cooker, pour the sauce over it, and toss until evenly coated.
FREEZE NOW INSTRUCTIONS.
Prep the veggies. Add bell peppers and green beans* to a microwave safe dish and cover with a very damp paper towel. Microwave for about 1 1/2 minutes or until green beans are bright green.

Immediately transfer the peppers and sugar snap peas to an ice bath to stop them from cooking any further. Once the veggies are cool to the touch, remove to a paper towel lined plate and dry them off.

Mix veggies into the chicken until well combined.

Assemble to freeze. In a 2-cup Souper Cube, layer rice on the bottom, then chicken and veggies on top. Sprinkle with green onions and sesame seeds, then cover and freeze. Once completely frozen, remove from Souper Cubes tray and vacuum seal in a freezer bag.
EAT NOW INSTRUCTIONS.
Heat rice according to package instructions.

Prep the veggies. While the rice heats, heat a large skillet over medium high heat (7 out of 10). Add a teaspoon or so of oil to the skillet here if desired (not included in nutrition info). Once the skillet is hot, add sugar snap peas, peppers, and carrots. Sauté veggies, tossing frequently, until tender crisp, about 4-5 minutes. You can add 1-2 tbsp of water to help them along if needed.

Add veggies to the teriyaki chicken and mix until well combined.

Assemble. Divide rice evenly among 6 serving dishes or meal prep containers, then top with teriyaki chicken. Sprinkle with green onions and sesame seeds before serving.
Tips & Tricks
Click here or scan the barcode below to log this food in My Fitness Pal.
Instant Pot: pressure cook raw chicken 12-14 mins, quick release. Soup setting for making sauce. Sauté setting for veggies.
*If making the freezer version of this recipe, I highly recommend swapping out the sugar snap peas with green beans instead. I've found that sugar snap peas get very fibrous and hard to eat after being frozen and thawed.
Nutrition Information
Serving:
287
g
,
Calories:
468
kcal
(23%)
,
Carbohydrates:
63
g
(21%)
,
Protein:
38
g
(76%)
,
Fat:
6
g
(9%)
,
Cholesterol:
96
mg
(32%)
,
Sodium:
860
mg
(37%)
,
Potassium:
212
mg
(6%)
,
Fiber:
4
g
(17%)
,
Sugar:
24
g
(27%)