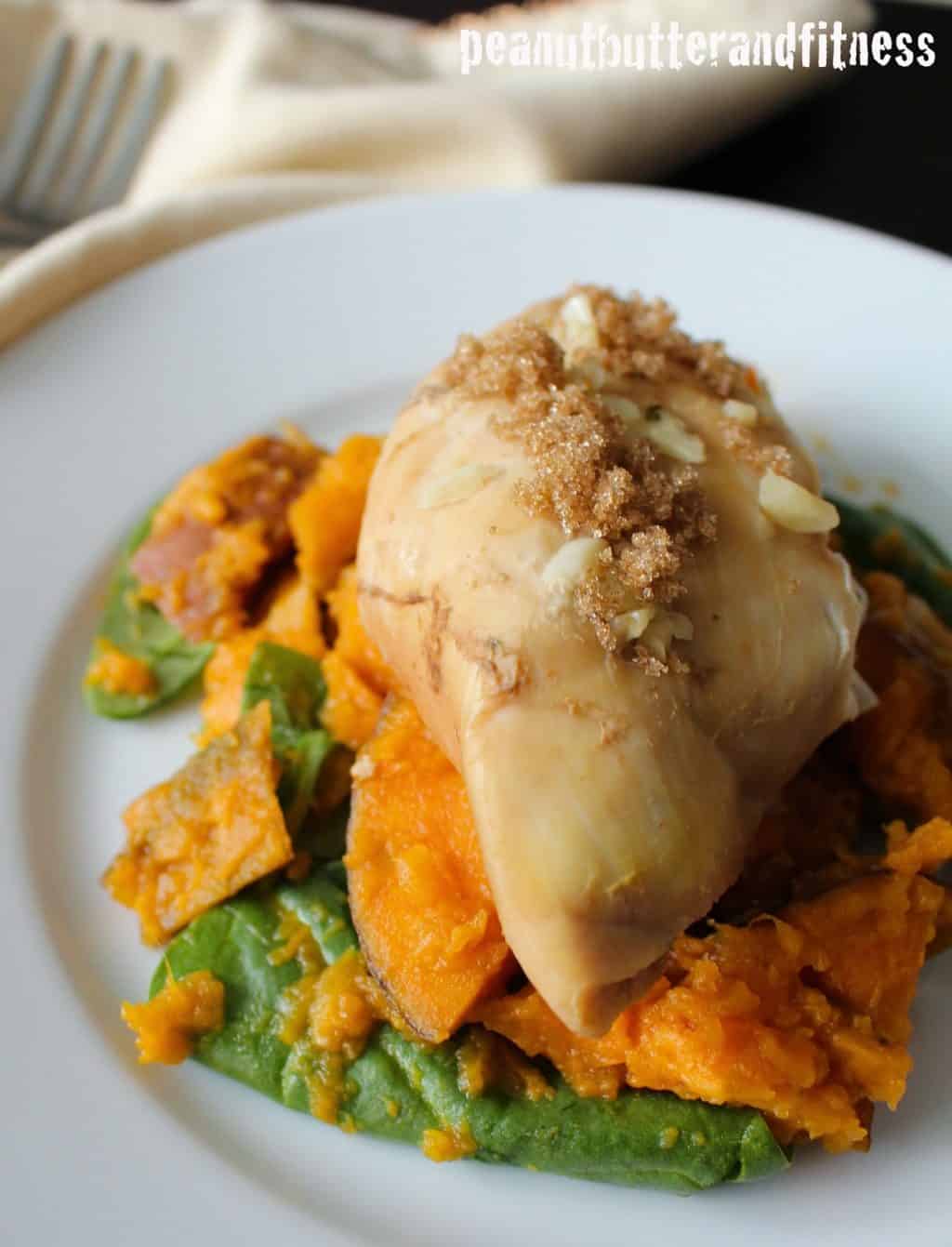 Hey all! I've been missing in action for a little while but I'm back for now! I was in San Francisco all last week followed by Seattle for an amazing wedding in the rain 🙂 I love traveling, but I'm so happy to be home and getting back into my routine.  It's safe to say that I did not exactly eat healthy while I was away.  Yikes.  So yesterday, I spent some quality kitchen time making healthy food to get me back on track.
The chicken looks a little weird in the top picture, but I promise it's delicious and juicy!  See exhibit A below…I couldn't get it out of the Crock Pot without it falling apart.  One of them anyways.  And the brown crumbly stuff on top is some Splenda brown sugar blend which complements the sweet potatoes nicely.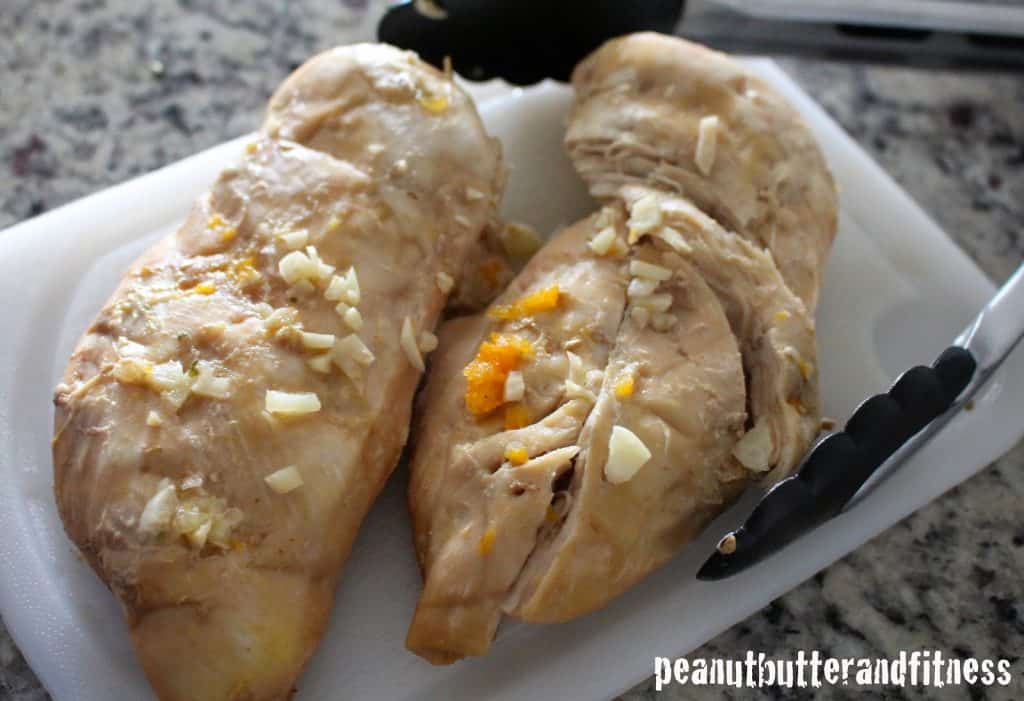 If I was serving this right away I would have shredded the chicken, but since I'm using it for meal prep, I'll wait until I'm ready to eat it to shred it.  Hopefully that will keep in the moisture for longer.  Here's what my meal prep looks like for the week: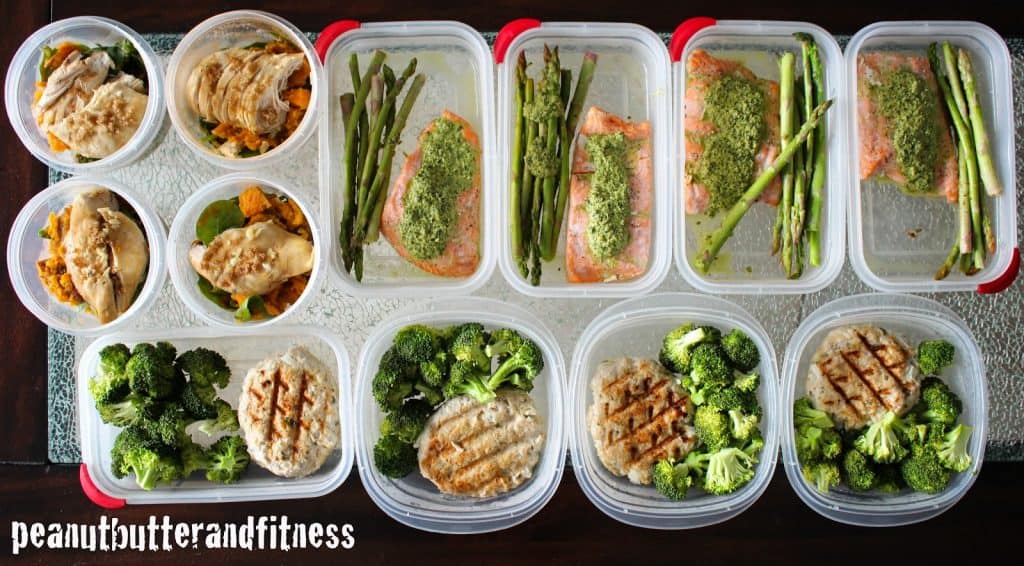 I didn't include my snacks or breakfasts in this picture, I'll be making those today.  What you see here: this recipe (obviously), salmon with asparagus and P90X pesto sauce, and turkey patties with broccoli.
Slow Cooker Chicken and Sweet Potato Mash
Servings: 4 • Calories: 274 • Fat: 3 g • Protein: 30 g • Carbs: 36 g • Fiber: 4 g • Sugar: 14 g • Sodium: 134 mg • Cholesterol: 65 mg
Ingredients:
1 lb boneless, skinless chicken breasts
2 medium sweet potatoes, cubed
3 cups baby spinach
4 cloves garlic, minced
2 tbsp Splenda brown sugar blend
1 tbsp pure maple syrup
1/2 cup low sodium chicken broth
Arrange chicken breasts at the bottom of the slow cooker.  Sprinkle with minced garlic and half of the brown sugar blend.


Layer sweet potatoes on top of chicken and top with chicken broth, remaining brown sugar and maple syrup.


Cook on low for 3-4 hours or high for about 1.5 hours until chicken is cooked through and shreds easily.
Remove sweet potatoes and place into a bowl.  Mash sweet potatoes and add some of the liquid remaining in the bottom of the slow cooker until mash reaches desired consistency.  Mix in baby spinach until it is slightly wilted and serve.