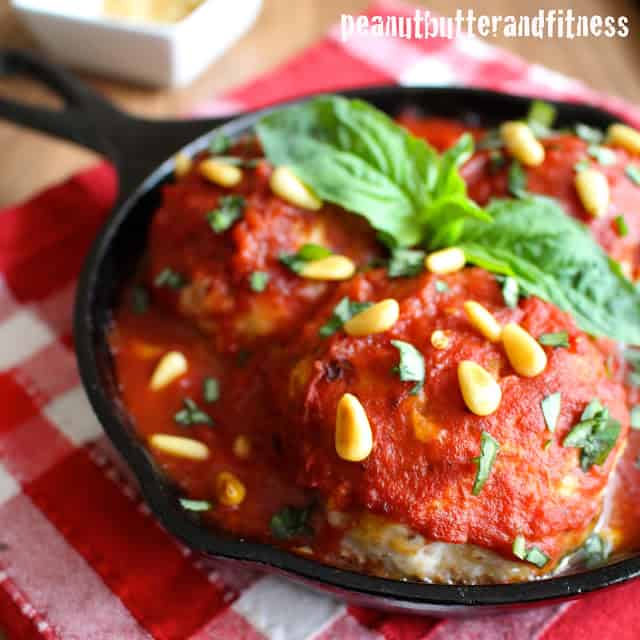 Look at that red and green! If you need a yummy, healthy appetizer for your holiday gatherings, give this one a try.  I was inspired by a meatball appetizer at a restaurant that just opened right by my apartment and it was soooooooo good that I had to recreate it, but with lean turkey of course.  Now, the recipe listed below actually makes 9 meatballs, but I really enjoyed the "made for two" look of this
little skillet
, so I just baked the remaining 6 balls in a bigger skillet.  You'll also notice the recipe makes 4 1/2 servings…because 3 meatballs feeds two perfectly.  So yeah.  Sorry for the weird measurement.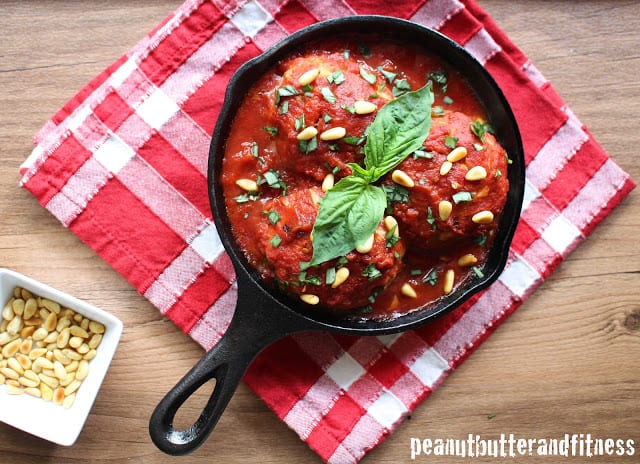 The pine nuts on top of the meatballs give this dish some nice texture and a good nutty burst of flavor.  Definitely don't skip out on the fresh basil on top, the freshness is perfect here.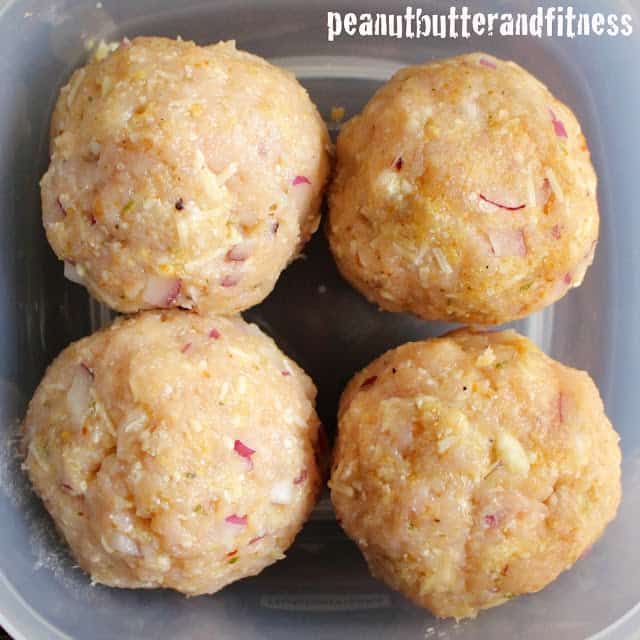 I used red onion in these meatballs but you could use sweet, white or yellow onions instead.  And I recommend using shredded Parmesan because it gets melty and nice.  I think the grated Parm just blends in with the meat too much.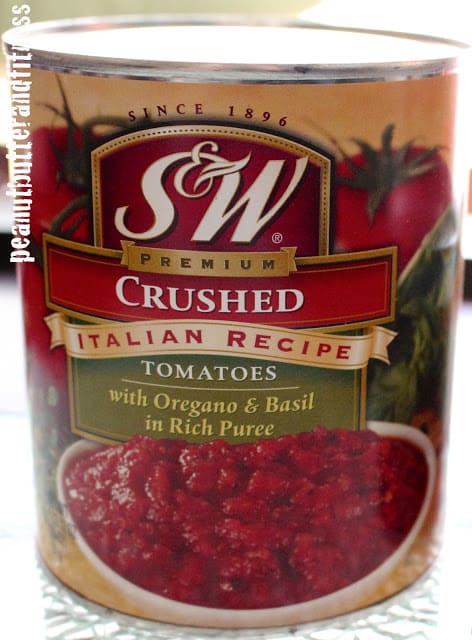 Canned crushed tomatoes are my favorite way to make marinara sauce…this particular kind only has 40 calories, 190 mg of sodium and 4 grams of sugar per 1/2 cup serving.  Compare that to Prego marinara sauce which has 80 calories, 480 mg of sodium and 7 grams of sugar per 1/2 cup serving.  Not to mention the price comparison!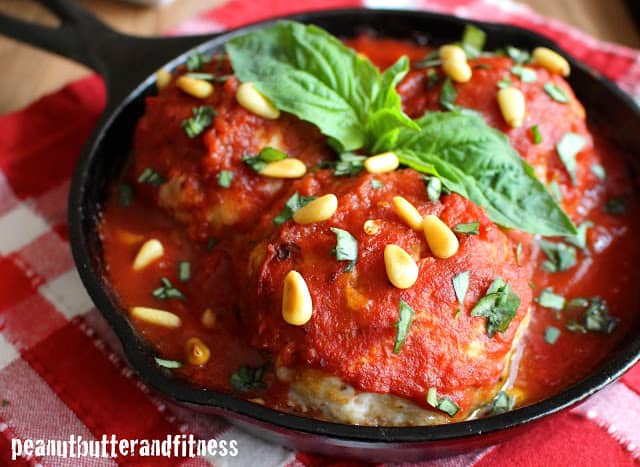 Skillet Turkey Meatballs
Yield: 9 large meatballs • Serving size: 1 1/2 large meatballs • Calories per serving: 222 • Fat: 6 g • Protein: 27 g • Carbs: 15 g • Fiber: 3 g • Sugar: 6 g • Sodium: 416 mg • Cholesterol: 84 mgIngredients:
20 oz extra lean 99% ground turkey
1/4 cup shredded parmesan cheese
1 large egg
1/2 cup yellow onion, diced
1/4 cup Italian seasoned breadcrumbs
4 garlic cloves, minced and divided
1 tbsp fresh basil, chopped
1 tbsp olive oil
1 tsp garlic powder
1 tsp onion powder
1/4 tsp black pepper
28 oz S&W Italian crushed tomatoes with oregano and basil
Directions:
Combine turkey, cheese, egg, onion, bread crumbs, half of the minced garlic, garlic powder, onion powder and black pepper.  Form into 9 large meatballs.
Pre-heat oven to 375 degrees.
Heat oil in oven-proof skillet over medium-high heat.  Add remaining minced garlic and sauté until fragrant.
Add meatballs and brown for 1-2 minutes on one side, then flip and cover with crushed tomatoes.  Fill skillet with crushed tomatoes until about 1/2 inch from top of skillet.
Bake at 375 degrees for 20-22 minutes or until meatballs are cooked through.
Top with chopped basil and toasted pine nuts.