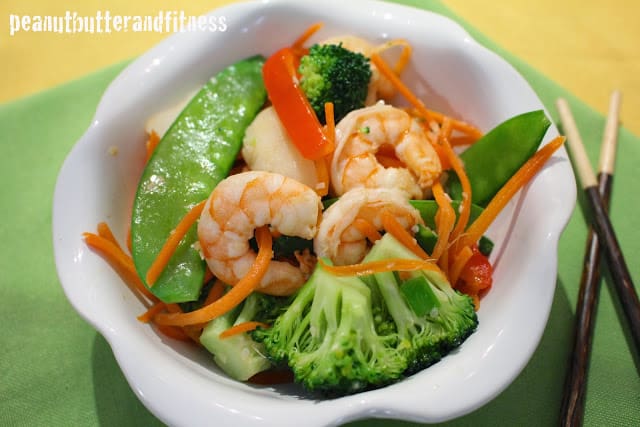 Since the holidays are right around the corner and I'm still recovering from the feasts of Thanksgiving, I figured a good clean and light recipe was in order. This one is pretty much just veggies and shrimp, but it still has enough flavor to make it yummy. If you want more flavor, you could always marinate the shrimp in some low-sodium soy sauce and lemon juice, I just didn't have the patience for that once my shrimp were thawed.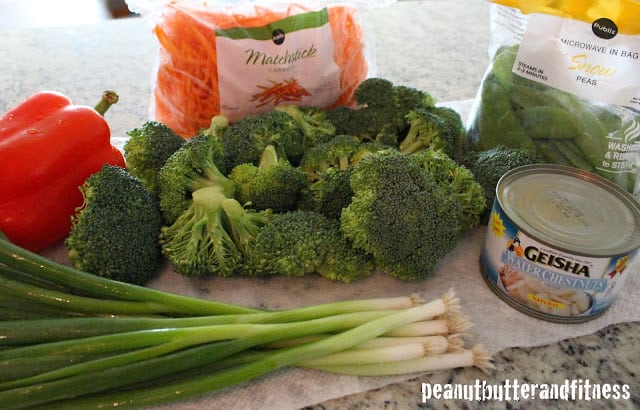 Something new that you'll see on the recipe is that I've included the nutrition facts for it! Yay! I've seen all sorts of praise for this thing called counting your macros. So I think I'm going to give it a shot and see if I love it as much as some other people. I'm still a little confused by the concept but I'm reading up on it and figuring out if it's something realistic for me. Basically it means that you figure out what kind of balance of macronutrients your body needs and then you eat based on how many grams of protein, carbs, and fat you need. If you want more info on it or think you want to try it to, a good spot to start (according to people who know what they're doing) is
here
.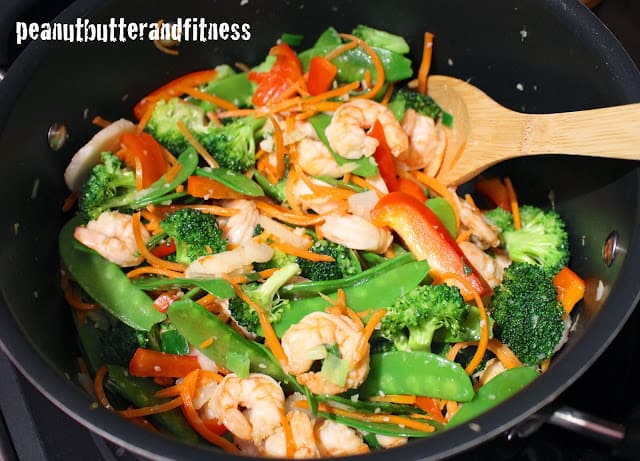 Even if I don't keep up with the whole counting macros thing, I like this website/app called My Fitness Pal. It makes it really easy to track what you're putting into your body and helps you ID where you're lacking in your food intake (or going way over!). It's interesting how keeping track of what you eat makes you think twice about having that donut or cookie. Plus, if you've got a smartphone and whatever you're eating has a barcode, chances are it will pop up in the app with all the nutrition data filled out. All you have to do is add it to your food list for the day. Super easy!
Since I've been dealing with a knee injury lately and can't really push myself at the gym or run, I've had to be way more conscious of what I eat. Very frustrating but I'm hoping with all the icing and rest I've been doing that I can lace up my running shoes and hit the pavement again soon. I would try to do a swim workout but the doctor told me yesterday to stay out of the pool for a few weeks thanks to an ear infection from a previous swim workout 🙁
Okay, enough ranting…back to the food. This makes a big batch, closer to 6 servings than 5, but it's great for meal prepping! After I dished out my dinner I split this into 4 containers plus a little snack sized one. You could put it on top of a bed of brown rice if you want to.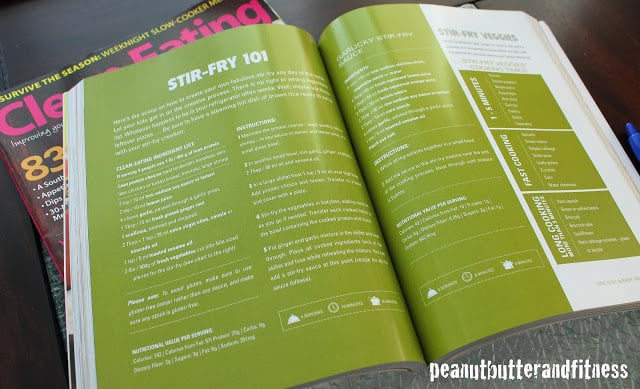 If you're feeling like this might be too "healthy" tasting or won't have enough flavor, you could always add some more soy sauce orrrr you could use the sauce that I found in this book. There's a section called Stir Fry 101…pretty awesome. You can basically pick and choose stuff from the spread and cook it up with the sauce options in there. I'll put the recipe for it at the end. (That sauce isn't included in the nutrition facts below.)
Shrimp Stir Fry
Servings: 5 • Calories: 274 • Fat: 11.3 g • Protein: 23 g • Carbs: 20 g • Fiber: 5.1 g • Sugar: 7 g
Sodium: 216 mg • Cholesterol: 138 mg
Ingredients:
1 lb raw shrimp, peeled and deveined
2 heaping cups broccoli florets
1 medium red bell pepper, roughly chopped
1.5 cups snow peas
1.5 cups matchstick carrots
8 oz can water chestnuts, drained
4 green onions, chopped
4 cloves garlic, minced
1 tbsp fresh grated ginger
2 tbsp + 1 tsp olive oil
2 tsp sesame oil
2 tsp lemon juice
2 tsp sesame seeds
In a small bowl, mix garlic, ginger, green onions, 2 tbsp olive oil, 2 tsp sesame oil and sesame seeds. Set aside.
In a large skillet or wok, heat 1 tsp olive oil on high heat. Add shrimp and lemon juice, cooking until shrimp are opaque and pink. Set cooked shrimp aside in large bowl.
Add broccoli to heated skillet or wok, cooking several minutes until slightly tender. Add remaining vegetables, cooking until slightly tender, less than 5 minutes. Transfer vegetables to large bowl with cooked shrimp.
Add green onion mixture to the skillet and heat through. Return vegetables and shrimp, reheating and coating evenly. Serve.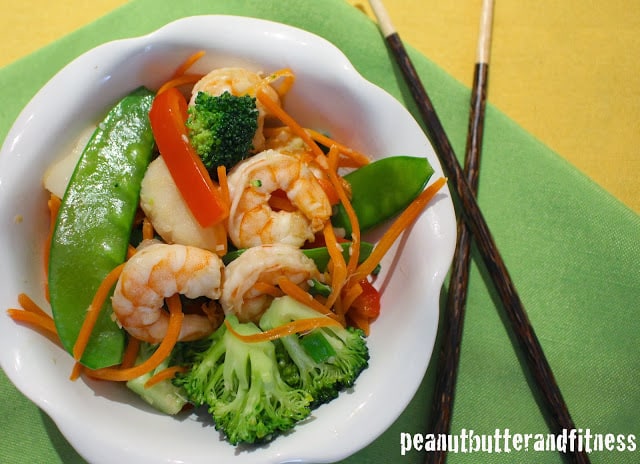 Here's the recipe for the Garlicky Stir Fry Sauce in the book:
Ingredients:
1/2 cup low sodium chicken stock, vegetable stock or water
4 tbsp fresh squeezed lemon juice
4 tbsp fresh squeezed orange juice
2 tbsp hoisin sauce
2 tbsp low-sodium soy sauce
2 tbsp corn starch
4 cloves garlic, minced
1 tsp sesame oil
Pinch of salt
Directions:
Whisk all ingredients together in small bowl.
Add the sauce to the stir fry mixture near the end of the cooking process. Heat through until mixture is bubbly.