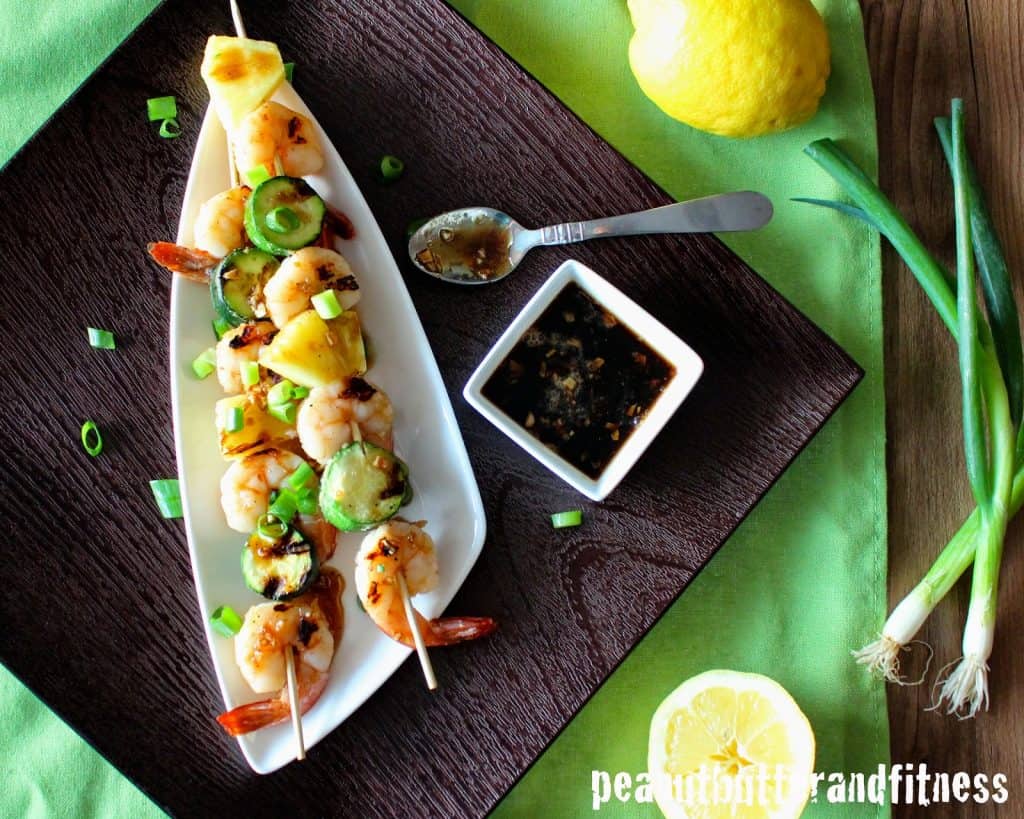 When I was doing my meal planning this week, I was having a really tough time trying to figure out some kind of fish/seafood that I was actually in the mood to eat.  I do a lot of salmon with pesto, and white fish with some kind of salsa or just some spices but I wasn't feeling that this week.  So I got a little bit creative with this one…shrimp, zucchini and pineapple?  Why not.  It's kind a a weird combo but I thought it went together pretty well, especially with the honey soy lemon glaze pulling it all together.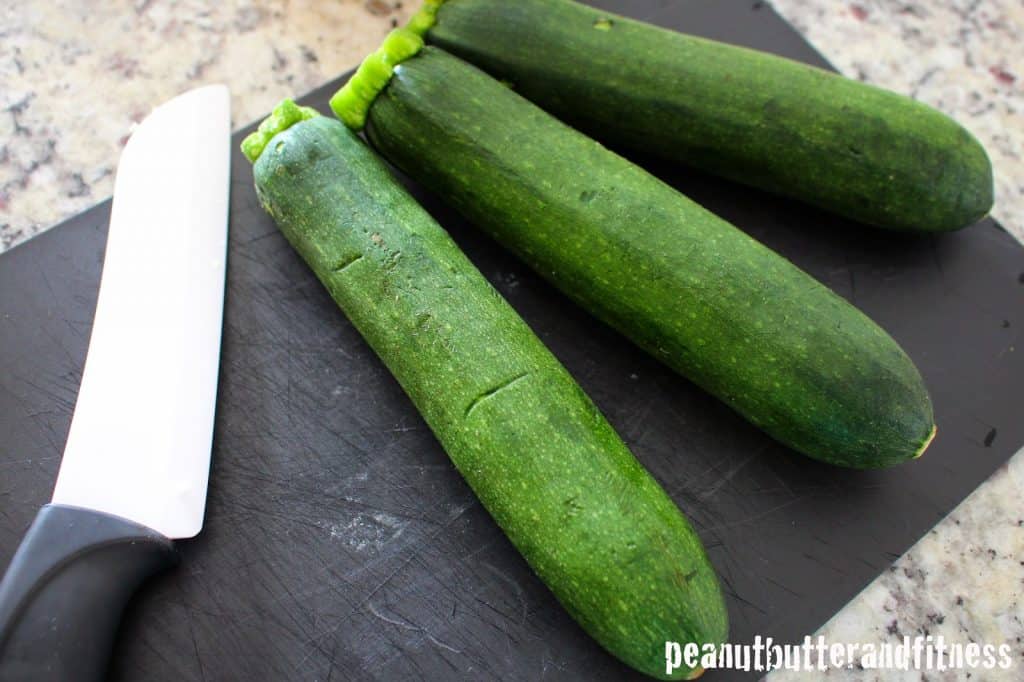 I found these tiny little zucchini at the grocery store, I think they were labelled as "fancy" zucchini.  I almost didn't buy them because I'm not really a "fancy" person, but…turns out they were cheaper than regular size zucchini.  As in multiple dollars cheaper per pound, so I went for it.  I think they look pretty fancy on the skewer.  And I like it 🙂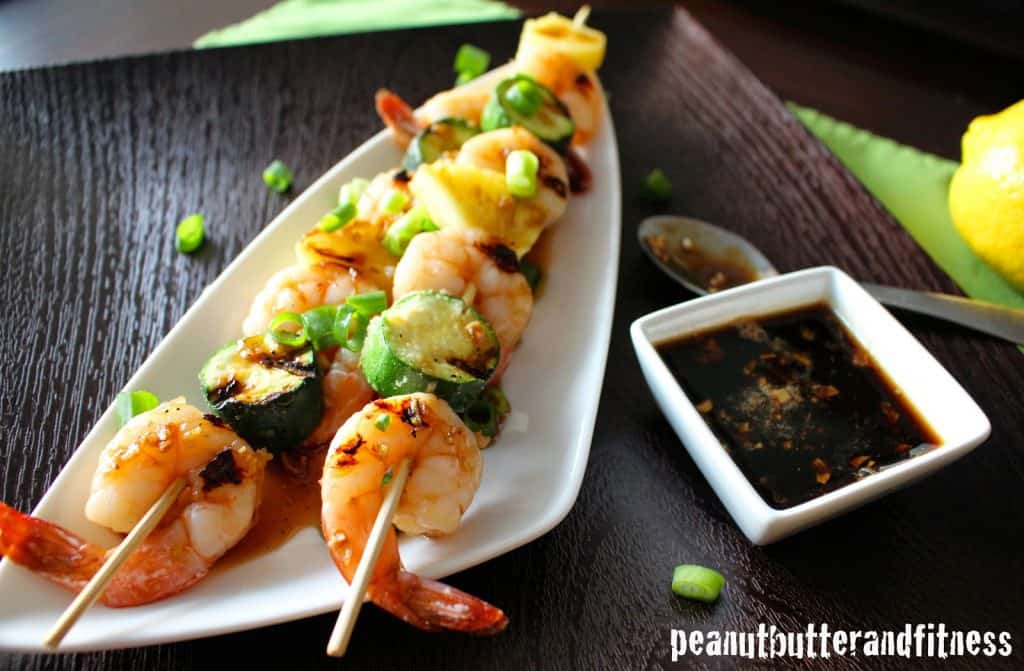 The glaze that I made starts out as a marinade and then gets cooked down into a nice sticky, delicious glaze.  It's a nice balance of sweet and savory, but not too much of either.  These would go great over brown rice.
Shrimp Kebobs with Honey Soy Lemon Glaze
Servings: 4 • Calories: 196 • Fat: 1.5 g • Protein: 26 g • Carbs: 23 g • Fiber: 2 g • Sugar: 18 g • Sodium: 478 mg • Cholesterol: 219 mg
Ingredients:
16 oz large raw shrimp
3 very small zucchini, sliced
1 cup pineapple, chopped
5 tbsp honey
2.5 tbsp low sodium soy sauce
2.5 tbsp fresh lemon juice
3 cloves garlic, minced
2 green onions, chopped
1/2 tsp garlic powder
Pinch of ground ginger
Black pepper to taste
In a small bowl, whisk honey, soy sauce, lemon juice, garlic, ground ginger and black pepper.  Place the raw shrimp in a large resealable bag and pour about 1/4 cup of the sauce over the shrimp.  Squeeze as much air as possible out of the bag and roll into a log, then place in refrigerator to marinate at least 30 minutes.


Heat a small pan over medium-high heat and add remaining sauce.  Bring to a boil, lower heat to medium and continue to boil for about 5 minutes or until the sauce begins to thicken.  Remove from pan and set aside.


In a large bowl, toss the zucchini slices with garlic powder and black pepper.
Skewer the shrimp, zucchini and pineapple.  Grill for 8-9 minutes or until shrimp is cooked through and zucchini is tender.  (I set my George Foreman to 425 degrees.)
Top with green onions and honey soy lemon glaze.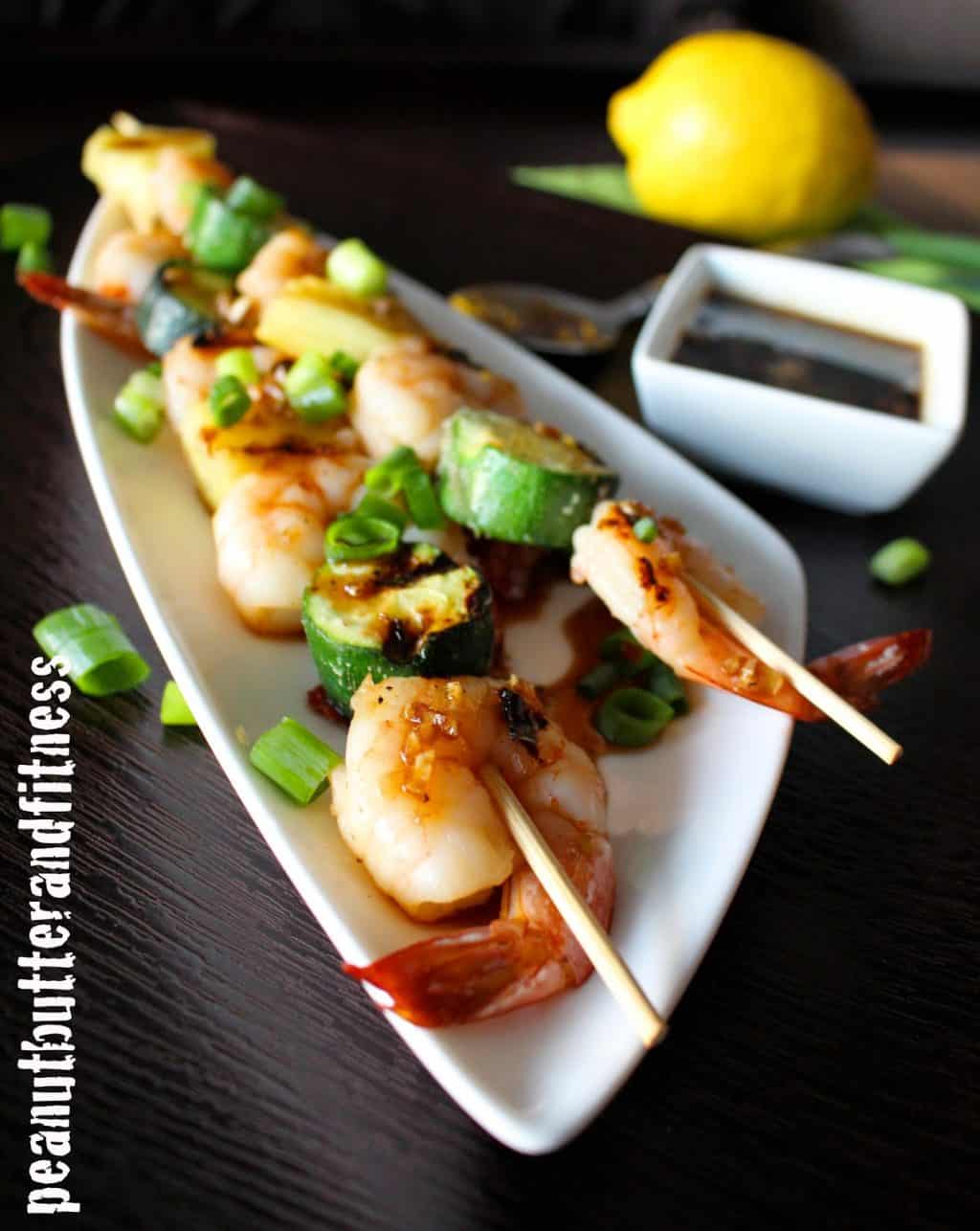 The green onions here bring some refreshing spicy flavor to the kebobs, but next time I might try putting them in the glaze and see how that goes.  I've made a glaze before with green onions right in it (see it here) and it was pretty awesome, too bad I didn't think of it until now!  But really, if you're putting this on top of brown rice, the raw green onions are still a great addition.