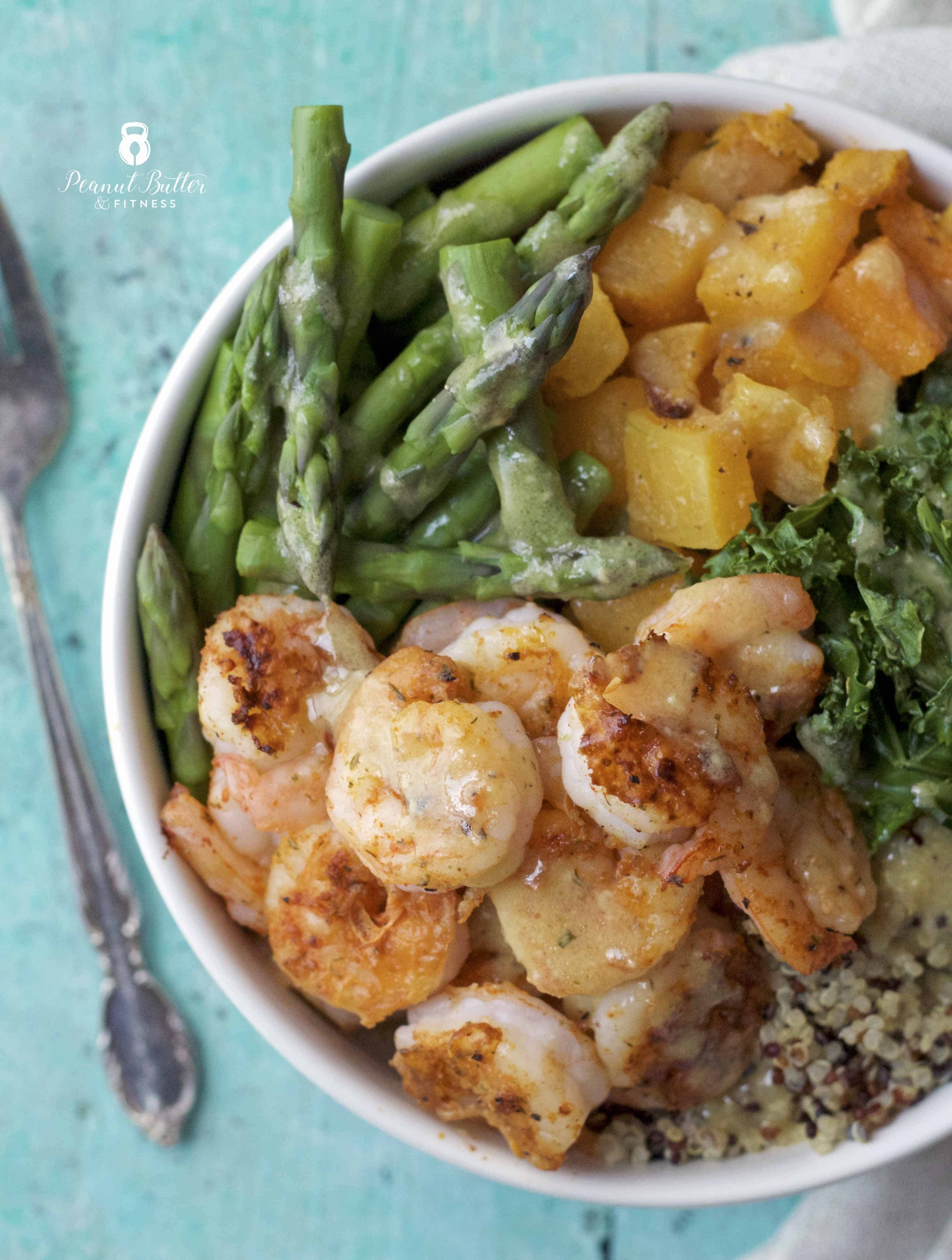 Hello Monday, we meet again. Sadly, the weekend is gone and it's time to get back to the office 🙁 Luckily, I've got this gorgeous and tasty Shrimp Buddha Bowl on my side to help me get through the day. You may have seen the Buddha bowl trend making it's rounds on Pinterest…let me tell you, they're worth the hype.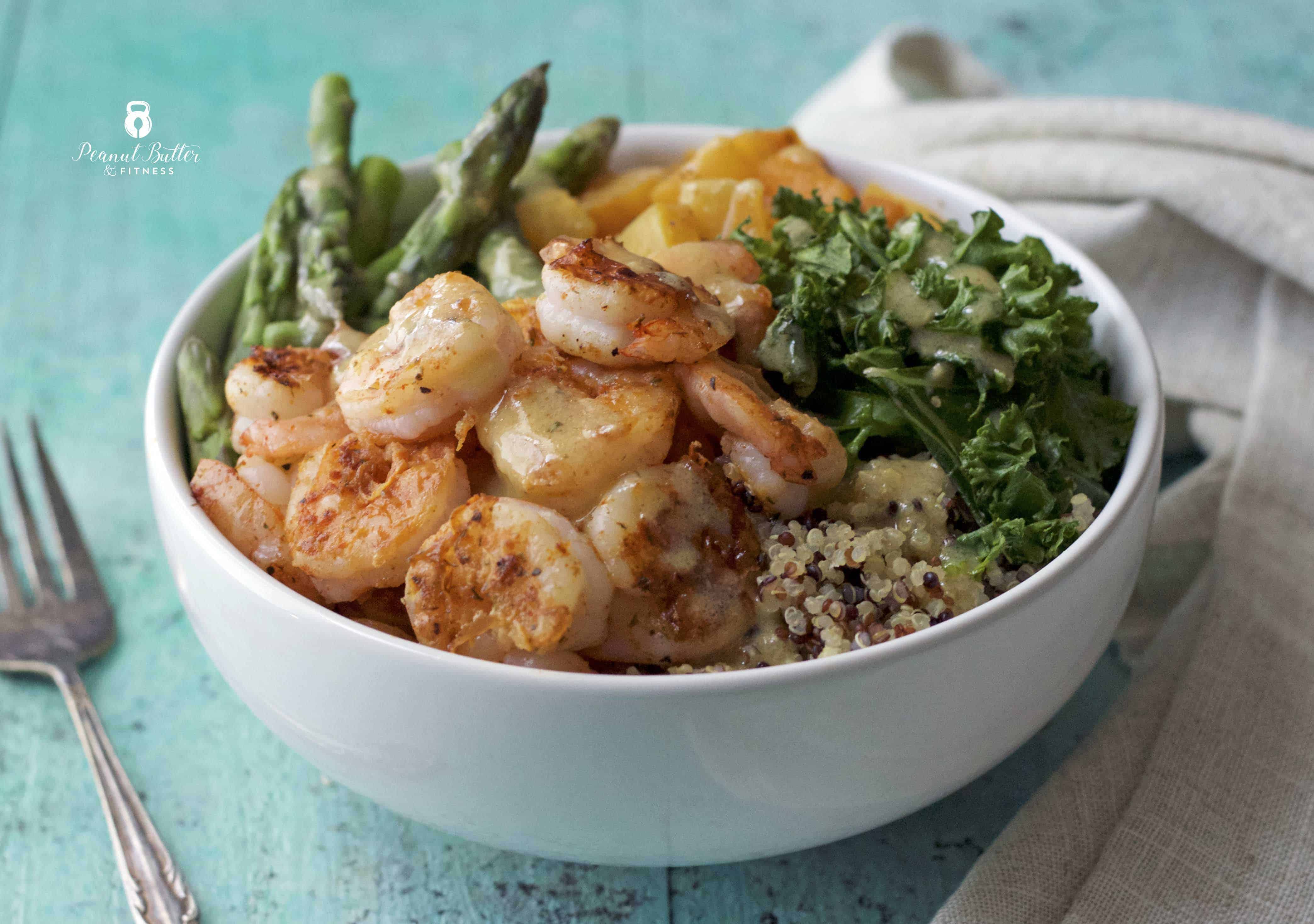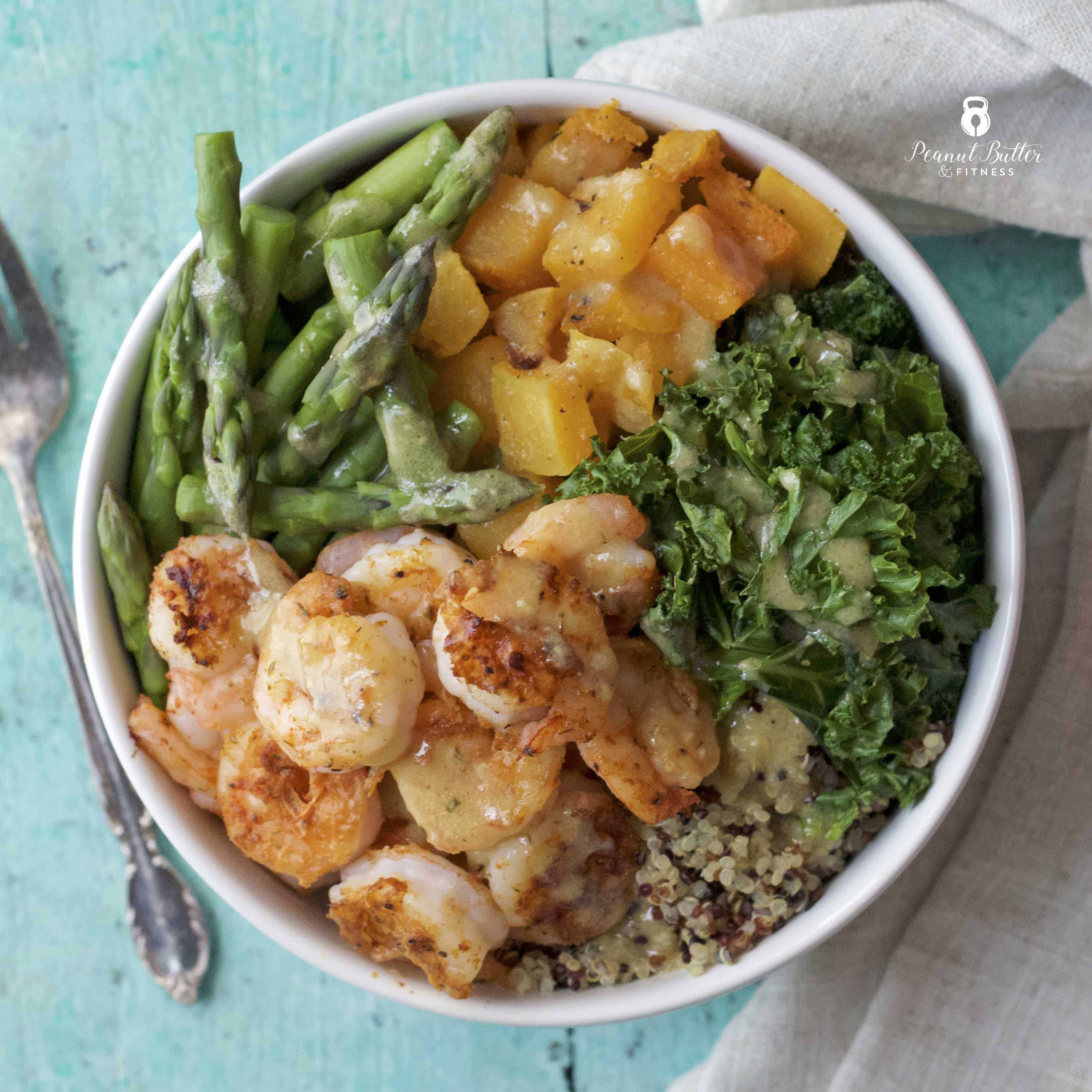 This isn't my first Buddha Bowl recipe (the first is in my 2nd meal prep eBook), but after making this one, I've decided that I really need to make these more often. They're usually packed full of grains, veggies, and maybe a protein, then topped off with some kind of dressing to bring it all together. I used a honey mustard vinaigrette on top because I was already making some for another recipe in my meal prep. It worked perfectly with the flavors in this bowl, and I killed 2 birds with 1 stone. #winning
When you look at the nutrition info for this recipe, you might be a little alarmed to see how much cholesterol is in it. That's because shrimp are naturally high in cholesterol…BUT it's been shown that shrimp actually raises your good cholesterol (HDL) and is recommended as part of a heart-healthy diet. I will caution you that if you're buying your shrimp frozen, check the bag for 2 things – first, I'd recommend finding one with less than 300 mg of sodium per serving (Kroger sells a good one), and second, be wary of farmed shrimp, which often contain high levels of pollutants.
In case you were wondering, of course you can meal prep this dish! Check it out…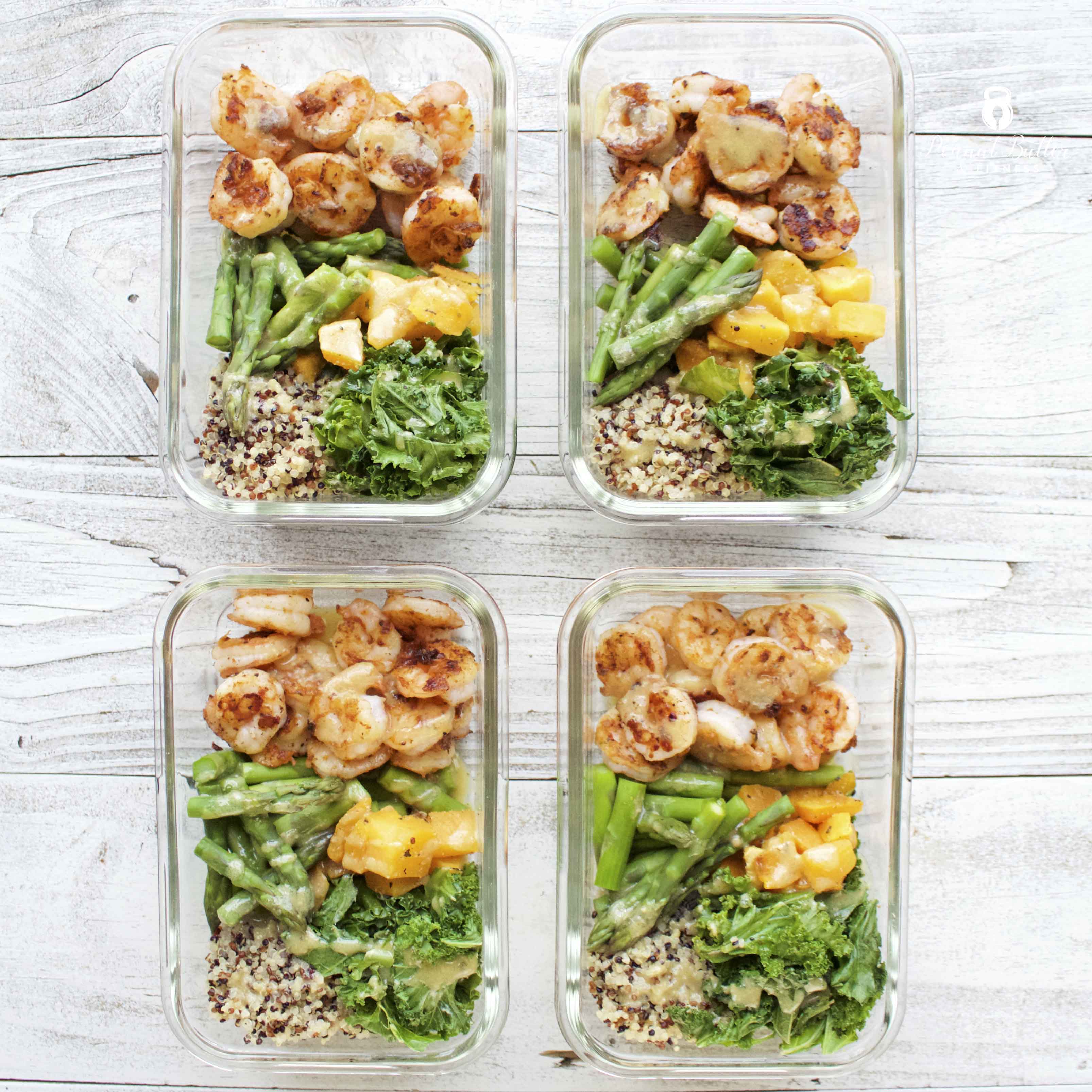 Next Monday, I'll show you what else I meal prepped with this meal for the week!
Recipe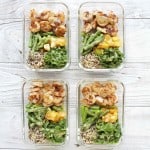 Shrimp Buddha Bowl
Prep Time 20 minutes
Cook Time 30 minutes
Total Time 50 minutes
Servings 4 servings
Calories per serving 389 kcal
Ingredients
1 1/2 lb raw shrimp, peeled and deveined, tail off
1/2 cup dry tri-color quinoa, cooked according to package directions (90 grams)
1 1/2 cups butternut squash, cubed (215 grams)
1 bunch asparagus, trimmed (200 grams)
6 cups kale, chopped
2 tsp olive oil divided
1/2 tbsp dijon mustard
2 tsp Oh My Spice! Lemon Pepper Seasoning divided
1/2 tsp smoked paprika
Honey Mustard Dressing
3 tbsp dijon mustard
3 tbsp apple cider vinegar
1 1/2 tbsp olive oil
1 tbsp honey
1 tsp garlic powder
Instructions
Pre-heat oven to 400 degrees. Line a baking sheet with aluminum foil.

Toss butternut squash cubes with 1/2 tsp olive oil and 1/2 tsp Lemon Pepper Seasoning. Arrange in single layer on lined baking sheet and roast for 20 minutes. Set aside.

Add trimmed asparagus to a shallow, microwave safe dish. Lay a very damp paper towel over top of the dish and microwave for 2 1/2 minutes. Place steamed asparagus immediately into an ice bath to stop the cooking. Pay dry and cut into bite size pieces. Set aside.

Heat 1/2 tsp olive oil over medium-high heat in a skillet. Add kale and drizzle with dijon mustard. Sauté kale, turning continuously with tongs until it turns bright green and tender (about 3-5 minutes). Set aside.

Whisk all dressing ingredients and set aside.

Rinse shrimp in a colander, then pat dry. Season with remaining Lemon Pepper Seasoning and smoked paprika on both sides.

Heat remaining olive oil over medium-high heat (aim for the higher side of medium-high) in a large skillet. Add shrimp in a single layer, being careful not to overcrowd the skillet. (You may have to do this in more than 1 batch.) Allow shrimp to cook for 2-3 minutes on one side, then flip and continue cooking until shrimp is opaque, another 2-3 minutes.

Assemble bowls with quinoa, kale, butternut squash, asparagus, and shrimp. Top with dressing and serve.
Recipe Notes
Click here or scan the barcode below to log this food in My Fitness Pal.
Nutrition Facts
Shrimp Buddha Bowl
Amount Per Serving
Calories 389 Calories from Fat 117
% Daily Value*
Fat 13g20%
Cholesterol 255mg85%
Sodium 609mg26%
Potassium 416mg12%
Carbohydrates 29g10%
Fiber 4g17%
Sugar 4g4%
Protein 40g80%
* Percent Daily Values are based on a 2000 calorie diet.