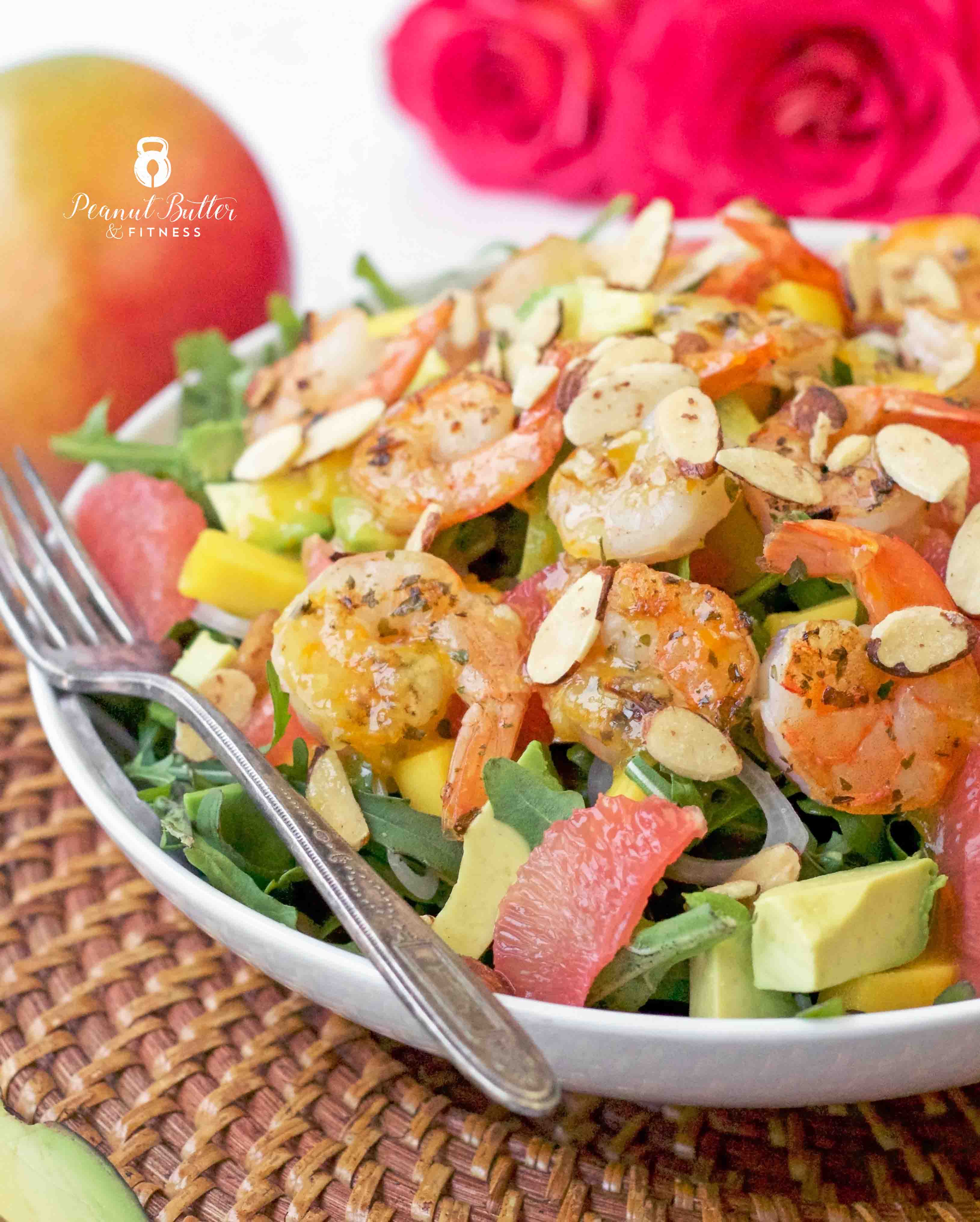 This week, I'm all about celebrating beautiful citrus and bringing some brightness into what has been a gloomy winter for some! Citrus season is still in full swing, so get out to your farmer's market or grocery store and pick some up so you can make this Shrimp & Avocado Citrus Salad. I love this one because the sweet mango and creamy avocado help balance the acidity of the grapefruit segments and orange dressing. I picked arugula as the base of this salad since its slight bitterness works really well in bright salads that have some sweet elements like the mango and shrimp.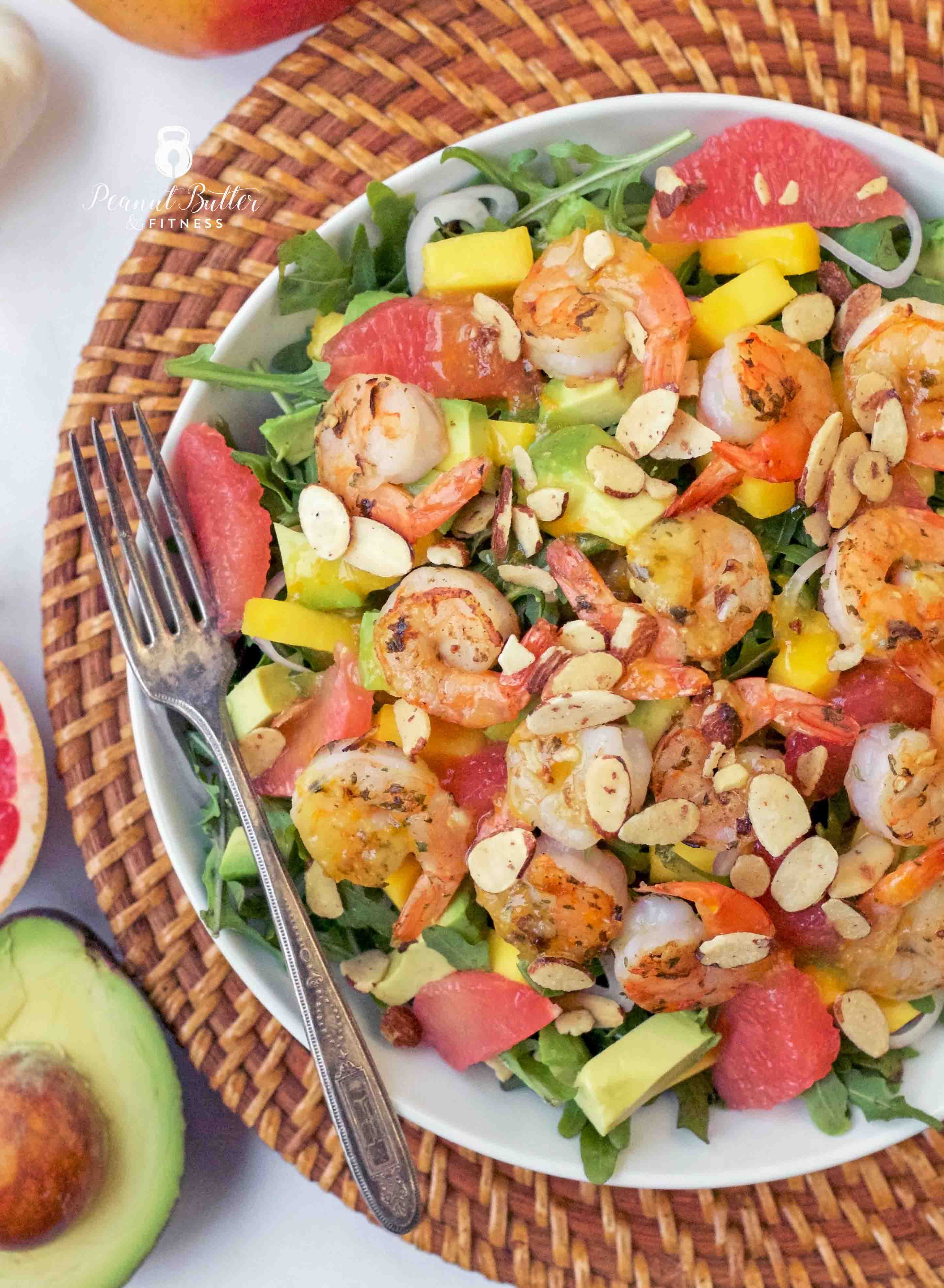 Even though it's still officially winter here in the U.S., it's starting to feel like spring is on its way! Last week we saw the mid-70s (followed by a few days of cold rain, ugh) and this week we'll see the 80s in San Antonio. Wouldn't it be great if we could stay in the 70s to 80s as we approach summer? Instead I'm sure we'll be hitting the 100s on the regular (ugh again). Anywho, I hope you guys enjoy this bright spot in your day and happy early Valentine's Day!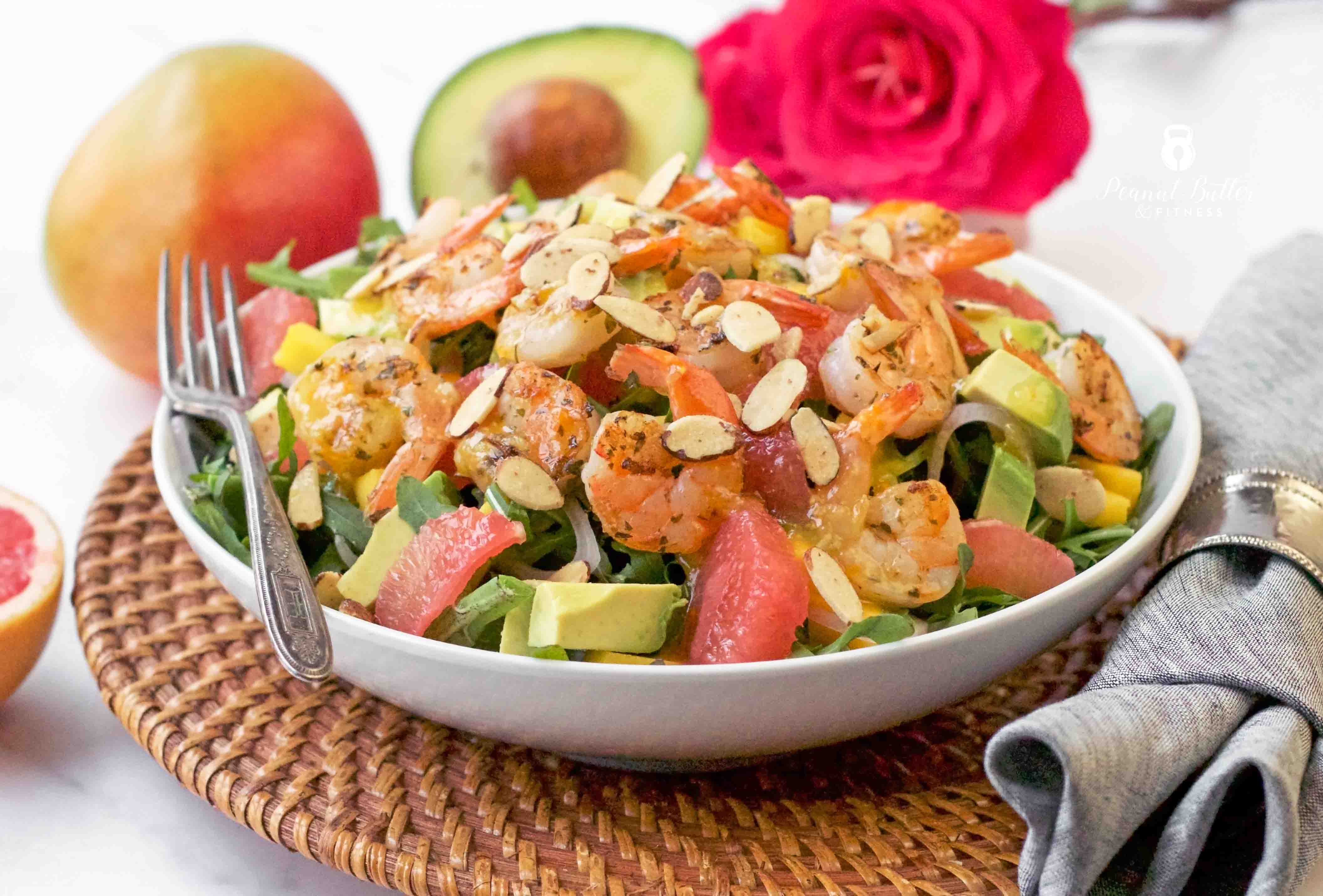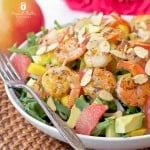 Shrimp & Avocado Citrus Salad
Prep Time 30 minutes
Cook Time 10 minutes
Total Time 40 minutes
Servings 4 servings
Calories per serving 383 kcal
Ingredients
1 lb raw shrimp, peeled and deveined, tail on
8 cups arugula (180 grams)
1 large avocado (150 grams)
1 medium grapefruit, peeled and segmented (200 grams)
1 cup mango, chopped (150 grams)
1/2 medium shallot, peeled and sliced (20 grams)
1/4 cup Fresh Gourmet Honey Roasted Sliced Almonds (28 grams)
4 cloves garlic, minced (16 grams)
1 tbsp butter (0.5 oz)
Salt and pepper to taste
Orange Dressing
2 tbsp olive oil (1 oz)
2 tbsp rice wine vinegar (1 oz)
2 tbsp orange juice (1 oz)
1 tbsp fresh grated ginger (0.5 oz)
1 tbsp honey (0.5 oz)
1 tbsp orange zest
1/8 tsp xanthan gum (optional to thicken the dressing)
Instructions
Rinse shrimp and pat dry with a paper towel. Season with Flavor God seasoning and salt/pepper.

Melt half of the butter in a large skillet over medium-high heat. Add half of the minced garlic, then add shrimp in a single layer in the skillet. Cook for about 1-2 minutes or until shrimp is partially opaque on top and the bottom is pink and beginning to brown and form a crust from the butter. Flip shrimp and continue cooking on the other side until cooked through. Set aside.

Repeat cooking process with remaining shrimp, butter, and garlic.

Whisk all dressing ingredients until smooth. Set aside.

Assemble salad with arugula as base, then layer grapefruit, avocado, shallots, shrimp, and almonds. Top with dressing before serving.
Nutrition Facts
Shrimp & Avocado Citrus Salad
Amount Per Serving
Calories 383 Calories from Fat 189
% Daily Value*
Fat 21g32%
Cholesterol 178mg59%
Sodium 216mg9%
Potassium 356mg10%
Carbohydrates 26g9%
Fiber 6g25%
Sugar 14g16%
Protein 27g54%
* Percent Daily Values are based on a 2000 calorie diet.