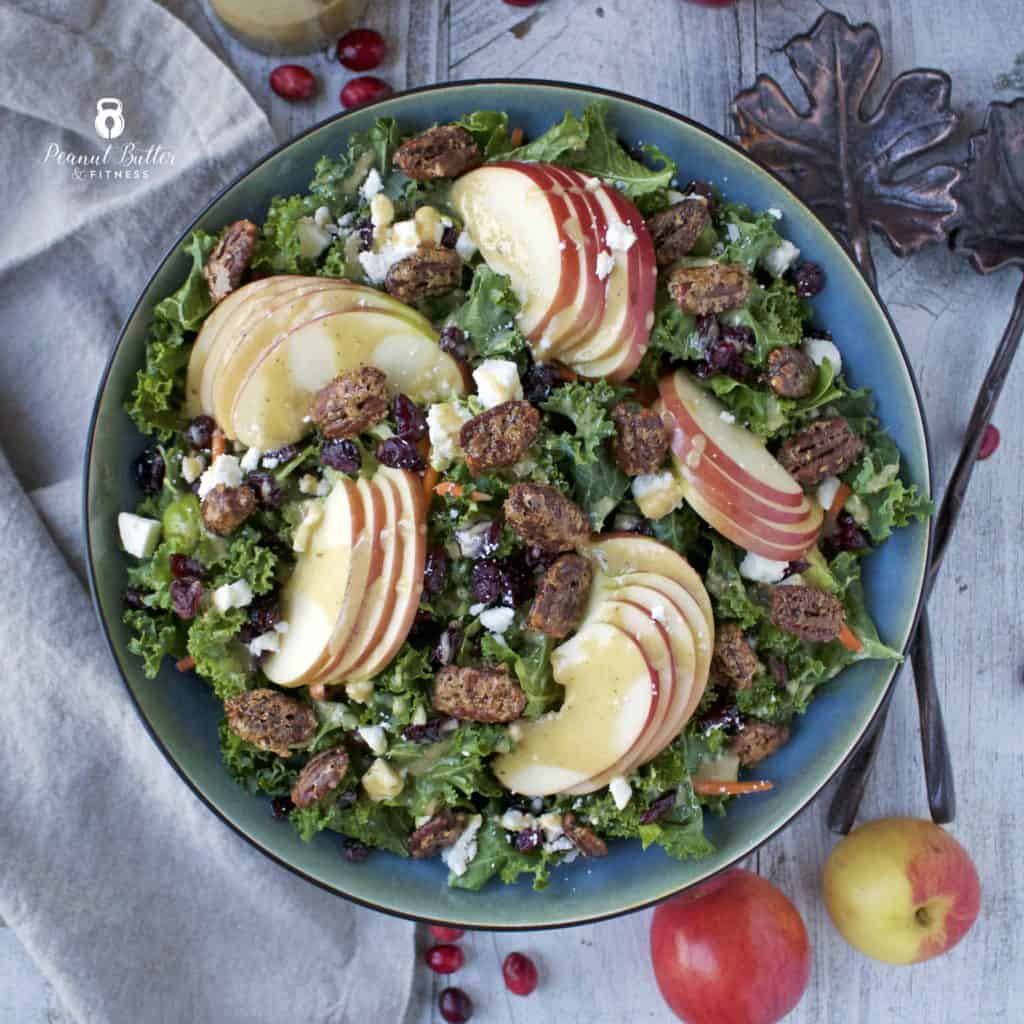 Alright guys, it's officially Thanksgiving crunch time.  Yesterday I went to the grocery store and there was a mob of people surrounding the turkey coolers.  Turkeys, it is truly your time to shine…everyone wants you.  Except apparently my friends who I will be celebrating Turkey Day with (*insert eye roll here*).  That's okay though, I'm sure that I will be perfectly content with lobster and duck and whatever else we cook together 🙂  I always like to bring a salad to the table to break up the richness and heaviness of all the other Thanksgiving dishes, so here's an idea for you (and me!)…Kale and Brussels Sprouts Salad with Maple Dijon Vinaigrette.
I didn't notice until after I photographed and cleaned up this monster salad that you really have to hunt to see the brussels sprouts!  I promise you they are there, I apparently decided to cover them all up with apples and other goodies though.  Oops!  It doesn't help that they kind of blend in with the green of the kale.  Such is life.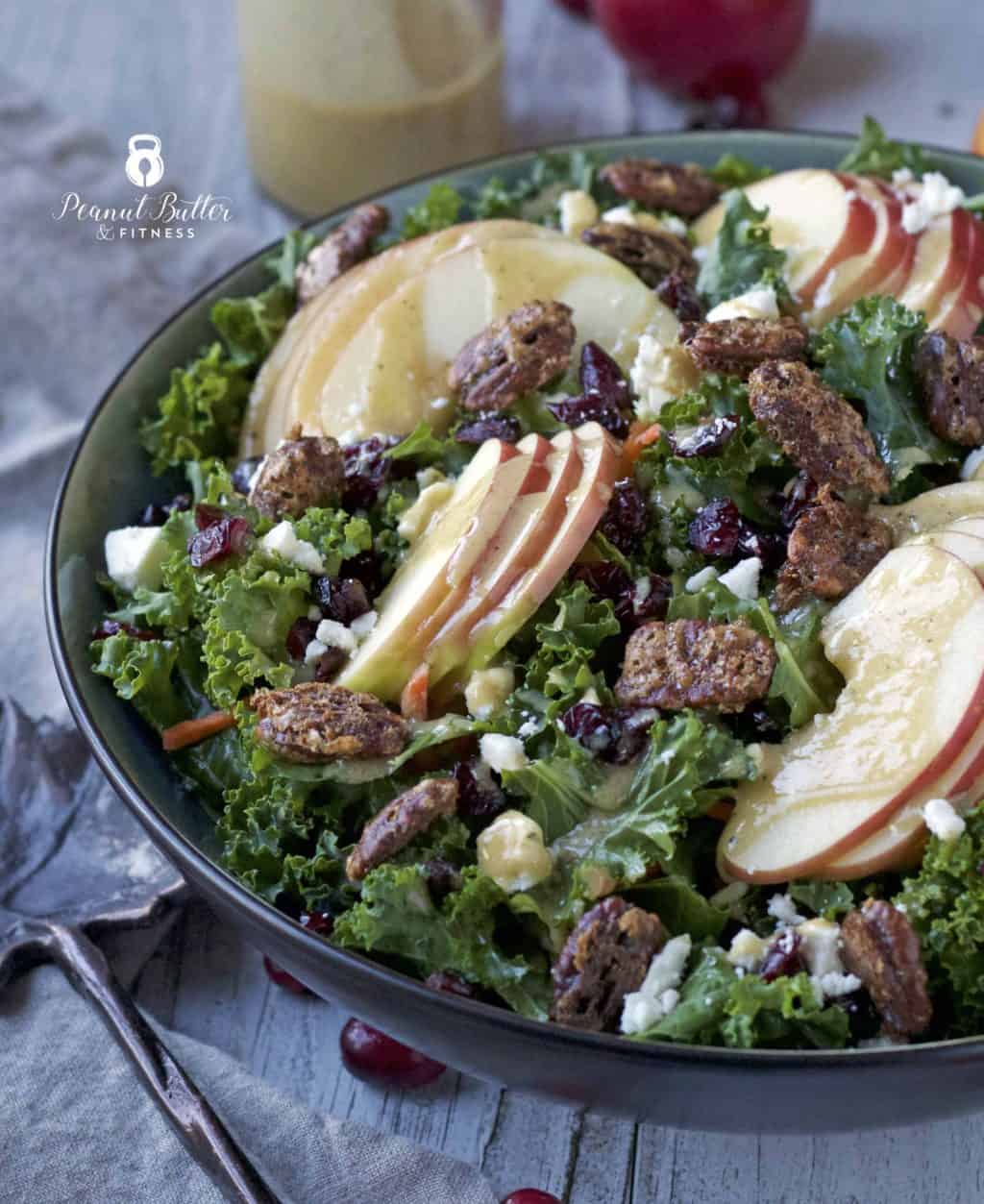 Anywho, even if this isn't going to be your salad of choice for the big day, please please please try out the candied pecans.  Seriously, they are so good and really easy to make.  They're a perfect crunchy and sweet topping for any fall salad!
Oh hey look, flowers! I am all over the place with these photos.  Sorry guys, thanks for putting up with me 😉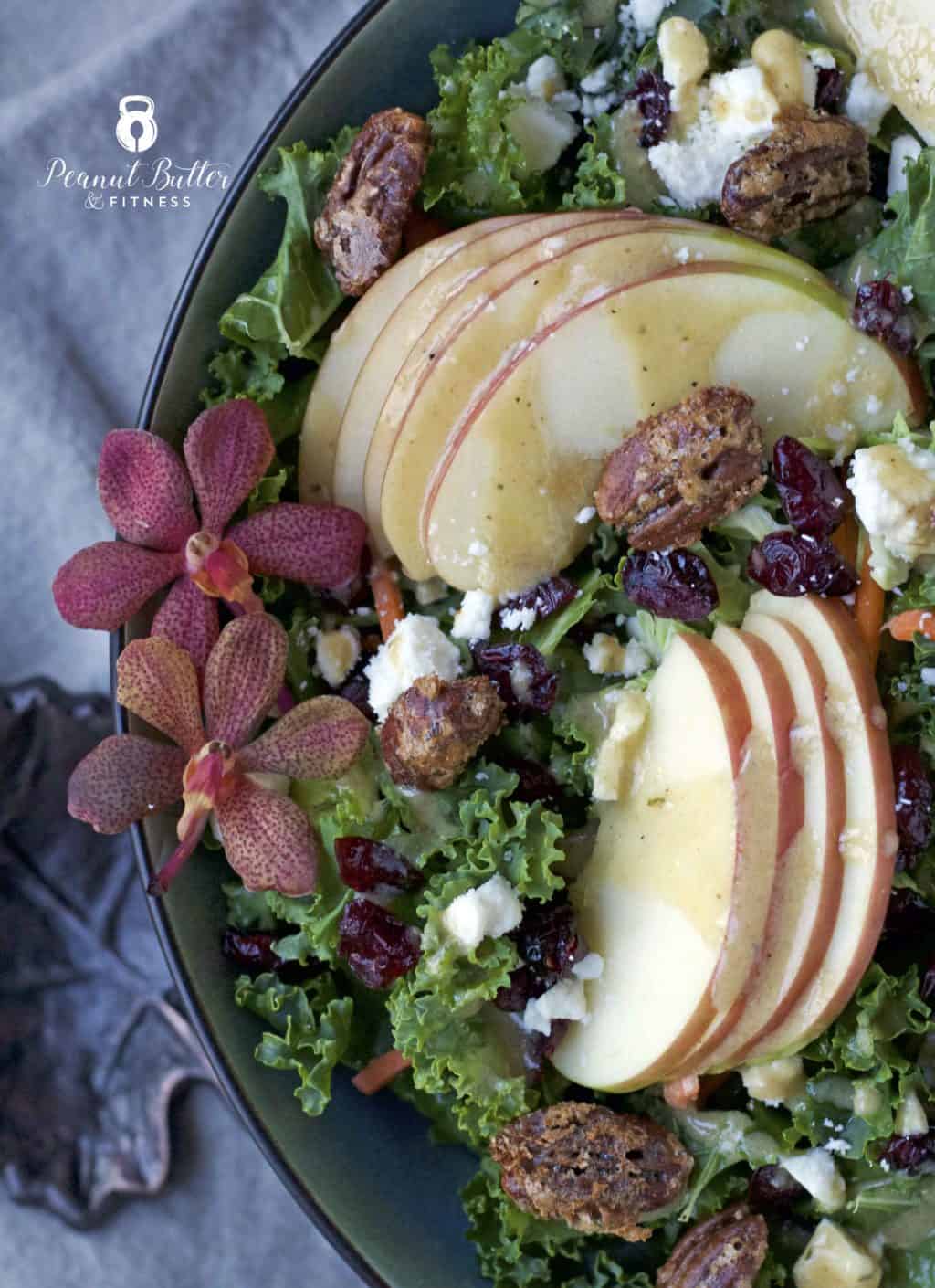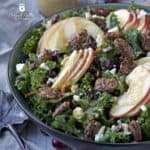 Shredded Brussels Sprouts and Kale Salad with Maple Dijon Vinaigrette
Prep Time 15 minutes
Cook Time 40 minutes
Total Time 55 minutes
Servings 8 servings
Calories per serving 164 kcal
Ingredients
8 cups kale, chopped (150 grams)
2 cups shredded brussels sprouts (170 grams)
1/2 cup Ocean Spray 50% Reduced Sugar Dried Cranberries (80 grams)
1 medium apple, sliced (150 grams)
1 cup shredded carrots (85 grams)
1/2 cup pecan halves (60 grams)
1 egg white
2 tbsp light brown sugar (24 grams)
Optional: Feta cheese or goat cheese for topping
Maple Dijon Vinaigrette
3 tbsp Dijon mustard (1 1/2 oz)
3 tbsp apple cider vinegar (1 1/2 oz)
2 tbsp maple syrup (1 oz)
1 1/2 tbsp olive oil (3/4 oz)
1 tsp garlic powder
Instructions
Pre-heat oven to 300 degrees. Line a baking sheet with SILPAT.

Whisk egg white briskly for 30 seconds. Toss pecan halves in egg white until coated, then add pecans and brown sugar to a small resealable bag. Toss until brown sugar coats pecans.

Bake for 40 minutes, flipping halfway through. Set aside to cool.

Whisk together all dressing ingredients. Set aside.

Add kale, shredded brussels sprouts, carrots, dried cranberries, and apples to a large serving dish. Toss with dressing and top with candied pecans before serving.
Nutrition Facts
Shredded Brussels Sprouts and Kale Salad with Maple Dijon Vinaigrette
Amount Per Serving
Calories 164 Calories from Fat 72
% Daily Value*
Fat 8g12%
Sodium 163mg7%
Potassium 294mg8%
Carbohydrates 23g8%
Fiber 5g21%
Sugar 14g16%
Protein 3g6%
* Percent Daily Values are based on a 2000 calorie diet.