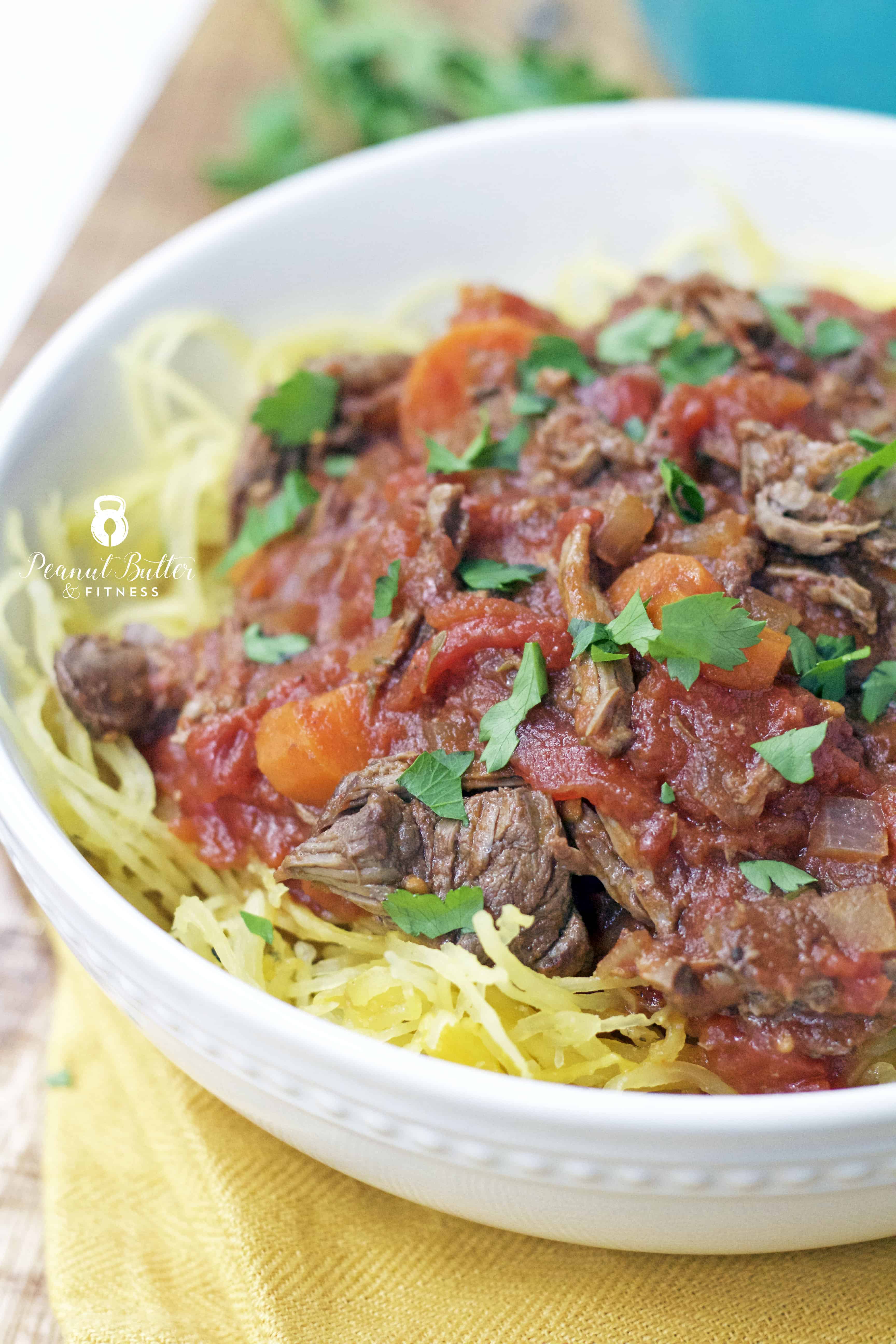 I mixed things up a little bit this week by adding some BEEEEEEF to my meal prep.  Short ribs seem to be all the rage right now so I figured, why not?  And this short rib ragu does not disappoint.  They get cooked low and slow with tomatoes, wine and mirepoix (onions, carrots and celery) and come out on the other side nice and tender.  I served the whole mixture on top of some spaghetti squash, but whole wheat pasta or mashed potatoes/cauliflower/squash would be great too.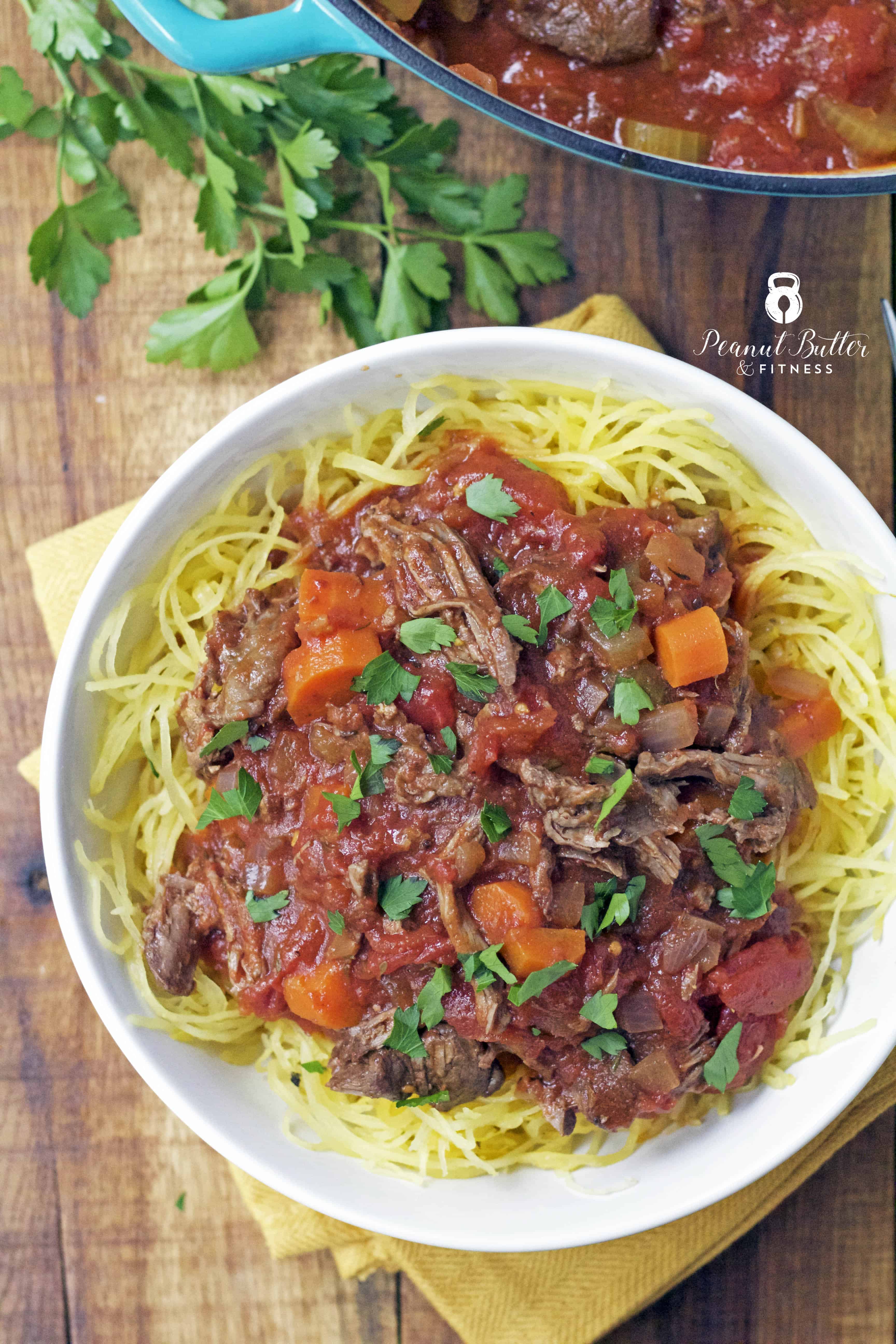 I used a big 5 quart dutch oven to cook mine in.  If you've never used one before, most dutch ovens you'll find in the U.S. are usually enameled cast iron pots with a heavy, tight fitting lid that can be used on the stovetop or in the oven.  If you get a seasoned one that's not enameled you could use it in the campfire too.  Anywho, you can get a really expensive one that's sure to spark some kitchen envy or a more reasonably priced one on Amazon if you're interested.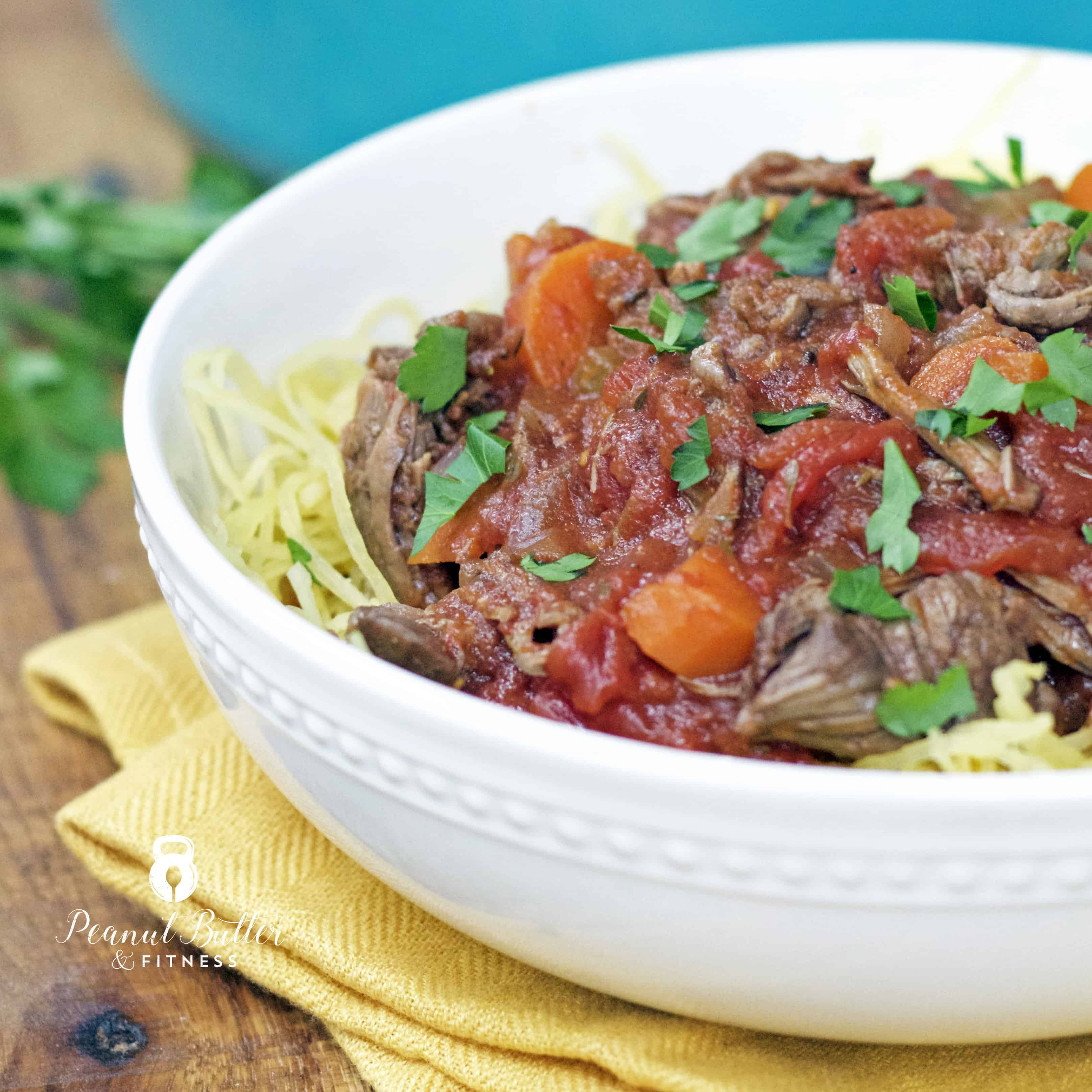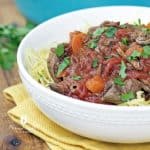 Short Rib Ragu with Spaghetti Squash
Prep Time 20 minutes
Cook Time 2 hours 30 minutes
Total Time 2 hours 50 minutes
Servings 5
Calories per serving 405 kcal
Ingredients
1 lb boneless beef short ribs
28 oz can San Marzano style tomatoes with juice
1 cup full bodied red wine
1/2 cup low sodium beef broth
1/2 medium yellow onion chopped
3 large carrots chopped
4 stalks celery chopped
2 tbsp tomato paste
1/2 tbsp olive oil
2 tsp sprigs fresh thyme or 1 dried
Salt and pepper to taste
1 medium spaghetti squash halved lengthwise and seeds removed
Instructions
Season short rips with salt and pepper. Heat olive oil in a dutch oven or 5 qt pot over medium-high heat. Add short ribs and sear all sides until they begin to brown. Set aside.

Add onion, carrots and celery to dutch oven and sauté until fragrant. Add tomato paste and stir until vegetables are coated, then add wine, lower heat to low and simmer for about 5 minutes.

Add beef broth, tomatoes, and red pepper flakes; stir to combine. Return short ribs to the dutch oven and ensure they are fully submerged. Place bay leaves and thyme sprigs in the dutch oven, ensuring they are submerged in the liquid.

Cover and simmer on low for 2-3 hours or until the beef can be pulled apart easily with a fork. Shred the beef and mix back into the cooking liquid.

Pre-heat oven to 400 degrees. Place spaghetti squash halves on a baking sheet, flesh side up, and rub with olive oil and spices if desired. Bake for 35 minutes and shred with a fork.

Serve ragu on top of spaghetti squash and garnish with parsley if desired.
Nutrition Facts
Short Rib Ragu with Spaghetti Squash
Amount Per Serving
Calories 405 Calories from Fat 153
% Daily Value*
Fat 17g26%
Cholesterol 83mg28%
Sodium 129mg6%
Carbohydrates 23g8%
Fiber 7g29%
Sugar 13g14%
Protein 32g64%
* Percent Daily Values are based on a 2000 calorie diet.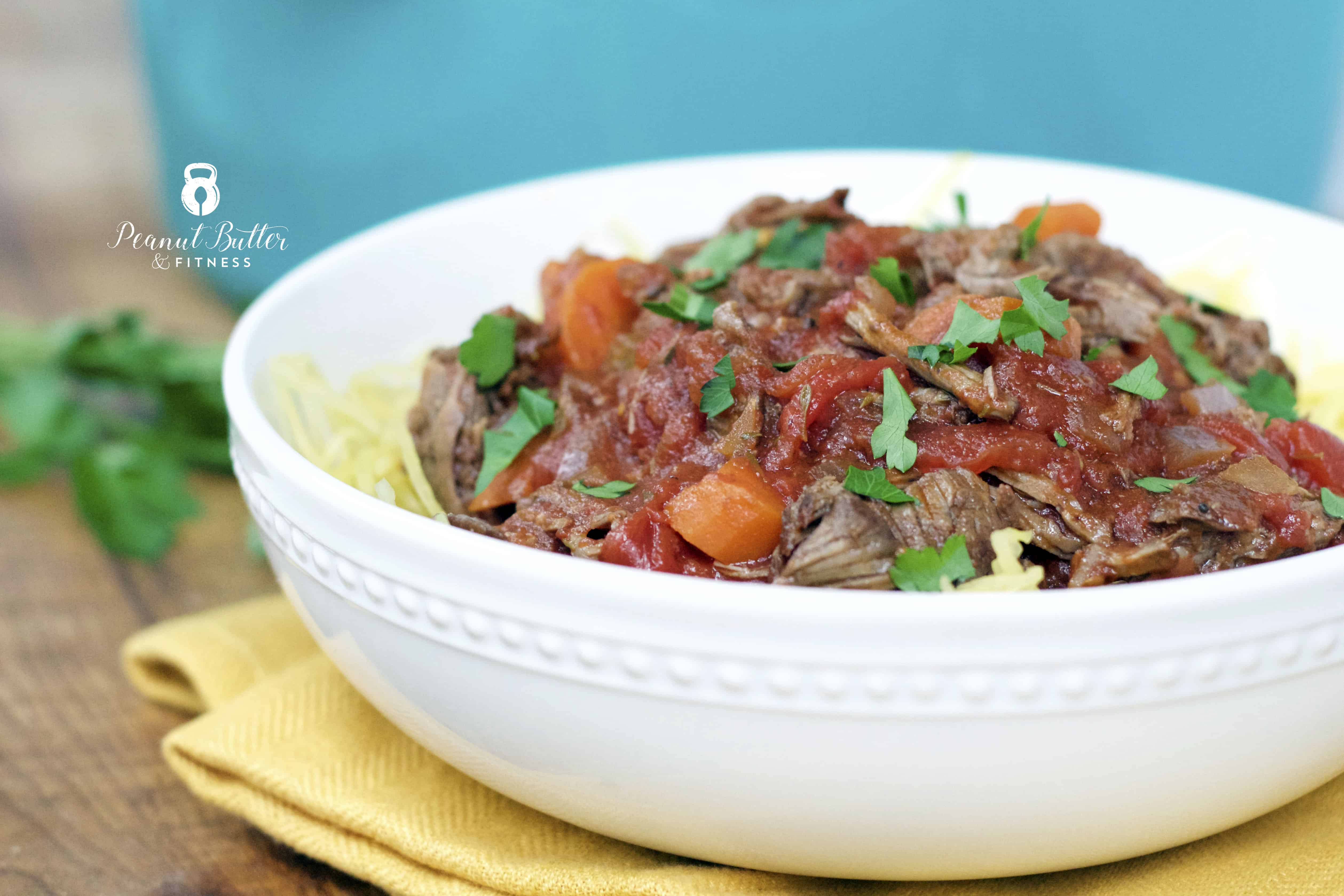 Here's a peak at my ragu all done, meal prep style!