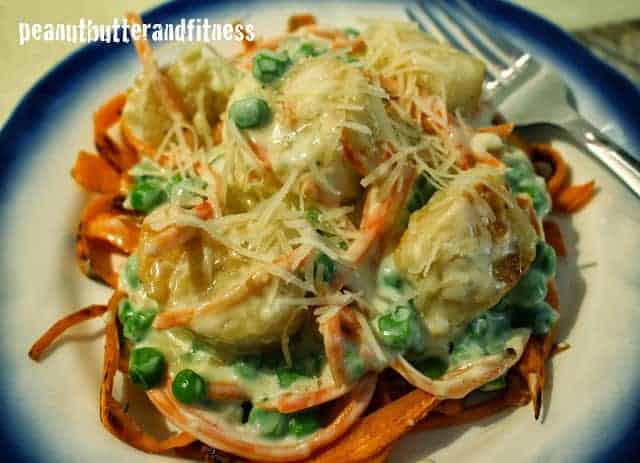 If you saw my last post, you know I'm pretty excited about this guilt free alfredo sauce that I made. So of course I had to try it out with one of my former go-to pasta dishes.  When I lived in Key West and wanted pasta, it would either be something with alfredo sauce or vodka sauce, the two least healthy choices out there.  Yikes.  Definitely not the healthiest two years of my life, but still incredible.


I've been using zucchini noodles (zoodles) a lot lately as a low carb/higher nutrition substitute for pasta, so I decided to switch it up and try out some sweet potato noodles! They're not quite as easy or pasta-like as zoodles but they pack more flavor, fiber and vitamin A and still have a good texture for a pasta replacement.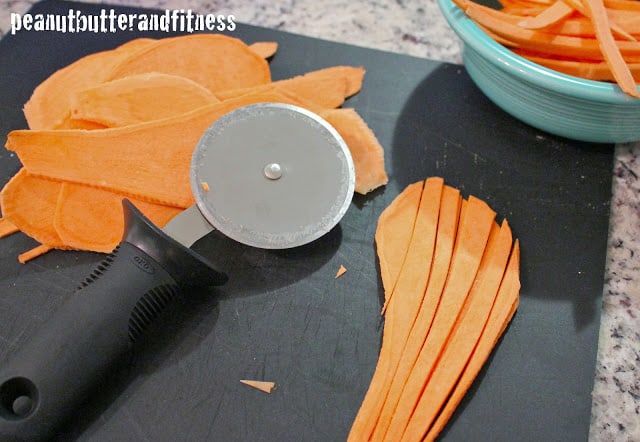 I used a mandolin set on the thinnest setting (I think on mine it was a 1) and then used a pizza cutter to slice the sweet potato into fettucini like noodles.  I tried using a regular knife, but then you can't follow the curve of the sweet potato.  Or you could buy a mandolin that has the julienne or pasta cutter built right in.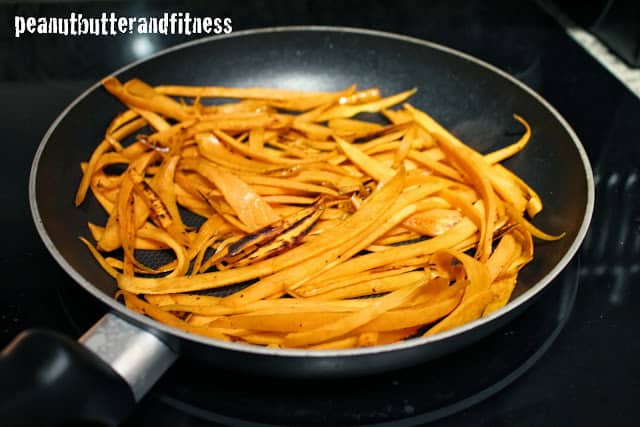 One of the problems I had with the sweet potato noodles was that when I cooked them, they smelled like sweet potato fries.  And I wanted to eat them all right out of the pan.  I tried to do these in the microwave like zoodles, but they just turned into a big clump.


Scallops and Sweet Potato Noodles with Alfredo
Makes about 3 servings


Ingredients:
2 cups Guilt Free Alfredo Sauce

3/4 to 1 lb fresh sea scallops

1 large sweet potato

1 3/4 cups peas (I used frozen)

1 tbsp + 1 tsp olive oil, divided

Salt and pepper

Optional: 1 1/2 cups matchstick carrots (I'd recommend leaving them out if you're using sweet potato noodles, if you're using zoodles, go for it)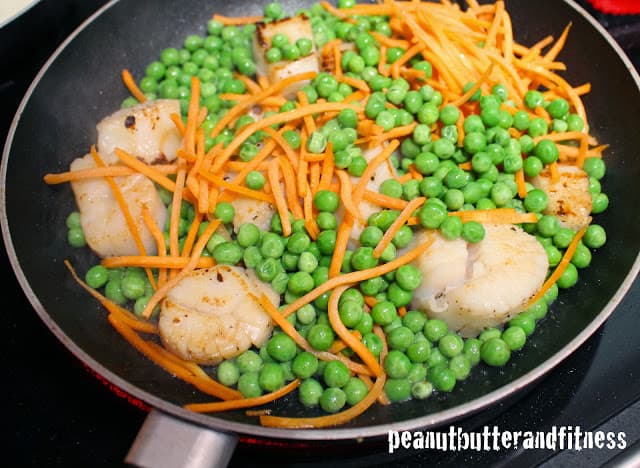 Clean and peel sweet potato. Using a mandolin cutter on a thin setting, slice the sweet potato into thin slices.

Cut the sweet potato slices into thin strips using pizza cutter.

In a large non-stick pan, heat 1 tbsp oil over medium-high heat.  Add sweet potato noodles and cook until tender, 6-8 minutes.  Set aside in a bowl.

Heat remaining oil in pan over medium-high heat.

Add scallops and sprinkle with salt and pepper to taste.  Cook scallops for about 3-4 minutes on one side (depending on size), or until lightly browned.

Once you flip the scallops, add peas and carrots and cook until heated through and scallops are done, about 5 minutes.  Remove from heat.

Mix in alfredo sauce and serve over sweet potato noodles.