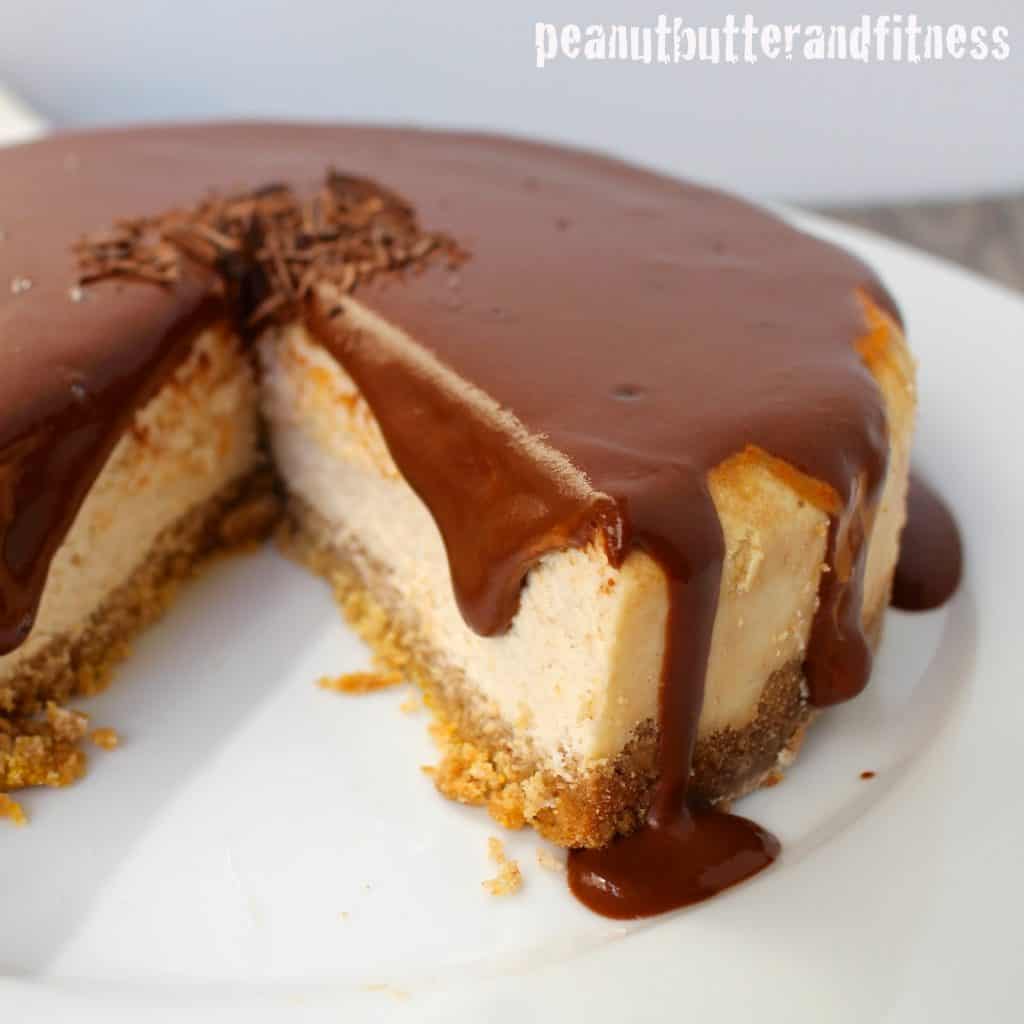 Happy Easter everyone! Soooooo….this just happened 🙂 My very first, real, grown-up, from scratch (protein) cheesecake.  And it's really good. Look at that ooey, gooey chocolate on top.  And the crumbly pecan crust.  And the creamy, caramel-ey cheesecake.  Yum.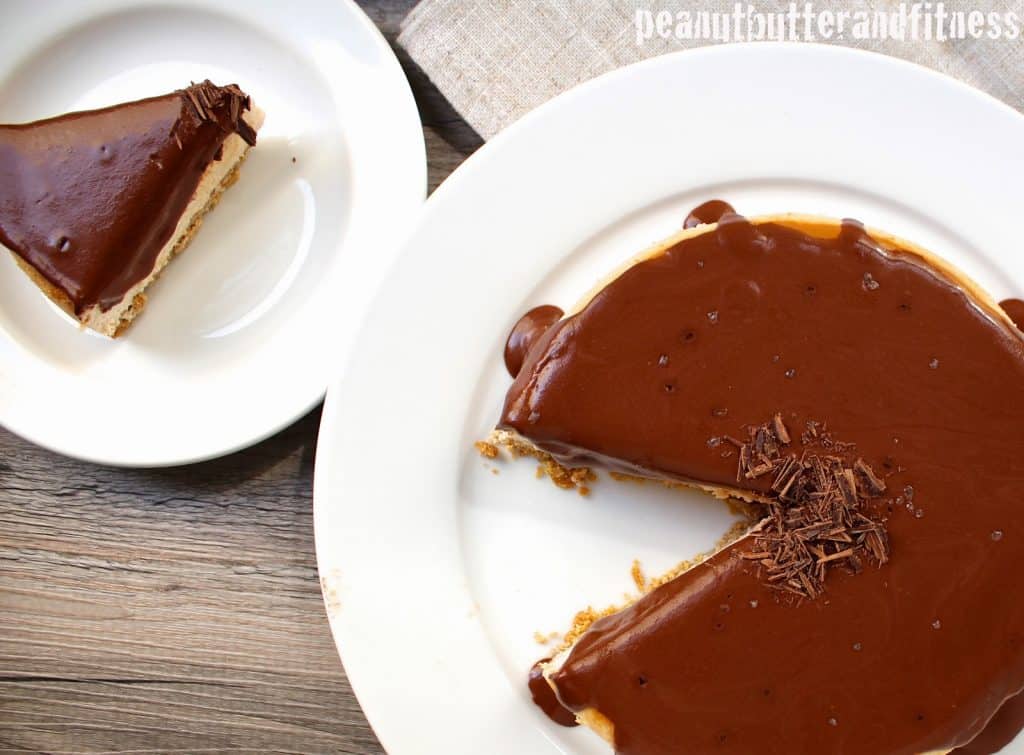 I finally bought myself a springform pan so I could make the leap into the realm of real-ass cheesecakes.  Mine is a 7″ Nordicware and it's supposed to be "leakproof" – I don't really believe it so I shoved the whole thing in a slow cooker liner to bake in a water bath.  It worked pretty well, I kind of wish I had a bigger dish for the water bath though.
Anywho…salted caramel is kind of a mystery to me.  But then I saw this Greek yogurt at the store and knew I had to experiment.  Does it taste any different than regular caramel? I honestly couldn't tell you.  It's supposed to bring out the sweetness of the caramel even further but I'll let you be the judge.  I'll be over here stuffing my face with cheesecake.

Did I mention that you don't have to feel bad about eating this decadent cheesecake? Only 159 calories per slice which includes 13 grams of protein!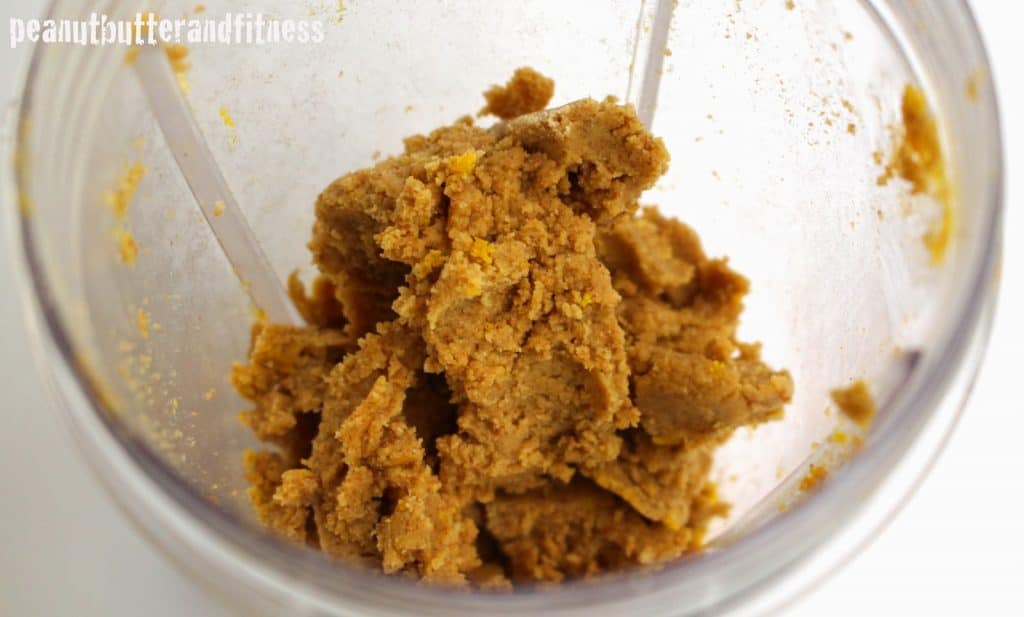 The crust is so simple but healthy and delicious…just some pecans, coconut flour, cinnamon and a little bit of McCormick Vanilla Nut and Butter extract.  Easy peasy.  I wiped down the inside of my pan with coconut oil and then sprinkled it with coconut flour (which is what the manufacturer told me to do) to keep the cheesecake from sticking.  I'd call it about 80% successful.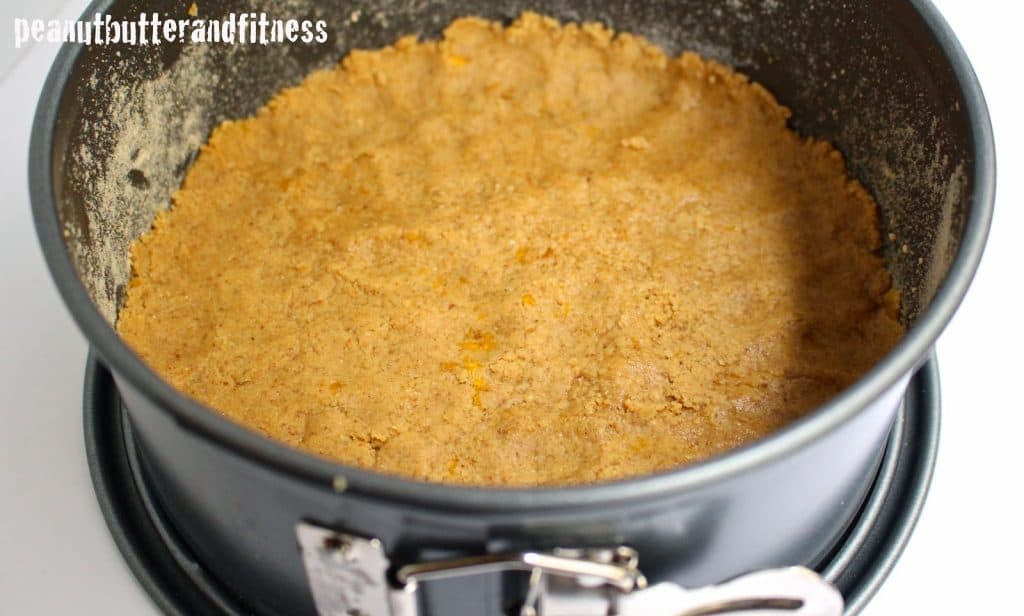 So step one once it comes out of the oven and cools down…take it out of the pan. I used a knife to help the process.  And then: caramel sauce.  Specifically, the
Walden Farms brand
which has no fat, no sugar and no calories.  Boom.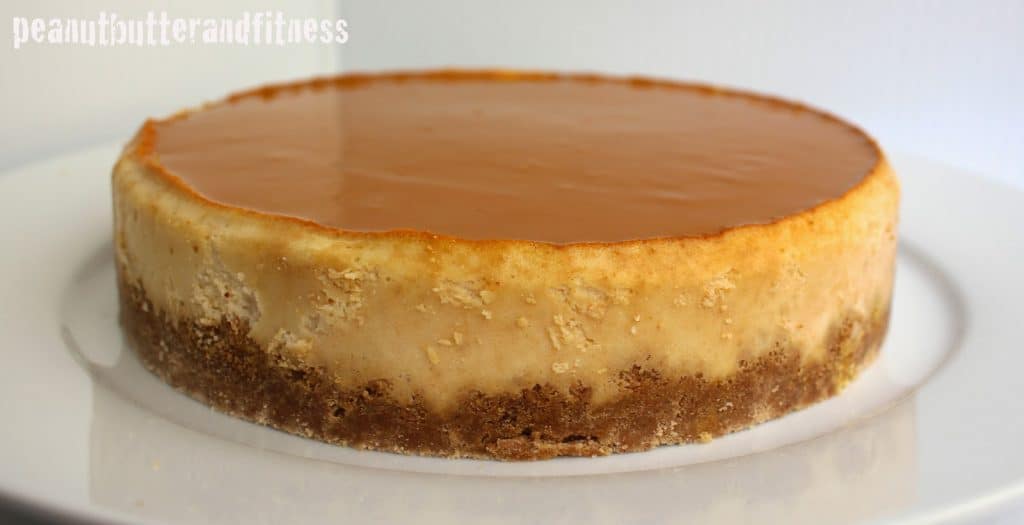 Next comes the ganache.  Now, if you actually let this set up over night in the refrigerator (like I tell you to in the recipe), it firms up so it's nice and creamy and stays on top of the cheesecake slices after you dish it up.  I am just not that patient when it comes to chocolate.  Or cheesecake.  So I was doomed to drippy ganache and I am okay with that.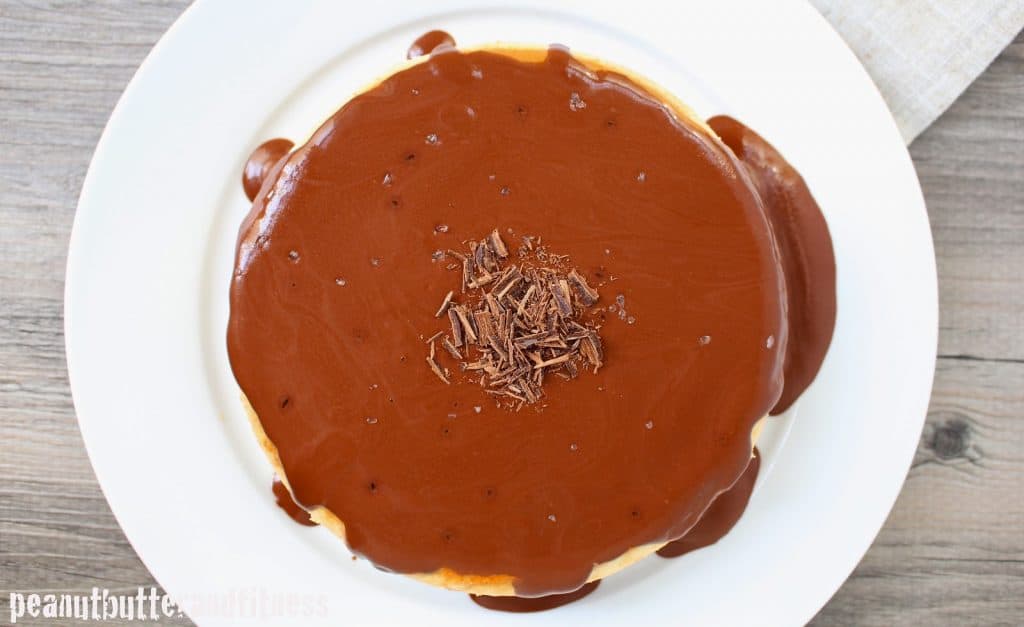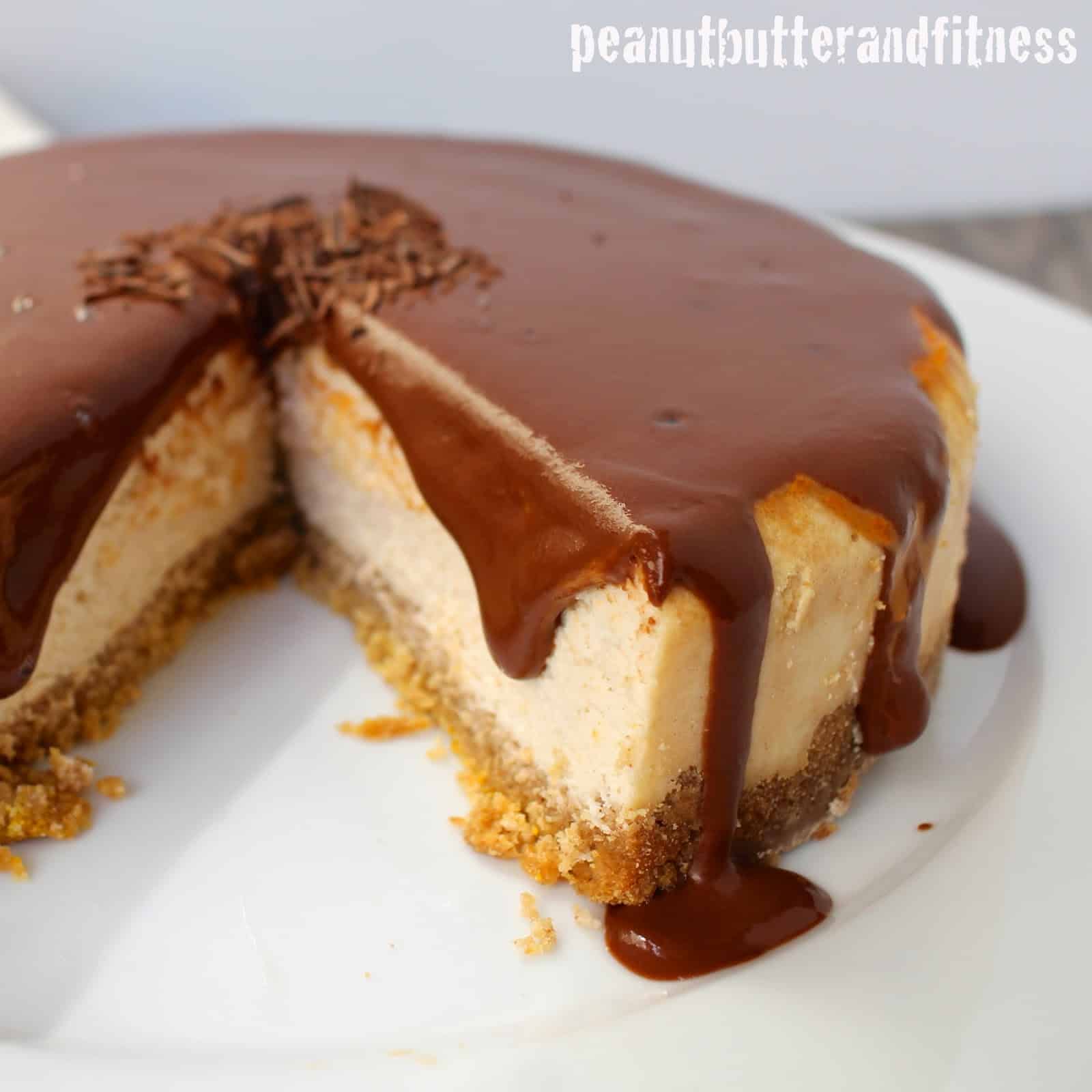 Salted Caramel Protein Cheesecake with Skinny Chocolate Ganache
Servings:
slices (1 slice per serving)
Ingredients
Crust Ingredients:
7

tbsp

pecans

1/2

cup

coconut flour

1/2

tsp

McCormick Vanilla Butter and Nut Flavoring

,

can sub with vanilla extract

Pinch cinnamon
Skinny Chocolate Ganache Ingredients:
1/4

cup

Ghirardelli 60% Dark Chocolate Chips

3

tbsp

unsweetened vanilla almond milk
Instructions
In a food processor or nutribullet, process pecan halves with coconut flour and cinnamon until no chunks remain.  Mix in vanilla butter and nut extract.

Wipe a 7 inch springform pan with coconut oil and shake coconut flour onto oil.  Press crust evenly into base of pan.

Pre-heat oven to 325 degrees.

In a food processor or nutribullet, combine cottage cheese and Truvia until smooth.  Add remaining cheesecake ingredients except caramel sauce and sea salt and pulse until smooth.  Remove food processor container from mixer base and tap the base of the container to remove air bubbles.

Pour cheesecake mix over crust and gently tap the base of the pan against a towel-covered counter to remove any remaining air bubbles (pop any that come to the surface with a toothpick).

Place pan into a slow cooker liner, then into a larger baking dish and fill dish with water until almost even with the top of the cheesecake filling.  Bake at 325 degrees for 45-50 minutes or until center of cheesecake shows some movement but no longer jiggles like Jello.

Allow cheesecake to cool in the water bath until water is room temperature, then remove from water bath.  Refrigerate cheesecake overnight, uncovered.

Remove cheesecake from springform pan carefully and plate.  Spread caramel sauce evenly over top of cheesecake and set aside in freezer.

Add chocolate chips to a small bowl.  Bring almond milk just to the point of boiling in the microwave, about 45 seconds to 1 minute.  Pour over chocolate chips and allow to sit for 1 minute, then mix until the chocolate is melted and smooth.

Top cheesecake with ganache and spread evenly.  Refrigerate to allow ganache to firm up (best if refrigerated overnight), then sprinkle sea salt flakes on top before serving.
Nutrition Information
Calories:
159
kcal
(8%)
,
Carbohydrates:
11
g
(4%)
,
Protein:
13
g
(26%)
,
Fat:
8
g
(12%)
,
Cholesterol:
12
mg
(4%)
,
Sodium:
208
mg
(9%)
,
Fiber:
4
g
(17%)
,
Sugar:
5
g
(6%)