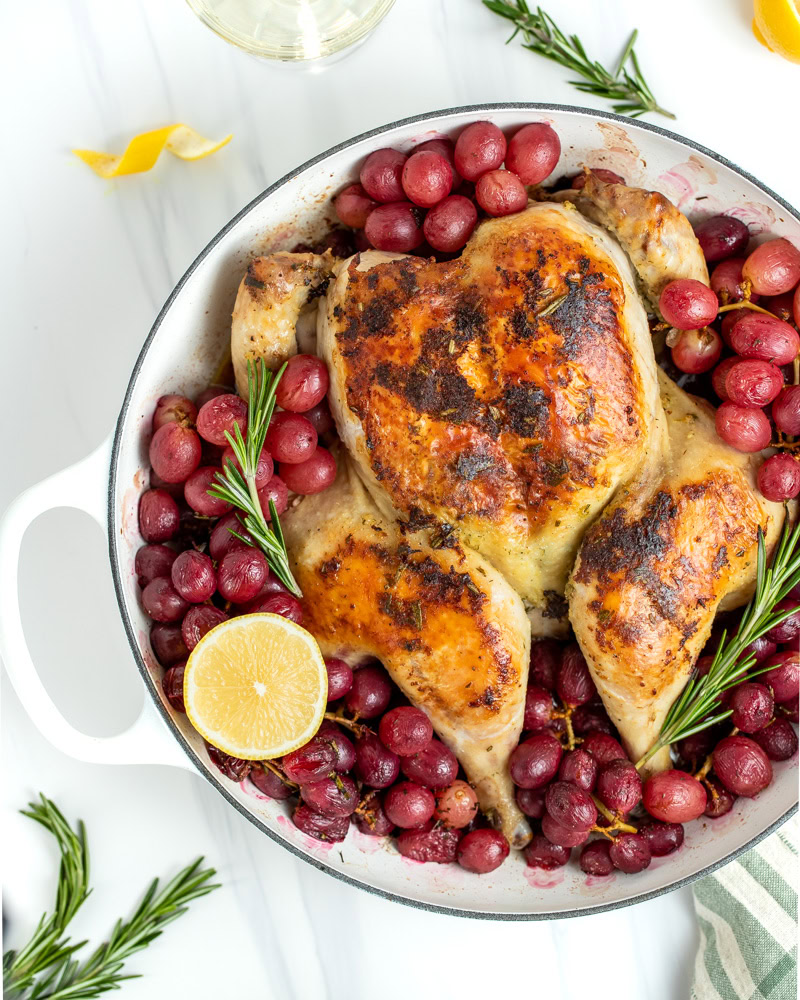 ***Photos and recipe updated December 2022***
What's up PBF'ers?? How's the new year going for everyone? Today I'm bringing you a delicious creation…Rosemary Roasted Spatchcock Chicken and Grapes! I've been wanting to do another spatchcock chicken for a while now, but I just couldn't settle on any veggies that I wanted to roast. Then I stumbled on the idea of roasting grapes and I was SOLD! I've really been digging grapes lately, so it only seemed natural.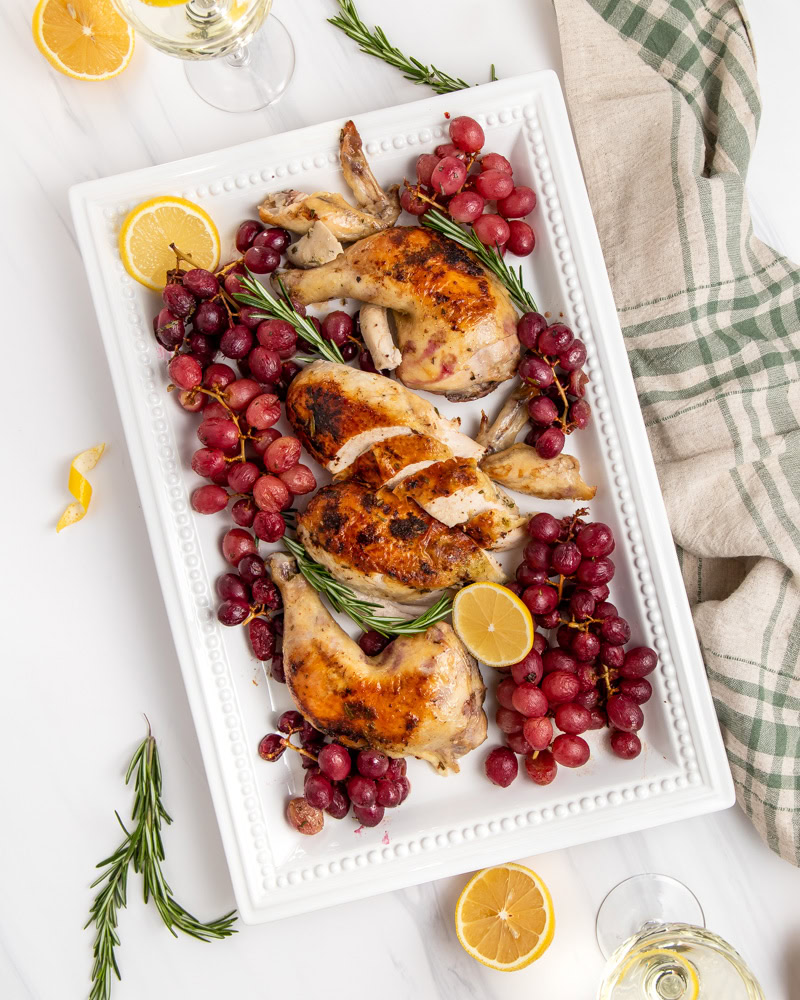 I've got to tell you, roasting grapes really does something special to them. They turn into these luxurious, velvety little pops of sweet and tangy deliciousness. Perfect to accompany the rich and juicy chicken that you just roasted. And don't be intimidated by spatchcocking…you are basically just cutting out the backbone of a whole chicken (all it takes are some kitchen shears and elementary school crafting abilities) and throwing it in a pan.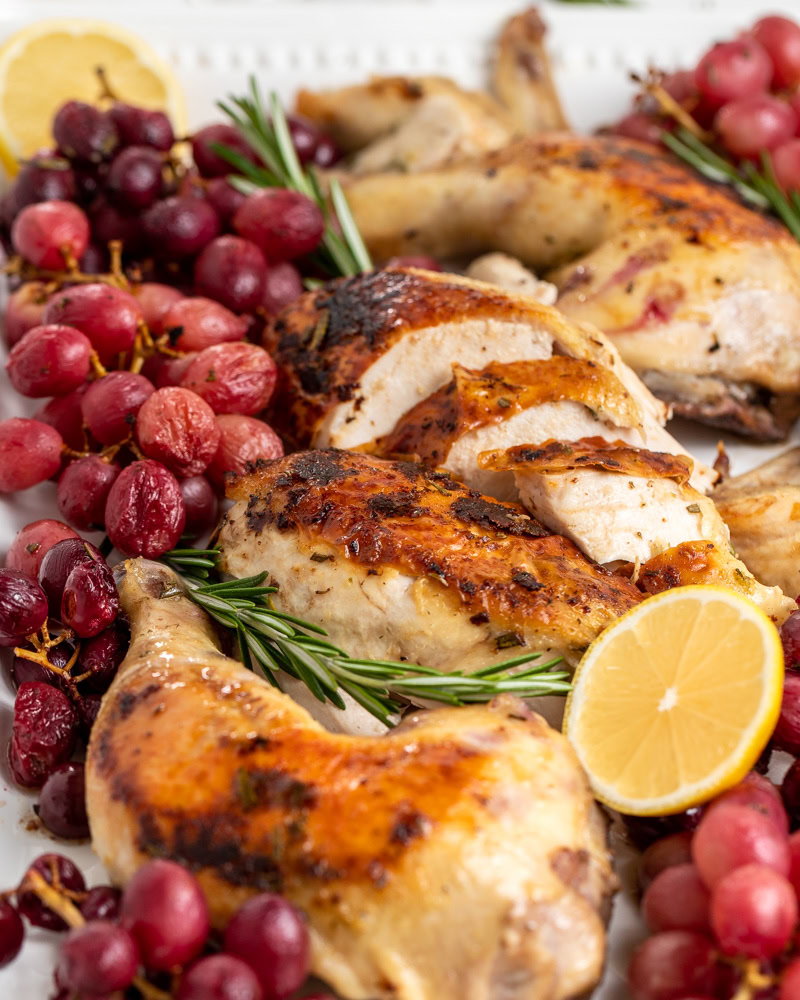 This recipe is a great one to serve at a party and it's definitely a crowd pleaser! I've made it a couple times already, including once at a holiday party during that weird transition period between Christmas and New Year's when no one knows what day it is. So. Dang. Good.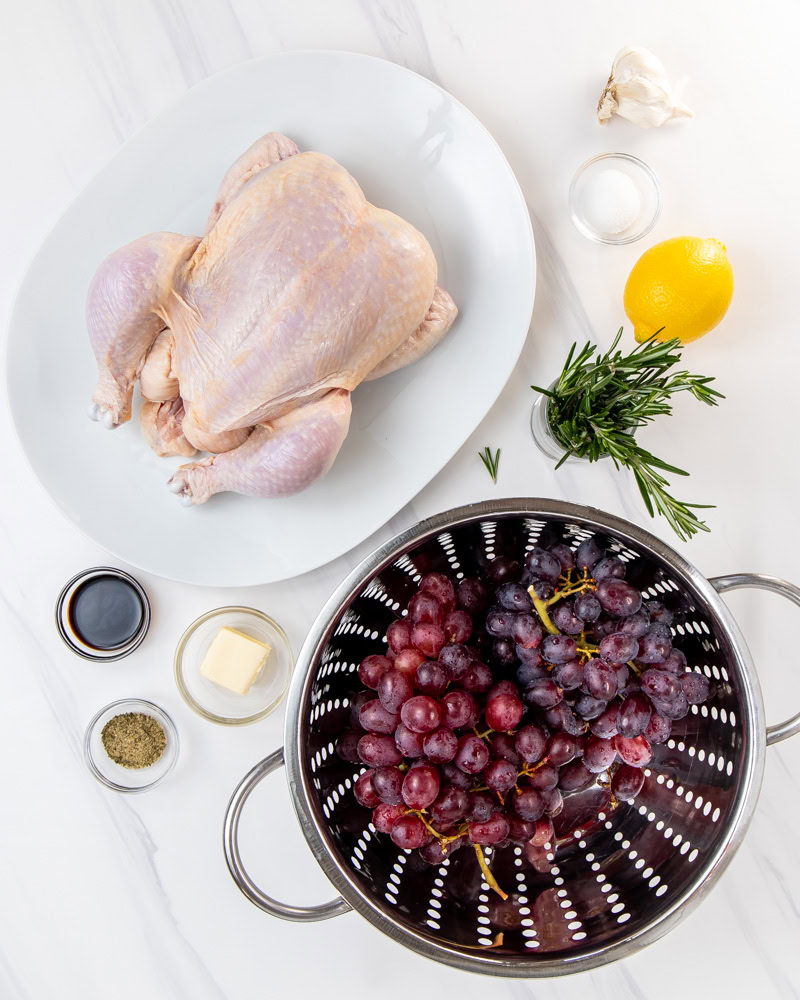 Ingredients and Substitutions
This is a deceivingly simple recipe that results in a really amazing flavor combo that feels totally luxurious. Here's what you'll need:
Chicken – The first thing you'll need is a whole chicken. I used a 4 pound one – big enough to yield plenty of gorgeous roasted chicken but small enough to fit in my skillet. No need for giblets here!
Grapes – I recommend red seedless grapes for this recipe. I don't think green grapes would work as well and using another fruit would totally change the recipe.
Herbed Compound Butter – One of the keys to maximizing flavor and juiciness in the chicken is this compound butter. It's a simple mixture of butter, fresh rosemary, lemon zest, salt, lemon pepper seasoning, and garlic. Easy!
Fresh Rosemary – If you don't have or can't find fresh rosemary, dried rosemary will work in a pinch. I definitely think the fresh rosemary is better for roasting though – save the dried stuff for things like marinades. You'd also need to cut the amount in half to avoid overpowering the dish.
Balsamic Vinegar – Tossing the grapes in a bit of high quality balsamic helps add a layer of complexity and deepens the flavor. I don't recommend skipping it, but you could also probably use red wine vinegar in a pinch.
How to Spatchcock a Chicken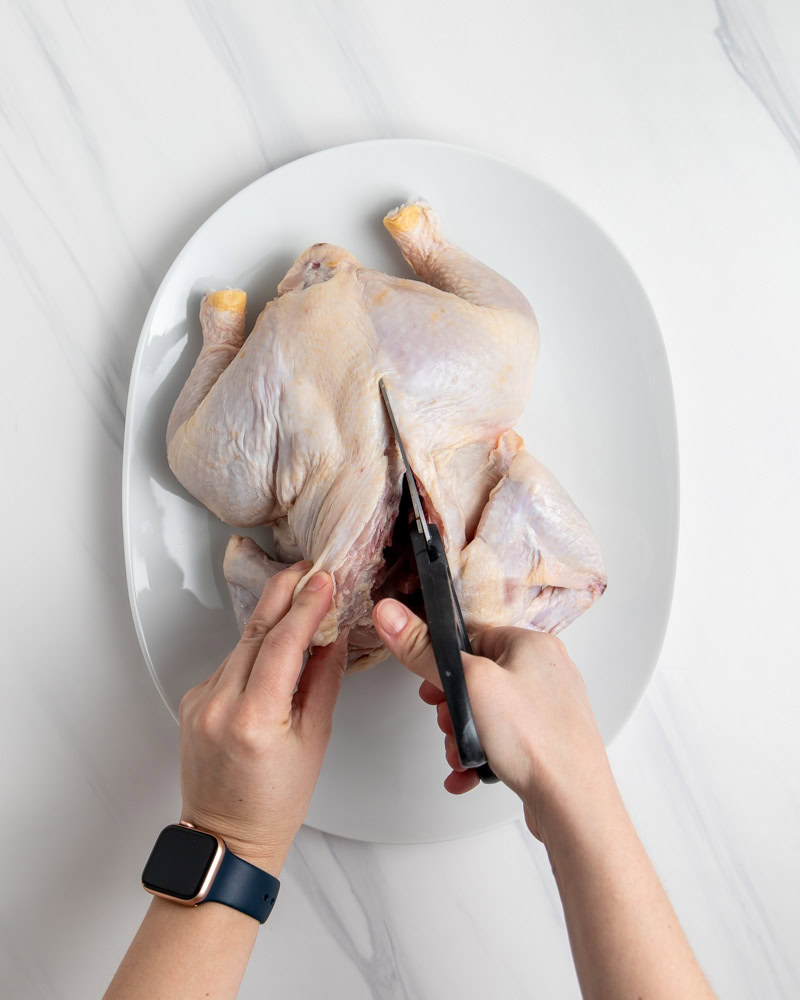 First, place the chicken on a cutting board, breast side down. Using a pair of kitchen shears or a sharp knife, cut along one side of the backbone until that side is free.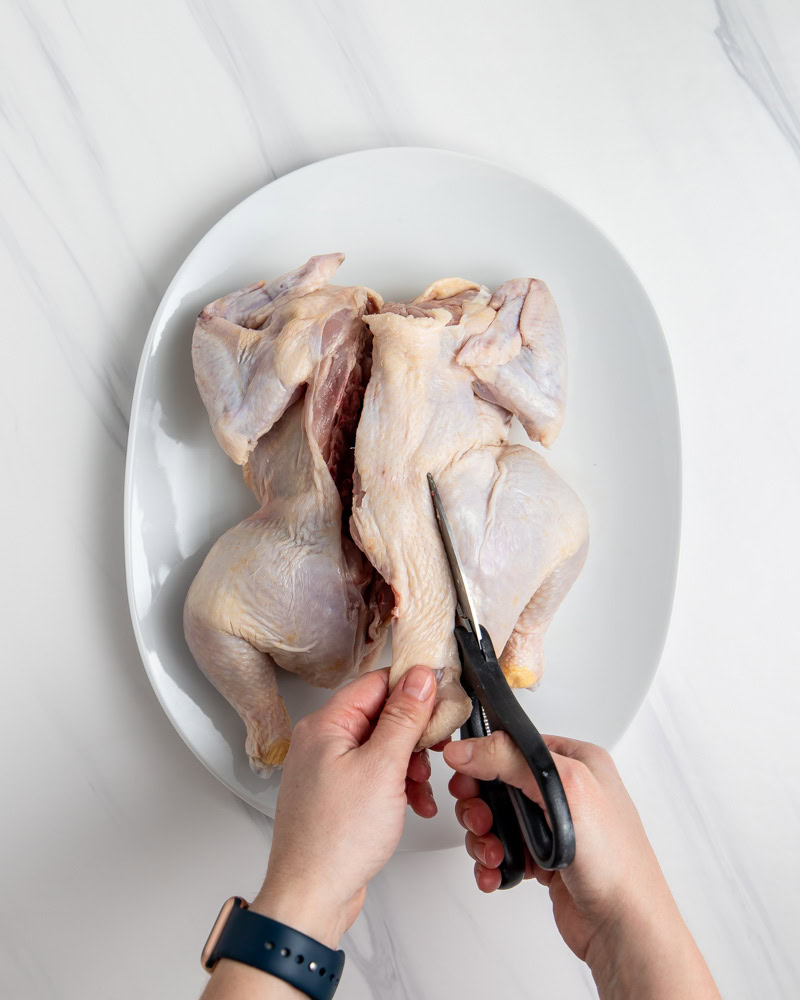 Turn the chicken around and repeat the process on the other side until the backbone is completely removed from the chicken.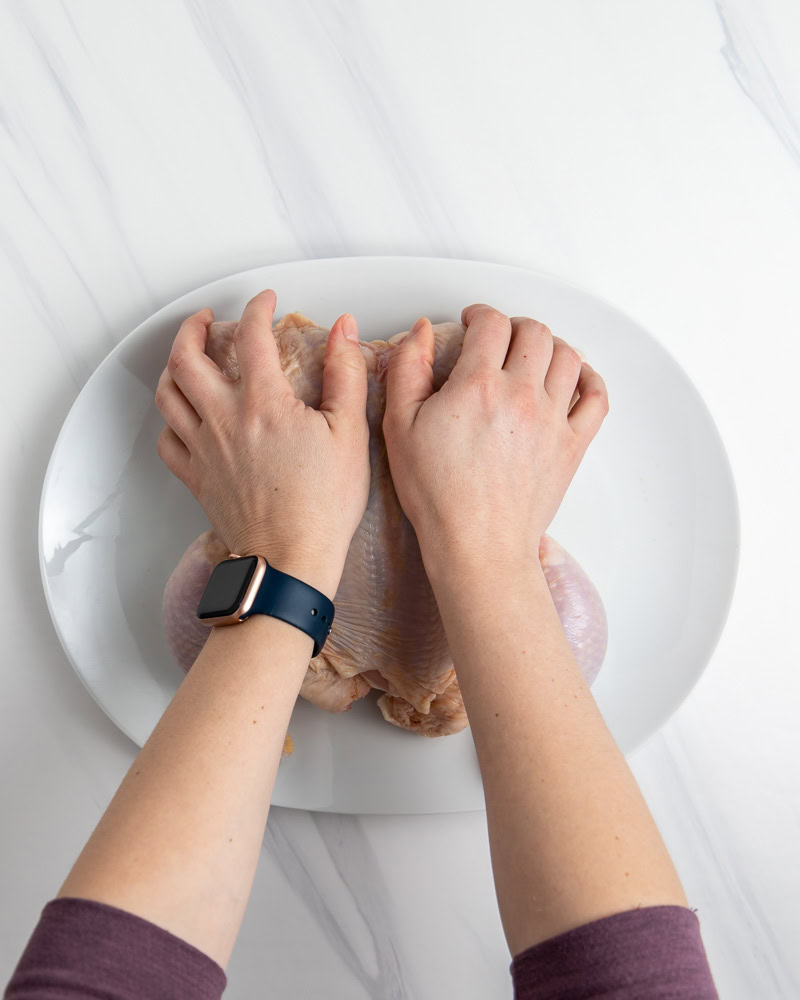 Flip the chicken so that the breast side is up, then apply medium pressure on either side of the breast bone with the heels of your hands to flatten the breasts down. The breast bone should crack and allow the chicken to rest more flatly on the cutting board.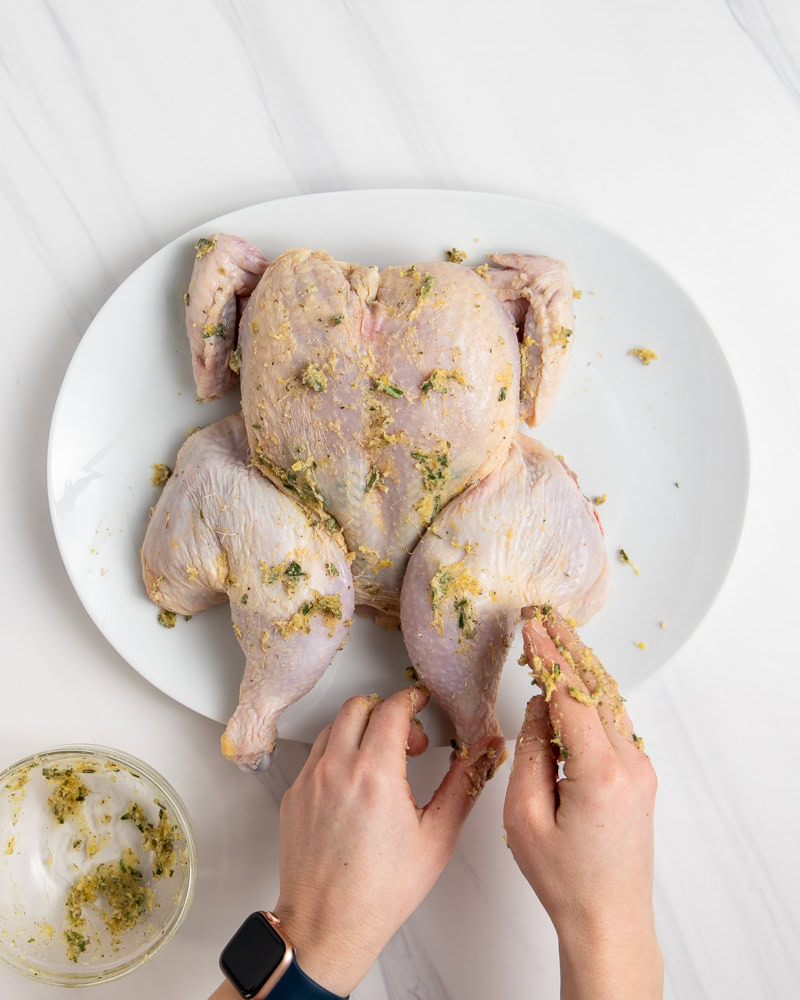 Finally, you'll need to rotate the drumstick bones to expose the entirety of the chicken thigh, allowing the chicken to rest even flatter. Wedge about half of the compound butter under the skin of the chicken, then rub the rest over the skin. Since the compound butter has salt, you don't need to season the skin separately.
I turned this into a pretty incredible sandwich too…there's no separate recipe for this. Just add some arugula on top of toasted bread, top it with the sliced up chicken and grapes, then the key to bringing it all together is a nice thick layer of goat cheese mixed with sweet white wine vinegar and lemon pepper seasoning. Enjoy!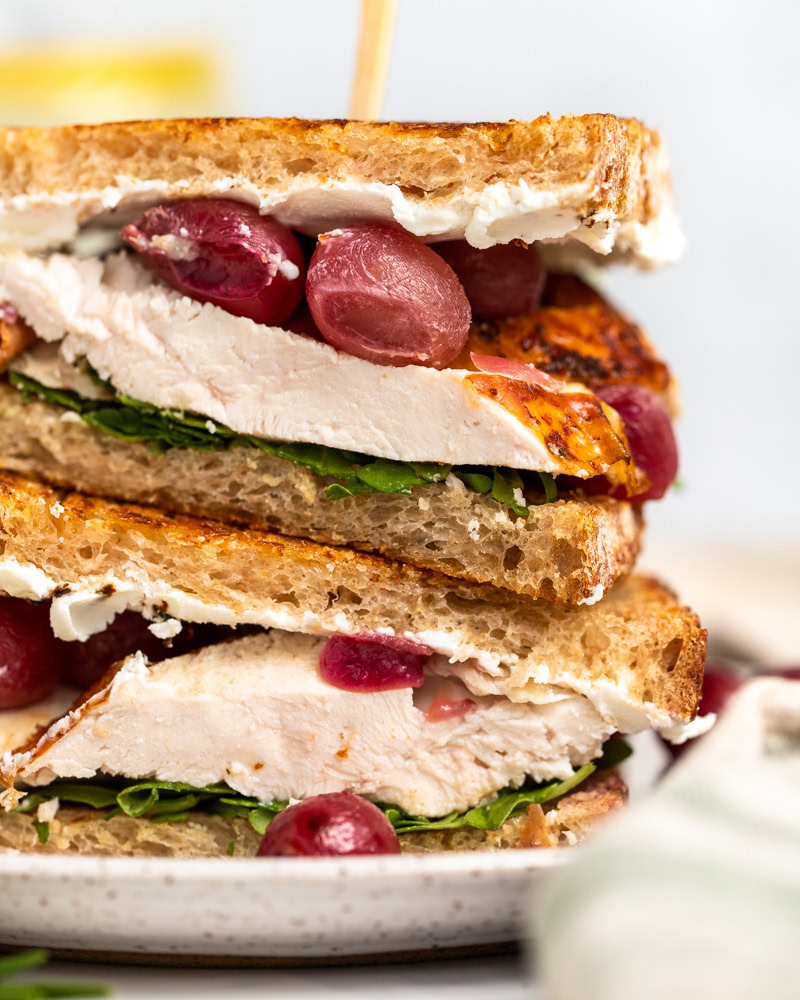 Shop for this Recipe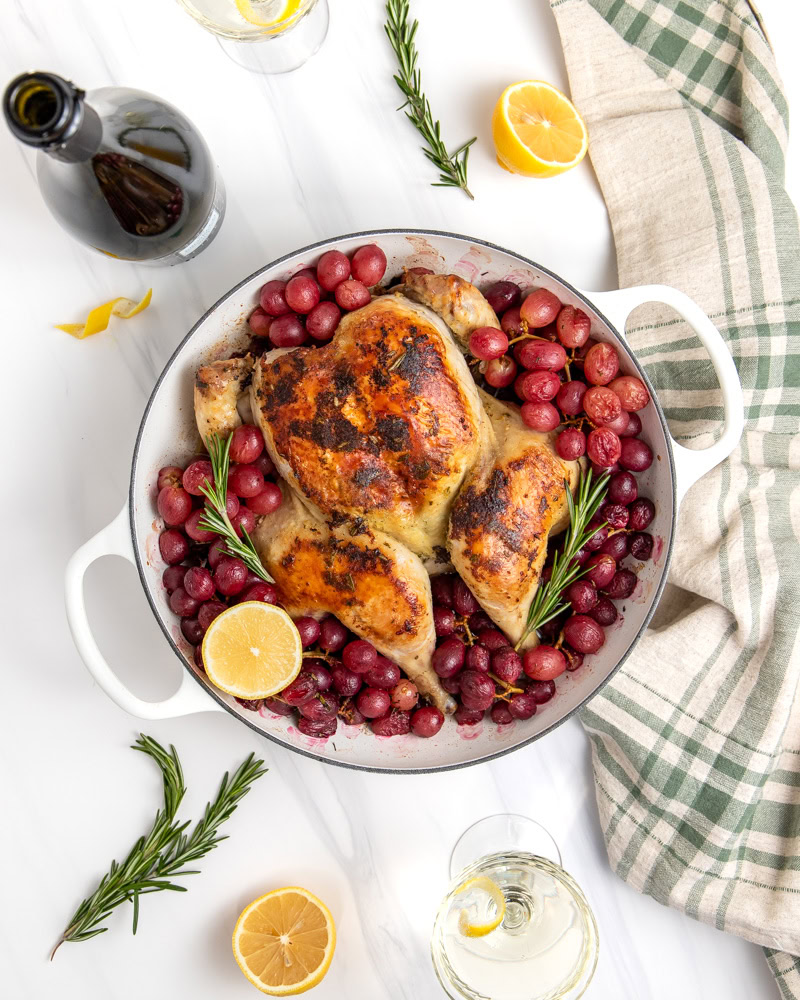 Recipe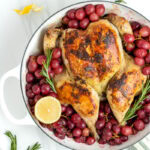 Rosemary Roasted Spatchcock Chicken and Grapes
Prep Time 20 minutes
Cook Time 45 minutes
Total Time 1 hour 5 minutes
Servings 10 servings
Calories per serving 334 kcal
Ingredients
4 lb whole chicken
1 1/2 lb grapes on the stem
1 tbsp olive oil (0.5 oz)
2 tsp balsamic vinegar
1/2 tsp fresh chopped rosemary
1/4 tsp salt
Herbed Butter
1 lemon zested
2 tbsp salted butter, room temperature (1 oz)
1 tbsp fresh chopped rosemary
2 cloves garlic grated
1 tsp salt
Instructions
Place a cast iron skillet in the oven and pre-heat the oven to 500 degrees.

Mix herbed butter ingredients and set aside.

To spatchcock the chicken, first place the chicken on a cutting board, breast side down.

Using a pair of kitchen shears, cut along one side of the backbone starting at the thigh end. Repeat process on other side of the backbone.

Flip the chicken to the other side so that it is now breast side up. Spread the chicken open so that the thighs and wings are out to the side (no longer under the chicken). Using some force behind your hands, press down on the breast bone to flatten the chicken out.

Stuff about 1/2 of the herbed butter under the skin of the chicken. You may need to cut a small hole in the skin around where the thigh is touching the breast to get some under there. Rub the remaining butter on the skin of the chicken. Tuck the wing-tips under the chicken breast to prevent them from burning.

Carefully remove the pre-heated cast iron skillet from the oven. Place the chicken, breast side down, into the skillet and place in the oven, then lower the oven temperature to 450 degrees. Roast for 20 minutes.

As the chicken cooks, toss the grapes (leaving as many on the stem as possible) with olive oil, balsamic vinegar, rosemary, lemon pepper seasoning, and salt.

Remove chicken from oven after roasting for 20 minutes breast side down. Using 2 pairs of tongs, carefully flip the chicken so that it is breast side up in the skillet. Add grapes to the skillet around the chicken (not on top).

Roast for another 15-20 minutes or until juices run clear when pierced between the breast and leg (internal temperature should reach 165 degrees when thermometer is inserted into the thickest part of the thigh meat, avoiding bone).

Remove chicken to a cutting board and allow chicken to rest and cool for at least 5-10 minutes before cutting for serving.
Recipe Notes
The nutrition info for this recipe is approximate since I did not weigh the chicken yield after removing it from the bones.
Nutrition Facts
Rosemary Roasted Spatchcock Chicken and Grapes
Amount Per Serving
Calories 334 Calories from Fat 135
% Daily Value*
Fat 15g23%
Cholesterol 150mg50%
Sodium 138mg6%
Potassium 131mg4%
Carbohydrates 12g4%
Fiber 1g4%
Sugar 11g12%
Protein 37g74%
* Percent Daily Values are based on a 2000 calorie diet.
I didn't create a My Fitness Pal barcode for this recipe since it's really a ball park guesstimate of what your chicken yield will be after taking it off the bone.