Happy Mother's Day!  Feel free to skip the flowers this year and bring your mom this cake instead 🙂  I mean, seriously, it's SO DAMN GOOD.  And it's not nearly as complicated as "rose pistachio cake" might sound.  Just so you know, the first time I showed someone a picture of this gorgeous creation, I was told that this cake belongs "next to a bubble bath in a hotel room."  Which screams Valentine's Day more than Mother's Day, but I was impatient to share this recipe and I think the light floral edge and pretty rose petals make it just as perfect for Mom today.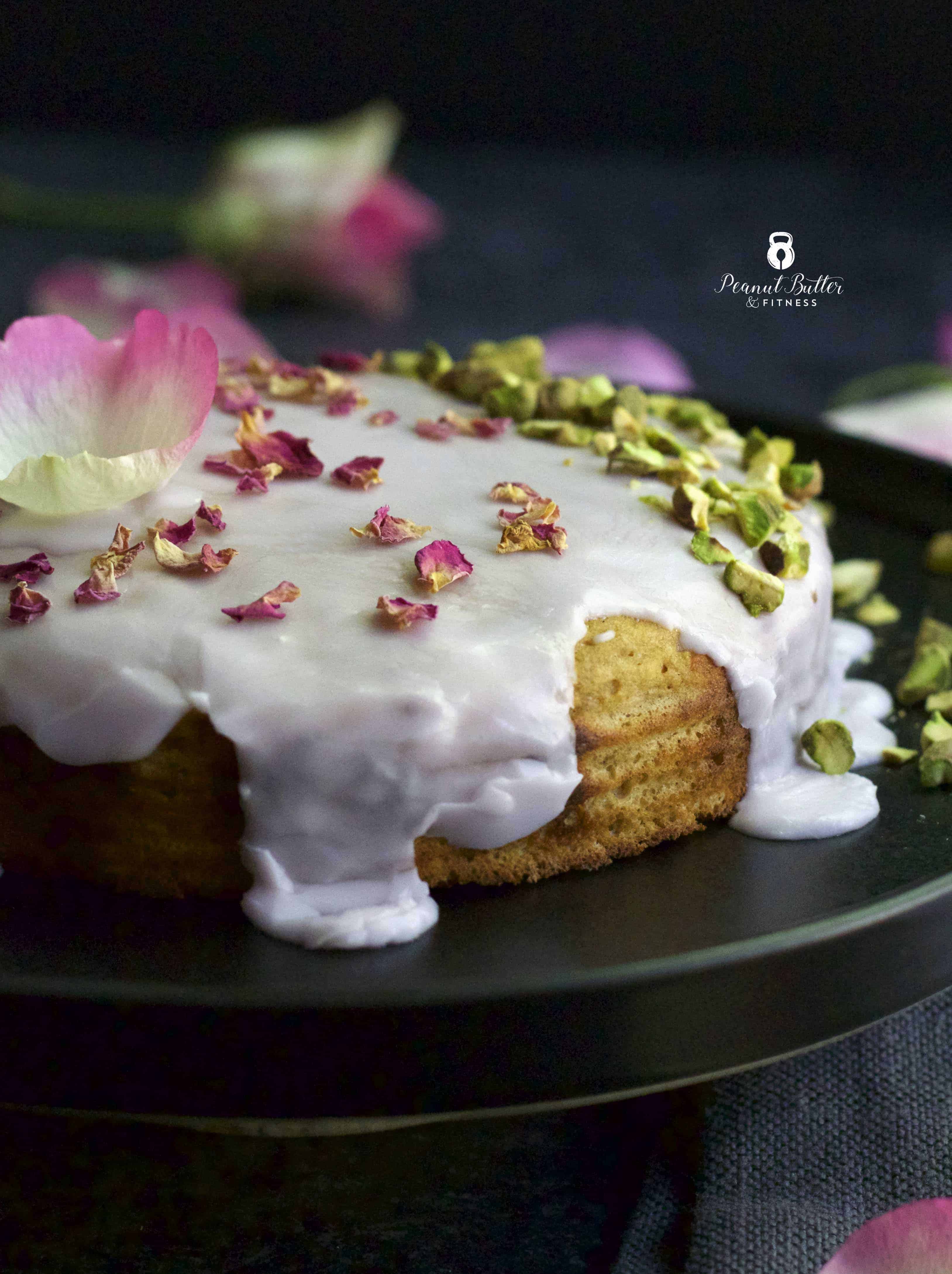 I think I may have perfected my protein cake recipe with this one. It's perfectly moist and spongy…and if you let it sit out with the icing on it, the icing will start to absorb into the cake and it makes for this layer of extra moist sweet cake where the icing hit it.  Sounds weird, but trust me, it's awesome.  Now, I do have a confession to make about this cake: it actually started out as a failed donut recipe :/  Turns out, parchment paper is this cake's best friend when it comes to baking, and I'm so glad I didn't give up on the recipe just because of that.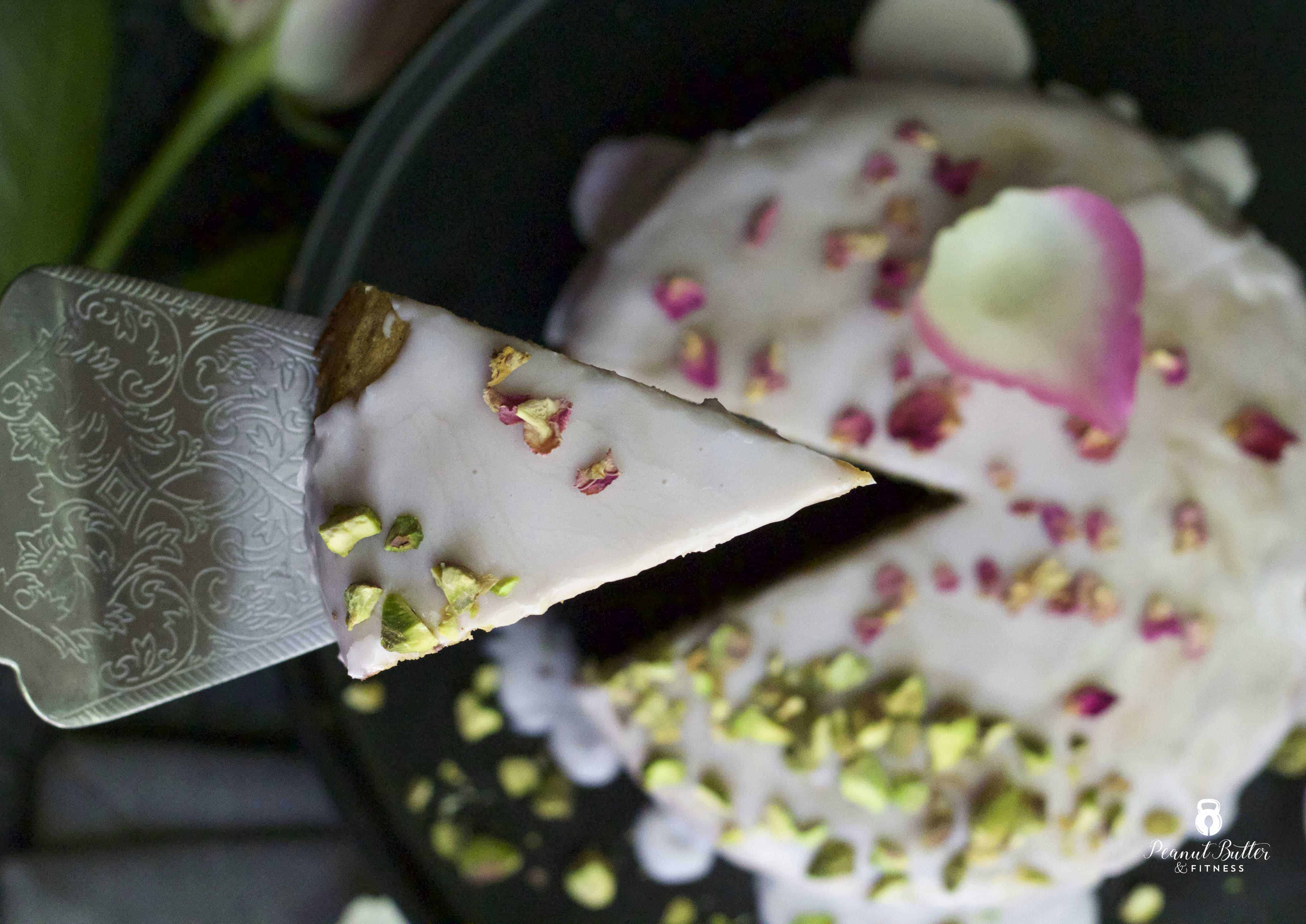 Oh, and I think you might laugh at me when you hear where I came up with the idea for this rose pistachio cake.  Because I'll admit, it's a bit outside my comfort zone and I was going out on a limb making this flavor combo.  Anywho, I saw it on Kid's Baking Championship on Food Network and decided it would be the perfect Valentine's Day treat.  You could even bake some crushed pistachios inside the cake, but I personally like them on top better.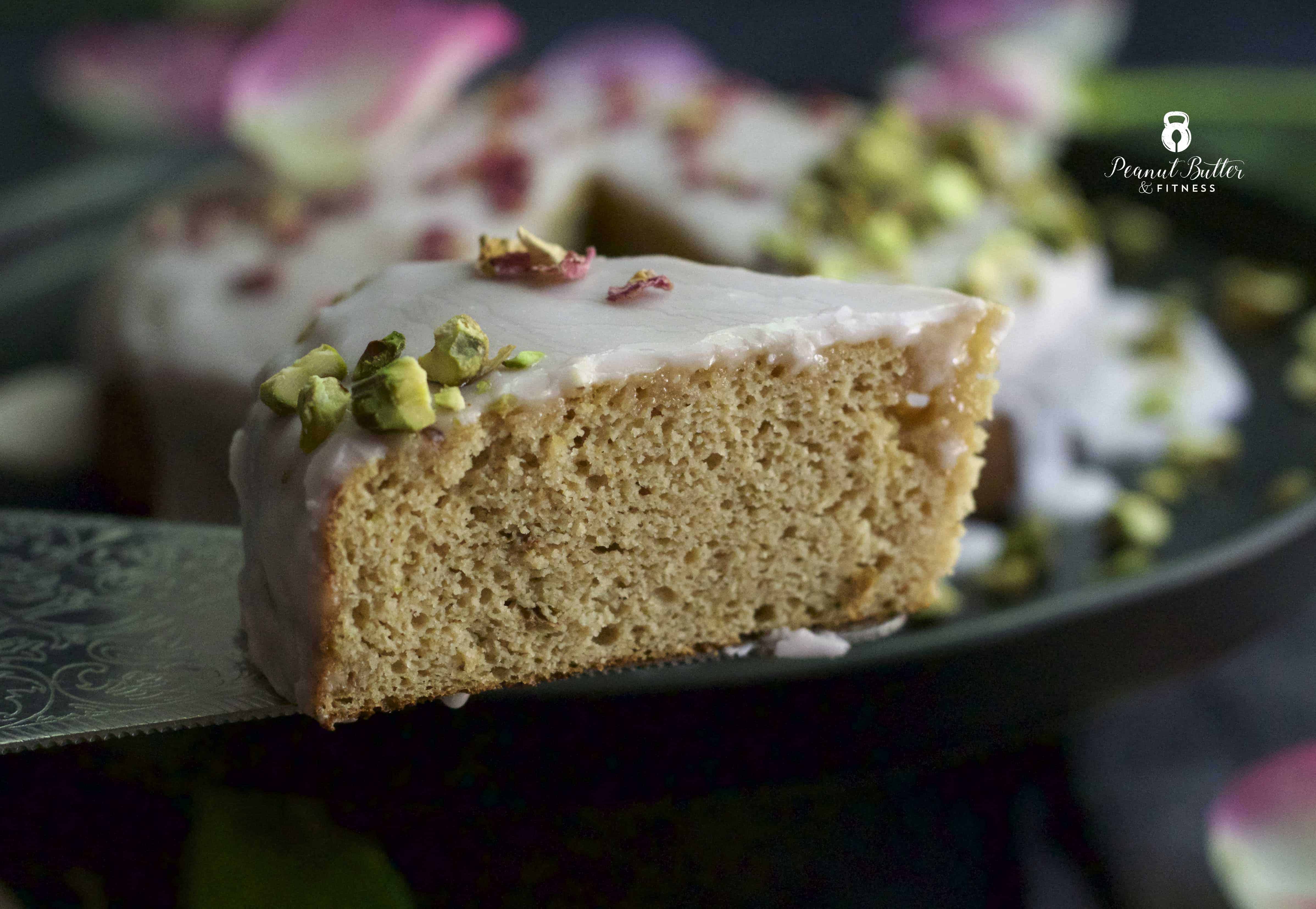 Since this was my first time working with rose water and dried rose petals (both of which I found at World Market, btw), I made sure to be really careful with how much I added to the icing because the floral-ness of it can quickly overpower the cake.  So I really just used a touch of it in the icing and it was plenty to achieve the flavor I was looking for.  I recommend starting out with just a tiny bit, then adding more if you think you need it.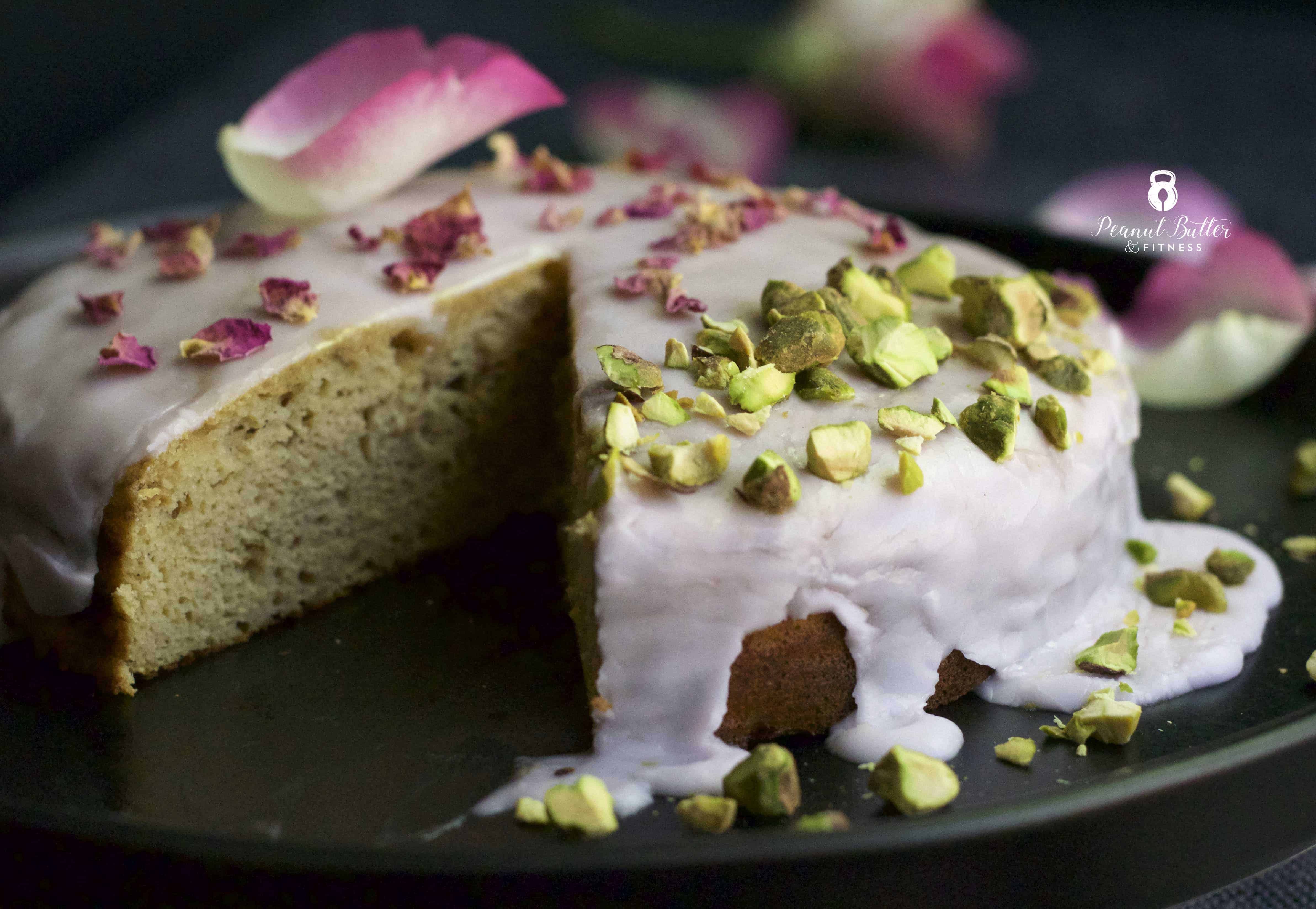 So, the cake itself is paleo and you could easily make the entire recipe paleo by swapping the frosting out with the following ingredients, whisked together until fluffy:
1/2 cup coconut milk solids
1/2 tbsp honey
1/8 tsp rosewater
Check out how I used coconut frosting in this recipe for more details.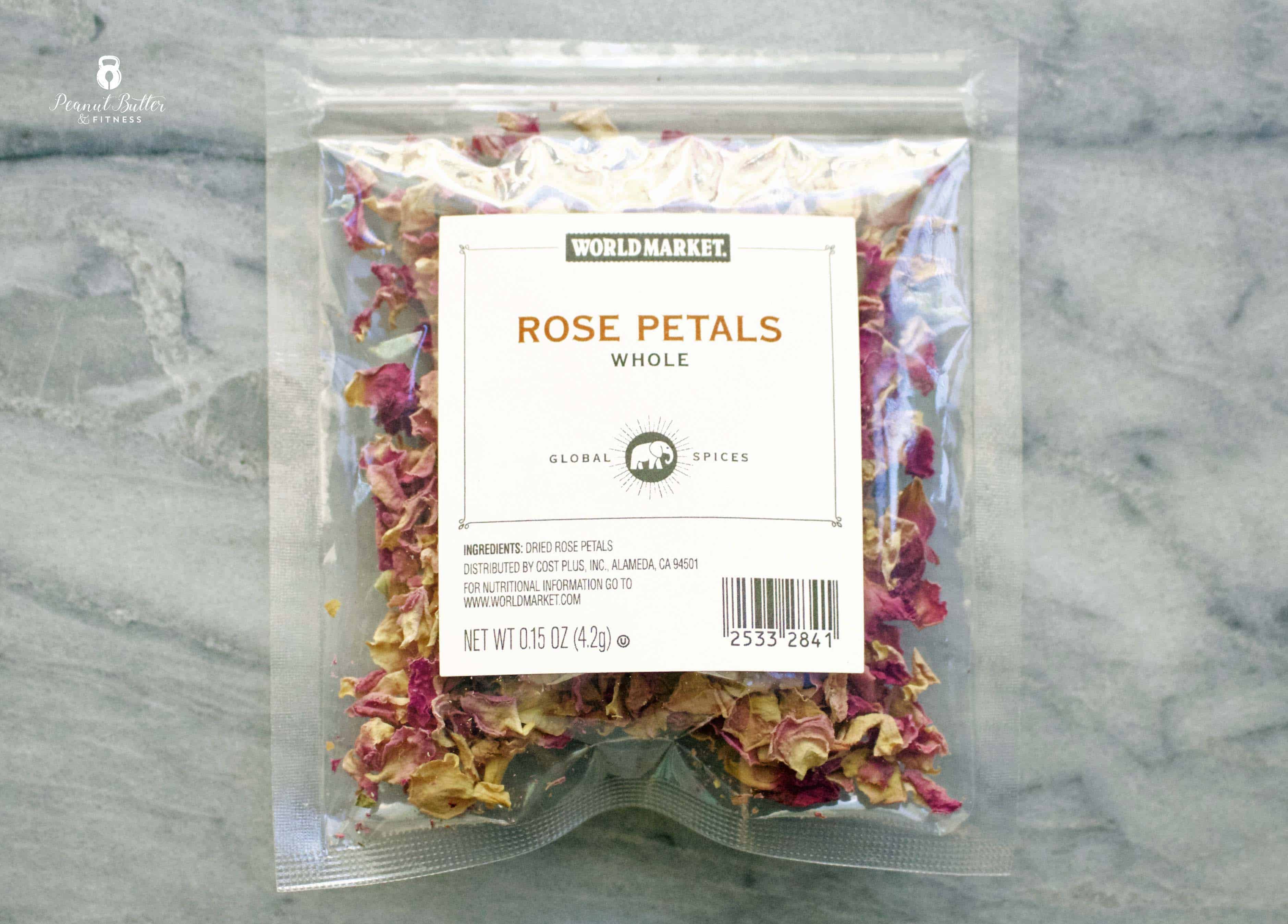 I added the tiniest bit of red food coloring to my icing (seriously, less than a drop) to give it this barely pink color.  You can also extract your own "food coloring" from the rose petals if you really don't want to pick up some other food coloring…just soak a couple tablespoons of the dried rose petals in a couple tablespoons of water for an hour or two.  Use some of the rose colored water to replace the coconut milk/water in the icing recipe.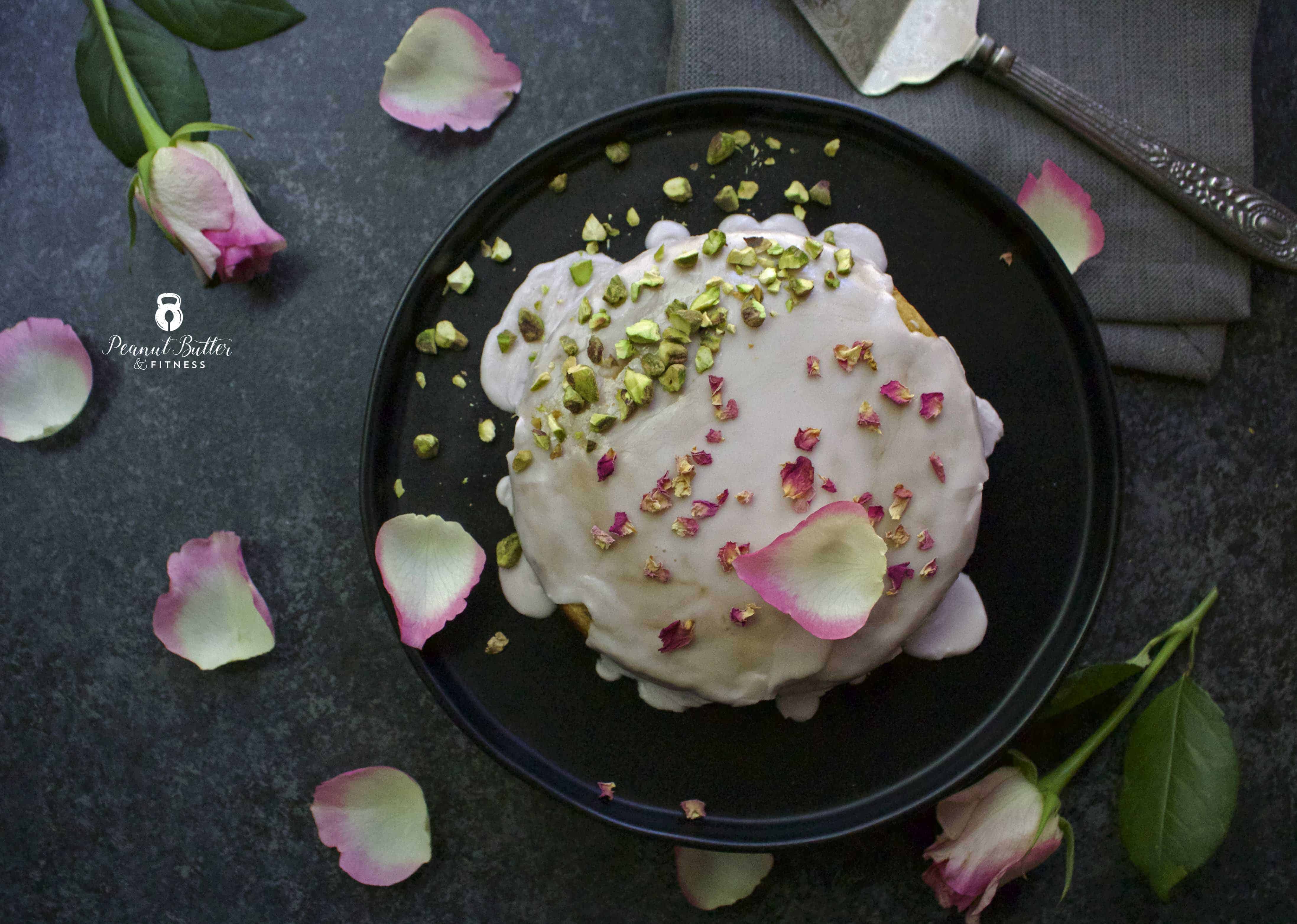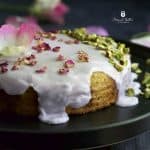 Rose Pistachio Protein Cake
Prep Time 15 minutes
Cook Time 15 minutes
Total Time 30 minutes
Servings 6 slices
Calories per serving 167 kcal
Ingredients
Donuts
1 scoop Jay Robb Vanilla Whey Protein
1/4 cup almond flour
3 tbsp coconut flour
2 tbsp coconut sugar
1 tsp dried rose petals chopped
1/2 tsp baking powder
1/4 tsp baking soda
Pinch of cardamom
1/2 cup unsweetened applesauce
1/4 cup coconut milk
1 egg
1 egg white
1/2 tsp vanilla extract
Icing
1/2 cup powdered sugar
1/2 tbsp coconut milk or water
1/8 tsp rose water (you can add more if desired, taste first)
2 tbsp chopped pistachios for topping
Extra rose petals for topping
Instructions
Pre-heat oven to 350 degrees. Lightly grease the bottom and sides of a 7" springform pan, then line bottom and sides with parchment paper.

Mix all dry cake ingredients, then add wet ingredients and mix until just combined.

Bake at 350 degrees for 15-18 minutes or until a toothpick inserted into the center of the cake comes out clean. Remove cake from pan and cool on a wire rack.

While cake cools, whisk powdered sugar, coconut milk and rose water until smooth (add just a touch of natural red food coloring if desired). Drizzle over cooled cake and sprinkle with chopped pistachios and dried rose petals. Let the icing rest and set before serving (stick it in the freezer for 2-3 minutes to help set the icing if desired).
Nutrition Facts
Rose Pistachio Protein Cake
Amount Per Serving
Calories 167 Calories from Fat 54
% Daily Value*
Fat 6g9%
Cholesterol 31mg10%
Sodium 132mg6%
Potassium 127mg4%
Carbohydrates 20g7%
Fiber 2g8%
Sugar 16g18%
Protein 8g16%
* Percent Daily Values are based on a 2000 calorie diet.