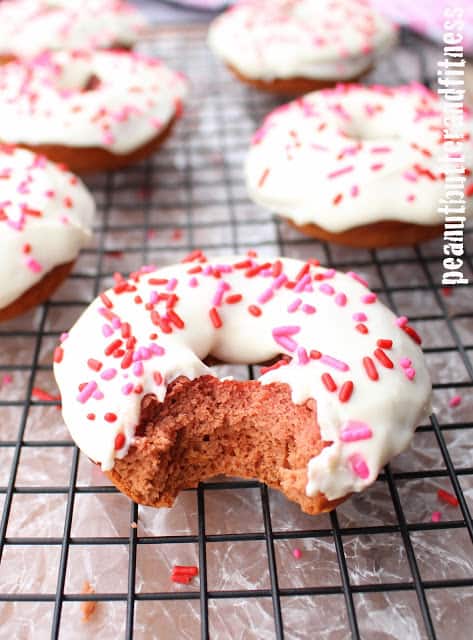 One more pretty in pink Valentine's Day recipe before I head to Tokyo tonight 🙂 What's better than some donuts that you don't have to feel bad about?  Or that you can use as a pre-workout snack?  Hmmm??  Well, maybe some
Red Velvet Protein Cheesecake
.  I've been snacking on those all week!  But then there are these donuts…I gotta say, the cream cheese protein frosting is on point with these.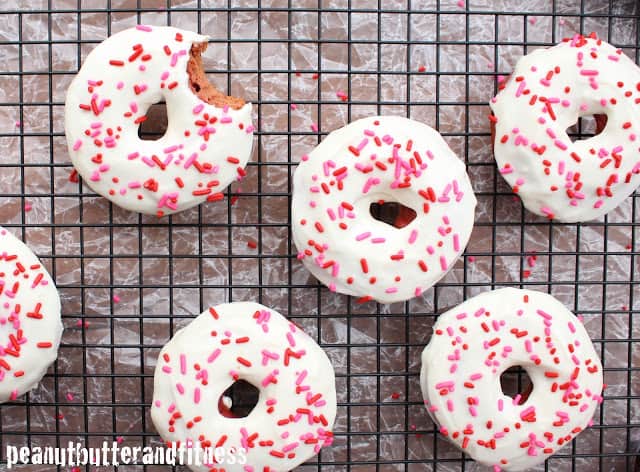 Make sure you add some sprinkles because donuts are always more fun with sprinkles.  Now, you may notice that the donut batter is nice and red velvet-y looking, but when they bake they lose some of that vibrant color.  If you really want that deep red, add food coloring.  I used beet root powder here, but don't just add extra to get the right color – it will dry out the donuts!  It can be kind of a moisture sucker but is a good alternative to artificial dyes and coloring if you don't want to use that stuff.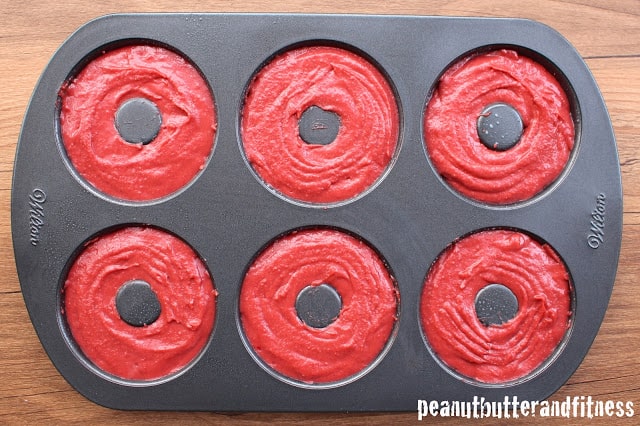 I got my donut pan on Amazon for $9.99 and it works like a dream!  Pair up your donuts with some almond milk or coffee and you will be a happy camper 🙂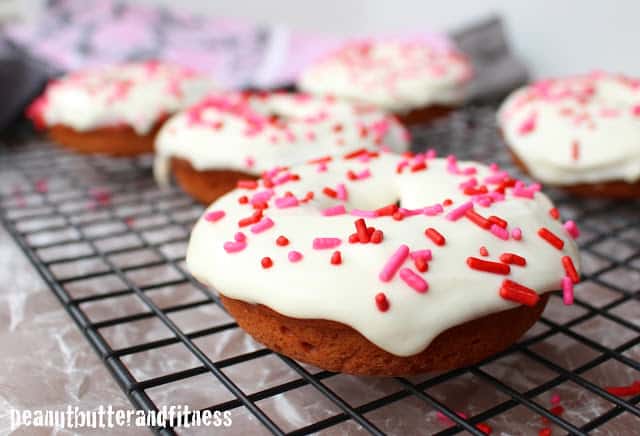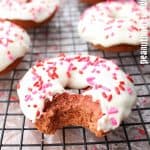 Red Velvet Protein Donuts
Prep Time 15 minutes
Cook Time 12 minutes
Total Time 27 minutes
Servings 6 donuts
Calories per serving 152 kcal
Ingredients
Frosting Ingredients:
1/4 cup 1/3 less fat cream cheese room temperature
1/4 cup unsweetened vanilla almond milk
Instructions
Pre-heat oven to 375 degrees.  Spray a donut pan with non-stick cooking spray and set aside.

Combine all dry donut ingredients in a bowl.  Add almond milk, Greek yogurt, egg, apple cider vinegar, maple syrup and vanilla extract and mix until smooth.  Add melted peanut butter and mix until smooth again.

Spoon donut batter into donut pan evenly.

Bake at 375 degrees for 10-12 minutes or until a toothpick inserted into a donut comes out mostly clean.  Remove from donut pan immediately and flip onto a cooling rack.

Whisk together casein protein powder and almond milk until smooth, then add cream cheese and continue to whisk until smooth.

Once donuts have cooled, dip into frosting or spread frosting on top of donuts.  Top with sprinkles if desired.
Nutrition Facts
Red Velvet Protein Donuts
Amount Per Serving
Calories 152 Calories from Fat 54
% Daily Value*
Fat 6g9%
Cholesterol 43mg14%
Sodium 195mg8%
Potassium 14mg0%
Carbohydrates 10g3%
Fiber 2g8%
Sugar 5g6%
Protein 16g32%
* Percent Daily Values are based on a 2000 calorie diet.