It's the new year and I know lots of folks will be kicking it off with healthy new resolutions. (I'll be refocusing my health and fitness goals too.) One of the products I've seen popping up a lot on grocery store shelves (and Amazon) is protein oatmeal, so I put together this list to help you sort through the most popular options out there and pick out the one that's best for you!
Oh, and if you'd like to try some of these brands for FREE, go check out my Instagram page (@peanutbutterandfitness) a little later this morning to find out how to win! My pantry is quite full of protein oats right now, so I'll be doing a GIVEAWAY of 6 or 7 of the top brands you see here (depending how much I can stuff into the shipping box 🙂 ).
Above each brand photo you'll see a clickable link to find it on Amazon and below each brand photo you'll see a little spreadsheet snippet that includes my rating of taste/texture, plus the macro breakdown, price, and ingredients list. You can click on the little snippets to see them larger or you can click here to see the entire spreadsheet at once.
Here's a quick rundown of different colors you'll see in the charts below:
Yellow (on the macro ratio) indicates carb content.
Blue (on the macro ratio) indicates protein content.
Green (on the macro ratio) indicates fat content.
I primarily ranked the brands by taste and texture, but if there was a tie, I gave the one with better macros the top spot. I recommend that you pull up the big spreadsheet yourself and narrow it down according to what matters most to you, whether that be taste, ingredients, macros, price, whatever…you get the idea. I hope this helps you in your own hunt for the best brand!
***Click the link above or any of the spreadsheet snippets below to view the full spreadsheet.***
1.Kodiak Cakes Oatmeal Unleashed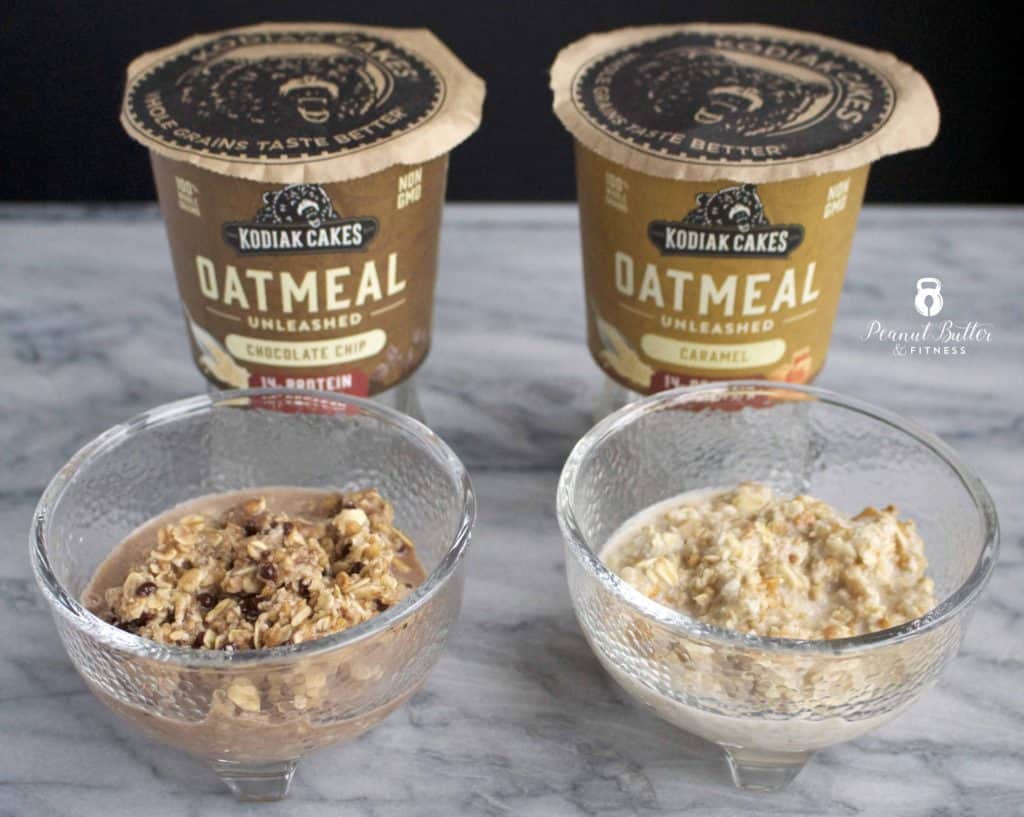 2. Ideal Oats Gluten-Free Protein Oatmeal To Go – Apple Cinnamon Strudel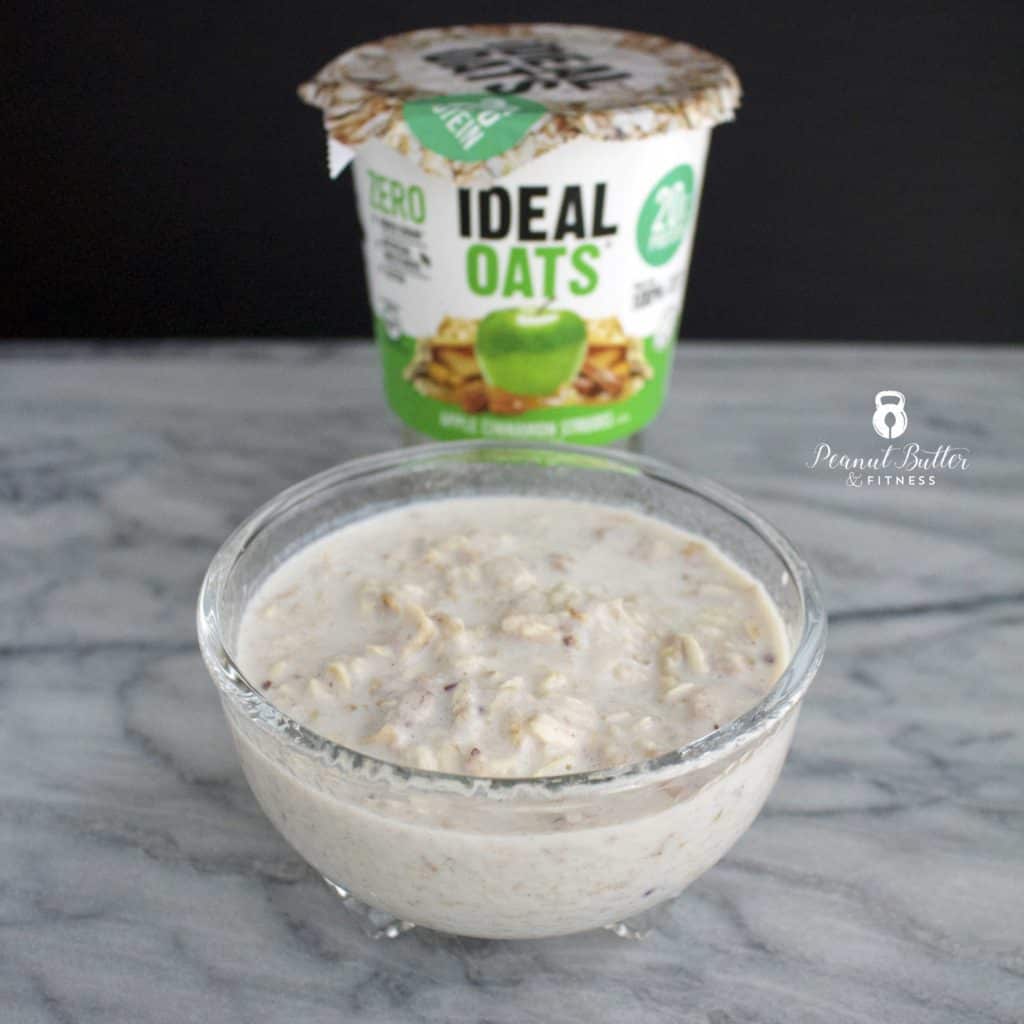 3. thinkThin Protein & Fiber Hot Oatmeal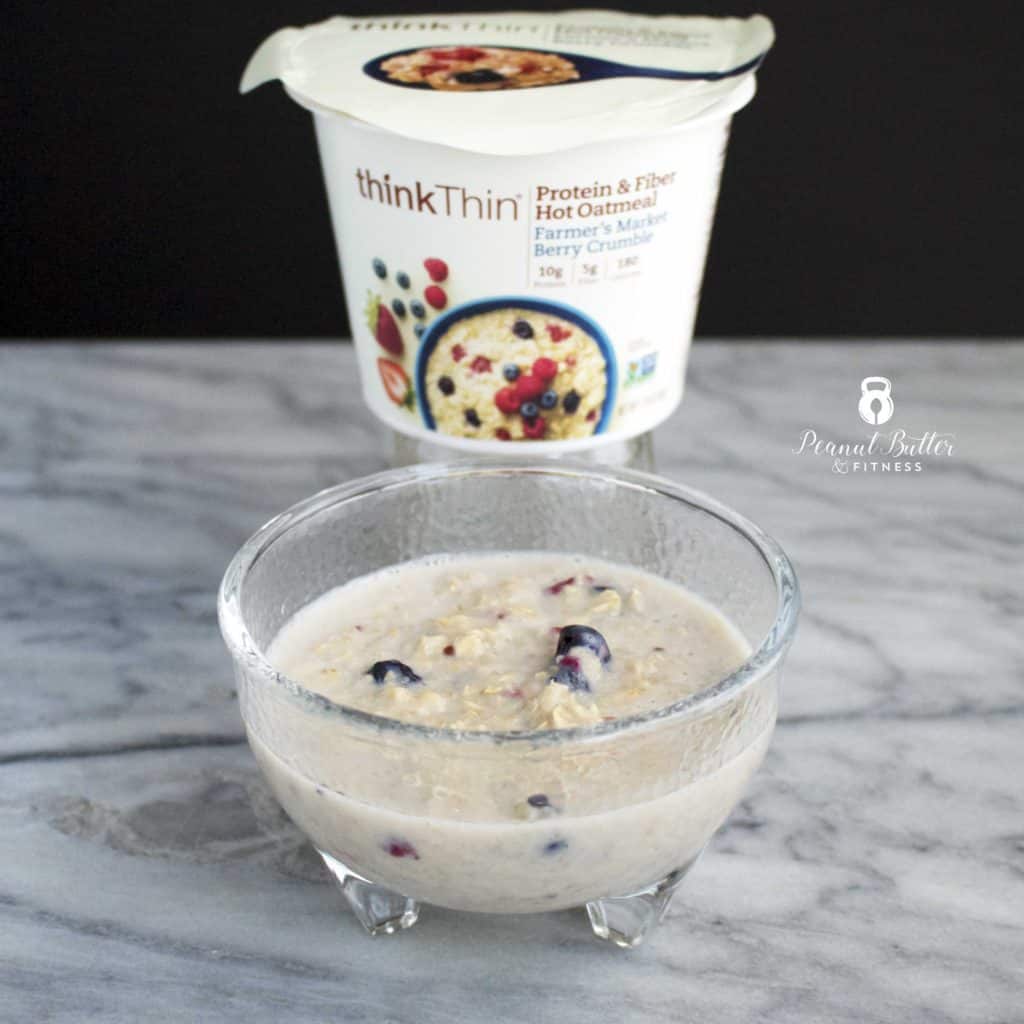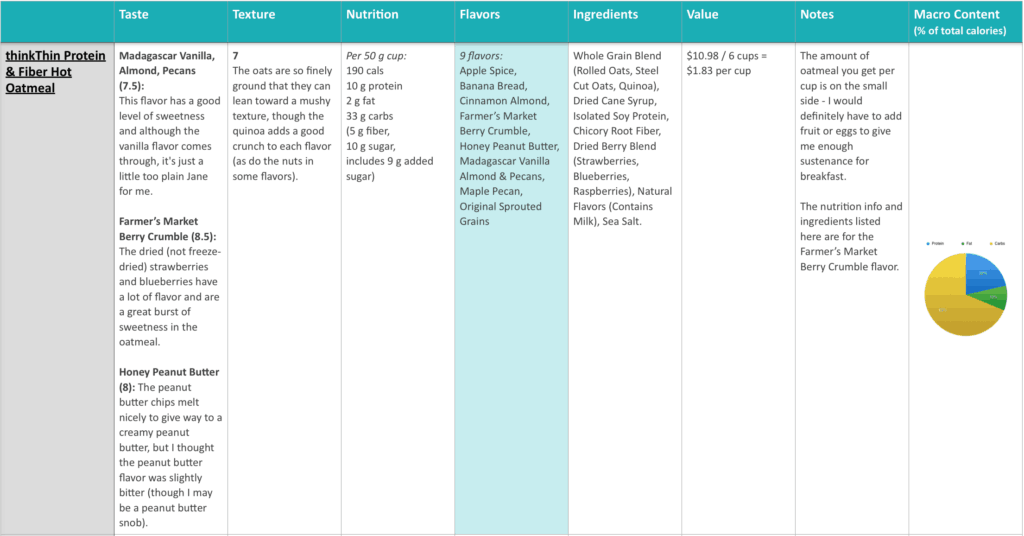 4. Earnest Eats Protein & Probiotic Oatmeal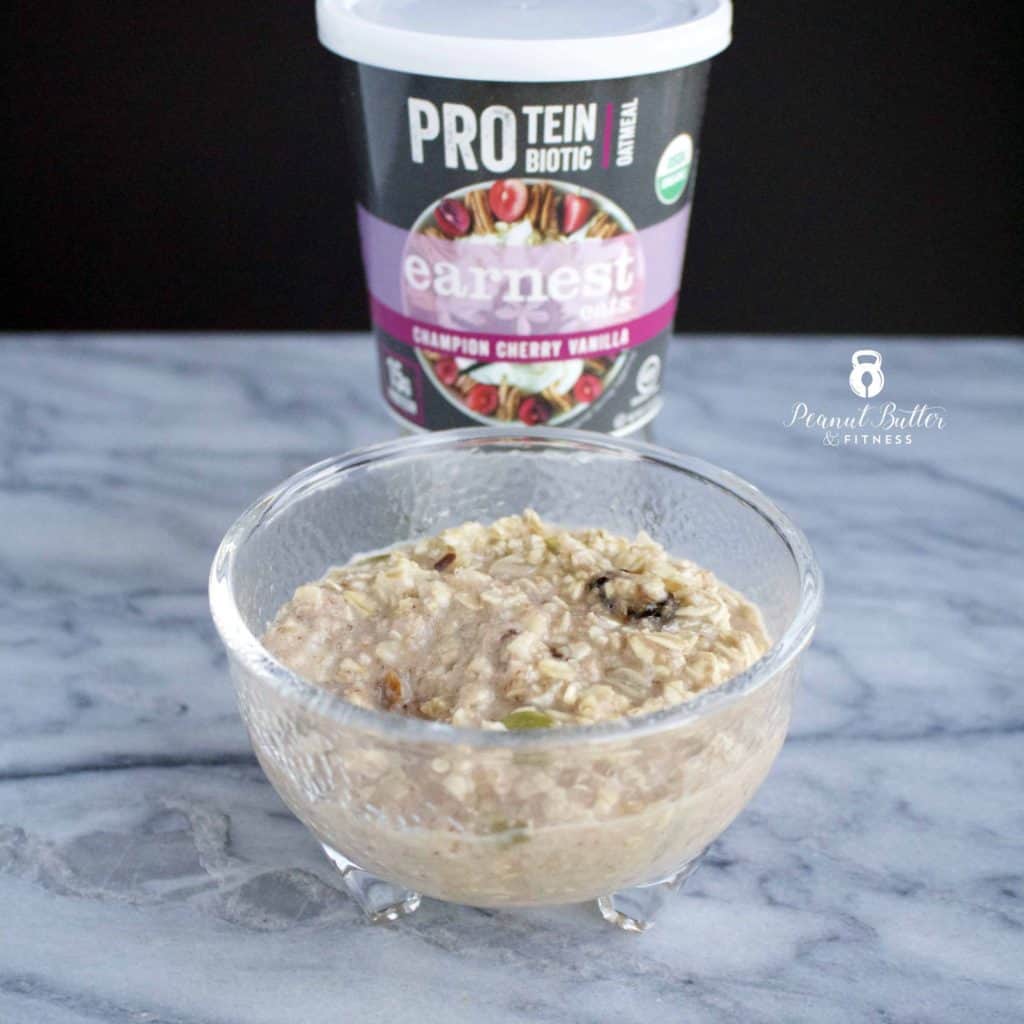 5. Quaker Select Starts Protein Instant Oatmeal – Cranberry Almond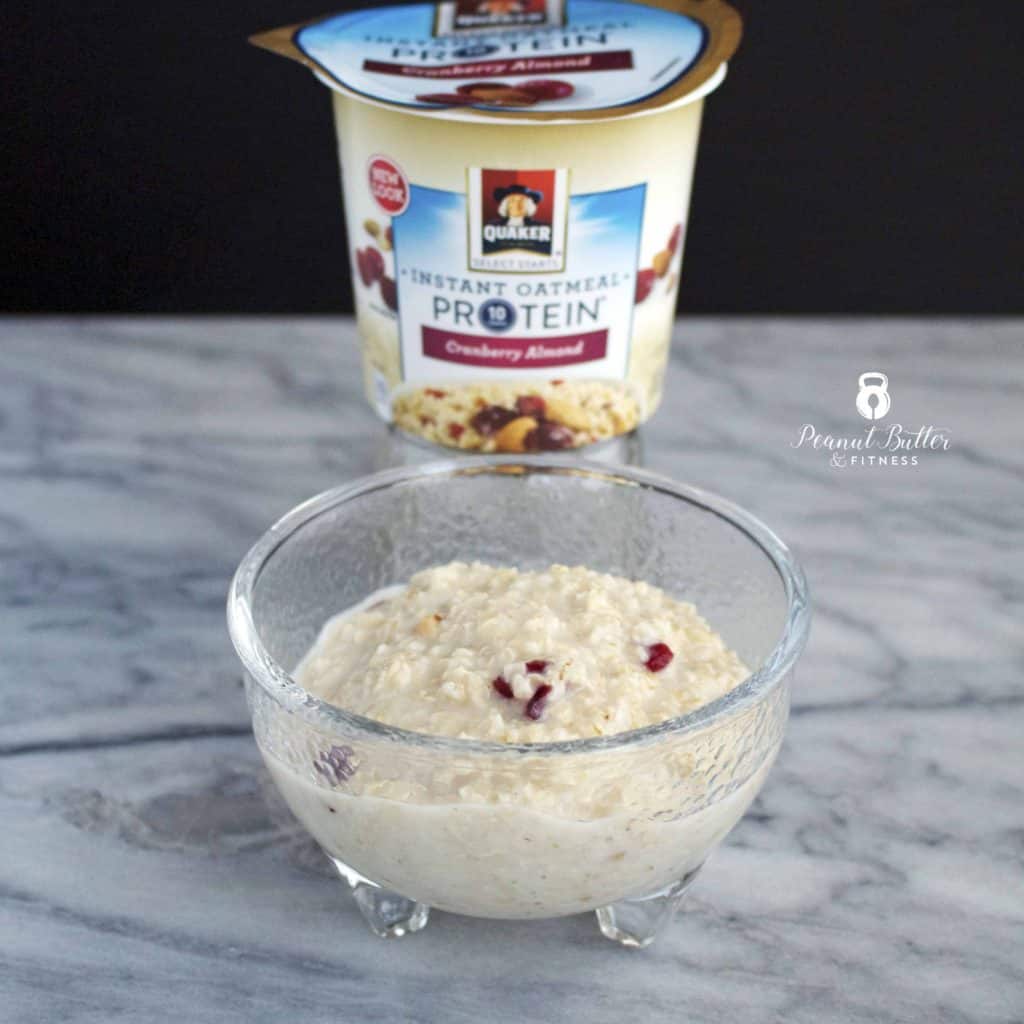 6. Powerful Oatmeal – Maple & Brown Sugar

7. Better Oats Steel Cut Instant Oatmeal with Flax Seeds – Maple & Brown Sugar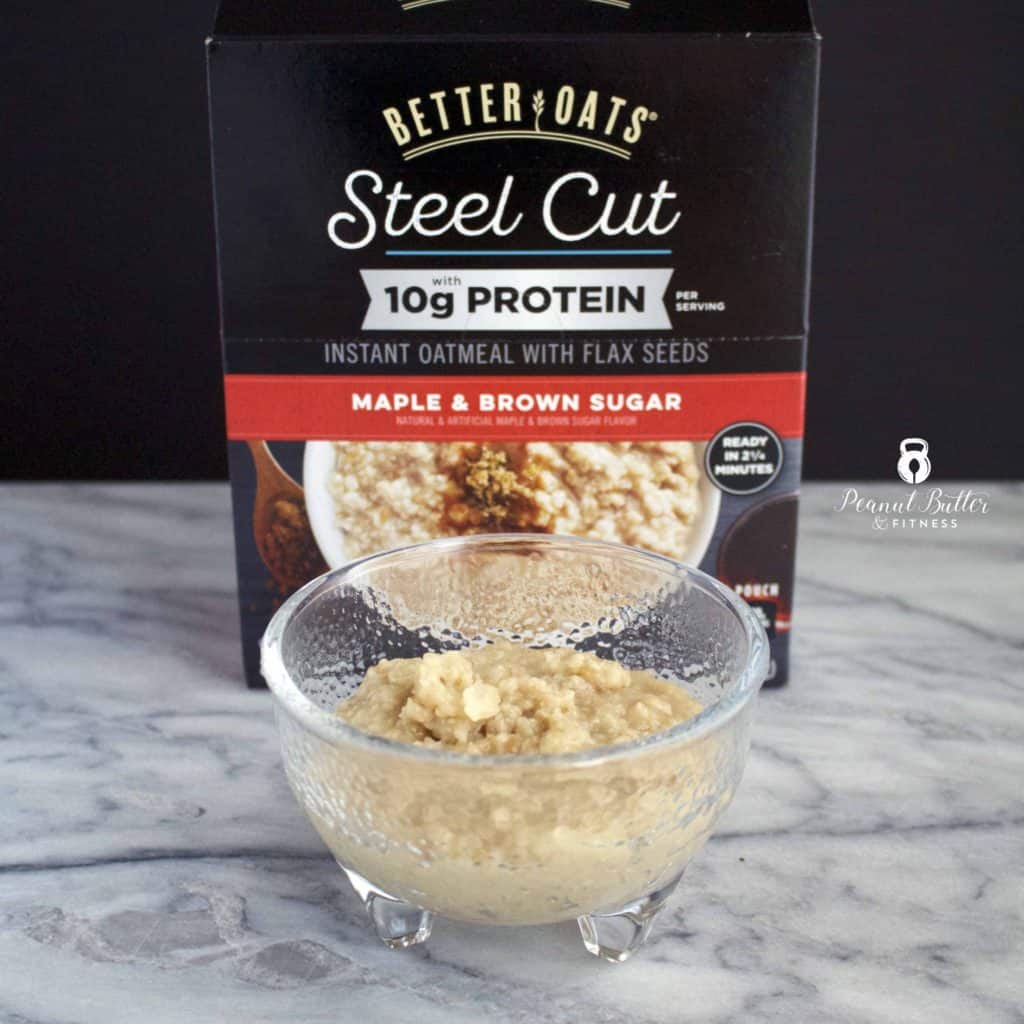 8. Picky Oats Performance Oatmeal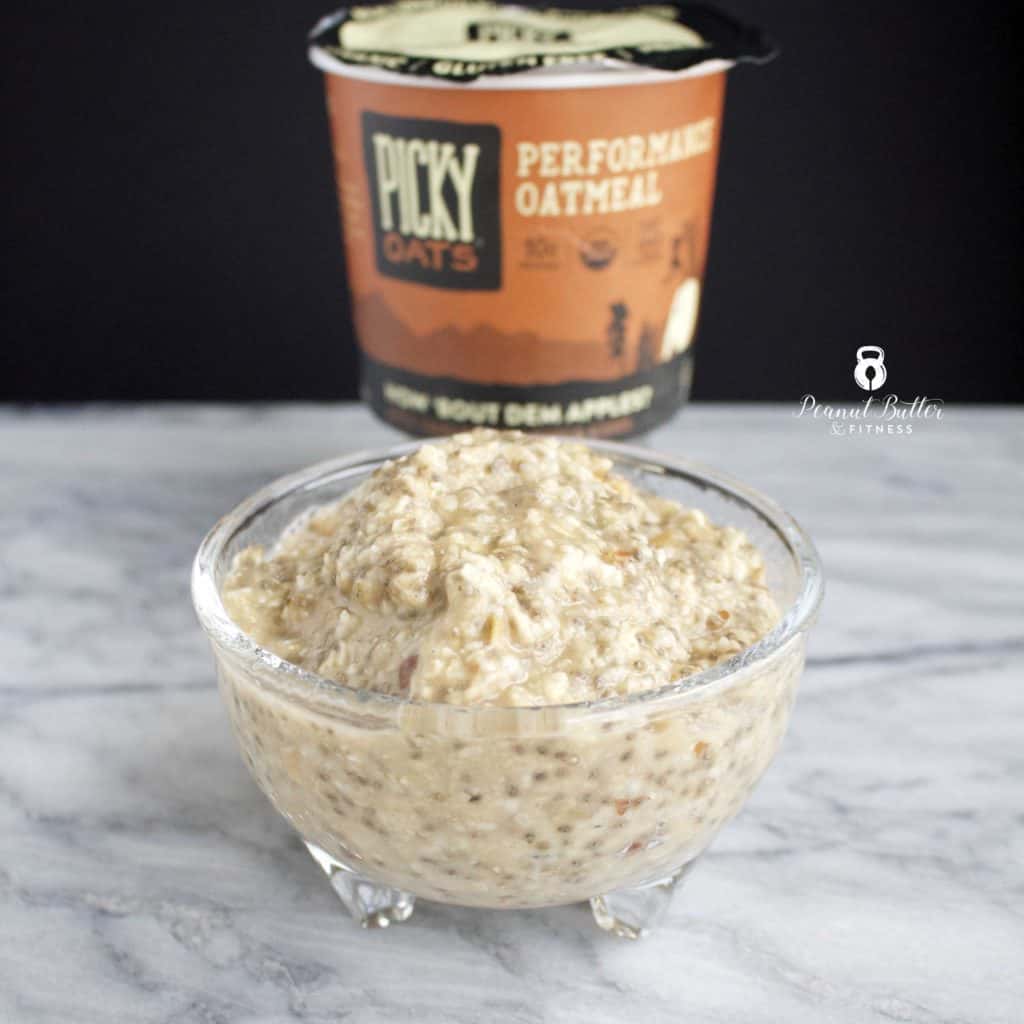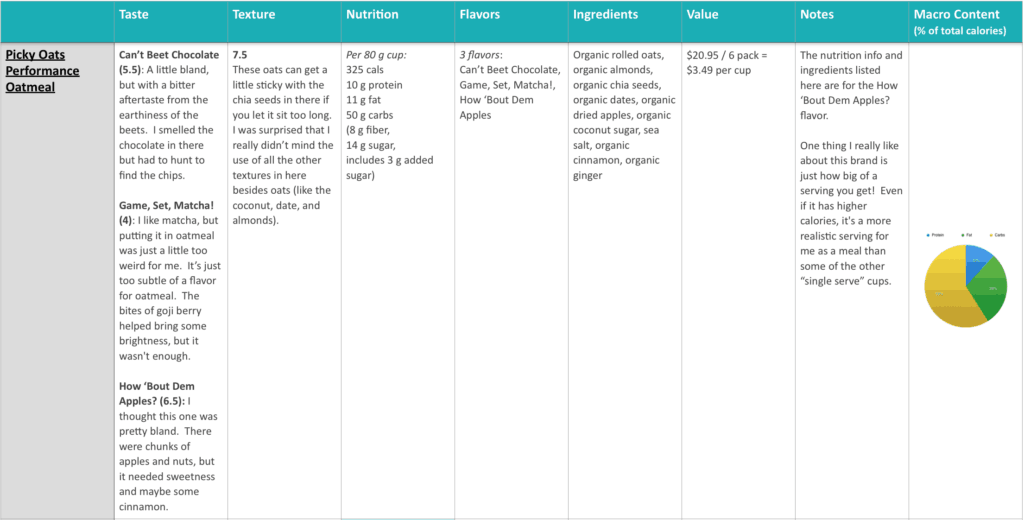 9. PEScience Select Protein 4 Oats – Apple Cinnamon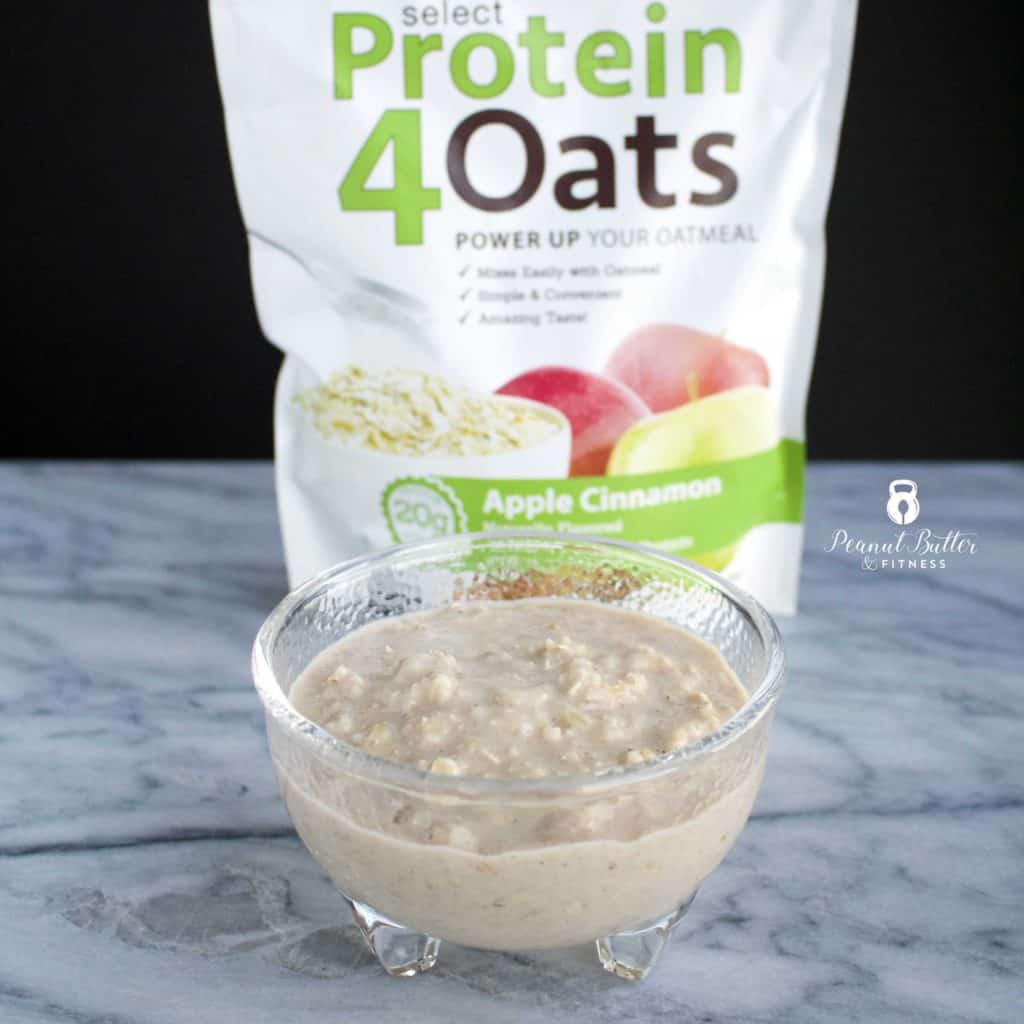 Here's the link to the full spreadsheet again!
Note: I was not provided any compensation or samples to endorse these products. The views expressed here are my own. The Amazon links contained in this post are affiliate links, meaning that if you buy anything from Amazon after clicking through these links, I'll earn a small commission (usually just a few pennies) from your purchase. Your purchase price will be the same whether you use my affiliate links or navigate to Amazon independently.