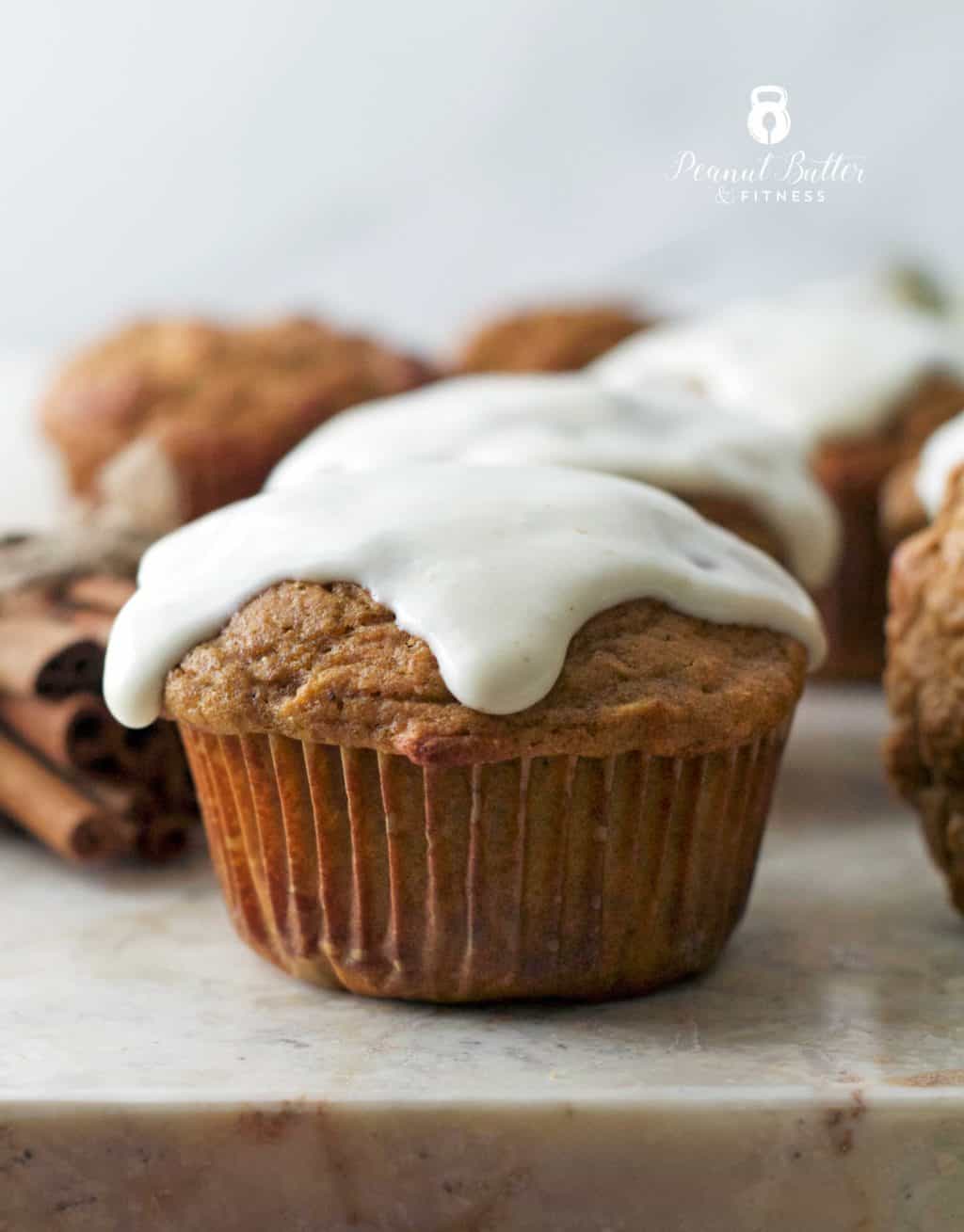 Now that Halloween is in the rear view mirror, we can really focus on Thanksgiving 🙂  That's particularly awesome for me because I love Thanksgiving.  It doesn't come with the same expectations as Christmas…it's all about the food, friends, family, and football.  I decided to start this month of thanks off right with these Pumpkin Protein Oatmeal Muffins with Cream Cheese Icing.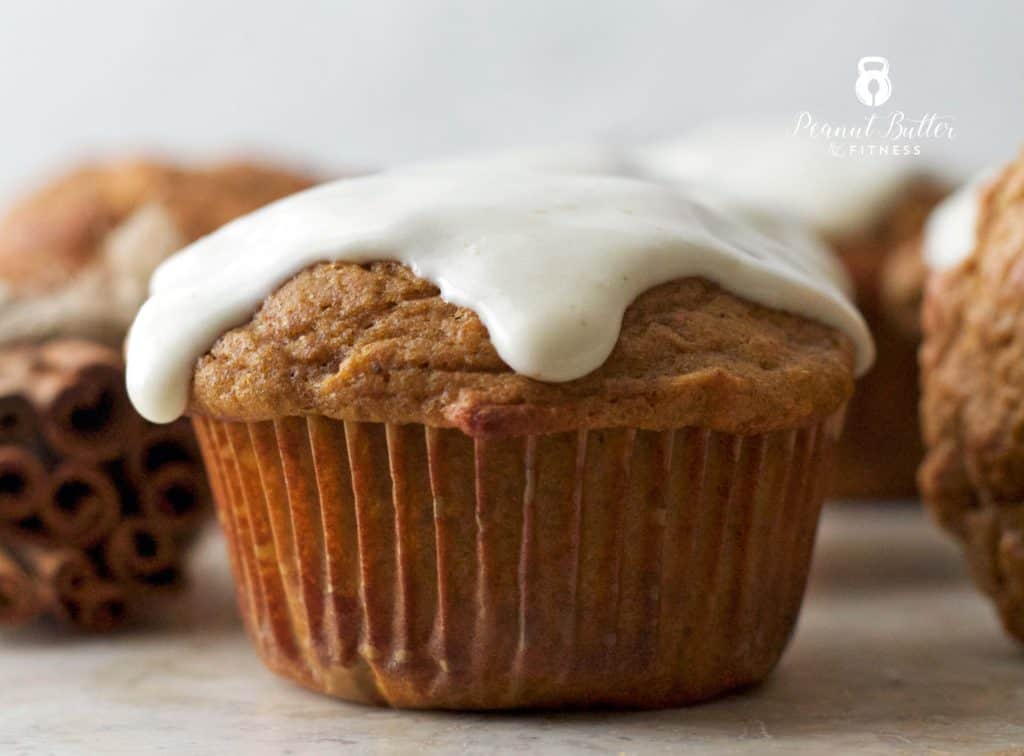 In the spirit of food celebrations, I decided to add a fun little ingredient to these muffins.  And no, it's not the protein, although that is also awesome.  I browned up some butter and used it in both the muffins and the cream cheese icing!  I love the nutty flavor that browned butter lends to just about any kind of recipe, but especially in sweets.  It makes these muffins extra addicting.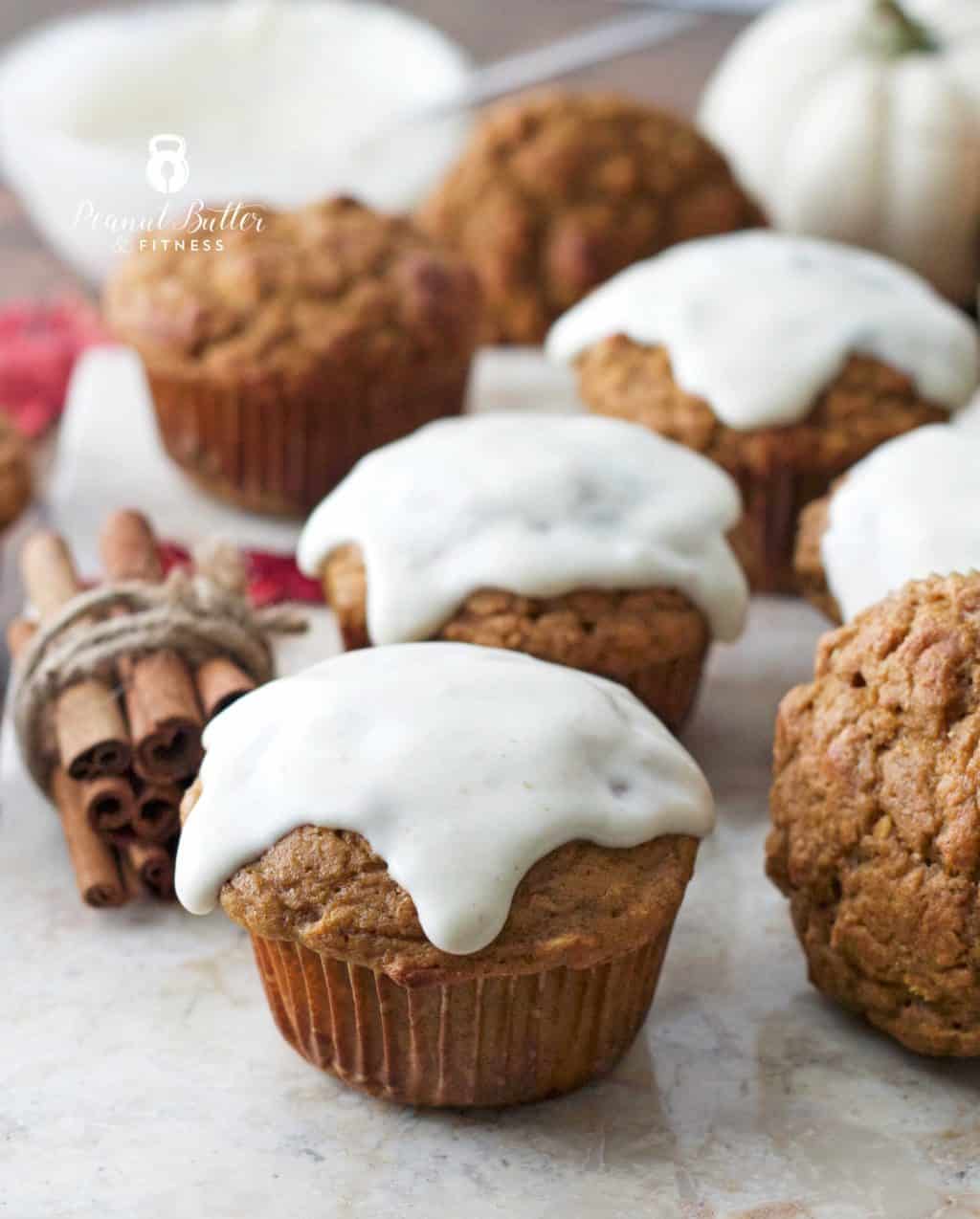 The inside of the muffins are nice and moist thanks to the combo of pumpkin and applesauce.  Now, excuse me while I go lick the icing out of my mixing bowl…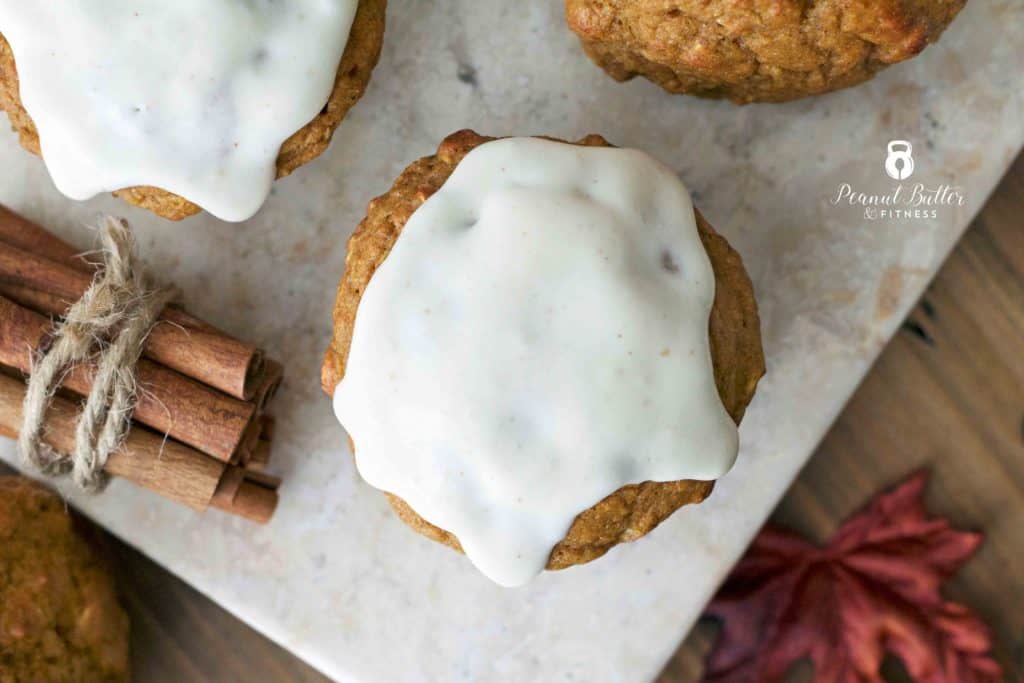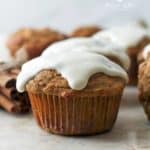 Pumpkin Protein Oatmeal Muffins with Cream Cheese Icing
Prep Time 20 minutes
Cook Time 25 minutes
Total Time 45 minutes
Servings 12 muffins
Calories per serving 154 kcal
Ingredients
1 cup whole wheat flour (120 grams)
3/4 cup rolled oats (75 grams)
3/4 cup Cellucor Cinnamon Swirl Whey Protein (99 grams)
1/4 cup coconut sugar or brown sugar (39 grams)
1 1/4 tsp baking powder (6 grams)
1 tsp pumpkin pie spice (5 grams)
3/4 tsp baking soda (3.6 grams)
1/4 tsp salt (1.4 grams)
Pinch of cardamom
1 cup pureed pumpkin (244 grams)
1 cup unsweetened vanilla almond milk
1/3 cup unsweetened applesauce (90 grams)
2 egg whites
2 tbsp browned butter (1 oz)
1 tsp vanilla extract
Cream Cheese Icing
1/4 cup Swerve Confectioner's Sugar (28 grams)
1/4 cup 1/3 Less Fat Philadelphia Cream Cheese (2 oz)
1 tbsp browned butter (1/2 oz)
1 tbsp unsweetened vanilla almond milk (1/2 oz)
1/4 tsp vanilla extract
Instructions
Pre-heat oven to 350 degrees. Line a muffin tin with non-stick baking cups.

Brown the butter by adding butter to a very small pan over medium heat. Melt butter and allow it to come to a boil. The butter will get frothy, then the froth will begin to subside (after about 5-7 minutes). At that point, keep a close eye on the butter and watch for brown flecks to begin to appear in the butter. After the flecks appear, wait a minute or two longer for the liquid to develop a brown color and nutty aroma. Remove to a small dish to cool, leaving most of the brown flecks in the pan (you can strain it if desired). Set aside.

Add all dry muffin ingredients to a bowl, then add all wet ingredients and mix until just combined. Scoop into 12 non-stick baking cups.

Bake for 23-25 minutes or until a toothpick inserted into the center of a muffin comes out clean. Remove muffins to a wire rack to cool.

Whisk all icing ingredients together until smooth. Spread on top of muffins once cooled.
Recipe Notes
Since this recipe is low in fat, I highly recommend using non-stick baking cups like these parchment ones or these silicone ones to avoid losing precious muffin bits when they're still warm and you unwrap them.
Nutrition Facts
Pumpkin Protein Oatmeal Muffins with Cream Cheese Icing
Amount Per Serving
Calories 154 Calories from Fat 45
% Daily Value*
Fat 5g8%
Cholesterol 20mg7%
Sodium 211mg9%
Potassium 60mg2%
Carbohydrates 21g7%
Fiber 3g13%
Sugar 5g6%
Protein 10g20%
* Percent Daily Values are based on a 2000 calorie diet.