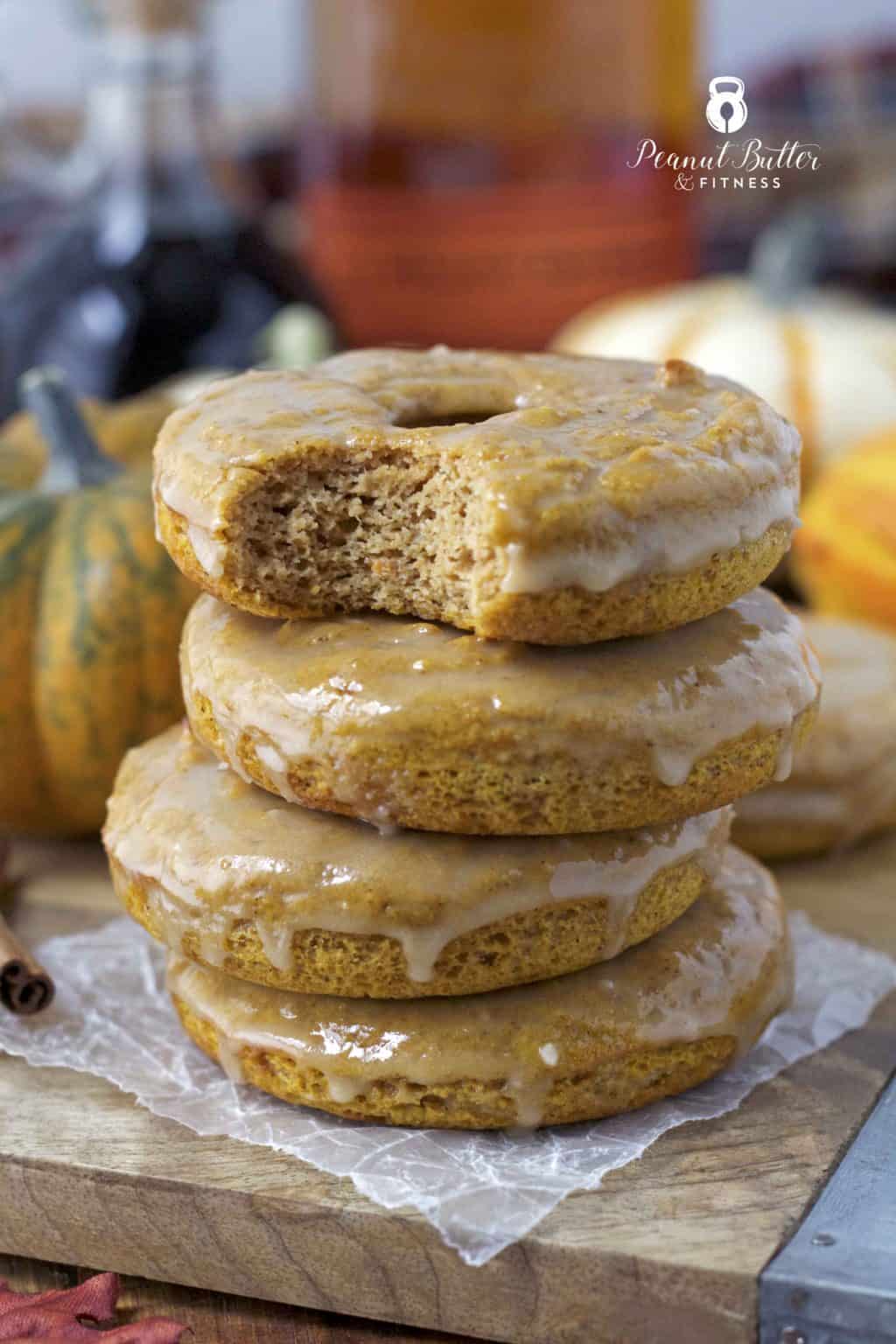 Thanksgiving is only one week away! Can you believe it? If you've got family or friends coming in to town ahead of the holiday, treat them to some of these Pumpkin Protein Donuts with Maple Bourbon Glaze. Sprinkle some chopped pecans on top if you know they're into nuts. I'd personally rather have sprinkles than nuts on my donuts, but hey, to each their own!
And if you're still trying to figure out your Turkey Day menu, don't forget that I've got a bunch of ideas here!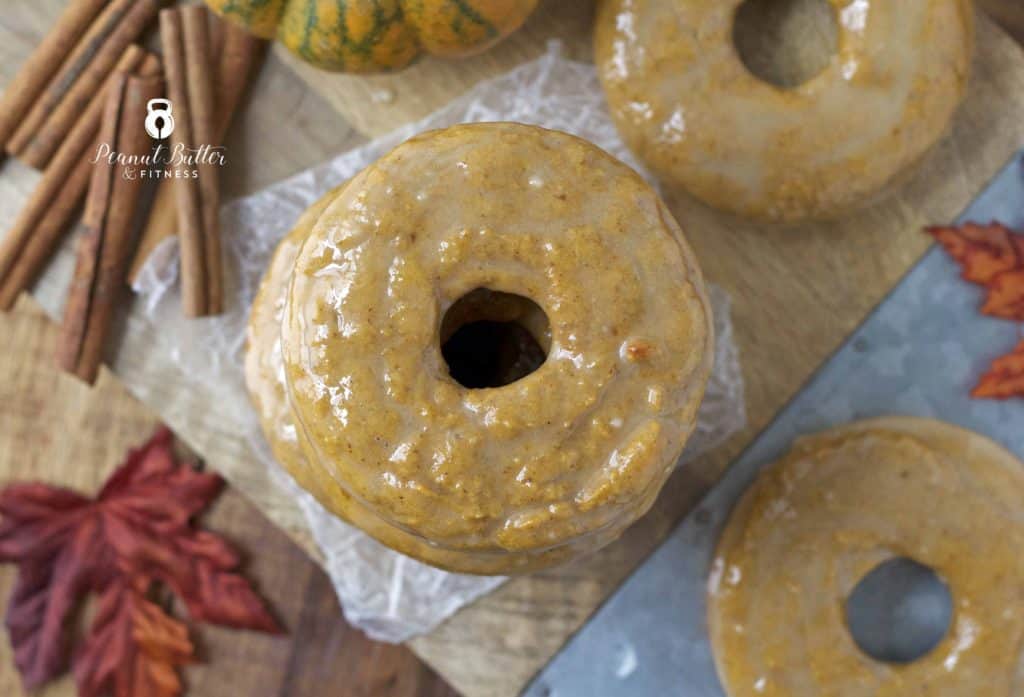 I don't know about you guys, but I'm a huge fan of donuts. Cake donuts, filled donuts, simple glazed donuts…give me all of them (except maybe the ones with nuts on top). Just don't forget about the healthier pumpkin donuts, mmkay? These ones are fluffy and moist inside, and of course they're topped off with a yummy maple bourbon glaze. You can choose your own adventure by boiling the alcohol off the bourbon before mixing it in or you can go with a boozy donut for those stressful holiday mornings 😉 And if you don't feel like hunting down the powdered sugar alternative that I call for in the recipe, just go with the classic.
Enjoy!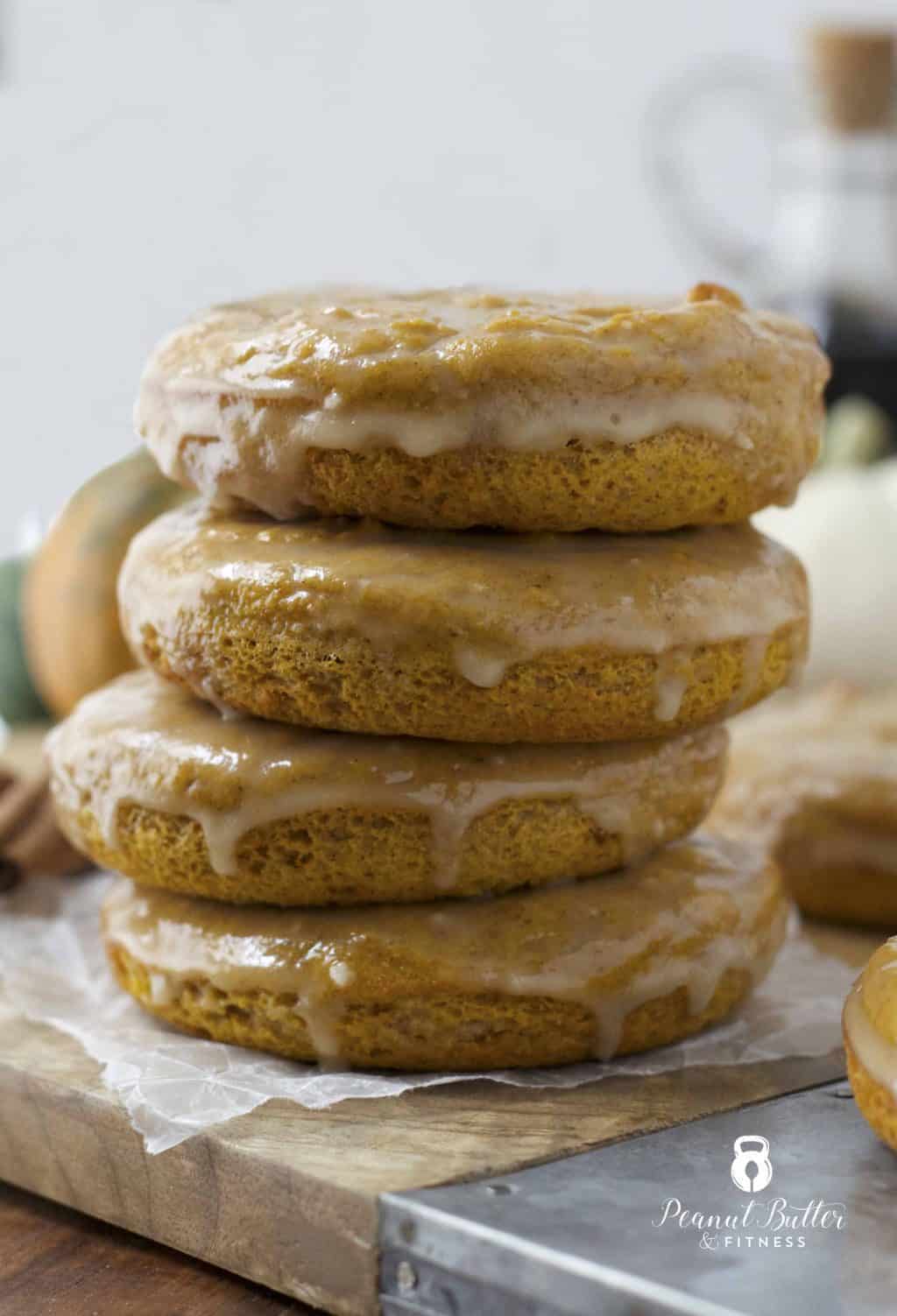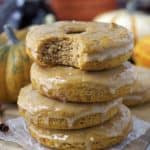 Pumpkin Protein Donuts with Maple Bourbon Glaze
Prep Time 20 minutes
Cook Time 20 minutes
Total Time 40 minutes
Servings 6 donuts
Calories per serving 122 kcal
Instructions
Pre-heat oven to 350 degrees.

Mix dry donut ingredients, then add wet ingredients and mix until combined. Scoop donut batter into a piping bag, then cut the tip of the piping bag and evenly divide the batter into a 6 donut silicone baking pan.

Bake for 18-20 minutes or until a toothpick inserted into the center of a donut comes out clean. Set on a wire rack to cool.

As the donuts are cooling, bring the maple syrup to a boil over medium heat in a very small pan. Add bourbon and continue to boil for 1 minute. Remove from heat and whisk in confectioner's sugar. (You can skip the boiling if you want to leave the alcohol in the bourbon intact.)

Dip cooled donuts into glaze and allow donuts to rest on a wire rack until the glaze has set. (The glaze will set more easily if you use traditional confectioner's sugar in place of the Swerve confectioner's sugar.)
Nutrition Facts
Pumpkin Protein Donuts with Maple Bourbon Glaze
Amount Per Serving
Calories 122 Calories from Fat 54
% Daily Value*
Fat 6g9%
Cholesterol 37mg12%
Sodium 106mg5%
Potassium 68mg2%
Carbohydrates 10g3%
Fiber 2g8%
Sugar 5g6%
Protein 7g14%
* Percent Daily Values are based on a 2000 calorie diet.


Aside from the 11 g of sugar alcohols reflected in the MFP barcode, whether or not you boil off the alcohol from the bourbon will also affect the calorie count in the donuts (which I didn't account for here – I just used the full amount of calories in the bourbon). Oh alcohol, you make nutrition info so complicated…