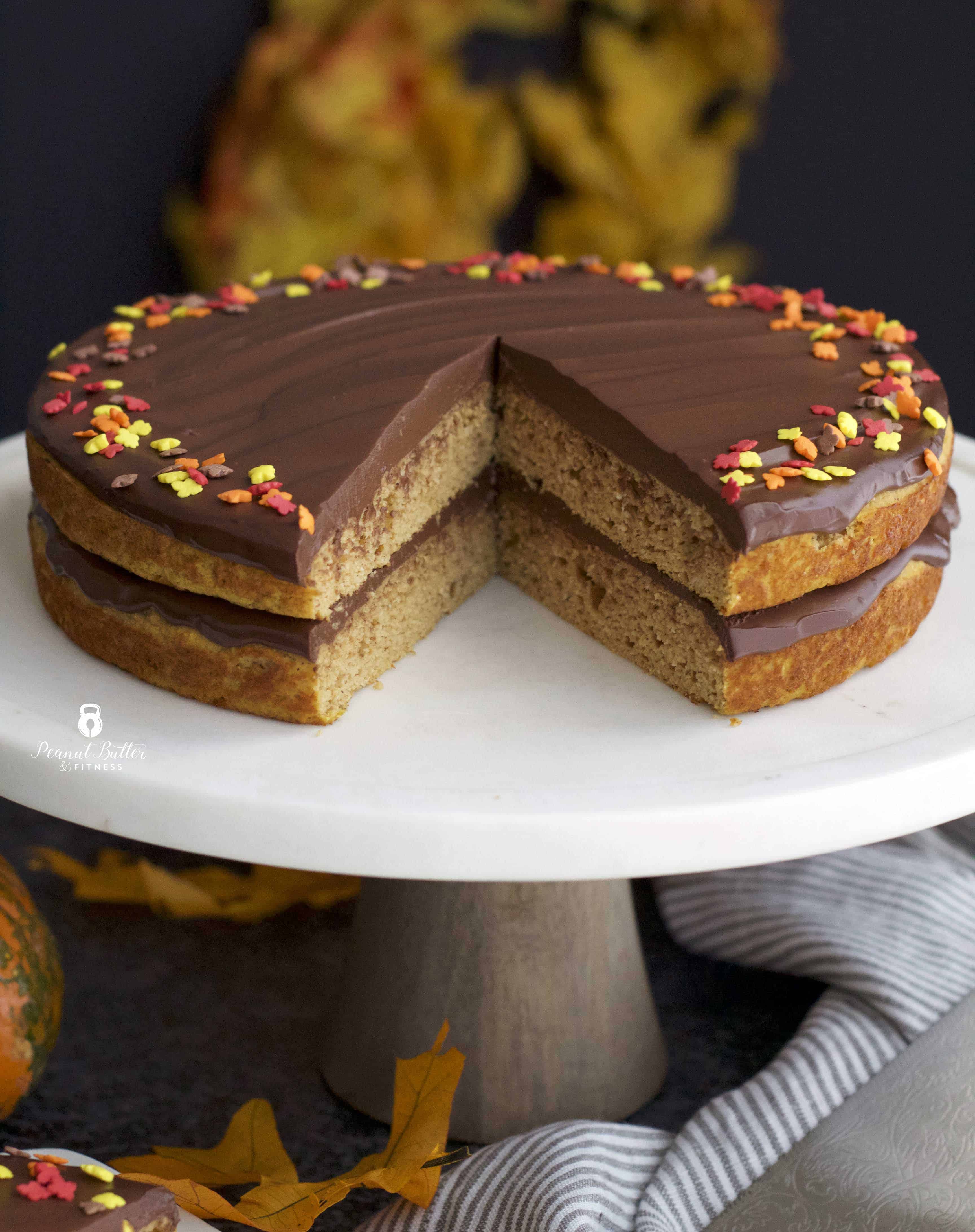 Tis the season for pumpkin patches, hay rides, and haunted houses.  I hope you're all planning to enjoy the fall festivities this weekend!  It's actually cold in San Antonio today (currently 42 degrees and a high today of 66 degrees, yikes!) so I'm thinking about busting out some jeans, boots, a sweater, a marshmallow puff jacket, a hat, and gloves to go to a pumpkin patch today 😉 Ya know, all those typical fall fashion items.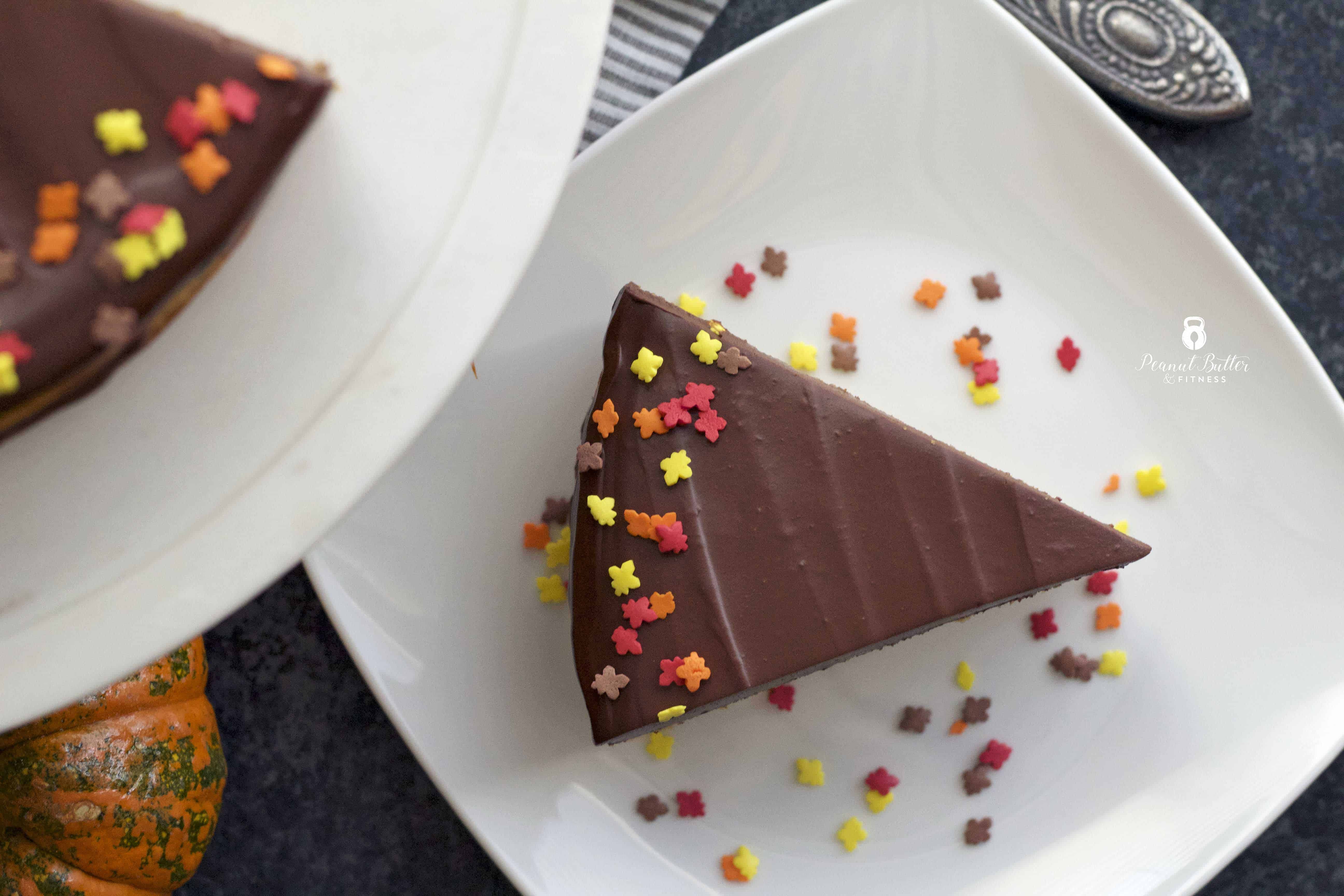 Anywho, I made this cake a couple weeks ago and made some friends taste test it with me.  I got two thumbs up from all of them, including the kiddo we were hanging out with.  This gluten-free cake recipe is one that I perfected last year and just adapt it to the season.  And oh, by the way, it's National Chocolate Day, so what better time than now to put chocolate ganache on top of a pumpkin layer cake?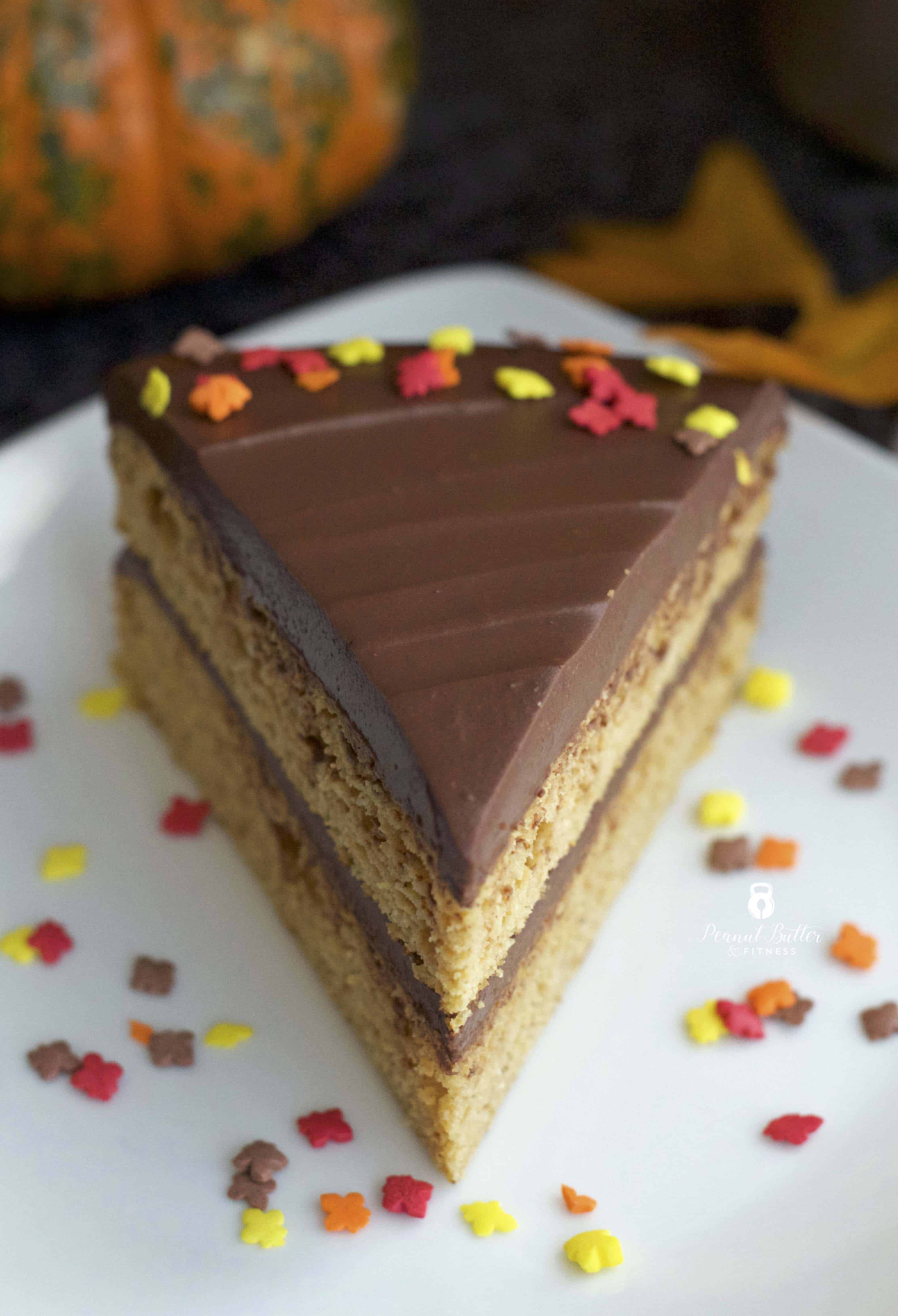 Scroll down below the recipe to see my trick for how I got the chocolate ganache to set up nicely without getting squished!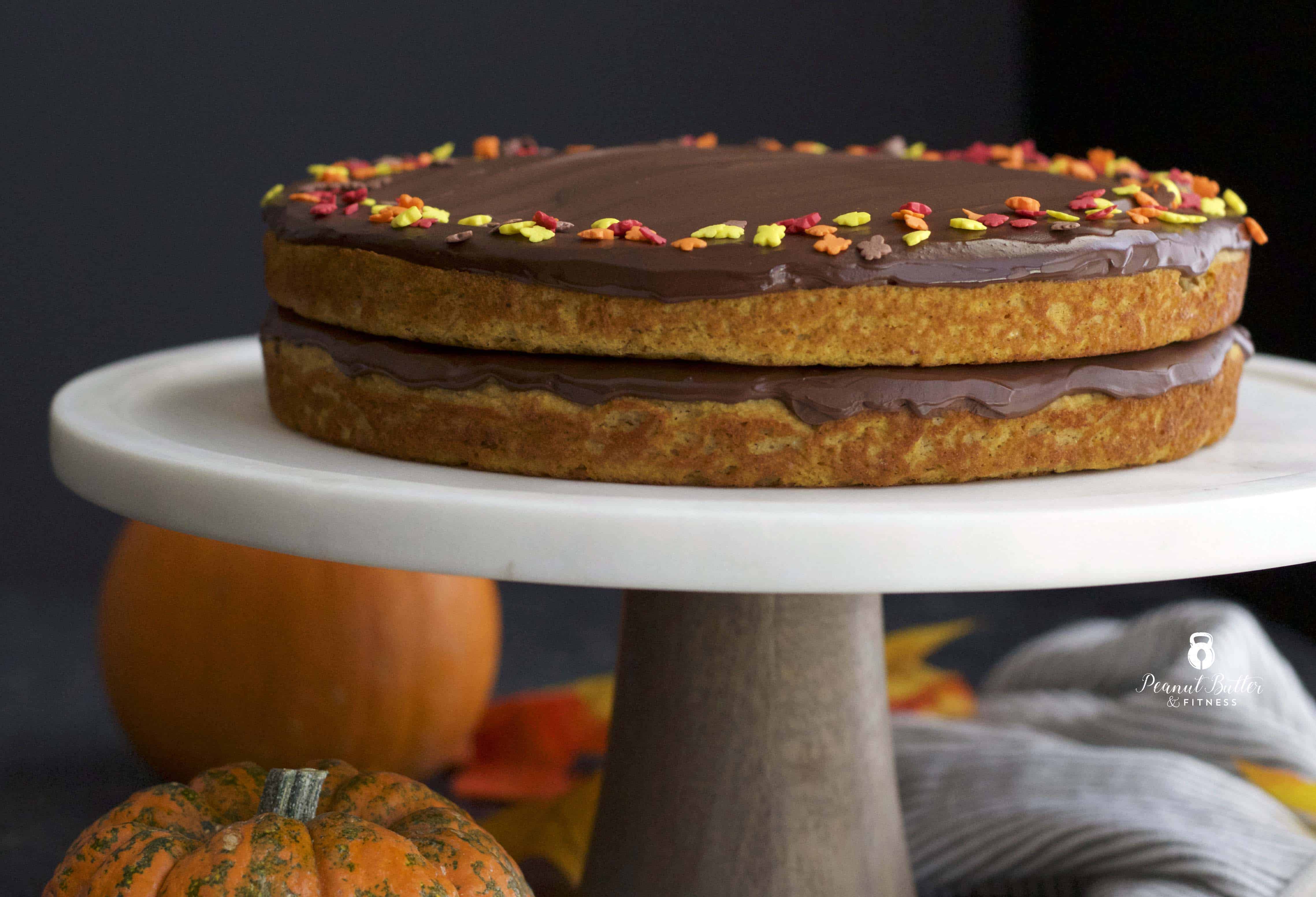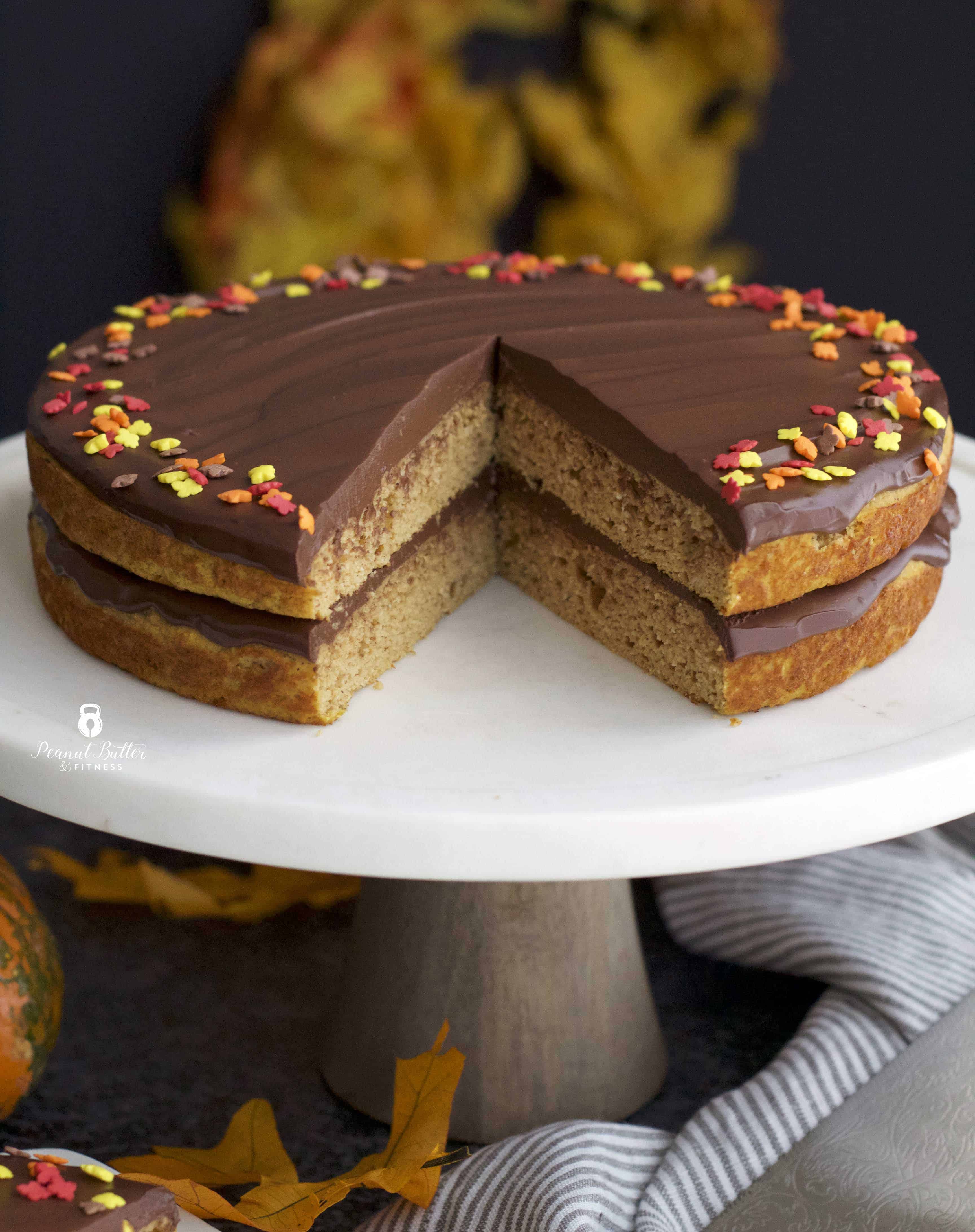 Pumpkin Protein Cake with Dark Chocolate Ganache
Ingredients
Dark Chocolate Ganache
3/4

cup

Guittard 63% Dark Chocolate chips

3/4

cup

light coconut milk
Instructions
Microwave coconut milk in a glass dish for about 1 minute or until almost boiling. Add chocolate chips and stir until smooth. Refrigerate for 1 hour or until the ganache has thickened slightly – you want it thin enough to be able to stir it smooth, but thick enough that it won't run right off your cake.

Pre-heat oven to 350 degrees. Line the bottom of two 9-inch cake pans with parchment paper and spray sides of pans with non-stick cooking spray. Set aside.

Combine dry cake ingredients, then add wet ingredients and mix until smooth. Divide evenly into two cake pans.

Bake at 350 degrees for 15-18 minutes or until a toothpick inserted into the center of the cakes comes out clean. Remove from pans and cool on a cooling rack.

Once the cakes have cooled, divide the ganache evenly and pour over the cakes. Spread ganache to the edges of the cakes and refrigerate to set. You can also make sure the ganache doesn't run off the sides of the cake by lining the cake pans with plastic wrap (with lots of excess on the sides), place the cakes in the pans and pour the ganache over. Allow the ganache to set in the refrigerator before removing cakes from pans and layering them together.

Add sprinkles or nuts on top if desired.
Nutrition Information
Calories:
176
kcal
(9%)
,
Carbohydrates:
19
g
(6%)
,
Protein:
9
g
(18%)
,
Fat:
8
g
(12%)
,
Cholesterol:
26
mg
(9%)
,
Sodium:
142
mg
(6%)
,
Potassium:
25
mg
(1%)
,
Fiber:
4
g
(17%)
,
Sugar:
12
g
(13%)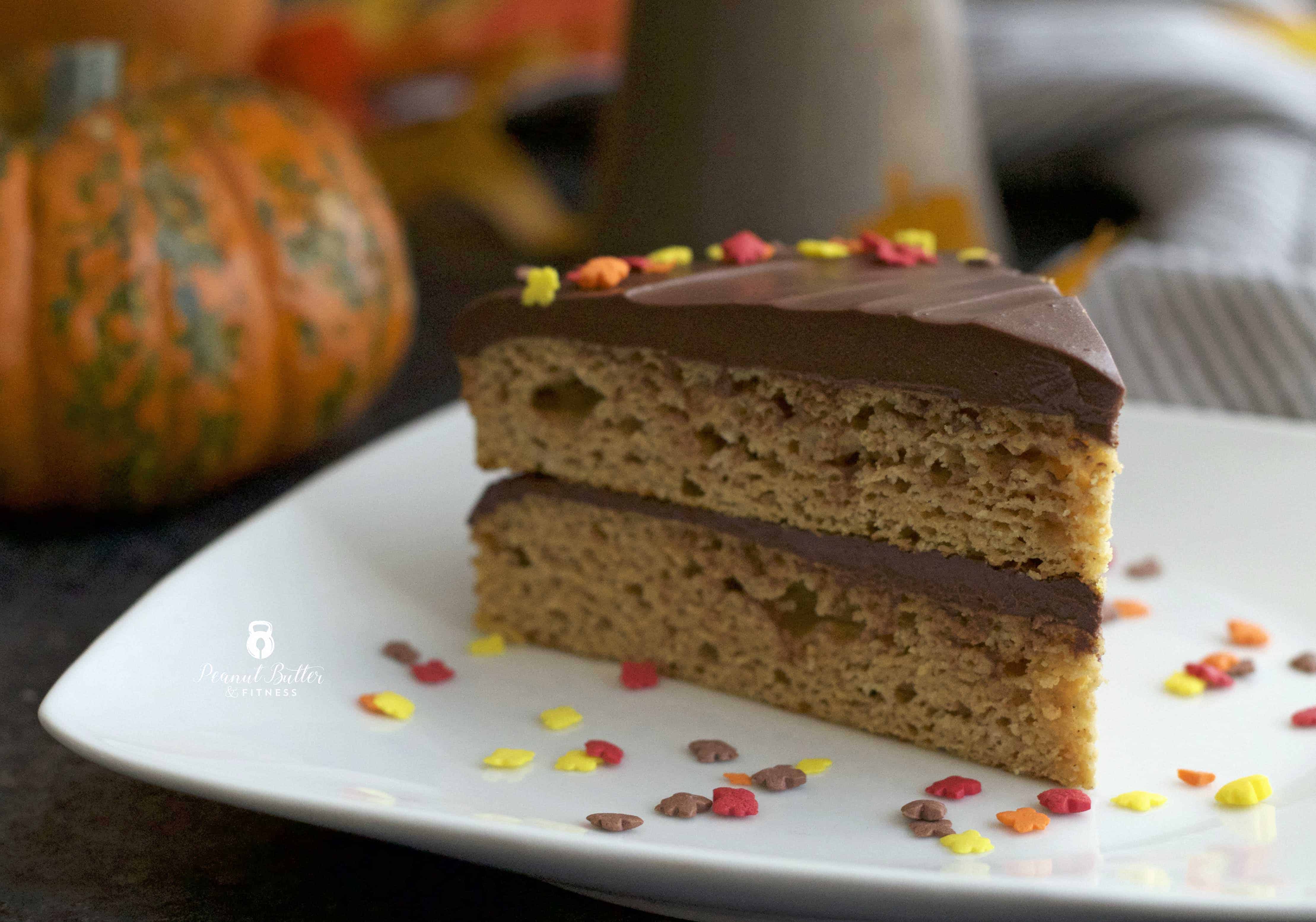 Okay, here's more about my trick for getting the ganache set up (without spilling over the sides) before stacking the layers together: line your cooled cake pans with Saran wrap, leaving at least several inches of overhang on the sides.  Plop your cooled cakes into each of the lined pans.  Pour your mostly cooled ganache over top and spread it around evenly.  Refrigerate for an hour or two until set, then all you have to do is grab the Saran wrap and pull them out to stack!