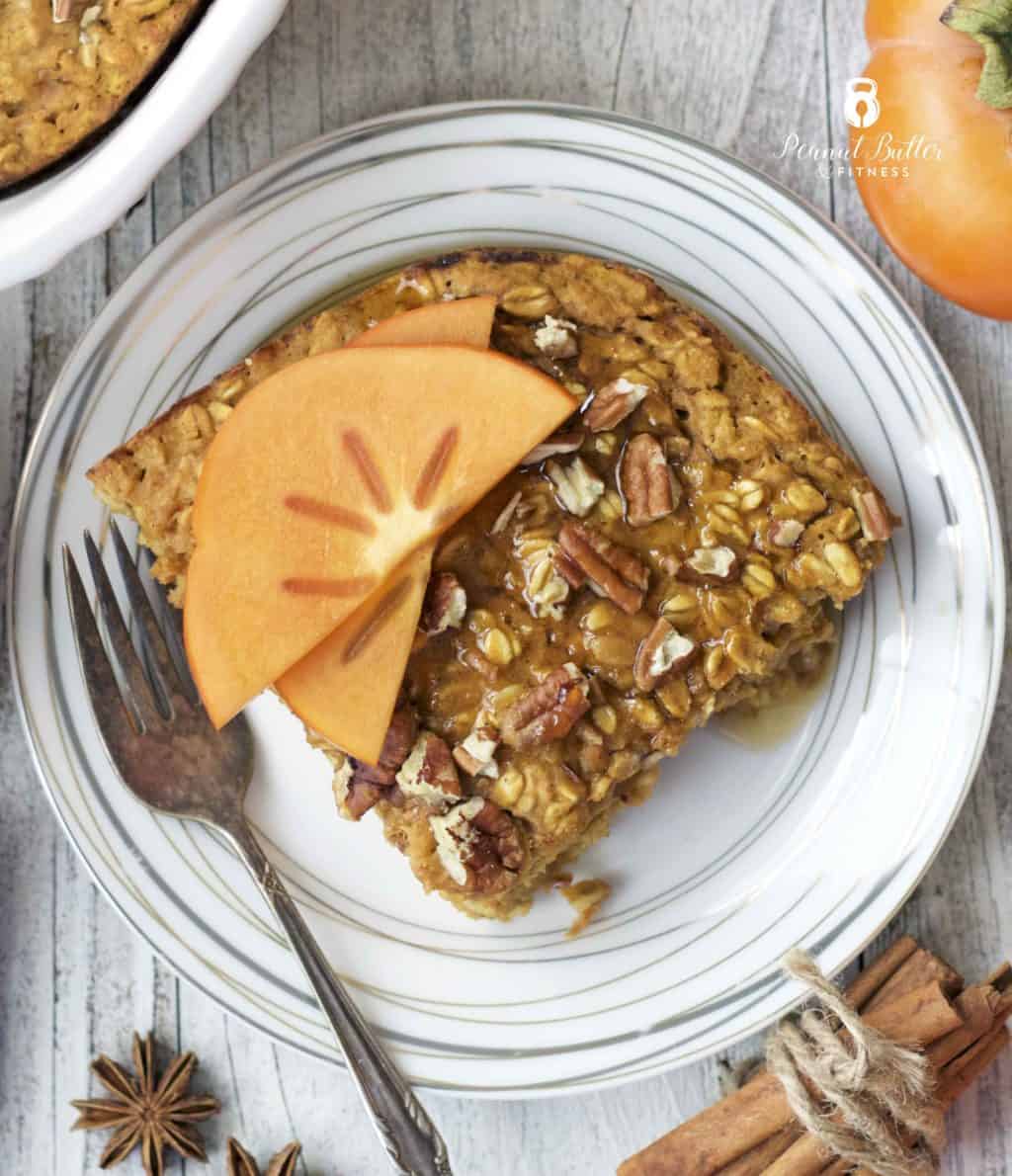 Ring in the new week with this warm and comforting Pumpkin Oatmeal Bake! Fall was back for a few days this weekend, so baking up a big breakfast with some good ole pumpkin just seemed like the right thing to do. Of course, I had to add some protein in there, so each slice has 15 grams of protein!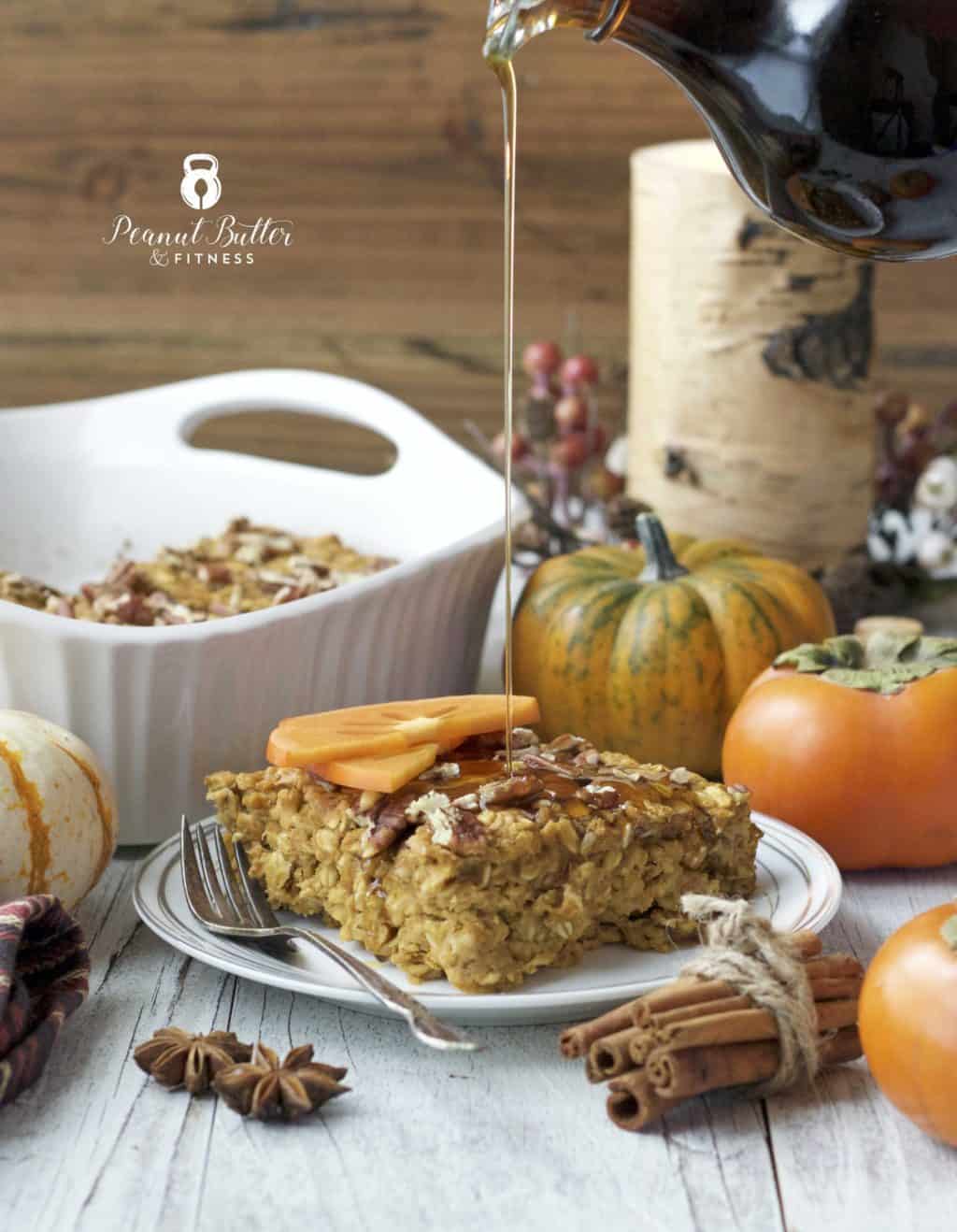 I love a good maple syrup pour, don't you? I grew up in Pennsylvania where we would tap the maple trees ourselves and boil the liquid down in a huge vat over the fire until it was just the right consistency. I always loved hanging around that fire all day with family and then of course, the sweet maple syrup reward at the end of the day was the cherry on top. If you ever have the chance to make your own maple syrup, I highly recommend giving it a try 🙂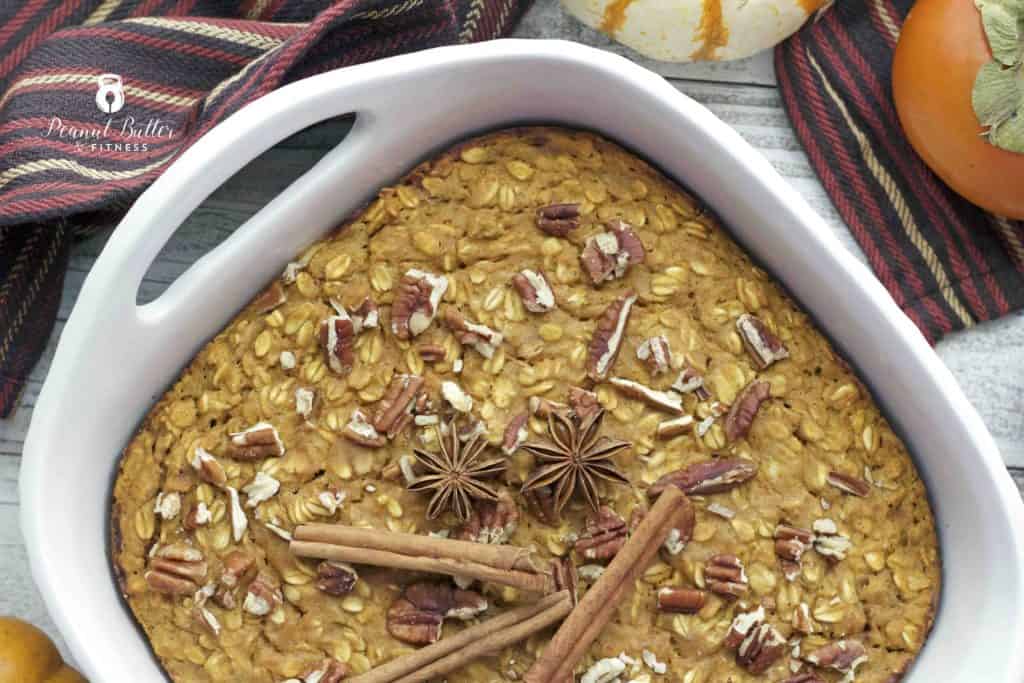 All of the fall fruits are out in the stores and farmer's markets now, which is always a fun transition from the summer berries (though I do miss the cheap strawberries and blueberries). I snagged some persimmons – I love how pretty they are and their gentle sweetness and flavor.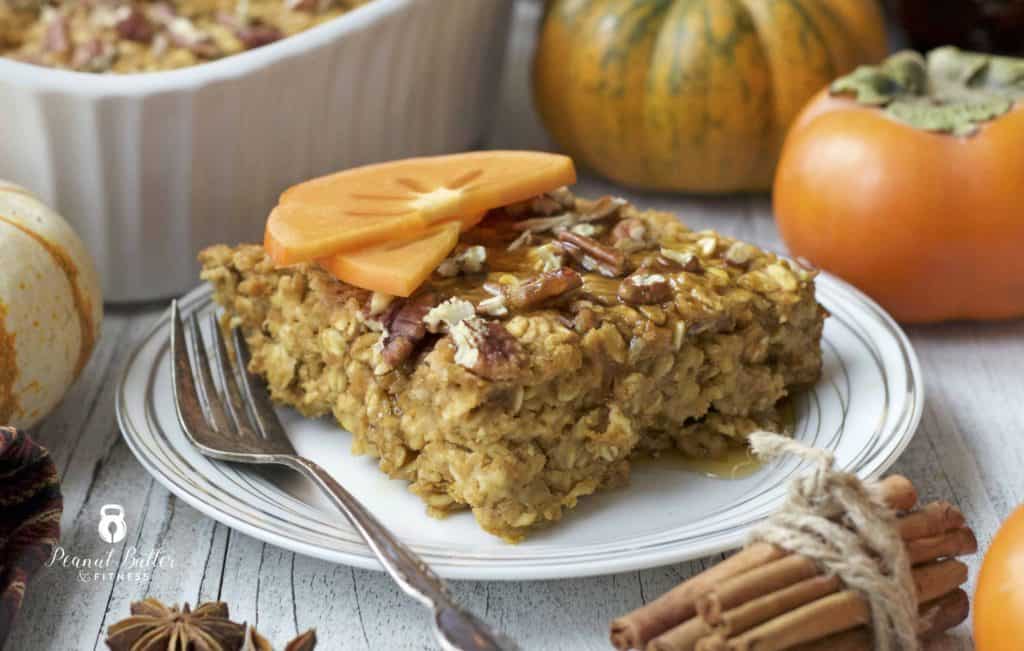 As part of my weekly meal prep, I ate this with egg white slices and some persimmon!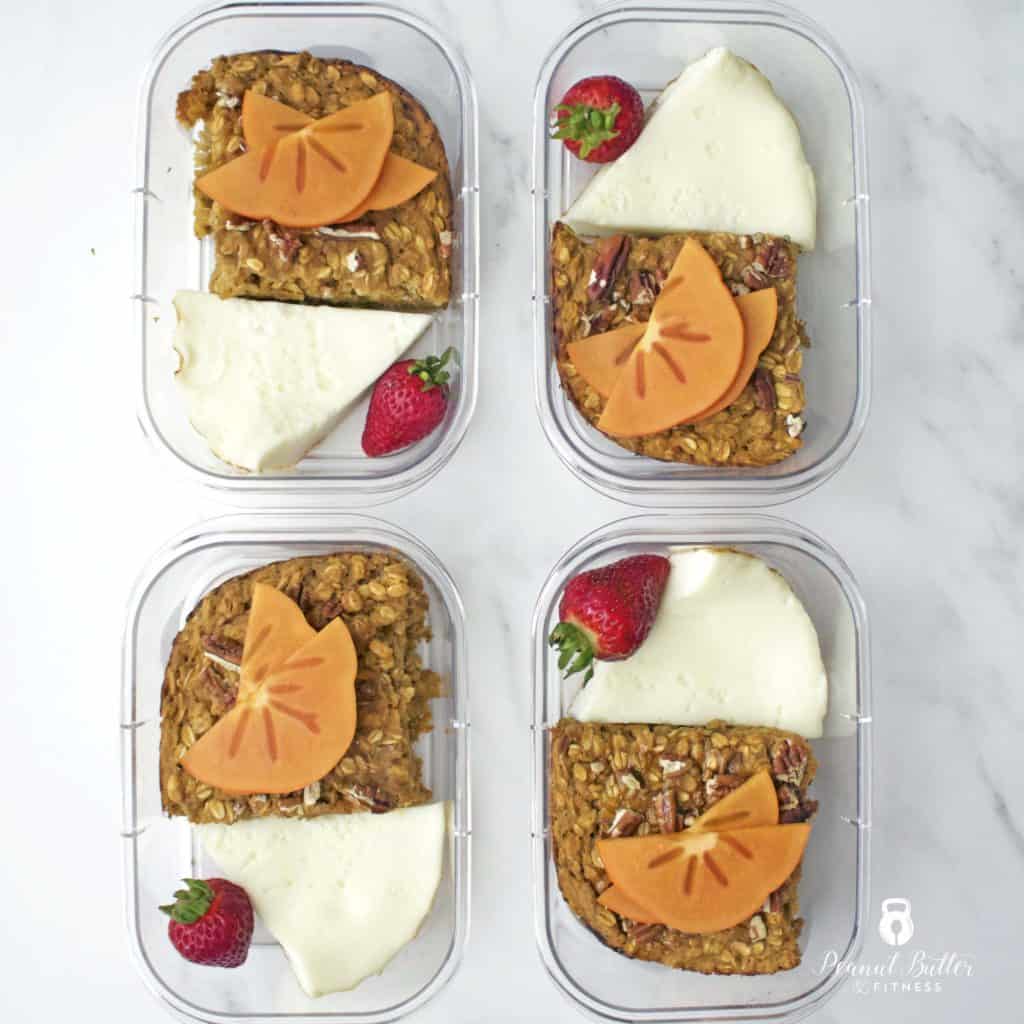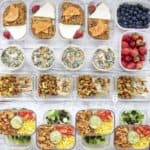 Pumpkin Oatmeal Bake
Prep Time 15 minutes
Cook Time 35 minutes
Total Time 50 minutes
Servings 6 servings
Calories per serving 252 kcal
Ingredients
2 cups rolled oats (205 grams)
2 servings Cellucor Cinnamon Swirl Whey protein (68 grams)
1/2 tsp baking powder
1/2 tsp pumpkin pie spice
1/4 tsp baking soda
2/3 cup pumpkin puree (157 grams)
1/3 cup unsweetened applesauce (82 grams)
1/2 cup unsweetened vanilla almond milk (4 oz)
3 tbsp maple syrup (1 1/2 oz)
2 tbsp Skippy Natural Peanut Butter (32 grams)
2 egg whites
1 tsp vanilla extract
Instructions
Pre-heat oven to 350 degrees. Spray an 8x8" baking dish with non-stick cooking spray.

Mix all dry ingredients, then add wet ingredients and mix until combined.

Pour batter into greased baking dish and spread evenly. Bake for 30-35 minutes or until a toothpick inserted into the center comes out clean. If desired, add chopped pecans on top about 15 minutes through baking.
Nutrition Facts
Pumpkin Oatmeal Bake
Amount Per Serving
Calories 252 Calories from Fat 54
% Daily Value*
Fat 6g9%
Cholesterol 12mg4%
Sodium 156mg7%
Potassium 96mg3%
Carbohydrates 33g11%
Fiber 4g17%
Sugar 9g10%
Protein 15g30%
* Percent Daily Values are based on a 2000 calorie diet.