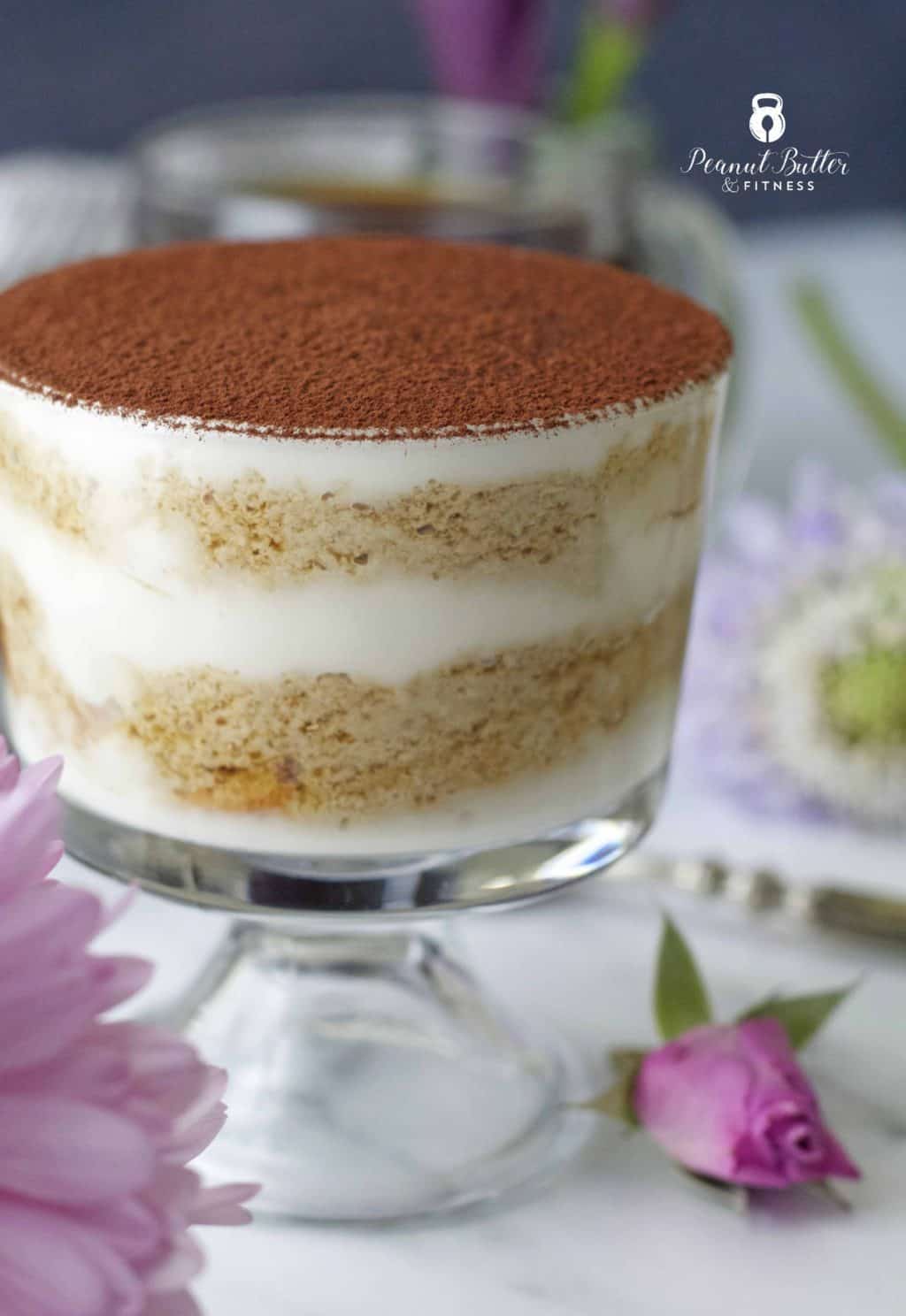 Allow me to introduce you to the newest member of the PBF protein dessert family…Protein Tiramisu Cups.  I gotta say, I'm pretty proud of myself with this recipe.  I wasn't sure that I was going to be able to pull off what is supposed to be a really decadent dessert in a healthier version, but I'm so happy that I tried.  I used my usual protein cake recipe to get the party started – it's tender and airy, and in the case of tiramisu, it soaks up the espresso and rum nicely 😉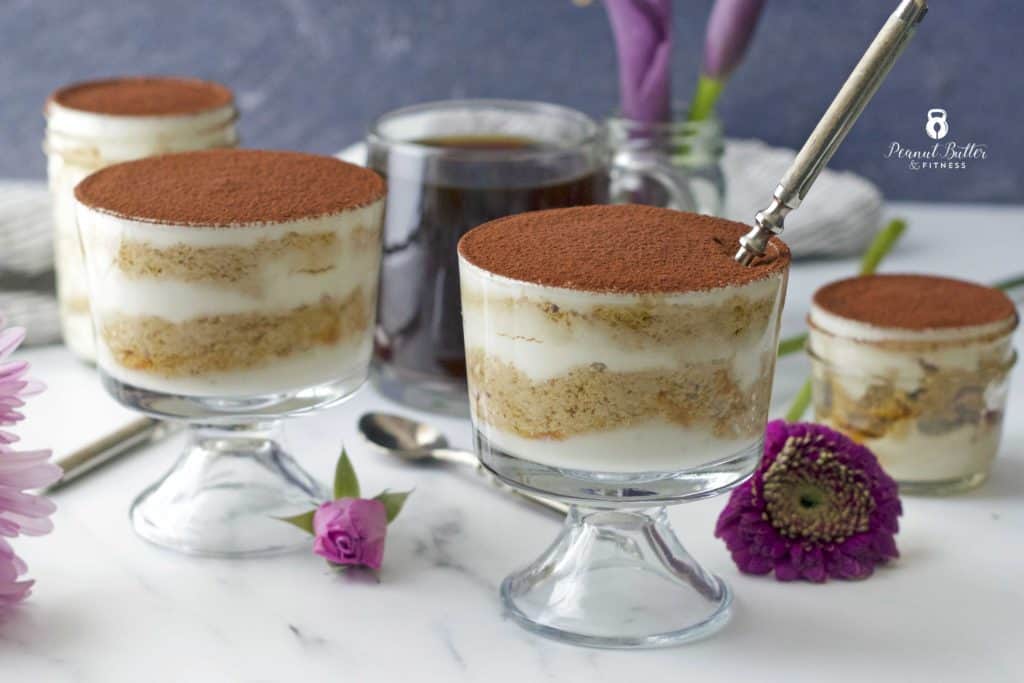 Next up was the "pastry cream." I used a combo of coconut milk, Greek yogurt, and casein protein powder to get just the right consistency.  It's suuuuuper creamy and dreamy.  It's thick enough to hold it's own, but thin enough to fill in all the nooks and crannies when you assemble the layers in your serving dish.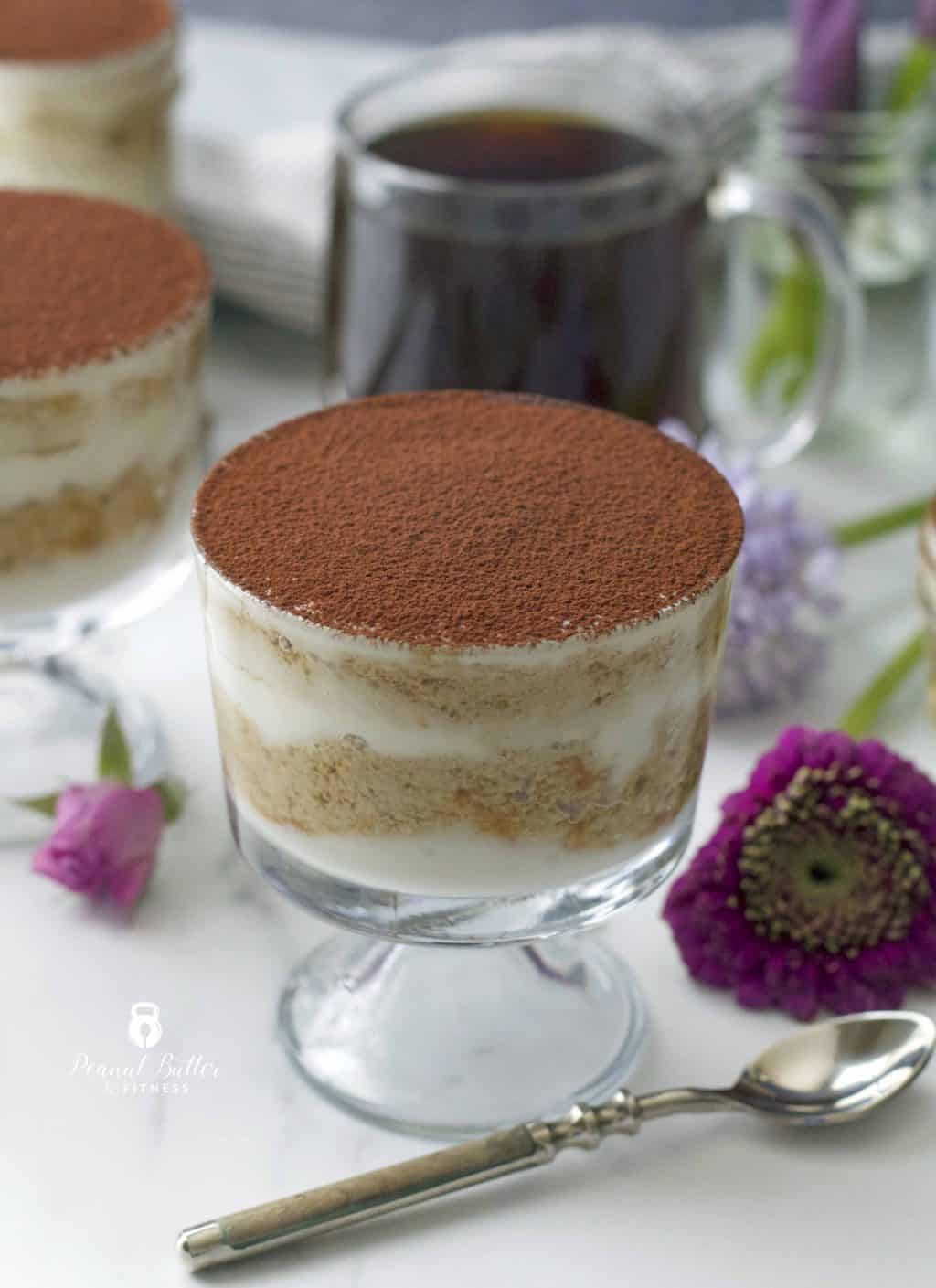 I don't own an espresso maker, so I just used some strong brewed coffee mixed with some dark rum for the soak.  If you prefer a less intense rum flavor, swap out half (or all) of the dark rum with Kahlua instead.  Don't forget to pick up some dutch cocoa for on top!  It's much darker than natural cocoa powder (sometimes it has a reddish hue), and the chocolate flavor is richer and less bitter.  I'm a big fan!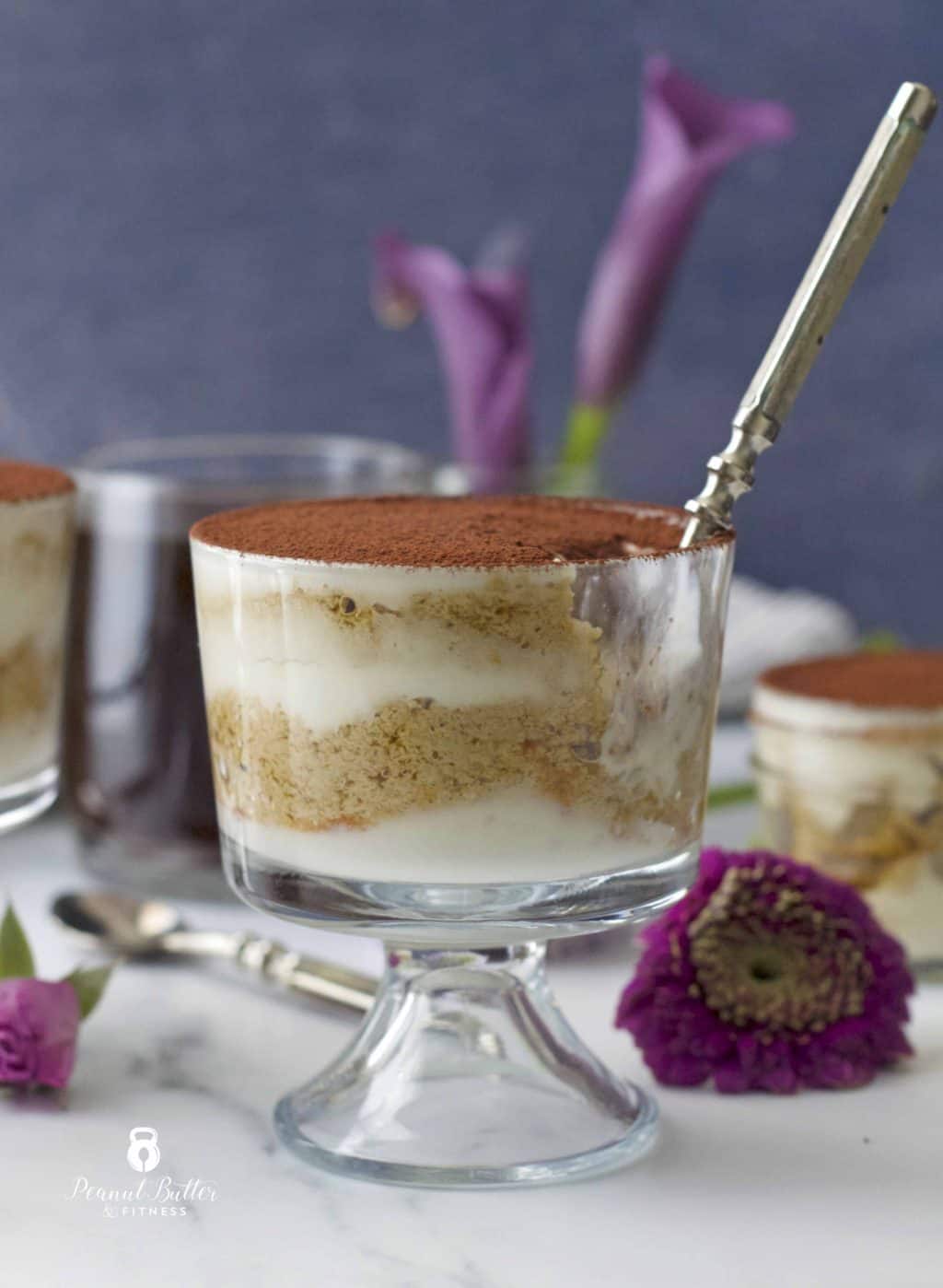 Enjoy!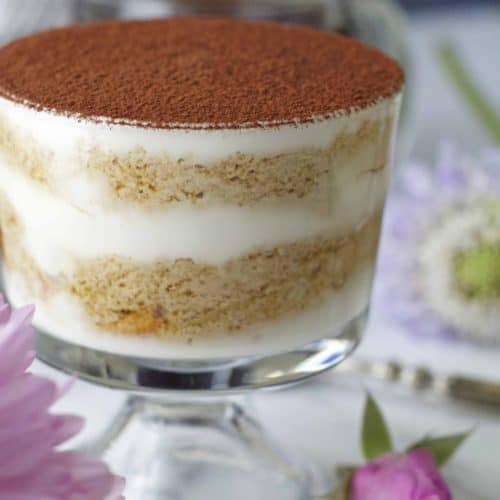 Protein Tiramisu Cups
Ingredients
Rum Soak
1/3

cup

espresso or strong brewed coffee

2

oz

dark rum

,

(Use Kahlua if you prefer a less intense rum flavor)
Instructions
Pre-heat oven to 350 degrees. Line a 9×9″ baking sheet with parchment paper. Set aside.

Mix all dry cake ingredients, then add wet ingredients and mix until combined. Pour into lined baking sheet and spread evenly. Bake for 12-15 minutes or until a toothpick inserted into the center of the cake comes out clean.

Remove cake from baking sheet to cool. If you'd prefer to keep the cake from getting too soft when you soak it in the rum, you can let the cake sit out overnight to dry out a bit. I made mine right away.

Using a hand mixer or immersion blender, mix all "pastry cream" ingredients until smooth. Set aside.

To cut the right size circles, turn your serving cups upside down on the cake and press hard enough to make an indent. Follow along the indients with a knife to cut out 6 cake rounds. Depending on the size of your serving cups, you may only get 4 perfect rounds and need to use the cake scraps to assemble your 3rd cup.

Spoon a small amount (~1 tbsp) of pastry cream into the bottom of your serving cups – just enough to cover the bottom.

Add rum and espresso to a small bowl. Quickly dip a cake round into the liquid and press into the serving cup on top of the pastry cream. Top with another layer of pastry cream. Repeat process until there are two layers of cake and 3 total layers of pastry cream per cup.

If desired, allow to set up in the refrigerator overnight. Sift dutch cocoa over top of the cups before serving.
Tips & Tricks
For even creamier pastry cream, use full fat coconut milk.
I used these 10 oz mini trifle dishes, which I think are perfect for sharing.  This recipe will stretch to 4 servings if you use 8 oz serving cups instead.
Nutrition Information
Calories:
430
kcal
(22%)
,
Carbohydrates:
32
g
(11%)
,
Protein:
29
g
(58%)
,
Fat:
17
g
(26%)
,
Cholesterol:
84
mg
(28%)
,
Sodium:
388
mg
(17%)
,
Potassium:
146
mg
(4%)
,
Fiber:
7
g
(29%)
,
Sugar:
19
g
(21%)