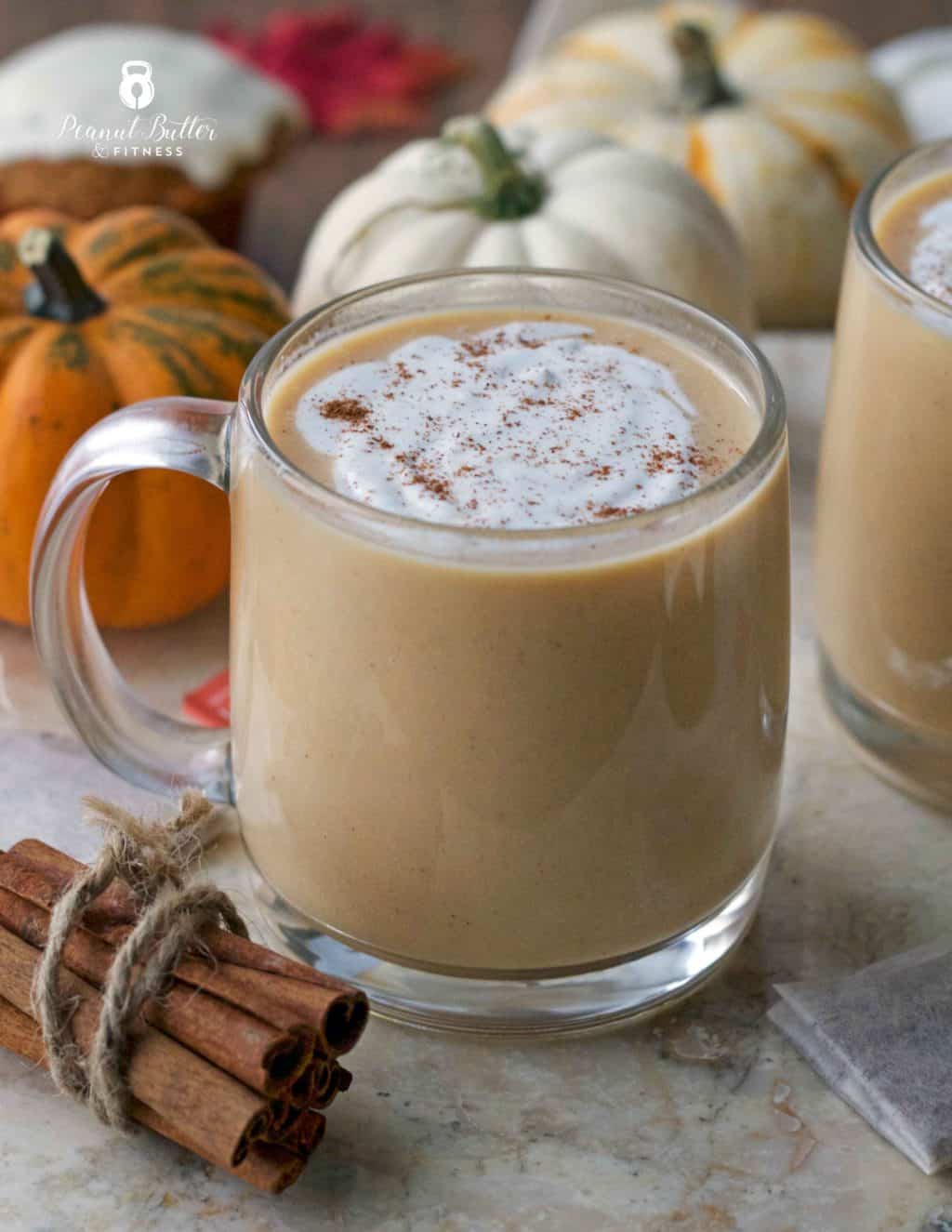 Pumpkin spice everything season is here! If you haven't been smacked in the face by it yet, you can either 1) go to just about any American coffee shop or grocery store, or 2) make yourself one of these Protein Pumpkin Chai Lattes at home.  This isn't your average Pumpkin Spice Latte though – I decided to use strong brewed chai tea as the "spice" instead the usual combo of pumpkin pie spices with espresso.  I love a good chai tea in the fall and winter, so add some pumpkin flavor in there and I'll be looking for it in IV form.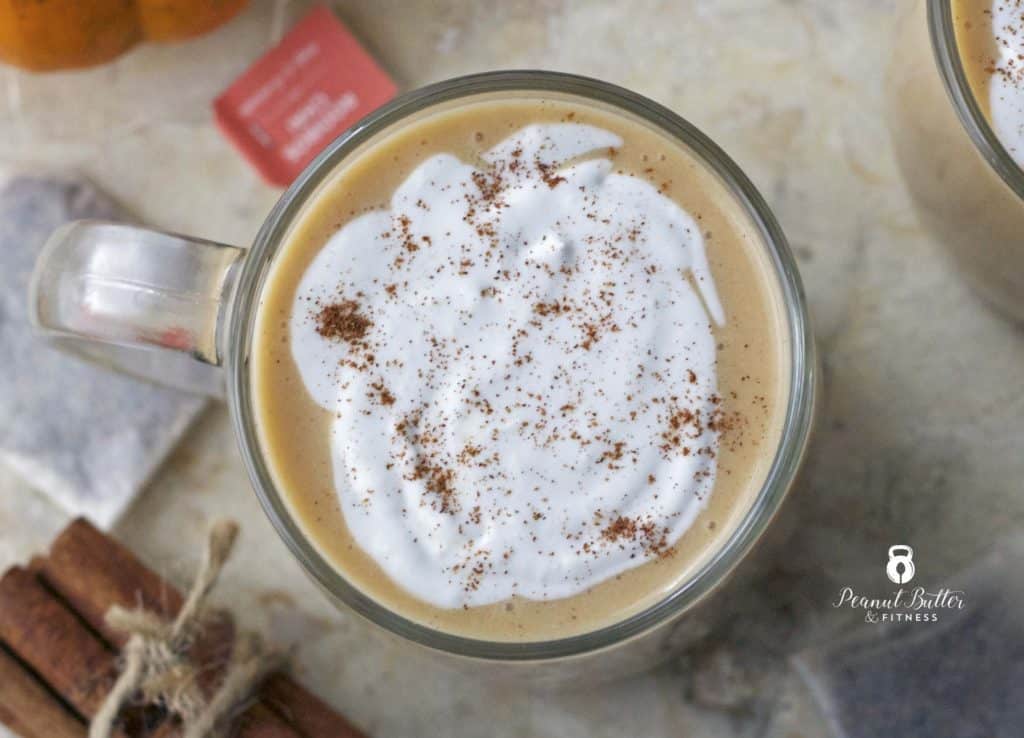 You know how else this is better than your average PSL?  The protein, obviously!  Using protein powder to make the drink gives it an amazing creamy texture that you'll love.  My version has 25 grams of protein and only 10 grams of sugar per 12 oz serving.  In comparison, a 12 oz nonfat, no whip PSL from Starbucks has 11 grams of protein and 38 grams of sugar.
You can see that I added some whip on top of mine (not included in the nutrition info) – this is a quick and easy coconut milk whipped cream.  It is unbelievably creamy and so perfect for sipping.  I figured that some people would prefer their regular whipped cream (a la Varsity Blues), so I left it off the nutrition in order for you to track whatever you're actually topping your favorite pumpkin drink with 🙂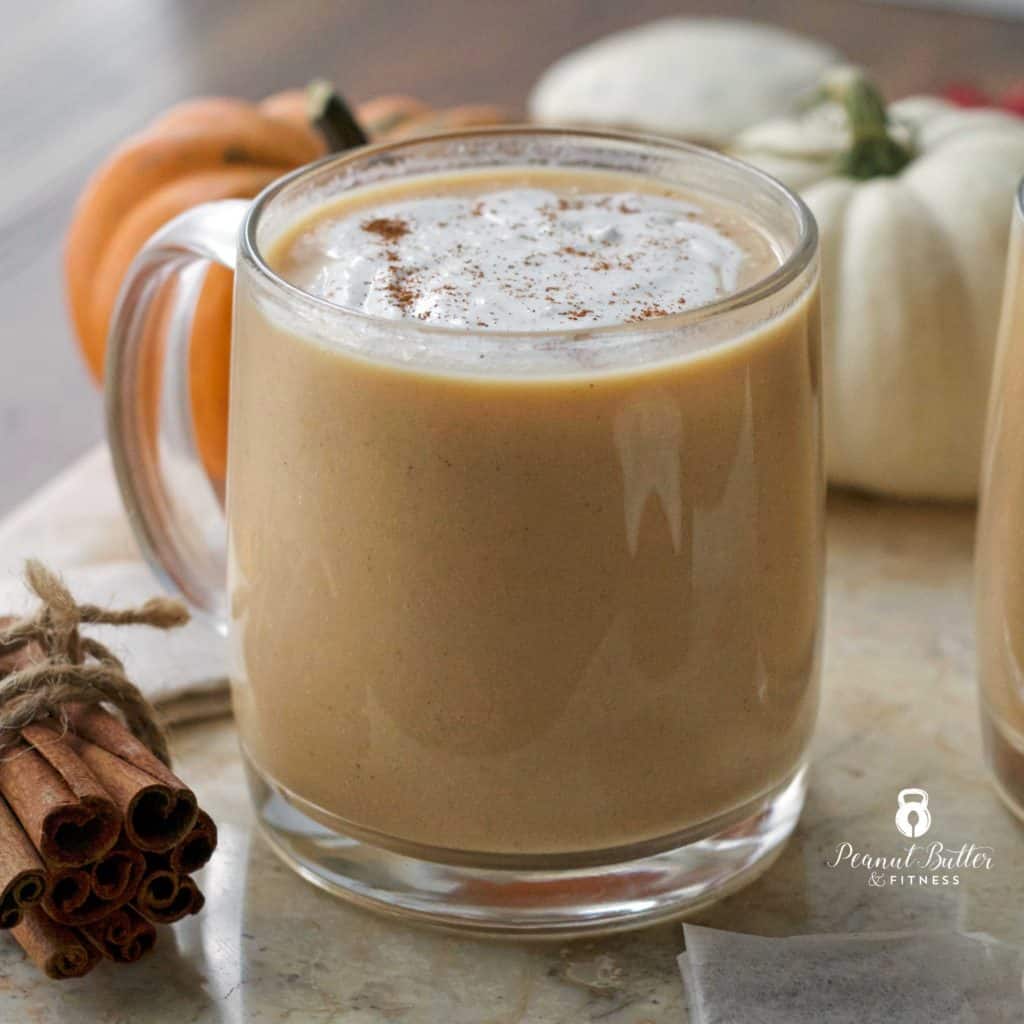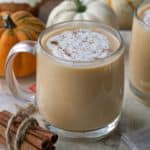 Protein Pumpkin Chai Latte
Prep Time 10 minutes
Total Time 10 minutes
Servings 2 12 oz servings
Calories per serving 186 kcal
Ingredients
2 cups unsweetened vanilla almond milk
1/2 cup water
1/4 cup pumpkin puree (60 grams)
2 32 gram scoops Cellucor Cinnamon Swirl Whey Protein
1 tbsp maple syrup (1/2 oz)
2 tea bags spiced chai
1/4 tsp each: cinnamon and ground ginger
1 dash each: nutmeg and cloves
Optional Coconut Whipped Cream
1/4 cup coconut milk solids (see note below for directions)
1 tsp maple syrup
1 dash cinnamon
Instructions
Heat water in small pan (or in microwave-safe dish) until almost boiling. Remove from heat and add tea bags. Brew for 5-6 minutes, then remove bags, squeezing any extra water from them before discarding.

Add almond milk, pumpkin puree, whey protein, maple syrup, and spices to a blender or shaker and shake/blend until smooth. Pour mixture into chai tea, whisking continuously, and return to medium heat.

If making the coconut whipped cream: While pumpkin chai latte is heating, whisk together coconut whipped cream ingredients and set aside in refrigerator until ready to use.

Once pumpkin chai latte reaches desired temperature, pour into two serving mugs. If any clumps developed while heating, pour through a strainer into the serving mugs (this shouldn't happen if you blended it well first).

Spoon coconut whipped cream on top of latte, if desired. Sprinkle with cinnamon and/or nutmeg before serving.
Recipe Notes
The coconut whipped cream is not included in the nutrition info in case you prefer to use a dairy-based whipped cream.  To get the coconut milk solids the recipe calls for, refrigerate a can of full fat coconut milk overnight (Thai Kitchen Organic works really well).  When ready to use, turn the can upside down and open from the bottom.  Pour off the clear-ish liquid and you'll be left with coconut milk solids.
Nutrition Facts
Protein Pumpkin Chai Latte
Amount Per Serving
Calories 186 Calories from Fat 36
% Daily Value*
Fat 4g6%
Cholesterol 35mg12%
Sodium 302mg13%
Potassium 118mg3%
Carbohydrates 14g5%
Fiber 2g8%
Sugar 10g11%
Protein 25g50%
* Percent Daily Values are based on a 2000 calorie diet.