Happy holidays everyone! It's only taken me up until 3 days before Christmas to make a Christmas-y recipe :/ I like to think I make up for it in the shear awesomeness of this one.  Black beans are one of my favorites for making chocolate desserts nice and fudgey without adding a ton of fat and sugar.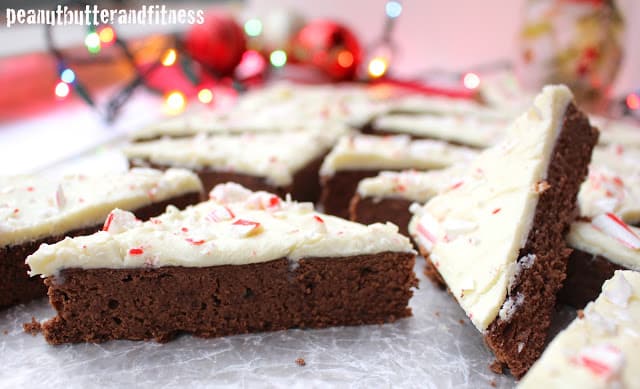 I cut these brownies into triangles because I think it's fun and pretty, but fair warning: it's a pain to do it with the peppermint bark on top.  Some of the corners broke off, so if you want to keep it simple (and probably clean cut), just go for squares!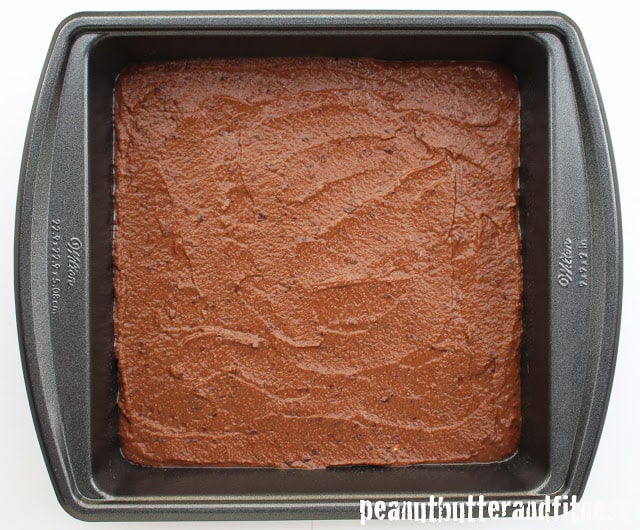 I used a 9×9 inch baking pan for my brownies but if you like them a little thicker, go for an 8×8 pan.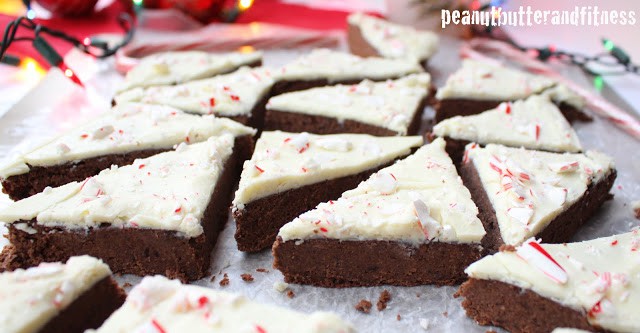 Peppermint Bark Black Bean Protein Brownies
Servings: 18 • Calories per serving: 104 • Fat: 3 g • Protein: 6 g • Carbs: 16 g • Fiber: 3 g • Sugar: 8 g • Sodium: 56 mg • Cholesterol: 6 mgIngredients:
15 oz can low sodium black beans, rinsed and drained
3/4 cup unsweetened vanilla almond milk
1/2 cup unsweetened applesauce
3 egg whites
1 tbsp honey
1 tsp vanilla extract
1/2 cup coconut flour
1 3/4 scoops Cellucor Molten Chocolate whey protein
3 tbsp unsweetened cocoa powder
1 tbsp Truvia Baking Blend
3/4 tsp baking powder
Peppermint Bark Ingredients:
Pre-heat oven to 350 degrees.  Grease a 9×9 inch baking pan with non-stick cooking spray or coconut oil; set aside.
In a food processor, combine black beans, almond milk, applesauce, honey and vanilla extract until smooth.  Add remaining brownie ingredients and pulse until smooth.
Pour into baking pan and smooth out.  Bake at 350 degrees for 18-20 minutes or until a toothpick inserted into the center comes out mostly clean.
Once brownies have cooled, melt white chocolate chips over medium-low heat (in a double boiler if you have one).  Once chips are mostly melted, remove from heat and stir until smooth and completely melted.  Pour over brownies and spread evenly.  Sprinkle with crushed candy canes immediately and allow to cool.
Cut with a sharp knife into 9 squares, then halve squares diagonally.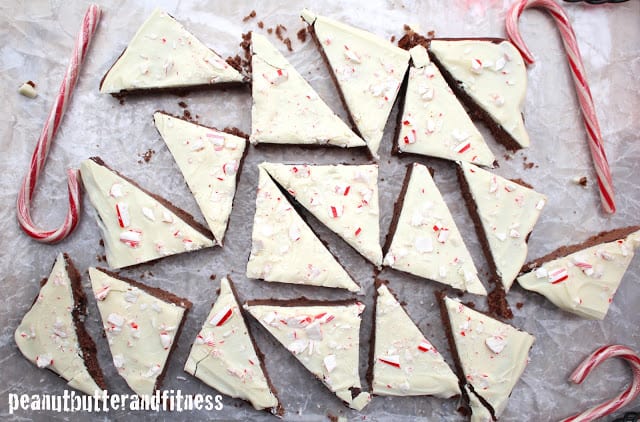 After you're done chowing down on some Christmas treats, don't forget to hit the gym!  I tried out a new plyometric leg workout the other day and it kicked my butt! Literally.  You know it's good when you walk out of the gym and are already sore.  I tend to stick to mostly lifting workouts so it was nice to switch things up and I'm going to keep this one in my schedule.  Two days later and I'm still sore from it.  Lots of foam rolling in store for me today 🙂  Here it is if you want to give it a try:
Perfect Legs with Plyos