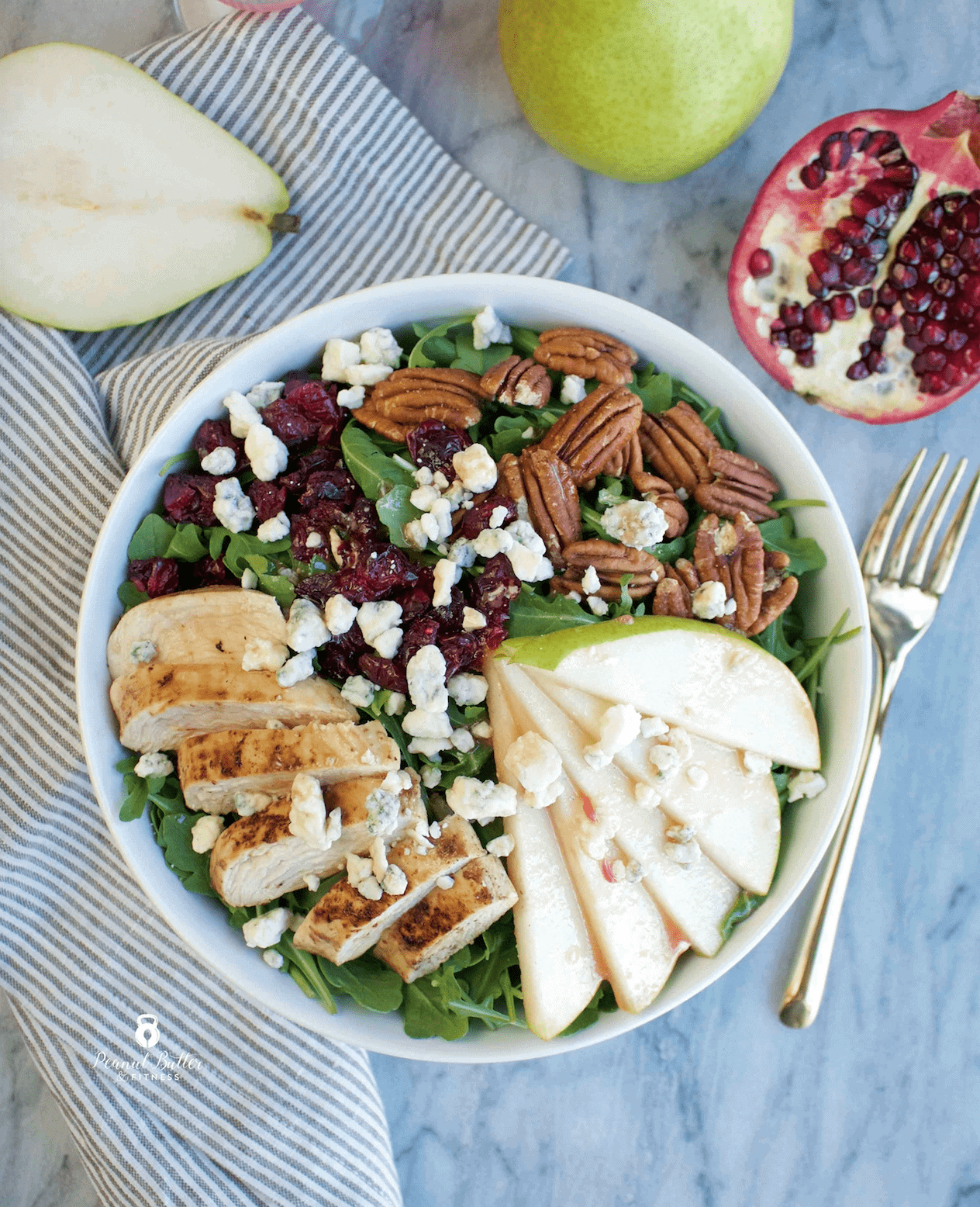 Post number 2 of 3 today! I hope you guys are as excited about this as I am 😉 If you've been hanging out on PBF with me for a while, you know that I usually like to meal prep a salad each week.  Especially the last 7 months or so while I've been in grad school…because I don't need a ton of complex carbs to sit around like a potato in a classroom all day and at my desk most of the night.  If I know that I'm going to be particularly active one week or will be lifting a lot, I'll add some quinoa or something more substantial. Now that I've gotten my rambling out of the way, let's talk about this salad…
This is a super easy one to whip up.  By the way, pears + gorgonzola = amazing combo.  In terms of meal prepped salads, arugula is great because it's a bit hardier than, let's say, baby spinach.  Kale and romaine hearts are also a good choice because they can last all week, but for this salad, arugula is the right flavor and texture.  It's a little spicy/bitter to offset the sweetness of the pears and dried cranberries.
Post 3 of 3 for today will be the meal prep that includes this salad 🙂 Enjoy!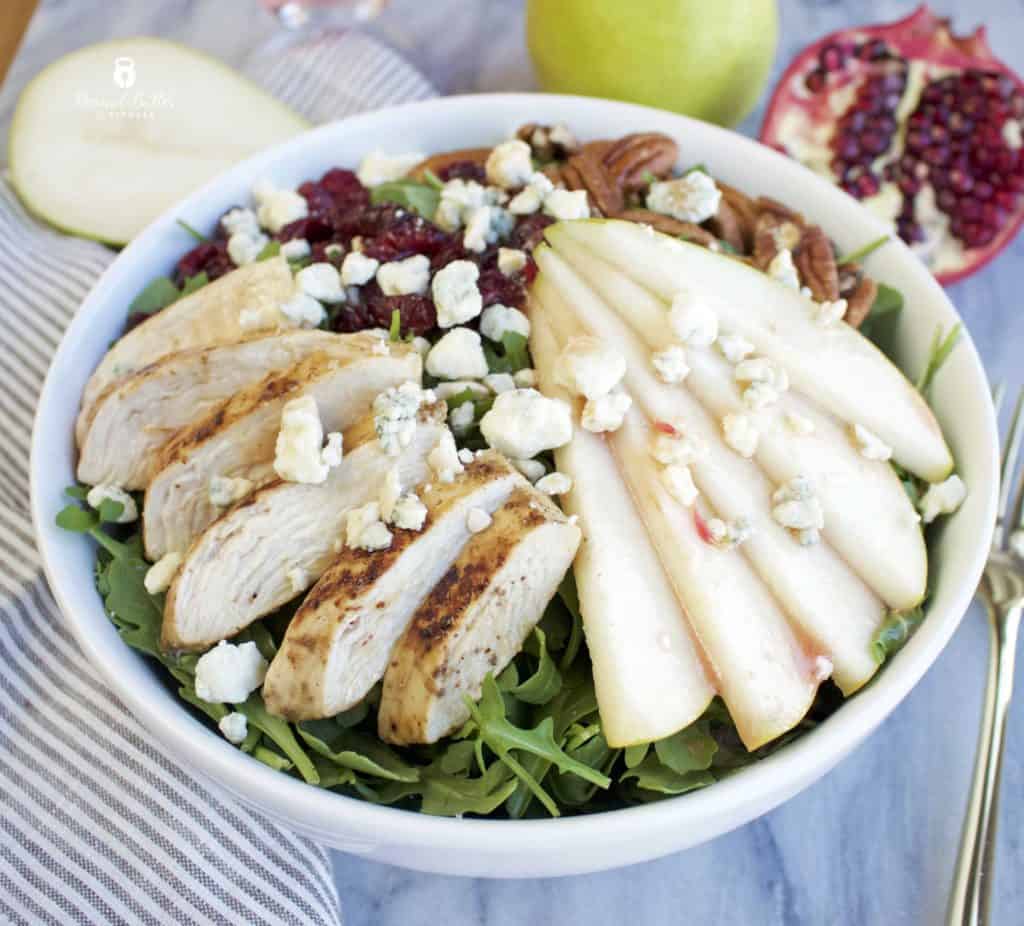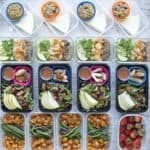 Pear Gorgonzola Salad
Prep Time 20 minutes
Cook Time 10 minutes
Total Time 30 minutes
Servings 4 servings
Calories per serving 381 kcal
Ingredients
1 lb thin sliced raw chicken breast
8 cups arugula
1 large green pear sliced (about 200 grams)
1/2 cup Gorgonzola cheese
1/3 cup lower sugar dried cranberries (or pomegranate arils)
1/4 cup pecan halves or pieces
1/4 cup balsamic vinaigrette for marinating chicken
Pomegranate Vinaigrette
1/3 cup pomegranate juice
2 tbsp olive oil
2 tbsp red wine vinegar
1 tbsp dijon mustard
1 tsp honey
Squeeze of lemon juice
Instructions
Marinate chicken in balsamic vinaigrette for at least one hour.

Whisk together vinaigrette ingredients and set aside.

Heat a large non-stick pan over medium-high heat. Add about 1/2 tbsp olive oil for pan frying if desired. Add chicken and cook on one side for 3-5 minutes. Flip and cook through. Remove chicken from pan and rest on a cutting board.

Assemble arugula, pear, pecans, and cranberries in a serving bowl. Top with chicken, gorgonzola cheese, and vinaigrette before serving.
Recipe Notes
I used pomegranate juice in my vinaigrette but you could use fresh squeezed orange juice.
Nutrition Facts
Pear Gorgonzola Salad
Amount Per Serving
Calories 381 Calories from Fat 162
% Daily Value*
Fat 18g28%
Cholesterol 78mg26%
Sodium 303mg13%
Potassium 574mg16%
Carbohydrates 26g9%
Fiber 6g25%
Sugar 15g17%
Protein 32g64%
* Percent Daily Values are based on a 2000 calorie diet.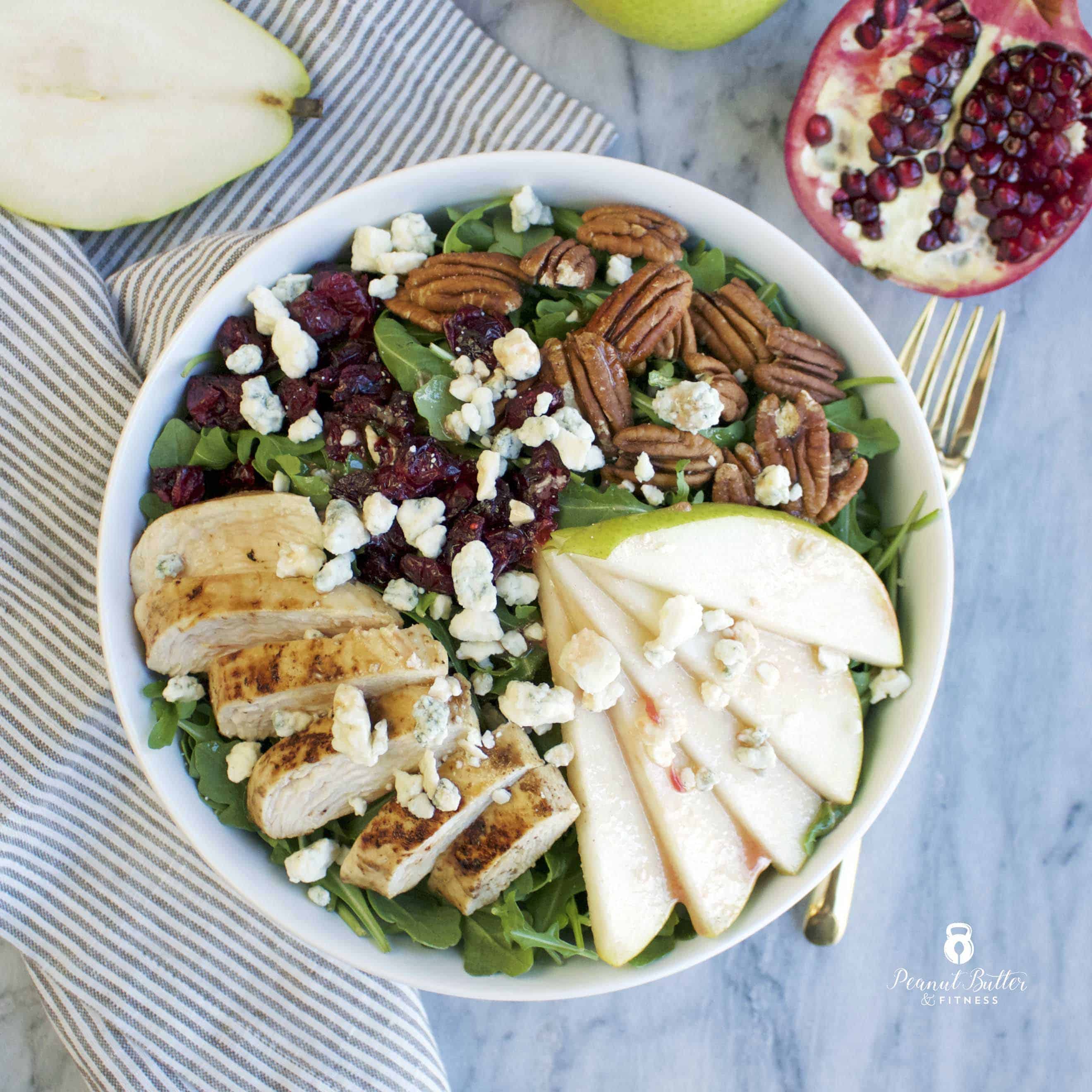 SaveSave
SaveSave
SaveSave
SaveSave