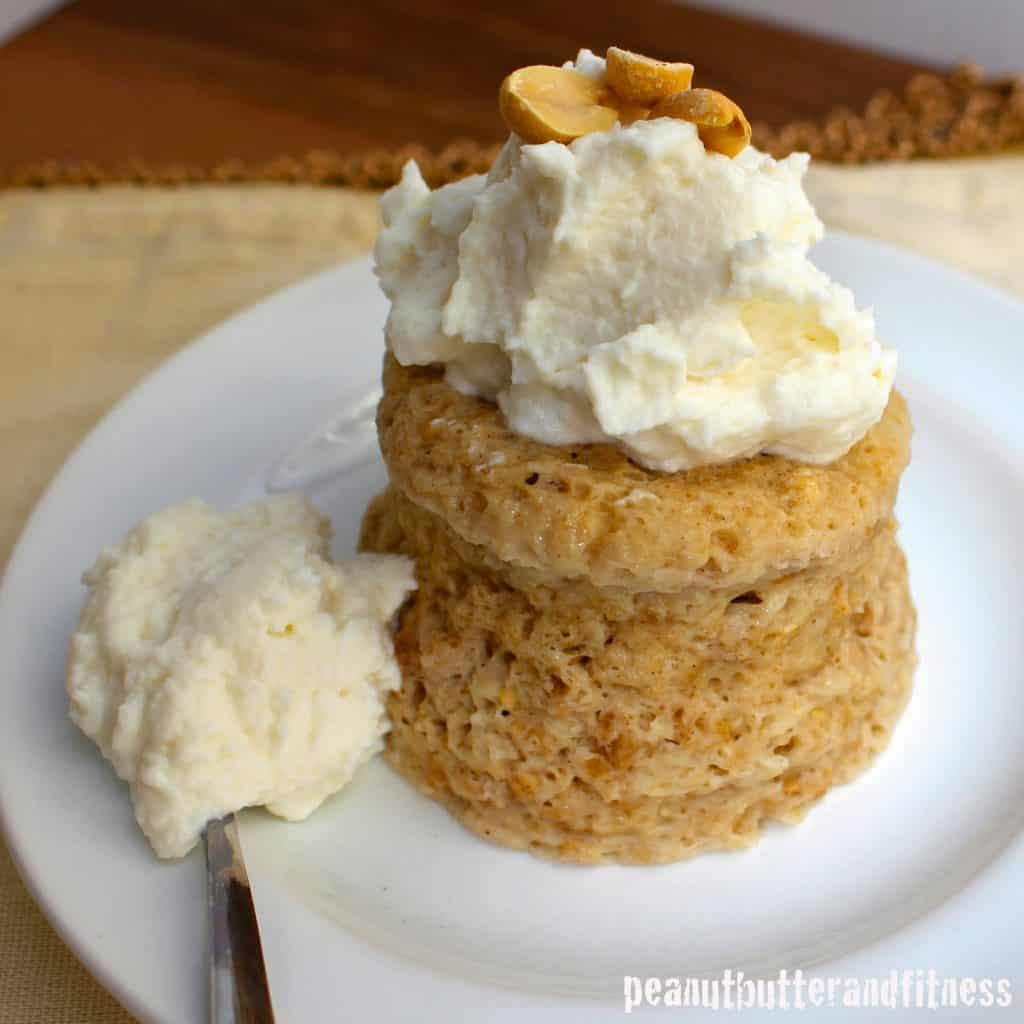 Aloha! Happy New Year and welcome back from the holidays! I hope you all survived without too many setbacks.  Now I'm sure everyone is feeling like it's time to buckle down and get fit or lose weight or whatever your New Year's resolution is.  I'm just happy to get back into my routine and be in close proximity to my gym, crowded as it may be with New Year's "resolution-ers."  Anyways, today I woke up kind of early by accident and the time between leg day at the gym and lunch time was too long to just have a protein shake post-workout.  I needed some carbs to feed my muscles!
It's been forever since I've made a mug cake so it just seemed like the perfect fit…some protein and a good mix of carbs to fuel me up and keep those muscles happy.  I didn't get very science-y with the macro balance here, but if you want to read about pre/post-workout nutrition and timing to maximize muscle growth (and minimize muscle loss!), check out this article.  This one too – even if I don't agree with eating gummy bears as post-workout fuel (I don't train hard enough to justify that!), the basics are there with a healthy dose of science that's easy to understand.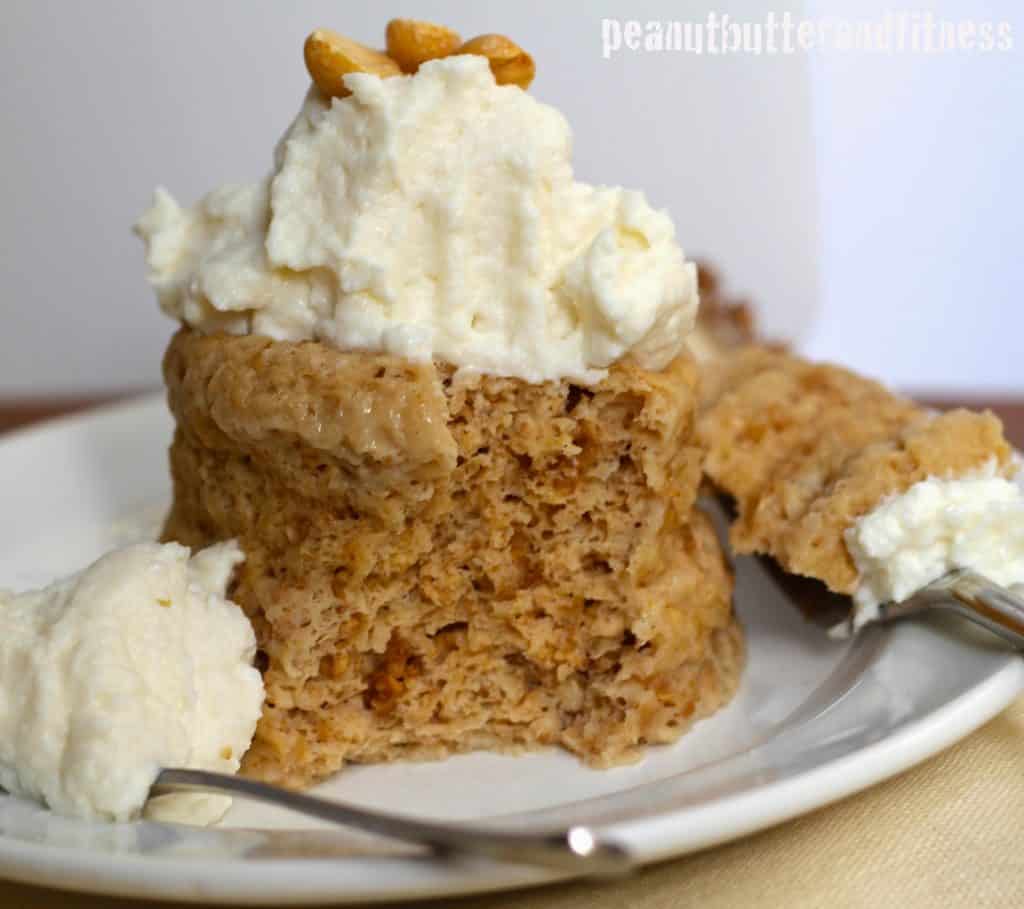 Anywayssssss….let's talk mug cake.  Peanut butter is obviously a classic in my book and a go to for simple, delicious sweetness.  There's not so much peanut butter in here to have you struggling like a dog trying to lick peanut butter, but there's still plenty to keep you happy 🙂  And the vanilla cream frosting is so simple but you can thank the casein protein powder for that incredibly fluffy texture.
I'm not sure if I've ever even used casein in a recipe on my blog…but it's fun to work with.  It kind of makes things magically creamy – like frosting for example.  It's different from whey protein in a couple big ways…first, it's a slow digesting protein (which actually makes it not-so-great for post-workout nutrition. Oops).  And second – and this is why I really love it – it's so much creamier than whey protein.  It's usually recommended for athletes/bodybuilders to have a casein shake before bed because it's slow digesting.  But I recommend it for awesome frosting recipes, nutrition capabilities set aside 🙂  Well, now that I've thoroughly confused everyone with the nutrition benefits of this creation, I'm going to go eat lunch!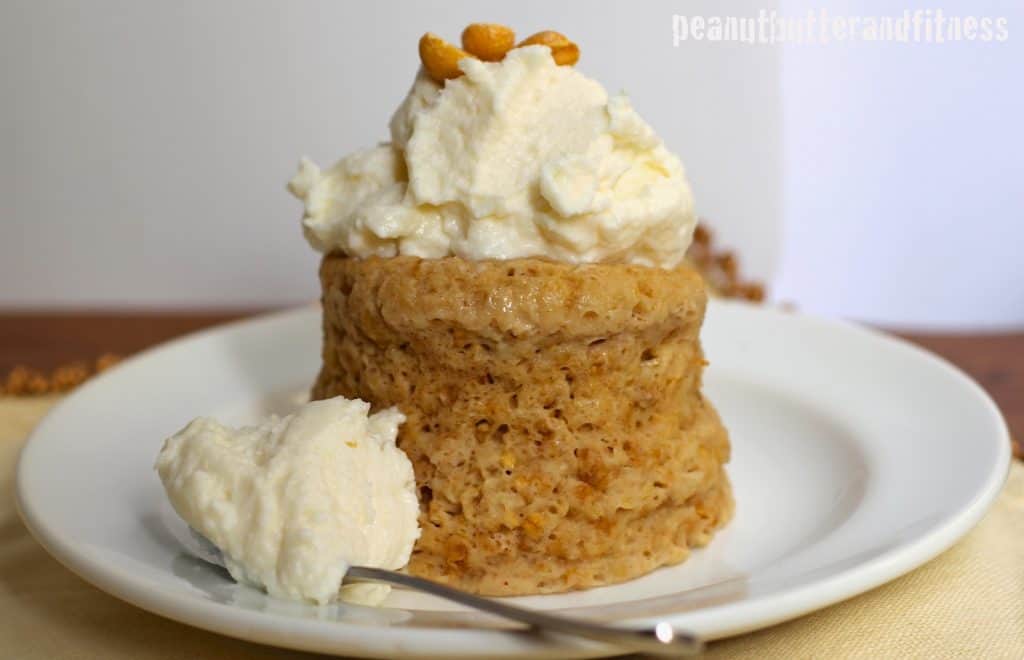 Peanut Butter Mug Cake with Vanilla Cream Frosting
Servings: 1 • Calories: 210 • Fat: 5 g • Protein: 24 g • Carbs: 15 g • Fiber: 2 g • Sugar: 5 g • Sodium: 305 mg • Cholesterol: 27 mg
Ingredients:
2 tbsp quick oats
1 packet Truvia
1/4 tsp baking powder
1/2 tbsp Simply Jif Peanut Butter
2 tbsp unsweetened applesauce
1 egg white
1/4 tsp vanilla
3 tbsp Dannon Light and Fit Vanilla Greek Yogurt
Mix Greek yogurt and casein protein powder until smooth.  Set aside.
Mix together all remaining mug cake ingredients until smooth.  Spray a microwave safe mug with non-stick cooking spray and pour mug cake mix into mug.  Microwave for about 2 minutes and 15 seconds.
Allow mug cake to cool for at least a minute before frosting with Greek yogurt mixture.