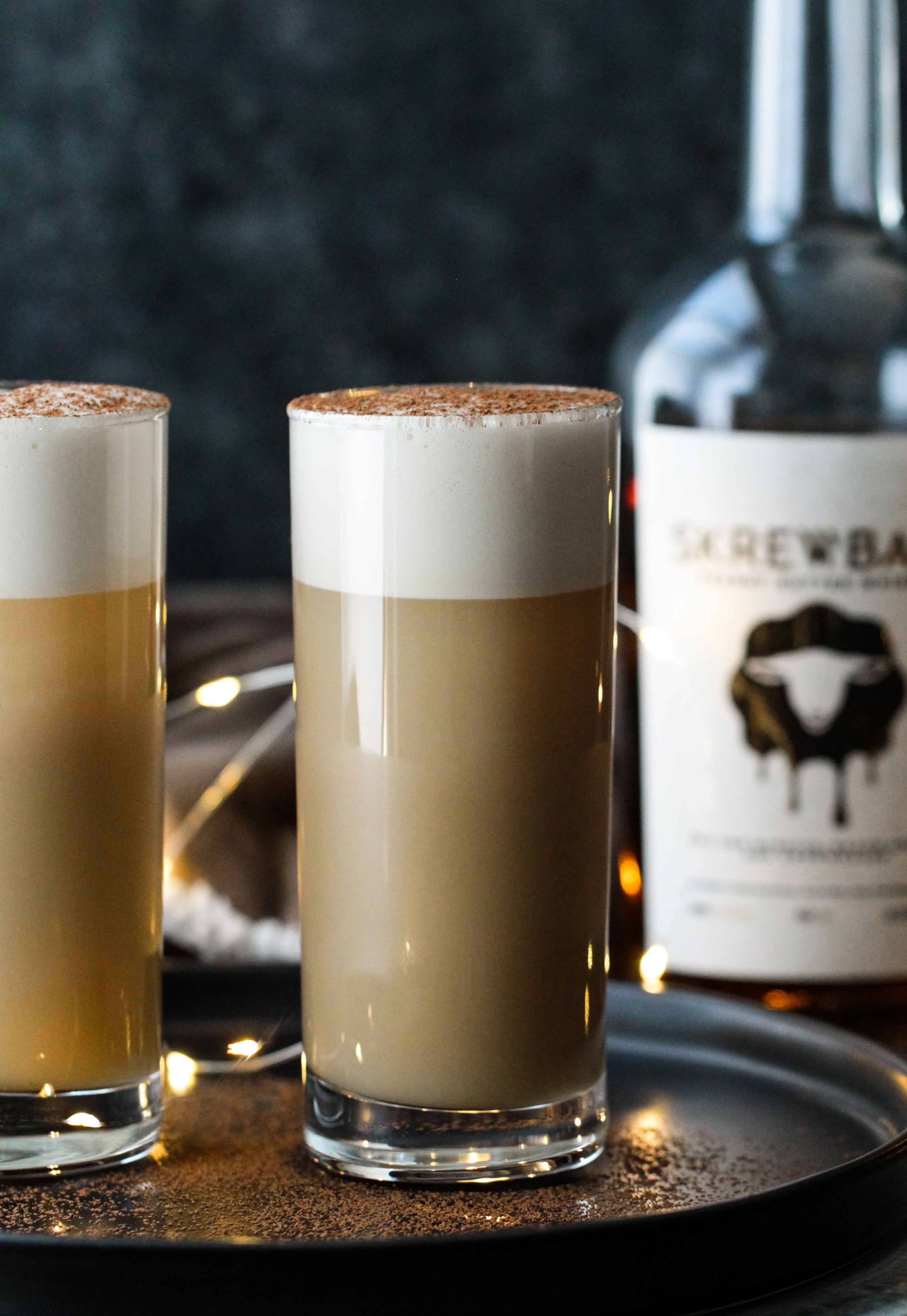 Jump to Recipe
One week until Christmas!! I'm celebrating getting all my Christmas shopping and shipping done with this yummy Peanut Butter Fizz. If you've never had Skrewball peanut butter whiskey before, now's the time! I actually love it plain over rocks, but it lends itself to cocktails really well too. It has a definite peanut butter flavor, but some whiskey drinkers might not like the sweetness that comes with it. As a peanut butter fiend, I'm obviously into it 😉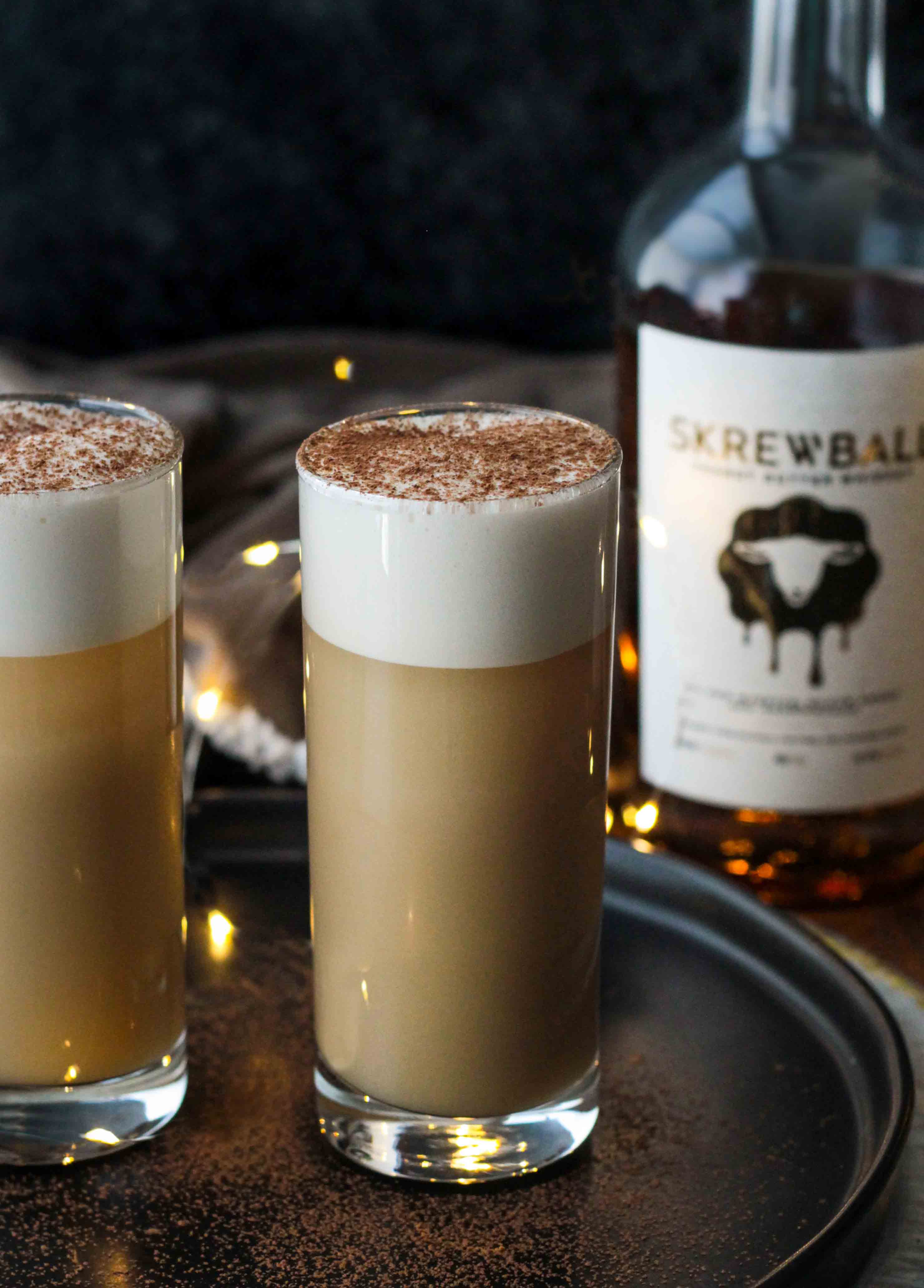 This recipe is based on one shared by Miguel Buencamino, the incredibly talented guy behind Holy City Handcraft (find him on Instagram too). I just remade it a little lighter and with the ingredients I had on hand. His recipe calls for heavy cream instead of the almond milk, so feel free to use any milk along that spectrum…2% milk, coconut milk, half and half. Whatever you've got will work, but of course the more fat content, the more calories, and the more deliciously creamy it will be.
Cheers to the holiday season!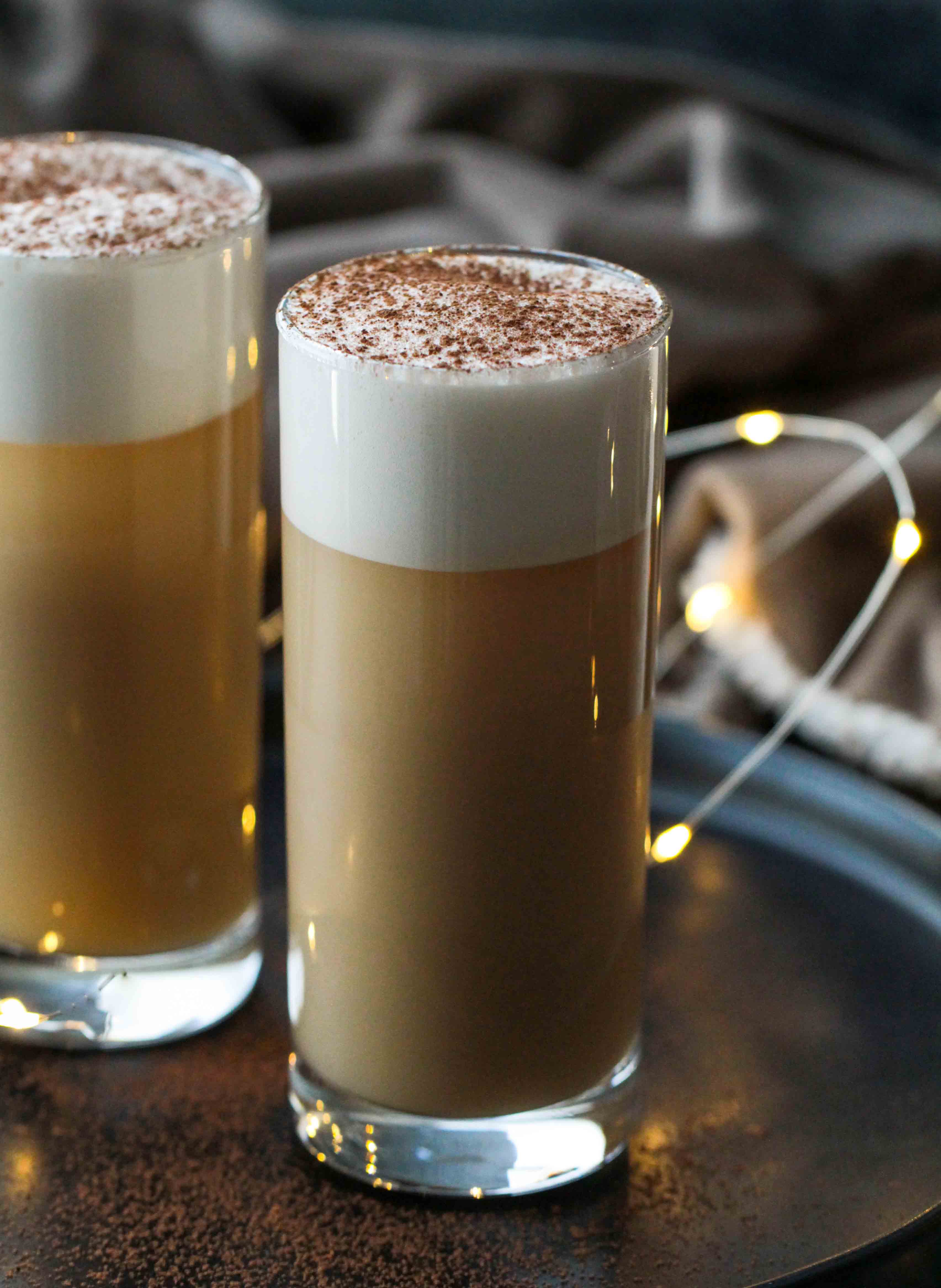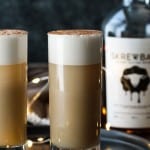 Peanut Butter Fizz
Servings 2 servings
Calories per serving 260 kcal
Ingredients
1 oz cognac
4 oz unsweetened vanilla almond milk (or milk of choice)
2-3 oz soda water (if you like your drinks sweet, try cream soda instead)
2 oz liquid egg whites (or 2 egg whites)
6-8 dashes chocolate bitters
Optional garnish: cocoa powder or PB2 powdered peanut butter
Instructions
Combine all ingredients except soda water and garnish in a cocktail shaker with a handful of ice. Shake for 10-15 seconds, then strain out ice, and dry shake for another 15-20 seconds to really get the egg whites fluffy. (Be sure to hold the lid on tight as pressure will build inside the shaker from the egg whites!)

Strain into two tall serving glasses. Allow the fizz on top to settle for a minute, then gently pour the soda water into the glass until it's full (I poured mine over the back of a spoon to angle it to the edge of the glass about 1/4-1/2" below the rim). Garnish with cocoa powder before serving with a straw.
Recipe Notes
This cocktail was inspired by Holy City Handcraft's Salted Peanut Butter Fizz, but adjusted to make with the ingredients I had on hand.
If you don't have cognac on hand, just leave it out. I've tried it both ways and thought both were delicious!
Nutrition Facts
Peanut Butter Fizz
Amount Per Serving
Calories 260 Calories from Fat 9
% Daily Value*
Fat 1g2%
Sodium 90mg4%
Potassium 58mg2%
Carbohydrates 19g6%
Sugar 18g20%
Protein 4g8%
* Percent Daily Values are based on a 2000 calorie diet.