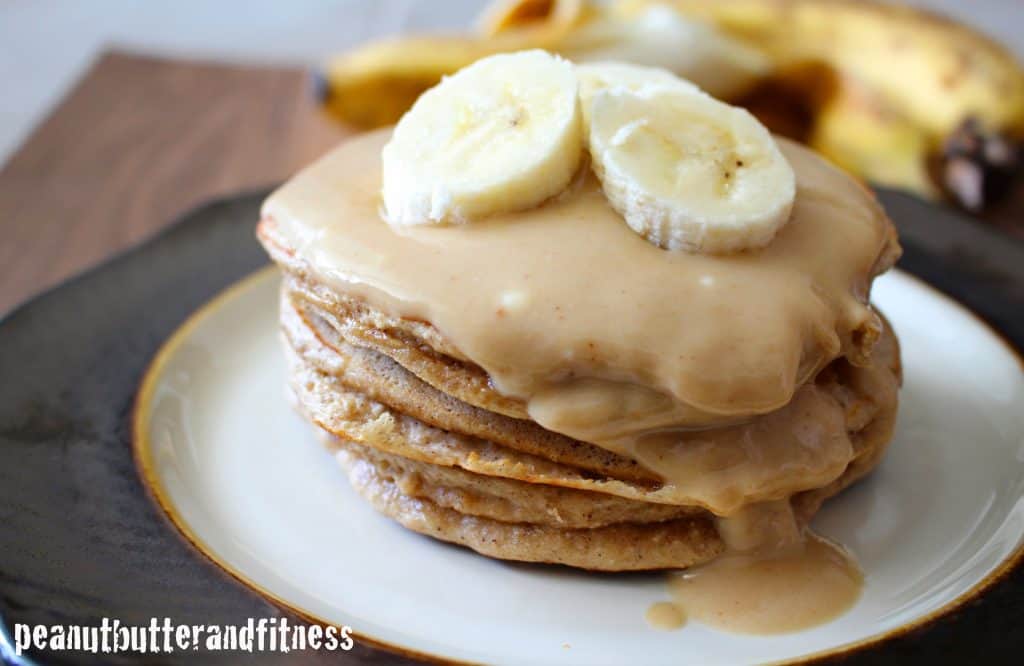 Oh. My. God.  These are the most amazing pancakes I've ever had.  Not to toot my own horn, but seriously…I might just eat these for breakfast every day.  And lick the plate afterwards just to make sure I didn't miss any of the maple peanut butter sauce yumminess.  Maybe I'm a little pancake obsessed lately.  These ones, though – they're perfectly fluffy and moist and full of flavor. If you're not planning on making these for breakfast tomorrow, you really should change your plans.  I promise, you won't be disappointed!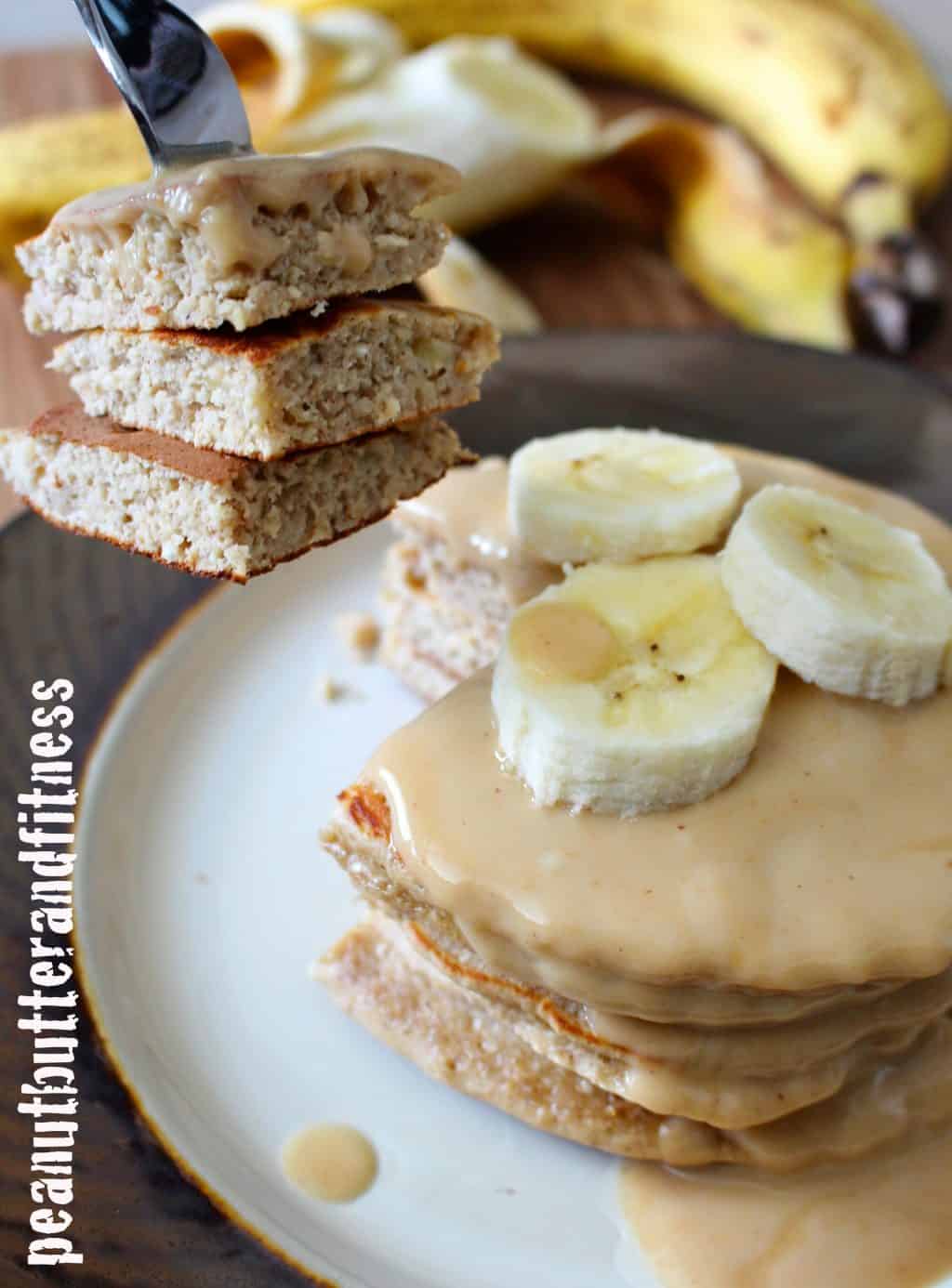 And yes, it's 2 PM and I just ate breakfast.  Yay for night shift!  It's the perfect excuse to have a big, delicious pancake breakfast.

If you follow my blog, you may have noticed that I literally never eat bananas.  Until this recipe.  I actually can't eat them unless they're cooked because I have some weird intolerance to something in them.  Google tells me it's some sort of protein in them that makes me really sick.  (If you're curious, you can read about it here – same thing happens if I eat papayas.) It never started until I was 18 and then BAM! No more nanners for this kid.  Usually about every year or so I decide, "hey, it's just a delicious, innocent banana, maybe I can eat it now."  And I'm wrong 100% of the time.  So those banana slices on top? Yep, they went straight to the garbage 🙁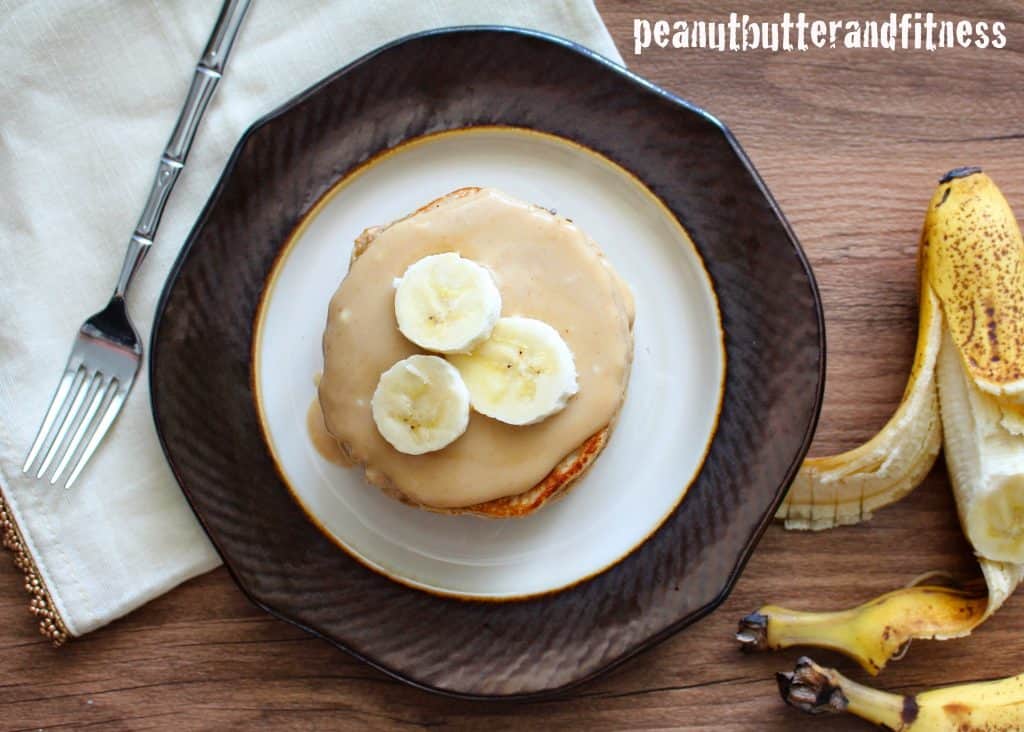 I only put about half of the maple/peanut/yogurt sauce on top of the pancakes for their photo shoot.  I didn't want to drown the pancakes and not let you see how awesome they look when they're cooked to golden brown perfection.
Okay, enough of me blabbing, time to tell you how to make these bad boys so you can rush to the store in case you don't have all the ingredients and then whip these up for breakfast.  Or dinner 🙂  Enjoy!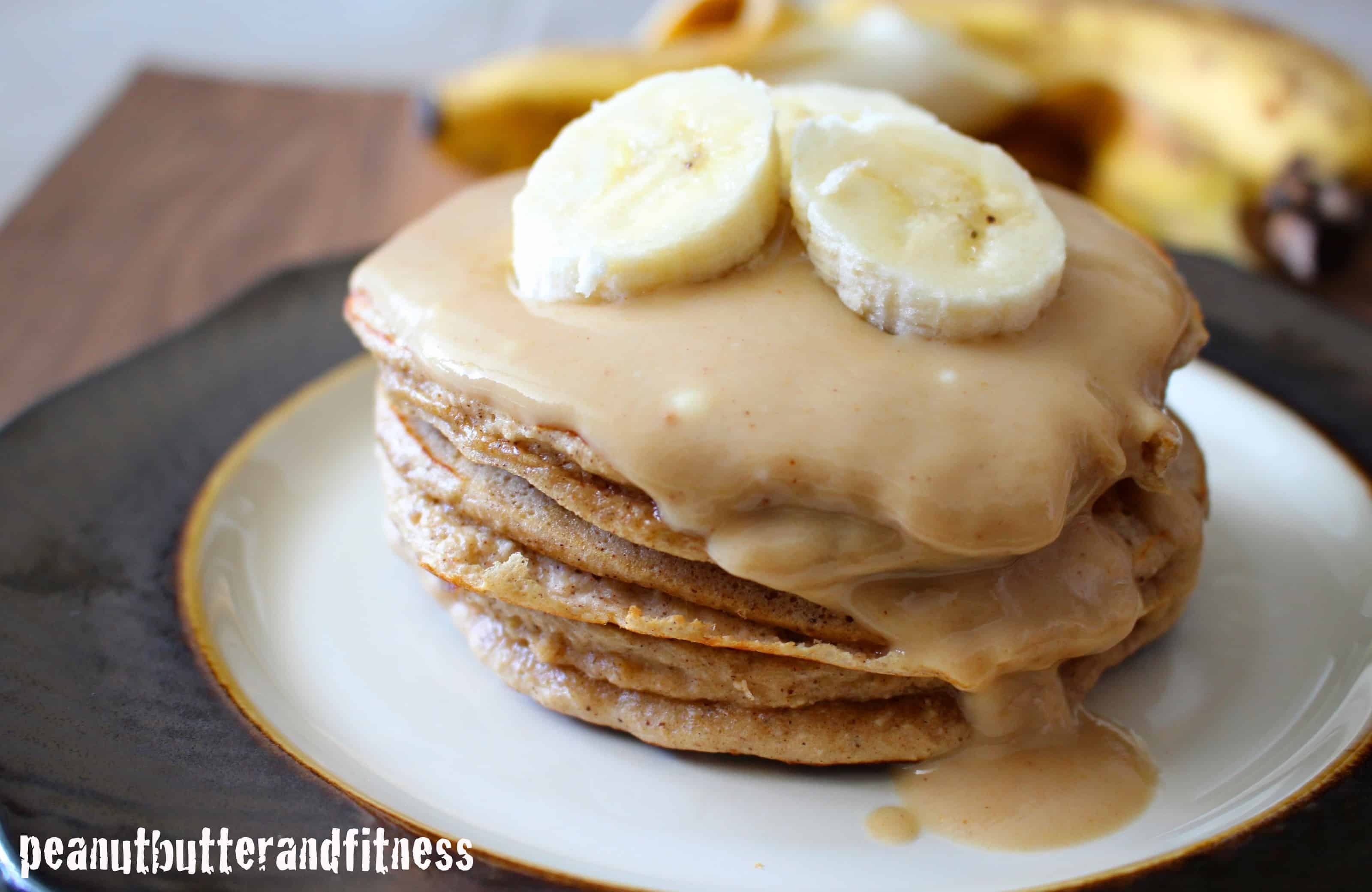 Peanut Butter Banana Protein Pancakes
Instructions
In a small bowl, whisk together maple syrup, 1 tbsp PB2, 1 tbsp almond milk and yogurt.  Set aside.

In a food processor or Nutribullet, mill the oats until they form a fine powder.

In a medium bowl, combine oats, protein powder, 2 tbsp PB2, baking powder and cinnamon.  Mix in mashed bananas, egg white and 1 tbsp almond milk.

Heat a large skillet or griddle over medium-low heat and spray with non-stick cooking spray.  Spoon pancake mixture onto griddle to form 3 medium sized pancakes.  Cook until the top begins to bubble, then flip and cook through.

Top pancakes with maple peanut sauce and serve.
Nutrition Information
Calories:
401
kcal
(20%)
,
Carbohydrates:
62
g
(21%)
,
Protein:
31
g
(62%)
,
Fat:
5
g
(8%)
,
Cholesterol:
1
mg
,
Sodium:
367
mg
(16%)
,
Fiber:
8
g
(33%)
,
Sugar:
26
g
(29%)