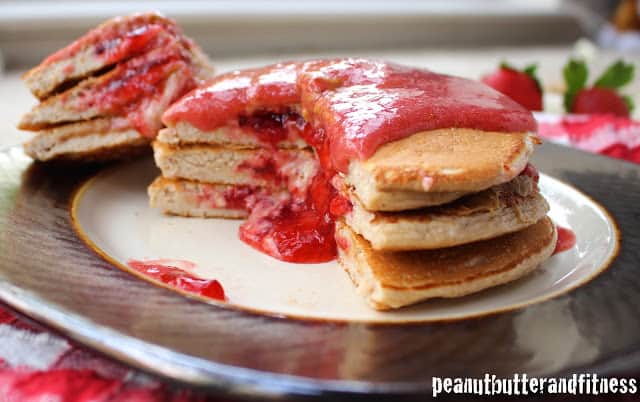 Happy National Pancake Day! I decided to get adventurous today and stuff my pancakes with jelly.  And then proceeded to stuff my face with pancakes 🙂  Because leg day…I need my carbs to fuel up.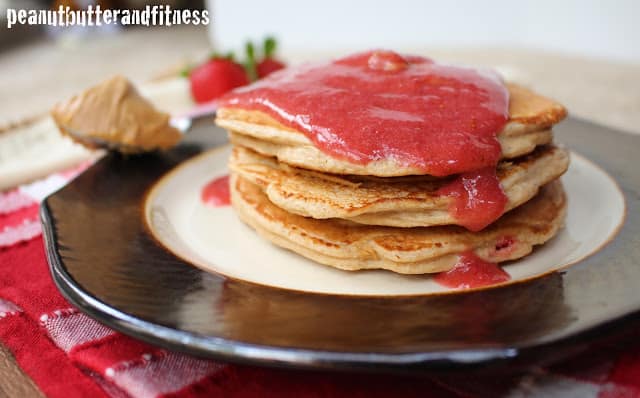 I made my own strawberry "jelly" and strawberry sauce to go in/on the pancakes.  You're looking at a double batch here because I never know if my first attempt at a new pancake will be a fail.  Luckily they were a great success and I didn't even have to whip out my back up recipe!  This is what the strawberries should look like after you bring them to a boil and simmer them down for 5 minutes.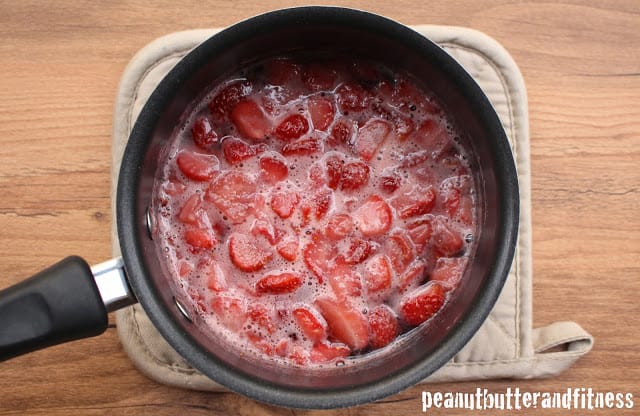 After I ran the strawberries through a food processor, I split the sauce in half and mixed chia seeds into one half and left the other plain.  The chia seed version will be your jelly (best if you let it set up overnight so the chia seeds break down a bit) and the plain version will be your "syrup" for on top.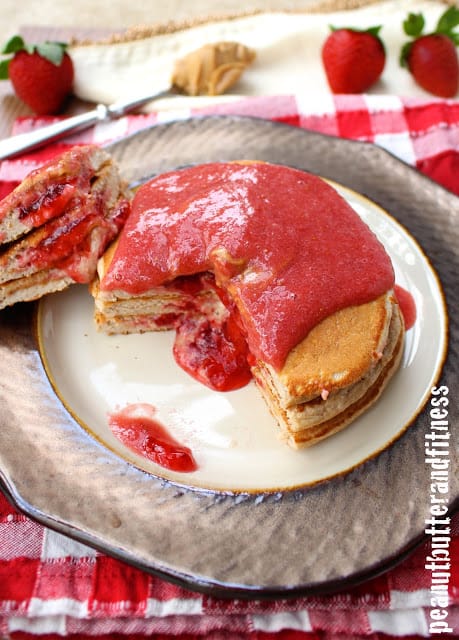 I wish I would have had time while cooking these to get a shot of how it looks when you add the jelly on top of the pancake batter, but that part goes pretty quickly and I really didn't want to burn my pancakes! But anyway, you basically add the batter to the griddle, spread it around with a spoon to make it a nice circle.  Then you gently add the jelly in the middle and kind of smooth it out a bit so it's not super thick, then add more pancake batter on top.  Make sure you cover up all that jelly or it will escape the pancake!  And probably burn.  I'm not positive because I managed to get these right the first time around ;P
I used about 2 tbsp worth of the jelly for the inside of the pancakes and as you can see, a lot of it oozed out pretty immediately after cutting into them but a lot of it stayed inside the pancakes too.  You can see the pocket it makes inside the pancakes.  Yum!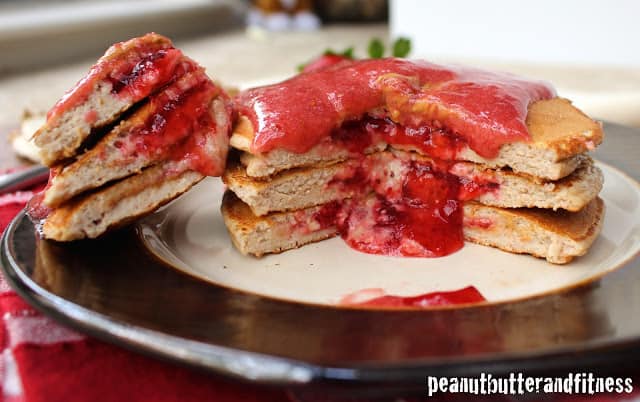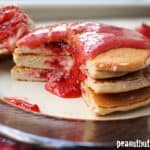 Peanut Butter and Jelly Stuffed Pancakes
Prep Time 20 minutes
Cook Time 10 minutes
Total Time 30 minutes
Servings 1 serving (3 pancakes per serving)
Calories per serving 396 kcal
Ingredients
1/3 cup rolled oats
1 tbsp PB2 powdered peanut butter
1/4 tsp baking powder
1 egg white
3 tbsp Dannon Light and Fit Vanilla Greek yogurt
1/4 cup unsweetened vanilla almond milk
1/4 tsp vanilla extract
"Jelly" Ingredients:
6 strawberries chopped
1 tbsp honey
2 tsp water
1/2 tsp chia seeds
Instructions
In a small saucepan, bring strawberries, honey, and water to a boil, then simmer on low heat for 5 minutes.  Place in a food processor and blend until smooth. Divide strawberry sauce in half. Add chia seeds to one half of the sauce, mix and set aside in refrigerator (preferably overnight).

In a food processor or NutriBullet, mill the rolled oats until they form a fine powder. Mix in all other dry pancake ingredients, then add wet ingredients and mix until smooth.

Heat a griddle over medium high heat and spray with non-stick cooking spray. Drop pancake batter onto griddle to form 3 medium pancakes, reserving about 3 tbsp of batter.  Spoon 1-2 tsp of jelly onto the center of the batter and then gently pour a little pancake batter evenly over the top to cover the jelly completely.

Once the pancake batter begins to bubble, gently flip and continue cooking the other side of the pancake until golden brown.

Drizzle the non-chia strawberry sauce over top of the pancakes before serving and add a dollop of peanut butter if desired.
Nutrition Facts
Peanut Butter and Jelly Stuffed Pancakes
Amount Per Serving
Calories 396 Calories from Fat 54
% Daily Value*
Fat 6g9%
Cholesterol 37mg12%
Sodium 283mg12%
Carbohydrates 50g17%
Fiber 6g25%
Sugar 25g28%
Protein 39g78%
* Percent Daily Values are based on a 2000 calorie diet.