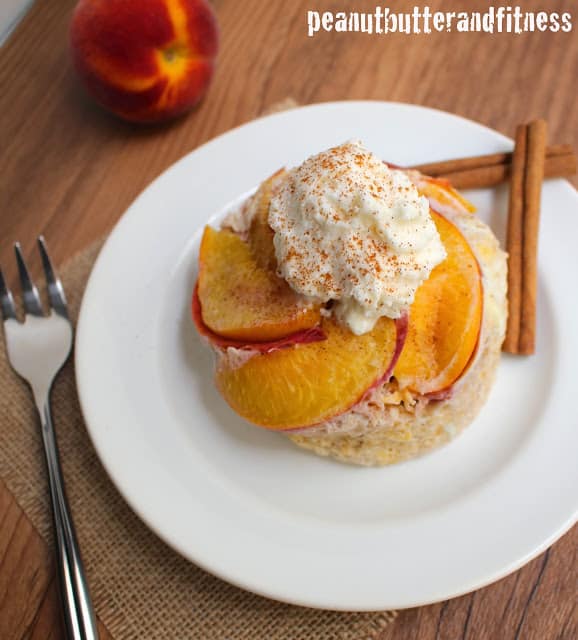 Here's a quick and easy mug cake to get you in the mood for summer! I love the fact that peaches are back 🙂 They're not the big and juicy ones yet, but I know they're coming soon.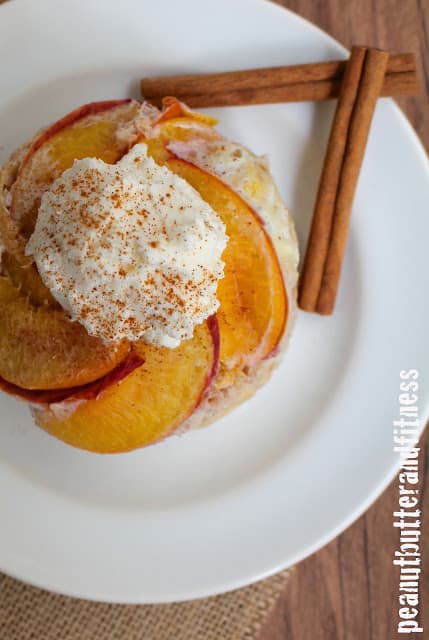 Quick disclaimer – the recipe makes a lot more frosting that what you see in the pictures here, but I had to show you the pretty arrangement of peach slices on this mug cake.  Aren't they pretty?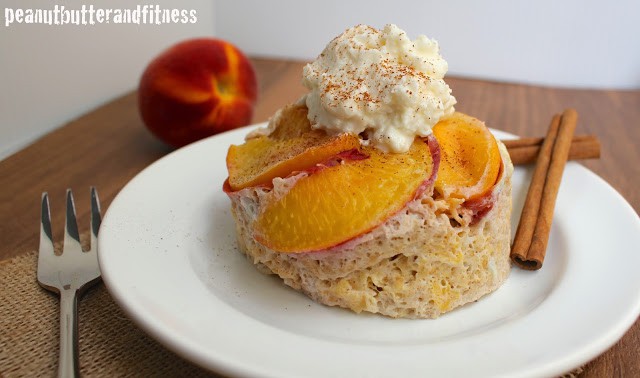 If you don't have cinnamon protein, just use vanilla and add some extra ground cinnamon to the cake recipe.  I used a nice, big round mug for this recipe so I could lay out the peaches easily.  A narrow mug might make for a bunch of peaches that just kind of slide off the top of your cake.  The big mug means that all the slices get baked into the cake batter in the microwave.
Servings: 1 • Calories per serving: 159 • Fat: 2 g • Protein: 19 g • Carbs: 18 g • Fiber: 2 g • Sugar: 9 g • Sodium: 270 mg • Cholesterol: 21 mg
Ingredients:
1 small peach
2 tbsp quick oats
1/4 tsp baking powder
1/4 tsp vanilla extract
1/4 tsp cinnamon
1 egg white
2 tbsp Dannon Light and Fit Vanilla Greek Yogurt
Spray a large mug with non-stick cooking spray or wipe down with coconut oil.  Slice half the peach and arrange at bottom of mug.  Peel other half of peach and mash in a small bowl.
Add quick oats, whey protein, baking powder, vanilla extract, egg white and cinnamon to mashed peaches and mix well.  Pour on top of the peaches in mug and spread evenly.
Microwave for about 2 minutes and 15 seconds.  While cooking, mix Greek yogurt and casein protein until smooth.
Flip mug cake onto plate and top with Greek yogurt frosting.